This post is a sequel to an original on how to use WhatsApp as a business tool. You should defintitely read it first, if you haven't
In order to maximize your regular WhatsApp account to a business tool, below are some tricks you have to be conversant with.
How to create groups on WhatsApp
On WhatsApp, a group is like a forum where the members can all contribute to discussions. The creator of the group is automatically the Admin of the group and also has capacity to appoint other group members as co-admins. Groups can be useful for anything from brainstorming, advertising and collaboration.
Creating a group is easy; here is a pictorial guide to get you started. You can even know the engagement level of each of the group members with your posts. So, if you are curious to know if someone has read your messages and other tricks, you will find this resource useful.
How to create a Broadcast List on WhatsApp
This cool feature looks a lot like the Blackberry broadcast message or the blind-copy ("bcc") feature of email messages. After you have created your broadcast list, you can send messages to them and it will be delivered to individual's chat history with you. The contacts in this list cannot interact with each other; and this is cool, especially if most of your messages are promotional. Mobilateria blog published a guide that explains the difference between broadcast and groups and how to create a broadcast list.
Personally, I use this feature to broadcast a daily devotional message to contacts on my phone. As part of my daily routine, I simply send the same message to the 200-membered broadcast list at once. Each person on the list is not aware of other recipients, so it has a "personal" feel.
How to make WhatsApp Calls
Using this feature alone will save you money on phone calls. Imagine the cost savings on roaming charges when you are able to do long distance calls on WhatsApp. While the call quality may not be superb yet, it offers a good alternative.
On the new interface, it is easy to see a display of your call summary. To call someone on your contact, there is nothing to setup; simply click the "telephone" button to make calls.
On Quora, there is an analysis of how much data a WhatsApp call consume. Compared to other app, WhatsApp data usage is high but it is not as costly as a regular bill for cellular calls. If you still worry about exhausting your data, there is a way you can reduce the amount of data used for each calls. You can use this guide to set it up in your WhatsApp.
How to use same WhatsApp number on multiple devices (Phones And On Pc)
Technically, your WhatsApp number can only work on one device at the same time; so if you have two phones, you cannot use the same number on them. Take for example; if your company provides customer support on WhatsApp, you will be limited to having only one support staff to manage all the customer enquiries directed to that number.
What if you want to assign multiple customer reps to the same number?
There is a way around that now with the new version called WhatsApp Web. With the web app (web.whatsapp.com) you can access a WhatsApp account on multiple devices. This is an excellent tool to improve your productivity, especially at work, where you can now access your WhatsApp account on your desktop.
To set up WhatsApp on multiple devices is straightforward – go to web.whatsapp.com on the second device you want to use to access WhatsApp and scan the barcode of your current account. This tutorial will guide you.
How to set up advanced automation and third-party tools for WhatsApp
These deserve a separate category as they are third-party applications built on WhatsApp API. Some are free while others are paid tools. I am not sure if WhatsApp terms of services fully support this in the long term as other similar platforms have shut down as a result of several cease and desist calls from Facebook; its new owners.
CRM and full-fledged Support Service:

Turn WhatsApp to a full-fledged CRM tool with

Wazapper 

.

Wazaaper provides tools & API to setup customer support system using WhatsApp.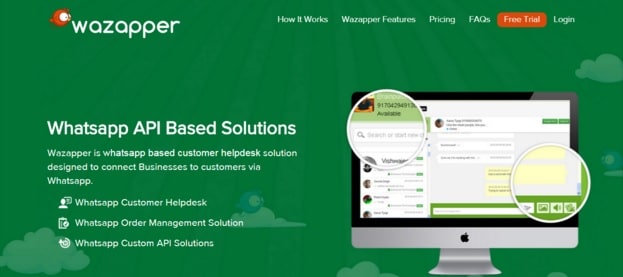 Evaluate Customer Engagement with your brand:

 You can use

WhatStat

, an android app to gauge the engagement level of your contacts with your business and reward them, especially, if you have a loyalty programme that requires customers to check in on your WhatsApp number.

Surveillance

: Do you need to monitor another WhatsApp account? For example, a supervisor can be interested in monitoring conversations on the dedicated customer support numbers. If yes, you can  

try these surveillance tools

Protect Your Conversations

: On the other hand, you will like Kibo if you need to send sensitive documents or transaction details over WhatsApp. Also adult stores (lingerie, sex toys etc.) that want to protect the product information they are sending can also use this app to

protect conversations and even send secret messages

.
These are just are few of third-party apps that amplify the use of WhatsApp as a business tool.
Don't let the simplicity of WhatsApp deceive you. It is a business tool. So, how are you going to put WhatsApp to use in your business today?