WhatsApp has become widely popular due to its simplicity as a personal communication app. It boasts 900million daily active users.
Even though WhatsApp founders say they have no intention of making the app to be business-friendly, you can use WhatsApp for your business in various ways. In fact, people have built new businesses using WhatsApp as a platform and some are using it to grow their business in a cost effective manner. On the surface, when you compare it with WeChat's features and integrations, it might appear not to be business-friendly, but this could be deceiving.
In fact, here's a list of great examples to get you inspired on using WhatsApp for business.
WhatsApp for customer support and engagement
One of the ways you can use WhatsApp in your business is for delivering customer service. Not convinced yet? Let this tweet do the explanations
Customer support over email and phone is so 20th century. Now it's all @WhatsApp! Hope @neerajarora is taking note. pic.twitter.com/sonITtN1L3

— Vijay Vadlamani (@VJV87) December 3, 2014
The combination of its SMS feature and the ability to send media and audio makes it a perfect tool for customer service. This can also be used to engage customers leading to sales. For example, a store owner in India, Prakriti Herbals, claims that he was able to convert the business leads he got from Facebook into a lot of repeat orders  simply by using WhatsApp as a follow up tool. In another example, a subscription-based company can share updates about renewal reminders which is a better option to offer your customers to receive updates rather than email.  
Promotions and Advertising using WhatsApp
WhatsApp is a good tool to promote your new products or discount offers. Starting with your profile updates, you can use your status messages and display pictures to promote your products and services.
If you are creative, you can send out your attractive e-brochures, images of a product or video containing directions regarding the use of the product to individuals or targeted groups on WhatsApp.
At the same time, you can solicit responses to adverts. For example, Colgate invited people to send "selfies" of their smile, via WhatsApp, to a phone number displayed on the toothpaste pack to win a chance to be styled by a renowned stylist.
Market Survey with WhatsApp
You can use WhatsApp to get real-time suggestions and feedback from your customers about your products and services. Just ask them to reply to your messages.
Team building
While this may not be as sophisticated as Slack, Asana or other collaboration tools, you can form groups to share instant messages for which an email is not necessary. For example, a team manager using the audio function to communicate with his team because recording a voice message rather than sending a written message can be clearer and saves time.
Social Sharing  tool for Publishers and Bloggers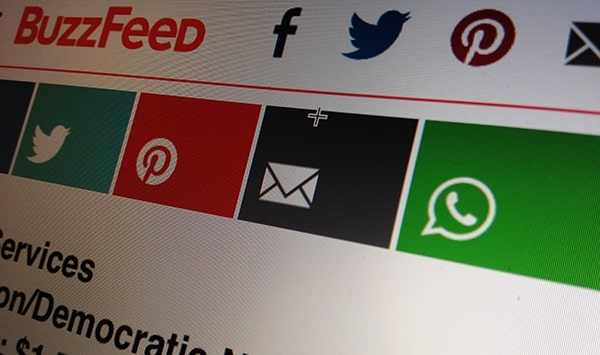 WhatsApp is also earning its place as a social sharing tool along with Twitter, Facebook, LinkedIn and Google+.
There are case studies showing that WhatsApp has potential for publishers to share their content. Given that WhatsApp has 900 million users globally, that is a big deal. There are early reports from Recode and DigiDay that publishers like BuzzFeed, a popular viral news site, music app Shazam and Aviary, a photo editing tool are recording increase in engagement by including WhatsApp as a sharing tool on their websites.
Adding the WhatsApp share button to your site can be simple, especially if your site is built on popular content management system like WordPress that officially supports a mobile share bar plugin for WhatsApp
Commercial Servies and Business Transactions
I recently wrote about potential partnerships that WeChat can explore to improve its adoption in Nigeria. WhatsApp too can "fit in" to some of those use cases. While there may be no "official support" for some third-party integration yet, you can still make creative uses of WhatsApp for businesses. Here are three examples.
Concierge Service


There is an Indian-based

errand-running service

called Russsh that is using WhatsApp as a booking platform.
Food Ordering Using WhatsApp


Do you know you can use WhatsApp to run your restaurant services too? Take for example this post on Quora about how a restaurant allows customers to communicate their preference instantly.
Medical Consultation


While this cannot replace an in-person visit; you can always text your doctor and ask about common medical queries so that you can get immediate consultation on WhatsApp.
Don't let the simplicity of WhatsApp deceive you. It is a business tool. So, how are you going to put WhatsApp to use in your business today?