''My formula for living is quite simple. I get up in the morning and I go to bed at night. In between, I occupy myself as best I can''
This is how Robert Achoge, co-founder Pfoofy Limited describes himself on his Twitter bio.
Having grown up in the Western region of Kenya, he experienced first-hand the problems he is trying to solve. In 2013, he started Pfoofy with his co-founders Charles Ogingo and James Ogola.  They provide a clean energy source that lets the citizen who live below a dollar a day access clean light as well as affordable transport.
Their latest innovation, The Ecotran -- a solar-powered motorcycle  -- has earned them accolades worldwide. It also earned them a spot at the 6th Global Entrepreneurship Summit where they got a chance to exhibit their innovation to President Barack Obama.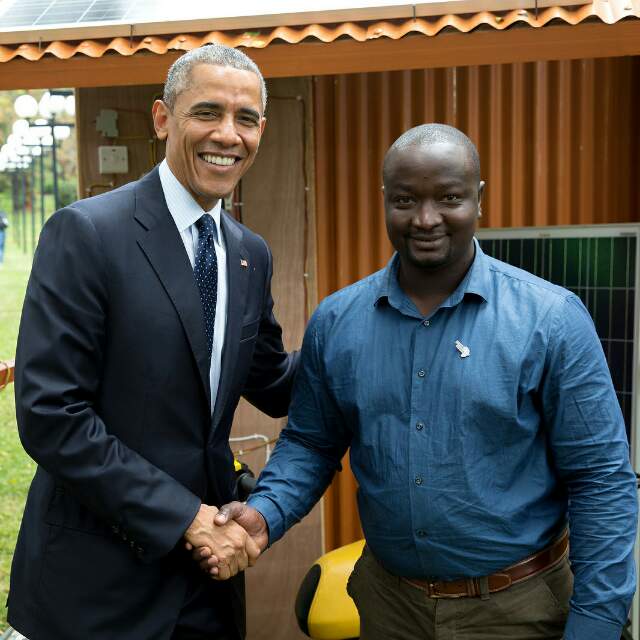 Techpoint spent some time with Robert where he shared his inspiration, challenges and aspirations for the future.
 Tell us about your professional and educational background
I am currently pursuing my Bachelor in Economics and Statistics at the University of Nairobi. I'm in my final year. I have worked with other companies such as YMCA as an accountant, DHL Global as a data manager and other small companies as a sales agent and customer care executive.
How did an economist end up working in the tech innovation field?
I am a partial orphan so in the course of my university studies life got tricky. It was during that period that I met two brothers -- James and Charles -- who are also my co-founders. We had all these ideas, some of which we applied to competitions with. One such competition was the Next Big Thing where we made it into top 20, NACOSTE (National Council of Science and Technology), where we built a door lock system that you could operate using a mobile phone but, it did not see the light of day due to lack of funding. After trying all these, we decided to form a company and enrol for the Climate Innovation Center at Strathmore University. Here our skills were sharpened  and we came up with a viable business plan for Pfoofy; we also  came up with the idea of the electric motorcycles while still there.
What skills and competencies should one look for in a co-founder?
It depends because if your are many founders, you need to decide who specializes in what;Charles has an engineering background while James has a biochemistry background.
For instance, I am good with communication and networking so you would look for someone who is fluent, outgoing and can speak boldly in front of people. While Charles is the idea guy -- you need someone who is innovative and can actualize an idea. We have the administrator who can outsource and look for the best people to work in the company  and that is James, so someone with great people skills.
How do you balance running a company and studies?
For now it is not too hectic as I don't have much responsibilities like a wife and children. When I'm not in class, I dedicate my time to Pfoofy and running other projects.
I have although had conflict between work and school before especially when our sponsors really want something done and I have exams. If I disappoint my sponsors, I may not get money to run the company . If I do not do exams, I may not graduate.  Damned if I do, damned if I don't.
What inspired the start of Pfoofy?
I would say circumstances. While we had ideas of various innovations , we got the constant feedback that we would not go anywhere without a company. So we registered Pfoofy Limited. Being young, we wanted to be unique so we  came up with so many names and finally settled on Pfoofy. It has no particular meaning though
Our company is very versatile. We used to work on solar-powered lamps, now we are working on solar-powered motorcycles. Once we finish on this we will work on a solar-powered irrigation kit. We focus on innovation surrounding renewable energy.
 

Tell me about how you came to the decision, "What I need to do today is build a solar-powered electric motorcycle?"

There was the necessity to make money of course. But also as we were working on our solar lamps at the time which was ubiquitous. During one of our field trips in the rural areas, where our solar lamps were mostly in use, we realized that transportation was actually expensive. We did some research, came across a Chinese electric motorcycle and we thought that if we brought that to rural Kenya, where there was no electricity, we could close the energy gap. It would be a costly initial  investment but since the electric bikes don't have engines we would use solar energy to charge them. This would help us reduce the cost of fare and that is how we came to the decision to make eco-tran.

We are currently building our own solar charging station in Western Kenya after doing a successful pilot with 3 bikes. We won $100,000 from the Power Africa Initiative in February 2014, which is helping us to scale up to 40 bikes.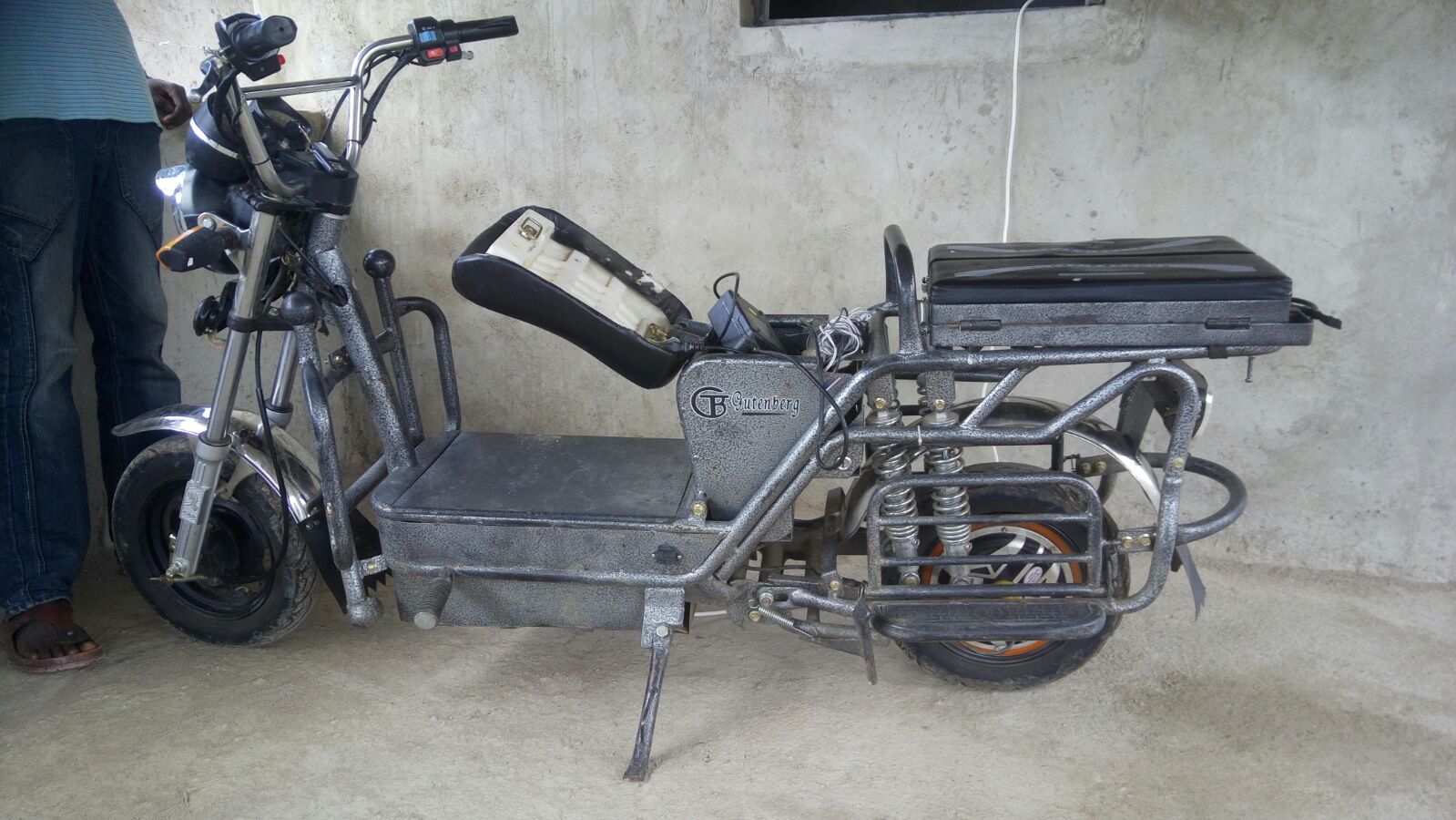 What is your current business model? Are you profitable?
Our current business model revolves around our background in the business of transport. We have a fleet of vehicles and the three bikes which also give us an income. We also generate income from the sale of our solar lamps and fees paid to charge them, as their batteries are plug-and-play. We usually approach individuals, such as shop keepers, where we fix the solar panel, so people are able to charge their solar lamps at such locations at a small fee of 20ksh. A battery should last for 1 night, if used at optimal levels, but can last 3 days if being conserved.
We are making money but I would not term us as profitable yet. We will see how it goes with the 40 bikes then we can start talking about real money.
What was your initial source of funding to start the company?
It was from our own savings and a little help from relatives..
Do you currently have any investors?
We have people who are interested and we are in talks with them to see how that works out.
We have many  foreign investors interested  from but no local investor yet. It is very difficult for local people to invest in ideas. Even the financial institutions, they shy off. Before winning the award, we approached several banking institutions but some wanted bank statements of our operations and initially it was not strong so we could not secure any loan.
What has been your biggest challenge running Pfoofy?
At times the funding from the sponsors delays so we have to stall on the project. The biggest challenge however was getting the initial funding that we could leverage on to do the groundwork. We have the funding but are still working on a strict budget as every penny has to be accounted for. The funding from the award does not come all at once but it comes in bits after a milestone is achieved.
How easy would you say it is as a young person to start a business?
Starting a business is very easy but starting a big business is a different case. Starting a business is as cheap as taking 3000ksh to go register it then figure out how to raise capital.
For other people, they figure that for them to start a business they need a lot of money so they get jobs first but that is where they go wrong. With time you are entangled with corporate world you don't have time to pursue your business interests.
What do you think is the future for renewable energy ? What might stop us from getting there?
Renewable energy is the next big thing. Right now the world is changing its focus to renewable energy as you can see from all the campaigns and competitions going on all around us. It is being centered around less use of less fossil fuel so that we do not end up in an energy crisis.
What might stop us? Sluggishness in change of government policies because when once of these are in place, the rest will be up to us the innovators.
Across sub-Saharan Africa, an estimated 621 million people do not have access to electricity, and three-quarters of Kenya's population lives off the power grid  meaning you have a huge market to tap into. How has the market penetration been so far?
Our market penetration has been slow. This is because of a certain number of factors, the main one being the money needed to get to the grassroots and get people to take up our product is a lot. It would require the type of marketing budget that we don't have access to as we have a very lean budget. We can only do that once we have revenue coming in and it has been budgeted for. Our penetration rate has been slow but once we hit the market with the 40 bikes, people will start talking about it and word will spread.
How do measure the  sustainability of your innovations?
We measure it through impact and what it brings in terms of revenue for us. If it helps us and the next person then we are making an impact. The bikes are a source of revenue, one is able to employ riders, reduce the amount of carbon emissions.
What has changed in the last two years since starting your company?
The first year was spent researching and perfecting the product. We were being incubated at Climate Innovation Centre , trained, applied for various funding opportunities, failed, tried again. In January 2014 we started rolling out the project and that is when we also won a $100,000 grant. We are now set to get our hands dirty.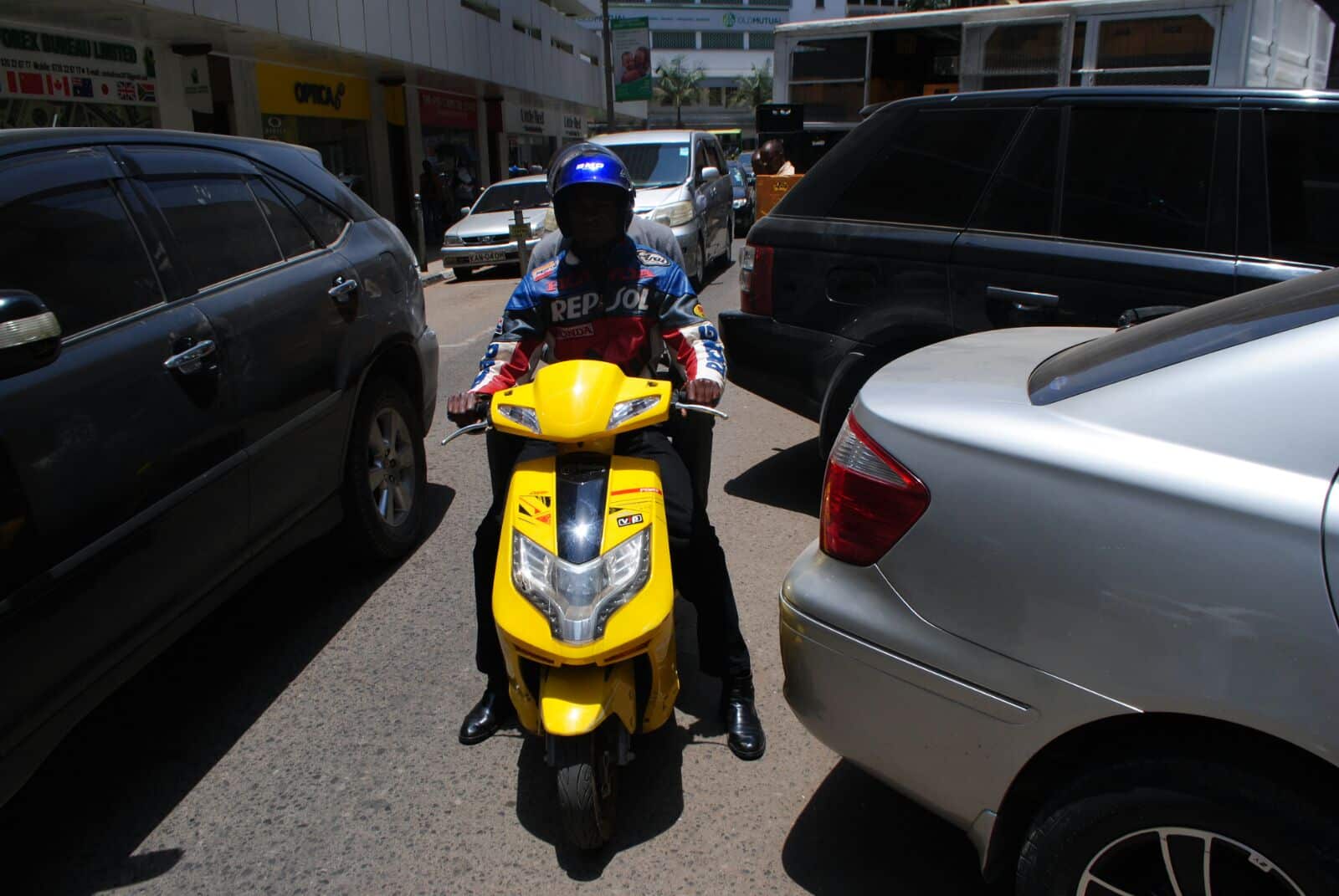 Pulling from your experience so far, what advice can you give budding tech entrepreneurs within the ecosystem?
Come with something that solves a problem because when people see this, they will adopt it easily.