Users of Nigeria's busiest roads have gotten another helping hand in a community-based traffic app - the Traffic Lite Social GPS & Maps.
"Just by having Traffic Lite installed on and logged in, you're already contributing tons of real-time traffic info to your local community."
The app works based on the principles of speed, measures location coordinates and passively calculates user's speed based on change in location and the time interval.
There's Gidi Traffic, Traffic Butter among a host of others. Let's look at Traffic Lite Social's approach and advantages over players already in the space. Aside the conventional features applicable to the likes of Gidi Traffic, Traffic Butter Among others.
The app lets you interactively create personal, custom routes and share same with friends and contacts on social networks, thereby helping others with a faster route to their destination. Users can check traffic on these custom routes at will and also get alerts based on those routes.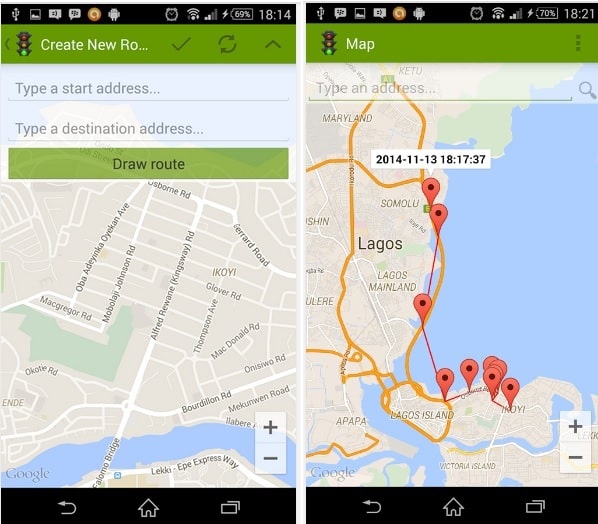 Traffic Lite Social as the name implies is more of a social network for road commuters as users can even find the lowest gas prices around you as shared by other users.
Okay, the part I don't so much like about the application is that my friends on the platform get to know my exact location when I have the application installed and am logged in.
Users get to add other users as friends, see number of road users on a particular route and get the average speed, and estimated time of a journey. And users can also earn points which can be redeem for gifts.
The application, without disclosing privacy information, allow users to map-chat others by asking for traffic situation at their location, send out custom or predefined traffic broadcasts.
As a community based that depends heavily on crowdsourcing, the more the users of the app, the more accurate traffic reporting, and the more success about the app's reliability.
With the social networking feature of the traffic app, coupled with the fact that factors considered in the report are not based on speculations, Traffic Lite Social is definitely on a whole new level to helping commuters on Nigerian busy roads.
The app is available on Google Play Store, BlackBerry App world.
Photo Credit: Una_Clara via Compfight cc