A Case Study of PushCV and their ambition to dominate Nigeria Job Market. 
[Disclaimer: I do not work for PushCV. I got to know about PushCV and participated in their flagship Elite Employee Quest]
When I stumbled on PushCV, I began to notice footprints of a startup with a bold vision and smart execution in the Nigerian Job market space. As at January, their website traffic was near zero, but it in April PushCV was the most visited job platform in Africa. I took a snapshot of their monthly traffic showing it is ahead of Jobberman in all major traffic metrics within 4 months.
That is growth hacking. And this is why you need to pay attention to their strategies.
PushCV's move is audacious in a seemingly saturated Job/Career market space with the likes of Shortlist.ng (owned by Phillip consulting), Jobberman (acclaimed No 1 job site in Nigeria) and a host of active sites like MyJobMag. Yet, these guys seem to be on their way to something good.
So what made PushCV different?
With my experience in Startup Growth consulting, I carefully peeled through the layers of events, messaging and technology of the startup to reveal some strategies behind their growth and distilled it further so I can draw some insights that you can use to successfully launch your own startup.
PushCV business hypothesis is that the critical market gap that exists in the job market is getting job seekers who are meeting employers and recruitment agencies' needs (About Page). Their product validation is to fill the void with qualified talents through a special grading/vetting system while exposing potential candidates, employers and recruitment agencies to each other on their platform.
So here are the strategies. ... 
Have a Unique Angle to Entry
Rather than be another job board, PushCV chose to tackle a pain point of "having the right job offer meet you…….instead of you meeting them." They explained this on their About Page, where they claim to "Push Jobs to you, …… and get employers to see you"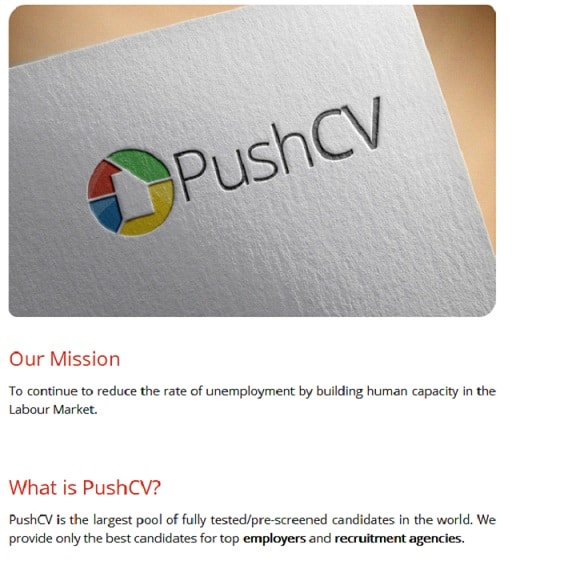 Lesson for you - Positioning matters in communicating your offerings. No matter how competitive your business ecosystem is, you need to differentiate your business offerings. You can start by looking for angles of entry so that instead of becoming No. 32 at existing category, you can create an entirely new one where you are No. 1. When you articulate a new approach to solving the problem in your industry, you can successfully create a category of your own where you are seen as No.1.
Have a Design Optimized for Conversion
Every element of design has put the PushCV brand forward. Take for example the choice of fonts, colours and the rest.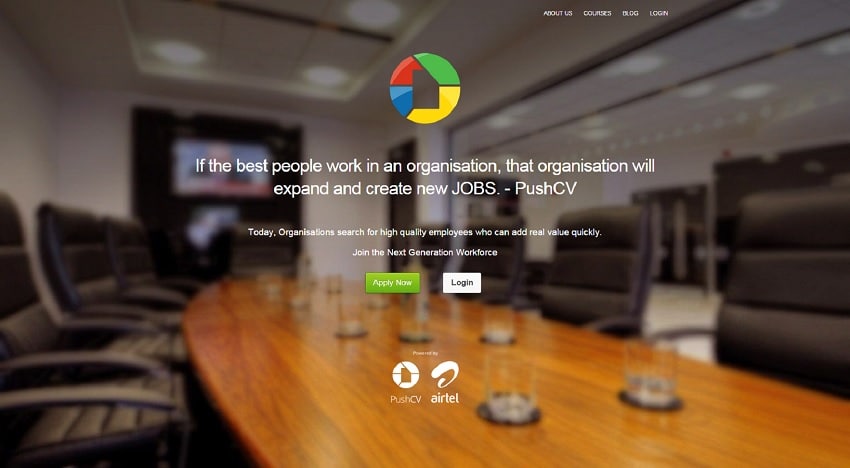 I am a proponent of great design. I believe that a great design is one of the checkpoints to successfully market your startup.
Lesson for you - Your website design is important to your success. Your site must convey a professional look to attract your target audience and build their trust to do business with you. I recommend you read my thoughts on this on how to approach design that sells your startup
Keep an Awesome Blog
PushCV keeps a blog that I love. I like their editorial style; it is informative and adapts well to the needs of the audience.
Lesson for you - Keep a blog; no matter the nature of your business. Write informative posts about the pains of your audience and give them solutions.
Your blog will increase your search engine visibility (SEO) as your content ranks on search engine for terms relevant to your business. Blogging was part of the key strategies I used to help VoguePay grow by 250% in 3 months.
Find (Several) Growth Engines to Growth Hack Your Startup
A growth engine is what you can do to scale your audience; something that has the capacity to continuously grow your business once you set it up. In simpler words, a growth engine can be understood as the mechanism your startup would use to acquire, retain and grow its user base.
For PushCV, the growth hack was (…is) the Elite Employee Quest. I believe this was designed to get as many users into the system. (I entered into the program too)
Take a look at this stat from SimilarWeb for their monthly traffic – (care to notice where it spiked up? If you say the launch of the Elite Employee Quest program, then you are right).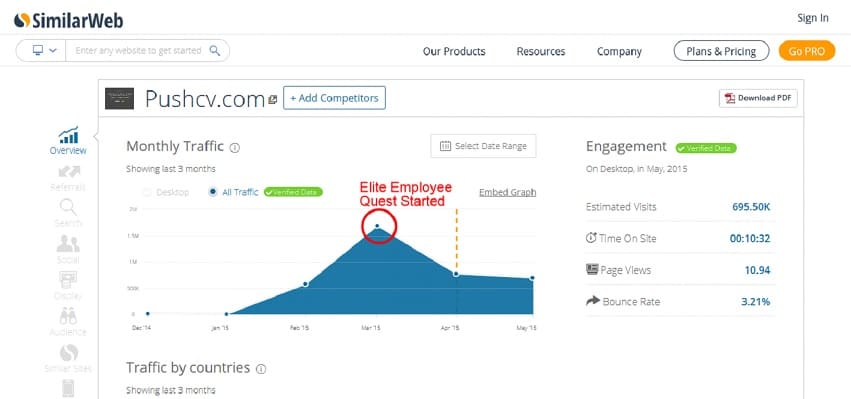 Let's analyze the engines of growth that made it happen
Email
Email was a BIG part of PushCV's growth engine. When you simply review the traffic stat above and correlate it with the series of Emails I received between February 15th to March 15th, it will be clear the role email played in the growth hacking process
From an outsider look, let's evaluate what they did:
You sign up for the program and you are asked to go to your email to complete the process of registration (This way, they have got your BEST email and have earned permission to SEND you updates in the future)
Email became a vital part of the communication; this included updates and notifications.
Referral Programme
They have a referral plan and reward so that you can reach out to your friends about them. Remember, this was a strategy used successfully by Dropbox to grow from 100,000 users to 4 million in under two years.
Rewards System and Community
You are required to answer series of aptitude test phased into 4 modules for which you receive a certificate, like the one below, as well as a badge for each stage completed. They also built a community into the system to facilitate interaction and knowledge sharing among for the participants. (Genius).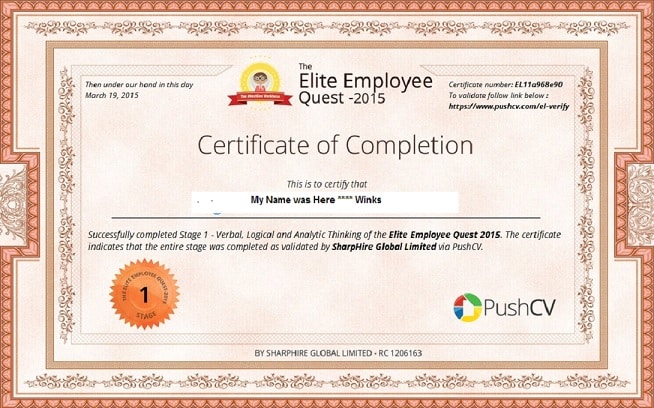 Their ultimate goal is to keep you engaged and qualified to match you with employers. So each step of the quiz was designed to certify your competence through aptitude test to successfully match you with a job or employers' need.
This resulted to viral growth on Nairaland spanning numerous threads and discussions.
Gamification
They "gamified" their grading system such that you can choose to "take shortcuts" by opting for some paid services. Their revenue model was also built into this gamified process.
For example, you can opt to use their premium career services (a paid service) to improve your CV. You can also take their competency courses that will enable you improve your credentials, while offering additional visibility to recruitment opportunities
You can think of this like a Candy Crush game, where you are required to unlock Gift/level of the game (with an option to pay for it instantly).
Lesson for you - When you identify and focus your energy on the growth engine that suits the most to your startup, you'll build sustainable growth that will drive your business forward. A growth machine has three components: Scalable, Predictable, Repeatable. 
Your action step is to brainstorm a product feature or a service that will keeps your users/customers coming back to your product.
How can you gamify your startup? Imagine if you run an eCommerce fashion store and just release a free app that helps people select their fashion combinations. You can subtly put a link to order for your product right inside the game.
Get Smart Technology to Work for You
Let's look behind PushCV. I used a profile technology called BuiltWith. You can check it out yourself.
Among other things behind the hood, you will notice the Analytics and Tracking section that Facebook, Google analytics, Alexa and Quantcast are important tools they are using to measure their site performance
Lessons for you - Don't be carried away by vanity metrics. Instead, learn how to set useful targets to measure the growth of your startup. These will help you to know who your audience are, their behaviours on your website etc. and most importantly remarket them appropriately.
What PushCV can do to improve
There is always a room for continuous improvement. We should expect that a lot of things are being tested in their back offices and the result will be used to improve their website, especially in reducing churn rate and monetization model.What are those things you think PushCV should improve on?
So, what growth hacking strategy are you going to use to grow your startup?
Do you know that every startup has an inherent opportunity for growth hacking, regardless of business model or industry (This can happen across entertainment, real estate, wealth/fund management, ForexTrading, dating/adult sites and brick and mortar businesses?)
If you want to take inspiration from other successful startups like PushCV, you can sign up for your FREE copy of my upcoming book; StartUp Growth Hacking Stories: How successful Nigerian startups are acquiring customers and revenues Faster Than Competition.