The International Space Apps Challenge is an annual 2-day hackathon that brings together developers, technologists, scientists, designers, artists, educators, entrepreneurs and students, with a focus on utilizing publicly available data – sourced from NASA's Open Data Initiative – to proffer locally and globally relevant solutions to problems relating to life on earth and space exploration.
Spearheaded by NASA, the Space Apps Challenge takes place simultaneously, over the course of 48 hours, in cities around the world. Last year it involved over a 100 cities in different parts of the world. Lagos and Calabar took part in the competition for the first time ever. This was in collaboration with partners, speakers and stakeholders include the Ministry of Communication and Technology, Microsoft, iDEA Nigeria, Africa Technology Foundation, Tom Tom Africa and LEGO Education.
Hello women, Hello Ilorin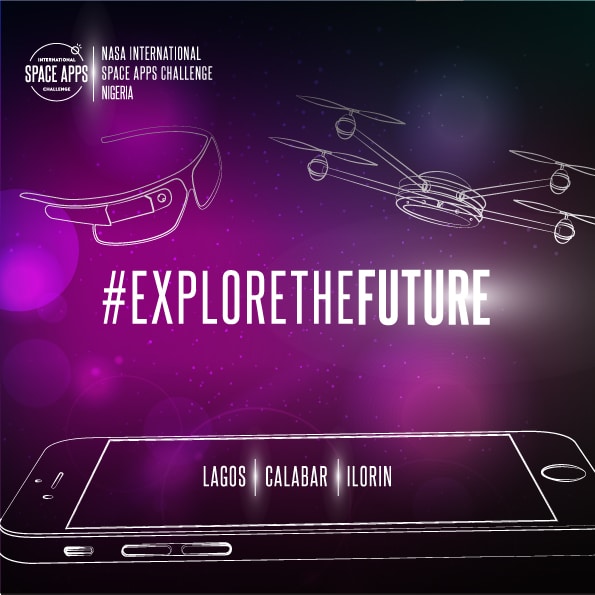 This year's edition promises to place a strong focus on Women-in-Technology, something that was sort of lacking in the previous edition. Coupled with Space Youth Program and a new Top-Talent-Off-The-Streets Initiative, the event hopes to provide a platform for accelerating high-tech capacity and starting to build Nigeria's Knowledge Economy.
Also, hackers at the University of Ilorin will be joining their Lagos and Calabar counterparts - at the TBD and Tinapa Technology Park, Calabar respectively - to represent Nigeria in the 2015 Space Apps Challenge. The Nigerian events. which have become the top Space Technology and Innovation event in West Africa, will take place in these cities over the course of a total of 4 days - from April 16 to 19, 2015.
The Challenges
Every year NASA sets 40 Challenges under 4 Main technology themes. These themes set the stage for Global Innovation. Last year, Lagos and Calabar Partnered with Microsoft, LEGO Robotics, Alpha Software and TomTom Africa to provide unique tools and platforms to help solve the Challenges. This Year, this list will include a host of leading global and local partners. You can view all the challenges here.
Why should you care?
Space exploration is seen as the final frontier of technological advancement. One has to be reminded that  lot of the everyday technology we have come to take for granted actually depend on, or are by-products of, space exploration. From mobile phones we connect with, the live football matches we watch every week, the near-accurate weather forecasts we depend on and even water filters. The list is near endless.
A hackathon such as the International Space Apps Challenge is bound to generate increased interest in science, especially among the youth. Which is why in partnership with Key Facilitator W-TEC and mentors from Lego Robotics, Nory Media Animation and the CcHub, Space Apps  Nigeria has created a special side program for primary and secondary schools students, who will get to explore and solve tough localized challenges around 3D design and printing, robotics, solving climate issues, electronics and product design.
Hopefully the ease and fun they experience in building Lego robots will inspire them to pursue a career in science and technology, an area in which Nigeria is seriously lacking competent manpower.
Who can participate?
Participation is not limited to just developers, though they will make up the bulk. Visual Artists, Graphic Designers, Data Visualization experts, Physicists, Engineers, Students, Teachers, and even VCs are all welcome to participate in this hackathon. Interested participants can start forming teams and picking from any of the local or global challenges they wish to solve. Registration for the event is now open.