For a while now, the tech blogosphere has been abuzz with news of WhatsApp's voice call feature finally arriving, albeit reserved only for a select few.
Before now you needed to have an invite - a call from a contact who had the feature enabled - to be enabled to start using WhatsApp voice calling. However, has at 2 hours before this publication, WhatsApp voice call feature appears to have rolled out to everyone running the latest version of the app on Android.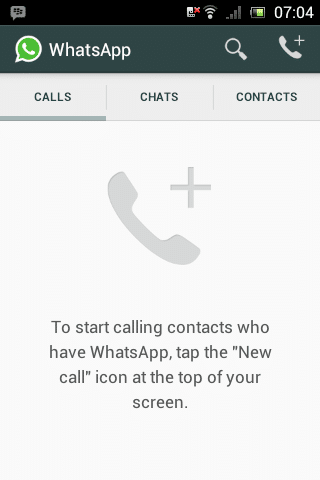 This is a server-side update so as long as you have had an up-to-date version installed for a while now, you won't need to update again. As in the screenshot above, the primary screen on the Android app has been updated to include 3 tabs - Calls, Chat and Contacts. The last tab is a welcome addition as it means you no longer have to go back another screen every time you want to  check your list of contacts. To make a call, all you have to do is tap the 'New Call' icon. The call screen employs an interface similar that of default Android.
Once you start making and receiving calls, the "Calls" tab gets populated with your call log.
It appears at the moment, you can only call your contacts who have the latest version of WhatsApp installed on Android.
WhatsApp voice call feature is currently available only for Android users. iOS users can expect the feature to be activated in the coming weeks.