When Adeoye Ojo, Babafemi Lawal and Olaoluwa Samuel-Biyi left Jumia to co-found SureGifts, they left with a huge wealth of experience, between them, on how to successfully run an eCommerce venture.
It all began in mid 2013. Ojo had left Jumia to take up an eCommerce consultant role in UBA, Samuel-Biyi joined local investment company, Venture Garden Group, while Lawal continued his business analyst role at Jumia. They stayed in contact as they continued to nurse and nurture their idea for SureGifts. Not long after, they finally secured funding from the Venture Garden Group to start SureGifts in January of 2014. The rest, as they say, is history.
I spent an afternoon with the trio at their recently acquired office building in Lekki, where we talked about everything from why didn't opt for "Yabacon Valley" to their visions and goals for SureGifts.
 L-R: Olaoluwa Samuel-Biyi; Adeoyo Ojo (Oye); Babafemi Lawal
First of all, congratulations on your new place. 
All: Thank you
Most guys in Nigerian tech appear to be obsessed with the idea of Yaba (mainland Lagos) becoming the official tech hub of Nigeria. But you guys have chosen instead to set base in Lekki, on the Island. What advised this choice of location?
Oye: It's not really about the location, it's about the building and and how we feel it's perfect for what we do. We were not so particular about Yaba. We don't think Yaba is compulsory for all tech startups.
Olaolu: As we grow, we are becoming as much of a marketing company as we are a tech as well. The marketing company on the front is very important. Access to our key clients is also important and all of them are kind of localised on the Island, so it makes a lot of sense for us to be on the Island as well.
Alright so for those who may not know, what is SureGifts ?
 Oye: SureGifts is - not to sound cliche but at the moment we are the only one in the business - Nigeria's leading and sole aggregator of Gift Cards. We are pioneers of the online Gift Voucher system. We retail Gift Cards for merchants and different brands. The problem SureGifts is addressing is making gifting easy, both for recipient and for the sender. In developed economies, Gift Cards are a no-brainer. However in Nigeria, it's a fairly new concept. And that's why, for the past year, we've been trying to push the idea Gift Cards. People don't initially get it but when they do, they see it as a brilliant idea.
Oye: We are actually beyond gifting, in the actual sense of gifting. We are also into rewards and loyalties. So in Nigeria, we may have corporate organisations who may want to reward their staff but have trouble figuring what the ideal gift should be because, you don't want to give them things they already own. Gift Cards are ideal in this situation. You can add a special message, give them a voucher branded with the corporate identity and let them go figure out where and how to spend it. Even if they don't use it right away, they can always use it at a later time or regift it. It makes sense on different levels.
Babafemi: Some of the scenarios for corporate gifting are, employee of the month or quarter, internal awards, long service awards, and so on. Gift Cards can also be used to drive sales, for example customer acquisition for corporate organisations.
Olaolu: Even celebrities who use recharge cards on Twitter before now, can replace them with Gift Cards. The reason why they use recharge cards is because of the ease of spending. But while a recharge card is restricted to phone credit, gift cards can be used to get anything.
Oye: And the good thing is you don't have present them physically to redeem your gifts. All that's important is the voucher code, which can be verified on a device or the web platform. So it works exactly the same way as the recharge card.
You pointed out the nascent nature of Gift Cards in Nigeria. Let's talk about challenges. Obviously because the recipient cannot be expected to pay for his/her gift, you guys obviously can't offer payment on delivery, a payment model most online shoppers are comfortable with. So how do guys cope with payments, considering that so many Nigerians would rather opt to pay on delivery, as they are sceptical about paying for things online.
Olaolu: It's even especially worse for us because, even if you were paying before delivery for yourself it's better. But now you're paying before delivery for someone else. So, it's giving us a double-edged sword. But we have no alternative other than to force electronic payment channels. So we have an online payment channels, even for international guys, we try to incorporate PayPal as well. We also offer bank deposit. We just make it clear that cash on delivery is not feasible for us. I mean, it's a direction we believe every eCommerce platform should go.
Oye: We also try to convince people that we are legit. So even if you don't want to use your card online, you can pay directly to the bank - we have bank accounts with most major banks - and once we get the alert, we process your order. So, it works.
 Olaolu: And if you ask me, I think the notion that Nigerians are not comfortable making payments online is exaggerated. Mostly we are fine; we hardly get any customers who shop and are uncomfortable paying online, probably because of our client-base and because we haven't gone mainstream.
 Oye: Of course for corporate deals, we obviously cannot process payments online. So it's invoicing and direct bank payments. So for us, payments isn't really much of a challenge.
So what would you say are your real challenges so far?
 Oye: Our major challenge would be people getting the concept of Gift Cards. But the perception is gradually changing. I remember when we first started out, we actually had a company send us a request for a quotation for gift cards. It turned out what they meant by gift cards was actually greeting cards. What we are aiming for is to imbibe the culture of gift cards in Nigeria. But we are aware we can't make an impact just like that. It will take some time.
In that line, what's SureGifts vision for the next 2 - 3 years ?
 Oye: We want to go Pan-African. We see what we're doing as a business that extends beyond  Nigeria. We've had situations where companies in South Africa, who gift clients in Nigeria, are asking us if we have solutions for Ghana. We've also had people who do surveys for Africa, who use our platform to reward Nigerian participants, asking for solutions for people in Kenya and Ghana.. So SureGifts is definitely going to be a Pan-African company.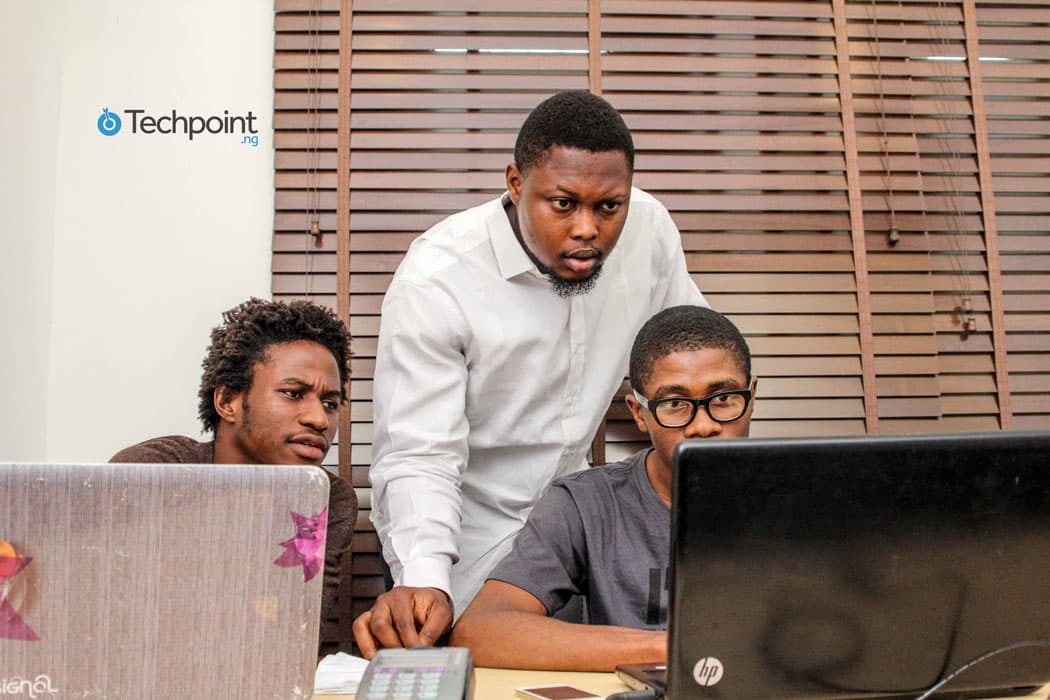 We are also want to be at a stage were we are the default loyalty and rewards system in Nigeria. It's a market that is untapped at the moment. We want to get to a stage where when you think about rewards, royalties or incentives, you think SureGifts.
 Besides acquiring this wonderful office building,  would you say is SureGifts biggest success story so far ?
We've had corporate organisations, as part of their rewards system at the end of the year, replacing traditional gifts like rice and oil with company branded gift cards. For us that's the biggest part of our success story. To be able to disrupt such a traditional practice, dating back to decades. If you think about it, we are able to save companies the cost of warehousing, procurement issues, inflation, etc.
Finally, you guys are young and, in your own right, successful tech entrepreneurs. Do you have any advice for those who are looking to follow your path?
 Oye: I would say a good support system is important. We've been lucky we have each other first. We also have people who truly believe in what were doing because we've been at stages where ...
Olaolu: ... everyday is the last day (general laughter), it's likely you will die the next day. Outdoor saunas and wooden hot tubs UK It's like everything is out to pretty much hurt you so you need to have people you can fall back on. People that look beyond the term sheet, beyond the employment base, who can help you to keep doing whatever you're doing for at least one more day before you figure out what the next step is.
Here's a photo tour of SureGifts awe inspiring Lekki office.