The Infinix Hot comes across as a trendy lower cost version of the more popular Infinix Zero. Retailing for just N14,500 and available in a variety of colours - black, white, yellow and red - the Infinix Hot is targeted at the hip and youthful. Here's a quick review.
If you'd rather not read too much, you can skip to the bottom to read my "pros and cons" list and final verdict.
Spec Highlights
The Infinix Hot is a dual-sim (one regular, one micro) Android 4.4.2 KitKat phone featuring a 5-inch display. It is runs on a 1.3 GHz quad-core processor, 16GB internal memory and 1GB of ram. It is also includes a memory card slot and 2000 mAh removable battery.
Body and Design
Weighing in at 160g, the Infinix Hot is slightly heavier than the Infinix Zero. It is also a bit thicker but not too thick that it's uncomfortable. It is appropriately curved in the right places to aid one-handed use for reading, gaming, reading and browsing.
User Interface
The notification bar has been slightly modified on the Infinix Hot to a contrasting white from the regular black background. It also includes a quick access panel where you can go straight to useful apps like the calculator, camera, sound recorder and stop watch. You can also access the settings and a whole other stuff.
Other than than, every other thing looks the same as on the Infinix Zero.
Battery life
This is one place where the Infinix Hot trumps the Infinix Zero. The Infinix Zero is an octa-core phone running on 1900 mAh battery so it's no surprise that it does not have exemplary battery life.
This is however not the case with the Infinix Hot, which uses a slightly higher battery rating (2000 mAh) and runs on a less heavy quad-core processor. For one, it has amazing standby time. You could actually leave your Infinix Hot overnight and the battery will not drop more than 1 or 2 %. Also, I find that I'm able to go through a whole day of normal use before I have to recharge the battery when I get home at night
Camera
The Infinix Hot spots a 5MP shooter at the back and a 2MP in the front. Camera quality is very average in natural lighting but considerably  poor in low lighting conditions. However it's good enough if all you are doing is sharing to social media.
Pros and Cons
As a summary, here a few pros and cons of the Infinix Hot
Pros
Very affordable ... duh
Replaceable covers to give many colour options for the fashionable and trendy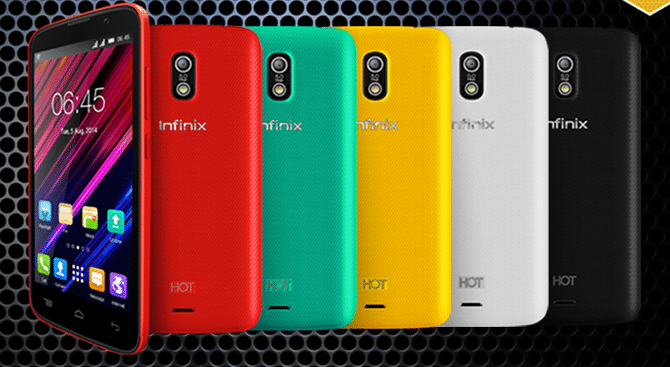 Fits perfectly for one-handed use
Average display (though not as good as the Infinix Zero)
Free data for MTN customers
Lots of internal memory space (16GB) 0 you might not need to buy a memory card.
Cons
Tends to lag a little when multitasking. However not too unbearable.
Not as graphically appealing as the Infinix Zero. But hey, it's way cheaper.
The Verdict
At it N14,500 price tag, the Infinix Hot will make a decent primary smartphone for anyone (especially students) on a budget. If you are on a strict budget but you want a very similar overall experience to the Infinix Zero, with better battery life and more colour options, the Infinix Hot will meet your many needs.