It's a good year for Women Entrepreneurs!
The Cartier Women's Initiative Awards is looking for committed female entrepreneurs heading businesses with the potential to grow significantly in the years to come. It is a business plan competition aimed at supporting creative, financially sustainable and responsible women-led companies, in all countries and across all industries.
Joining forces with the Women's Forum, INSEAD and McKinsey & Company, Cartier created in 2006 the Cartier Women's Initiative Awards, an annual international business plan competition to accompany and guide initiatives by women entrepreneurs.
This year's awards would be given to six Laureates in six geographical regions. The winners will receive a year of coaching, US$20,000 in funding, valuable networking opportunities as well as media exposure.
The six world regions are Latin America, North America, Europe, Sub-Saharan Africa, the Middle East & North Africa, and Asia-Pacific.
If you are interested in applying for the 2015 edition, fill out the online application form.  And here's a short video explaining the competition.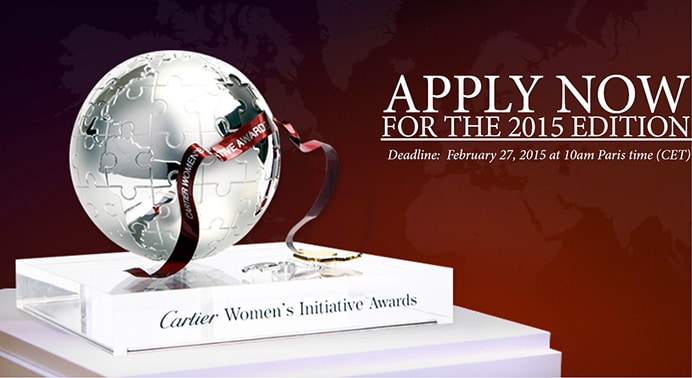 Eligibility Criteria
The business project to be considered for the Cartier Women's Initiative Awards must be:
An original for-profit business creation,
In the start-up phase: between one and three years of operation,
The main leadership position must be filled by a woman.
The competition is open to women from any country, nationality and industry.
The Mission
The mission of the Cartier Women's Initiative Awards is threefold:
To identify and support women entrepreneurs in the start-up phase through funding and coaching,
To foster the spirit of enterprise by celebrating role models in entrepreneurship,
To create an international network of women entrepreneurs and encourage sharing of experience and peer support.
Applications will be accepted until February 27, 2015 at 10am Paris time (CET).