Dtunes remains one of the best platforms to sell bitcoin in Nigeria. You'll get the best rate, fast transaction, secure trade, and 24/7 customer support
Converting Bitcoin to Naira in Nigeria can be difficult, and those wanting to sell Bitcoin in Nigeria may be duped. Because of its relative anonymity, the bitcoin ecosystem has become a fertile ground for fraudulent activity. People attempting to exchange Bitcoin for Naira may come across fraudulent sites and methods designed to take advantage of their lack of expertise or comprehension of the process. Scammers frequently entice naïve individuals by promising favorable exchange rates or rapid transactions, only to vanish with their monies.
Apart from fraudulent activities and regulatory obstacles, Nigerians wishing to exchange Bitcoin for Naira may run the risk of doing business with dishonest sellers on messaging apps such as WhatsApp. Outside of the purview of regulated exchanges, some vendors could present alluring prices but provide mediocre services, leaving customers with bad experiences. Users might not have a solution in the event of complaints or fraudulent activity, which increases the process's element of doubt.
Dtunes: Best Website To Sell Bitcoin In Nigeria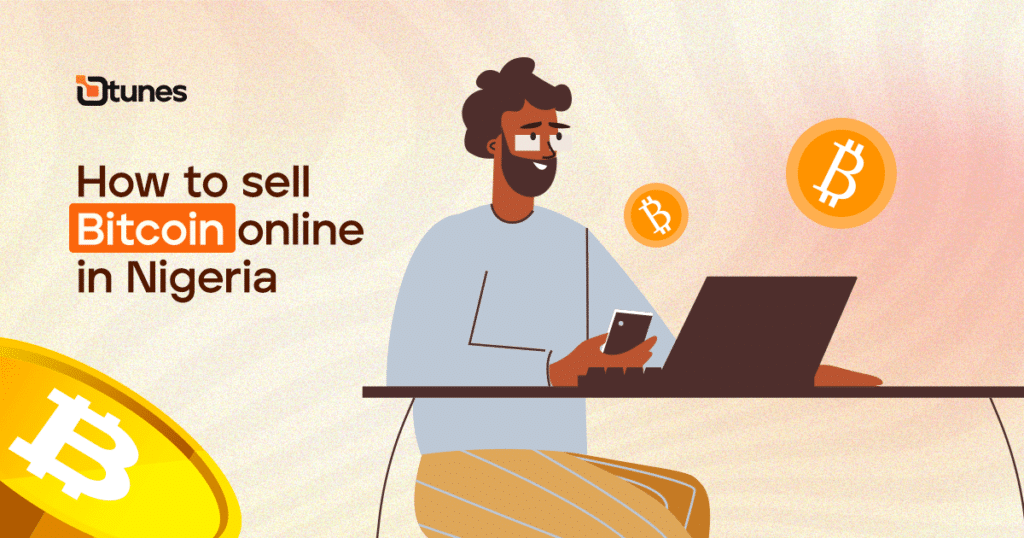 In the ever-expanding world of cryptocurrency exchanges in Nigeria, Dtunes stands out as a trailblazer, acquiring a reputation as the best website to sell Bitcoin, especially when compared to other platforms.
One of the unique qualities that distinguishes Dtunes is its commitment to providing the best Bitcoin transaction rates. Users constantly praise the platform for delivering competitive and advantageous conversion rates, boosting the value of their Bitcoin holdings.
In a market where time is often of importance, Dtunes excels at providing a seamless and speedy process for selling bitcoin, ensuring that consumers may swiftly convert their digital assets to Naira without unnecessary delays.
Below are some of the few features that make Dtunes stand out as the best website to sell bitcoin in Nigeria;
Best Rate in Nigeria: Dtunes distinguishes itself by consistently providing users with the best rates for Bitcoin transactions in Nigeria. This feature is crucial for users looking to maximize the value of their digital assets when converting them to Naira.
Fast Transaction: The platform excels at facilitating swift transactions. Speed is of the essence in the volatile cryptocurrency market, and Dtunes ensures that users can quickly and efficiently execute their Bitcoin transactions, enhancing the overall user experience.
Quick Withdrawal to Naira Account: Dtunes streamlines the withdrawal process, enabling users to convert their Bitcoin holdings into Naira promptly. The platform's efficiency in transferring funds to users' Naira accounts adds to its appeal, catering to the need for timely access to converted funds.
Secure Transaction: Security is a top priority for Dtunes, ensuring that users can engage in cryptocurrency transactions with confidence. The platform employs robust security measures to protect user funds and sensitive information, mitigating the risk of unauthorized access or fraudulent activities.
Easy-to-Use Platform: Dtunes boasts a user-friendly interface, making it accessible to both novice and experienced cryptocurrency traders. The intuitive design and straightforward navigation contribute to a positive user experience, reducing the learning curve for those new to the platform.
24/7 Customer Support: Dtunes recognizes the importance of responsive customer support in the dynamic world of cryptocurrency. By providing round-the-clock assistance, the platform ensures that users can seek help, resolve issues, or get clarification on transactions at any time, enhancing overall user satisfaction.
These outstanding offerings and features collectively contribute to Dtunes' reputation as a reliable and user-centric platform for selling Bitcoin in Nigeria.
Steps to sell Bitcoin in Nigeria Fast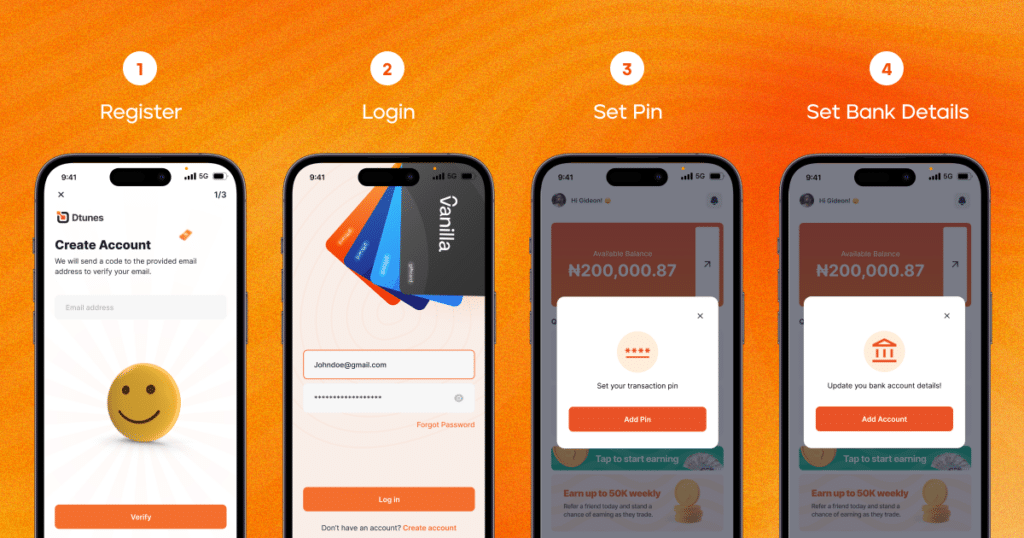 Step 1: Download App
First, go to Dtunes.ng and download the app that is appropriate for your mobile device, whether it is Android or iOS. On their website, simply click the download link that corresponds to the operating system of your device.
Step 2: Set up an Account
Once you've downloaded the app for your device, you'll need to create an account. Dtunes' account creation process is simple and quick.
Step 3: Log into your account
After you've created your account, you'll need to log into the app to begin trading.
Step 4: Set Pin & Bank Details
Set your transaction pin and bank details once you log into your account in order to secure the withdrawal process. When you log in, you should see prompts to set your PIN, biometrics, and bank information. If you accidentally close any of these prompts, you can always access them again in the settings area.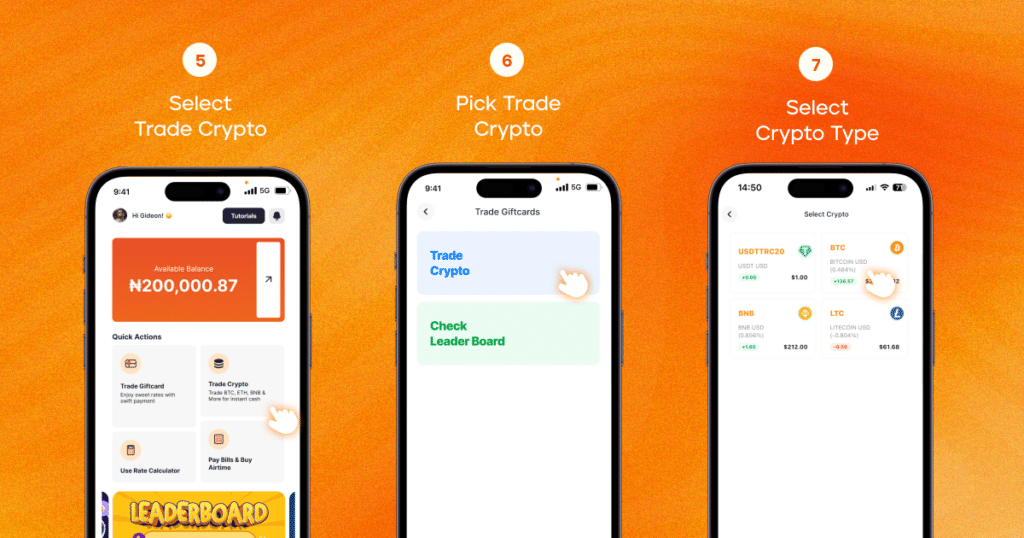 Step 5 - 7 : Initiate a trade
Once you're set, go to the home screen, select trade crypto then click on Bitcoin. You'll see another screen where you'll need to input the amount of Bitcoin you want to sell to them. Once you do that, you'll see the current market rate and the amount you'll receive. Click next to generate the wallet address.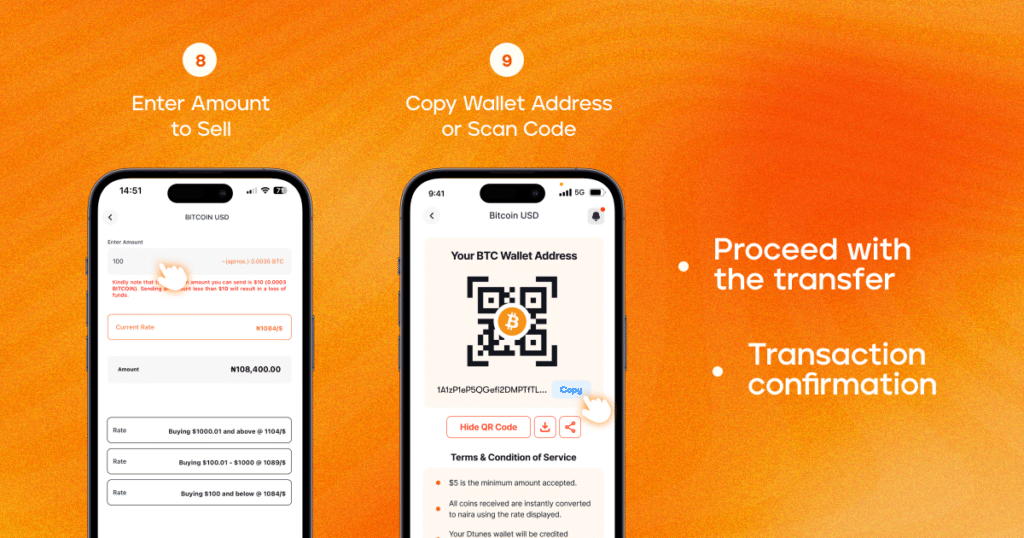 Step 8: Make transfer to wallet
Copy the wallet address you created and transfer the amount of cryptocurrency you want to sell. Your transaction will be processed once you make the transfer, and the equivalent amount in naira will be sent to your Dtunes wallet.
Step 9: Withdraw To Naira Account
Once you've received confirmation that your transaction was successful and the funds have been added to your Dtunes wallet, you can withdraw all or a portion of the funds to your Nigerian bank account.
If you do not want to withdraw the funds to your bank account, you can use them on the app to purchase airtime, data, and electricity units.
Other Crypto that you can sell on Dtunes
Dtunes, as a versatile cryptocurrency platform, provides users with the opportunity to sell various cryptocurrencies in addition to Bitcoin. Here's an elaboration on the other cryptocurrencies available for sale on Dtunes:
BNB (Binance Coin)
Binance Coin, abbreviated as BNB, is the native cryptocurrency of the Binance exchange. Dtunes enables users to sell BNB, offering an additional option for diversifying digital asset holdings. BNB transactions on Dtunes benefit from the platform's features, including competitive rates and swift processing.
Litecoin (LTC)
Litecoin is a popular peer-to-peer cryptocurrency that often serves as a "silver to Bitcoin's gold." Users on Dtunes can sell Litecoin, taking advantage of the platform's user-friendly interface and efficient transaction processing. Litecoin transactions may appeal to those seeking faster block generation times compared to Bitcoin.
USDT (Tether)
Tether (USDT) is a stablecoin pegged to the value of the U.S. dollar, providing a stable value amid the volatility of other cryptocurrencies. On Dtunes, users can sell USDT, offering a reliable and widely used digital asset for those looking to convert their holdings into a stable value.
In selling these alternative cryptocurrencies on Dtunes, users can benefit from the same features that make the platform stand out, including competitive rates, fast transaction processing, quick withdrawal to Naira accounts, secure transactions, an easy-to-use platform, and 24/7 customer support.
Outstanding features available on Dtunes
Dtunes stands out in the cryptocurrency landscape by offering a range of outstanding features that go beyond traditional cryptocurrency transactions. Here are some of the exceptional features available on Dtunes:
Sell Gift Card to Naira:
Dtunes provides users with the unique capability to convert gift cards into Naira, expanding the platform's utility beyond standard cryptocurrency exchanges. This feature allows users to liquidate gift cards, turning them into a tangible and widely accepted form of currency.
Buy Airtime and Data with Gift Card or Crypto
Offering a seamless integration with everyday needs, Dtunes enables users to purchase airtime and data using both gift cards and cryptocurrencies. This feature enhances the platform's practicality, allowing users to utilize their digital assets for essential services like mobile top-ups.
Buy Electricity with Gift Card or Crypto
Dtunes extends its functionality to cover utility payments by allowing users to buy electricity using gift cards or cryptocurrencies. This feature addresses a fundamental aspect of daily life, making it convenient for users to handle essential bills through the platform.
These features collectively contribute to Dtunes' versatility and user-centric approach. By providing solutions for converting gift cards into Naira and facilitating transactions for everyday services like airtime, data, and electricity, Dtunes positions itself as a comprehensive platform that caters to a broad spectrum of user needs. This diversified set of offerings sets Dtunes apart in the market, making it a one-stop solution for users looking to leverage their digital assets in various practical and meaningful ways.