Abiola Abraham spent most of her life in Canada. It was there that she started her tech journey from being a developer to becoming an AI Project Manager for US carmaker, General Motors.
After moving to Canada as a 15-year-old teenager and building an impressive tech career, she decided to come back to Nigeria in 2018, or "give back to Nigeria," as she described it.
But her quest to "give back to Nigeria" only lasted three years as she moved back to Canada in 2021. "My skills were being underutilised," she said.
Besides not using her skills optimally, she didn't have a very palatable experience at the construction firm where she worked as a project manager.
As a developer who had been working with automated and modern systems, Abraham got frustrated with the pen-paper mode of operation at the construction firm.
Interestingly, these frustrations birthed Pathscape, a platform she built to solve the problems she encountered at the firm.
Pathscape is as a project management tool designed for construction companies. It helps them manage their processes from design to budgeting, communication, and even fund allocation in one location.
How Pathscape works
To explain how transformative Pathscape is, Abiola gave a rundown of some construction firms' processes.
They typically start with the developer's idea. The idea, for example, could be a 35-storey apartment building in Abia State.
The developer then sends this idea — known technically as a brief — via email or as a physical document to an architect.
The architect turns the idea into drawings which will also be delivered through email or hard copy. The project goes to the next phase if the developer likes what they see.
She pointed out, however, that this first stage of the project already lacks easy documentation. Other parties within this project will probably have to dig through documents or email threads to find the briefs and drawings.
The documents and email threads continue to increase with each stage of the project. If the developer signs off on the architect's drawings, the quantity surveyor (QS) starts to do the project costing.
The costing is done in an Excel Sheet which the surveyor also shares as a hard copy or via email with the developer. If there's a back and forth before the developer approves the costing, then a mountain of documents or a long email thread builds.
A project manager then goes through these email threads or documents to create tasks for the project. According to Abraham, the tasks are created in a spreadsheet where collaborators cannot be added.
Tasks are ticked off manually and if the developer wants to get an update on the project, they would have to request copies of these spreadsheets.
The project manager also communicates with their team via email and WhatsApp and nothing gets recorded properly.
These processes were frustrating enough for Abraham to return to Canada.
"Data transfer between teams was slow, and collaboration within teams was also slow. Getting data was hard and this made it hard to understand the project from a cost and a team perspective."
She created Pathscape as a platform where any team member can get a full picture of a construction project.
While the flow of the project is still similar, it is done in one central platform where data storage and communication have been merged, increasing project speed.
Once the developer creates a project on Pathscape, they send the brief to the architect by inviting them into Pathscape. The architect uploads their drawings on the platform for the developer's approval.
The costing, usually done by the QS in a separate Excel Sheet, can also be done within Pathscape with a tool called cost items.
"So they would go within cost items and enter, let's say, for instance, cement. They'll put in the unit of measurement, which is bags. They'll put in the currency and then put in the price for that cost item.
"This will be done for all the time, material and equipment cost items or expenses that they would have within that project."
Interestingly, funds can be disbursed within Pathscape for these materials. Abraham pointed out that there is an accounting workflow that allows the accounting team to disburse funds for the project.
The accounting workflow isn't the only workflow feature on the platform. There's another one that allows the project manager to break down the construction project into different phases such as civil works or plumbing works.
Within these phases, the project manager then creates tasks for team members.
Pathscape's traction
Out of a waitlist of 132, 58 firms started using Pathscape after it launched in July 2023. Right now, the platform manages ₦2.5 billion worth of construction projects across Africa.
Based on the reception of current users, Abraham is convinced that figure will increase in no time.
But even with such impressive numbers at three months old, she has kept the team lean. Pathscape only has five employees, including Abraham.
"We're a very nimble team and we're very fast as well. This is why we were able to build out this product in a couple of months."
Abraham has been supporting her team mainly through her savings. Although the company has converted 58 companies on its waitlist into customers, not all of them are paying users.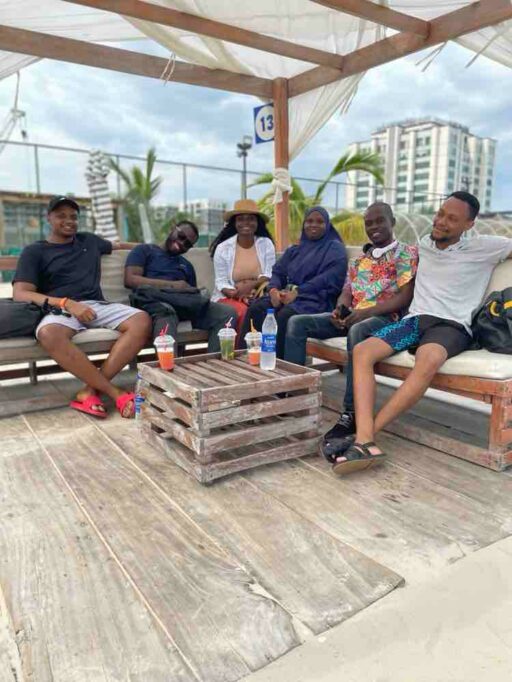 Keeping the team lean was a cost-saving move and one way Abraham has kept the team effective is by upskilling the members. Team members can wear several hats and take on new challenges.
But she's positive that the days of supporting the business with her savings will soon come to an end.
"I've bootstrapped Pathscaspe from the ground up with money from my savings. But we're getting to a point where we can break even from our paying customers."
Venture capital (VC) funding is an alternative, but she's wary of VC money.
She said investors have shown interest in Pathscape, but "we haven't found the perfect match for us."
Her focus now is growing the business rather than finding an investor that matches her goals and dreams for Pathscape.
There are over 570 construction projects in Africa valued at $450 billion. Abraham is targeting 10% of these projects over the next ten years.
Join over 2,000 founders and investors
Subscribe to the Equity Merchants newsletter and start receiving tips and resources for startup success.
Pathscape's business model
If Pathscape captures 10% of the $450 billion construction projects across Africa, it will be managing $45 billion worth of projects.
It would make money by charging the projects a monthly, quarterly, semi-annual, and annual subscription.
Pathscape's subscription has three tiers: a basic subscription for small construction firms of about ten people, a growth subscription for slightly larger firms, and an enterprise plan for large firms.
While Abraham didn't share the price for the different subscription tiers, she said they're so affordable that pricing is a key competitive advantage for the company.
She said Pathscape charges a tenth of what a competitor like Procore — with subscription plans that vary from $667 to $1,182 monthly — charges.
Another advantage Pathscape has over Procore is its focus on the African market. Procore is focused largely on North America's market while Pathscape is doubling down on the Africa's.
Pathscape has other competitors like Autodesk and FieldWire, but Abraham pointed out that it has more features and keeps many processes within the platform, unlike these competitors.
Interestingly, having more features has been a challenge for the company.
Choosing which features to add and which to abandon was a major conundrum for Pathscape.
"There were a lot of brainstorming sessions, a lot of back and forth with the team to determine which features we should work on first.
"Going back to the customer and listening to their pain points and challenges guided us through that process to know what features to work on."
After deciding which features to have on Pathscape, Abraham and her team were faced with the second challenge of getting construction firms to use the platform. Only half of the clients on their waitlist were converted into customers.
However, they've gotten better at getting clients, going beyond the waitlist. Pathscape now has clients from Nigeria, Tanzania, and Kenya.
But there's still so much to do to get a slice of Africa's $450 billion construction market.
The next move for Abraham and her team is Pathscape AI, an artificial intelligence feature that will allow users to generate reports based on the data they already have on the platform.
Abraham said the AI feature will help generate project plans, risk mitigation plans, calculate cost performance index, and project performance.
The startup just got into a Canadian accelerator — DMZ Pre-Incubator — where it'll get $5,000 in funding and learn how to secure customers. Abraham is confident in her dream and her team, and sees Pathscape competing globally.