Rack Centre, Nigeria's carrier-neutral data centre is expanding its capacity, which will make it the biggest in sub-Saharan Africa. The company, the only Tier III certified data storage firm in Nigeria, has begun constructing an additional 12MW IT load data centre to expand its existing 1.5MW capacity by Q2 2024.
Established in 2013 when Maher Jarmakani of Jagal, realised the need for an independent Nigerian data centre in Africa's biggest economy, Rack Centre has doubled capacity almost every year since it opened its doors for business. Jarmakani started the centre when most Nigerian businesses had their own storage on their own premises, instead of a central independent storage facility.
Jarmakani had noticed that enterprises within the country had pseudo-data centres – computer rooms where they warehoused their data in-house. And typically, with that, there was no clear policy and procedure for how that infrastructure and the data were managed. This also gave rise to latency issues as they were all restricted to the various connectivity providers that they had.
Rack Centre was set up to centralise data in the country. The key motivation for the establishment of Rack Centre was the need for connectivity and to drive collocation – a practice of housing servers, networking equipment, and other computing hardware in a third-party data centre that can provide connectivity to users with significant network performance, cost savings, resiliency, and security benefits.
The idea was to build a carrier-neutral facility that is not directly controlled by any telco company. Basically, the creation of a facility that gave the ISPs and telco providers the comfort to enter an environment and provide connectivity without any concern about the biases of the owners.
"We engaged all the key ISPs and network providers, granting them connectivity, cost-savings, flexibility, and improved network performance helping them see value in collocating in Rack Centre.''

To drive a mindset change among industry players, especially regarding the need to have their own storage facilities, Jarmakani said that Rack Centre had to work with regulatory bodies in the country.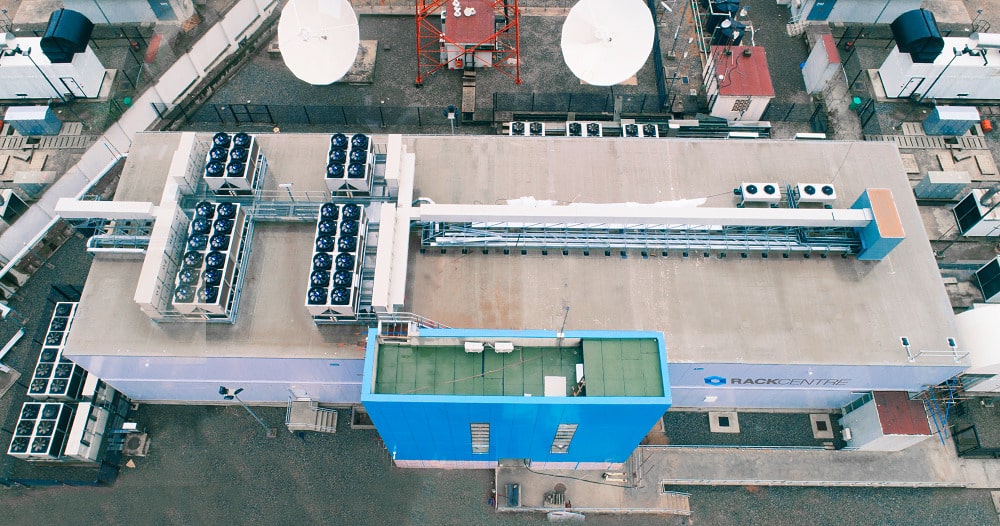 "We started working with the Central Bank of Nigeria to make them understand the importance of colocation and setting the standards in the industry so that we can compare ourselves against other international data centre service providers.''
''It's been quite a journey in the last ten years. We had to overcome the traditional belief of enterprises setting up their own data infrastructure and providing the same service to themselves, enabling technology owners to adopt outsourcing,'' Jarmakani said.
His passion and vision are paying off as significant progress has been made in this regard. The Central Bank of Nigeria mandates that all banks must have at least one of their data centres in a Tier-III certified facility, where an 18-month window from 2015 was given for compliance. The Nigerian Information Technology Agency also mandates that businesses should host their data locally. That has also helped drive the growth of data centres in Nigeria.
''Now most banks have either primary or secondary storage data facility,'' Jarmakani said.
The data centre industry is projected to grow by an average 17.9% annually from 2021 to 2027 according to 6Wresearch. The growth will be driven by the rollout of 5G technologies by the telecom firms, and the increasing expansion of the tech startup space.
To take advantage of the growing demand for storage services in the country and to expand its services, Rack Centre began to diversify its service offerings portfolio and bring in additional investors. In 2020, Jagal and Actis, a global emerging market investment firm, entered a joint venture, further positioning Rack Centre as a leading data centre provider in Nigeria and contributing significantly to the country's economic growth.
Rack Centre has grown to have the biggest market share in Nigeria as the demand for cloud storage facilities increases, driving a fast expansion in the country's digital economy, especially the e-commerce space and access to financial services. It is the most connected in Africa with connection to over 27 of the major carriers and internet service providers. Most recently, Amazon Web Services (AWS) announced the opening of a new AWS Direct Connect location within the Rack Centre data centre in Lagos, Nigeria.
Maher Jarmakani's vision to build a world-class Nigerian data centre that could compete with the best in the world became the driving force behind Rack Centre's journey to becoming the largest data centre in sub-Saharan Africa. By building state-of-the-art facilities that could provide the highest levels of security, reliability, and scalability, it has earned a reputation as the leading data centre provider in Nigeria and a key player in the region's economic development.