In less than 3 days, all roads will lead to East Africa, as the much anticipated East Africa Digital Innovation Summit will be held from July 6 to 9, 2023.
The summit organised by Blockchain Vibes and SPC Universe seeks to explore the innovations in web2 and web3 technologies and how they will shape the future of digital transformation in the East African region and the continent as a whole.
East Africa Digital Innovation Summit will bring together innovators, policymakers, entrepreneurs, investors, tech enthusiasts, and other stakeholders in Kenya, Rwanda, Uganda, and all over Africa for four days of strategic conversations, high-level networking, and partnerships, among others.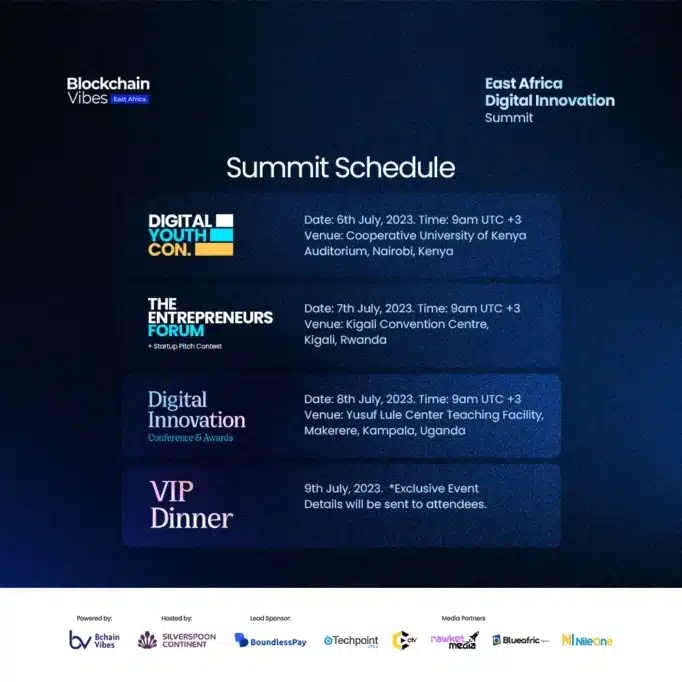 Starting from Nairobi, Kenya, the Summit will kick off with the East African Digital Youth Conference at the Cooperative University of Kenya Auditorium, Nairobi, Kenya, on July 6.
The East Africa Digital Entrepreneurs Forum and startup pitch contest will be held at the Kigali Convention Centre, Kigali, Rwanda, the next day, July 7.
All roads then lead to Kampala, Uganda, for the Digital Innovation Conference and Awards at the Yusuf Lule Central Teaching Facility, Makerere, Kampala, Uganda, on July 8. An exclusive VIP dinner to wrap up the summit will be held the next day.
Join the East African Digital Innovation Summit's amazing speakers, organisers, and attendees coming from around the world and tour the East African region while actively contributing to the conversation that will usher the continent into the future of Digital Transformation.
If you haven't registered, head over to the Blockchain Vibes website to reserve your spot at the Summit.
For more information and inquiries, contact the blockchain vibes team via email at [email protected] or send a text to +971586819939 on WhatsApp.