Key takeaways
The Lagos State Government (LASG) has announced the launch of the first set of electric buses in its Lagos Mass Transit Master Plan.
While the government plans to modernise every sector of the state, is its ambition for electric buses sustainable?
We take a look at what it takes to run an EV ecosystem, from the different kinds of charging stations to their set up costs and charging times.
On Sunday, April 30, 2023, the Governor of Lagos State, Babajide Sanwolu, announced the arrival of the first set of electric buses in the Lagos State Mass Transit Plan.
According to his tweet, electric buses can travel for up to 280 kilometres (Km) before needing a charge. He said this is already more than the distance fossil fuel-powered BR buses travel daily.
For power supply, the state has partnered with Oando Clean Energy Limited "to strategically place Universal Chargers at public places like malls and gas stations."
However, when it comes to using electric vehicles (EVs) in Nigeria or most African countries, a lot needs to be taken into consideration.
Even Tolu Williams, Founder and Director of e-mobility company, Siltech, admitted that EVs need a lot of modifications to function properly in Nigeria. From the peculiar nature of the users to the state of road transportation in the country, many things are required for EVs to work in Nigeria.
Can electric buses work in Lagos? 
To be fair, the governor's announcement answered many of the obvious questions people have when it comes to EVs.
For instance, addressing distance, he said the buses can travel 280 km. For context, Berger to Tafawa Balewa Square (TBS) is 24.8 km which means the electric buses can cover that distance approximately 11.5 times on a full charge.
Charging is another factor to be considered for EVs in Nigeria. For this, the LASG's partnership with Oando is expected to lead to the creation of universal chargers in public places. While these considerations are commendable, implementing them in a place as peculiar as Lagos will have its challenges.
Can Nigeria sustain an EV industry? 
According to a pre-feasibility assessment (PDF) on renewable energy in Nigeria done by Oando Clean Energy, "Nigeria as a country may not be positioned for the emergence of electric vehicles."
The assessment said that for Nigeria to become a means of transportation on a large scale, power generation and distribution need to be upgraded.
According to the Energy Progress Report of 2020, 55% of Nigerians have access to electricity, whereas the global average is 80%.  
What does it cost to build an EV charging station?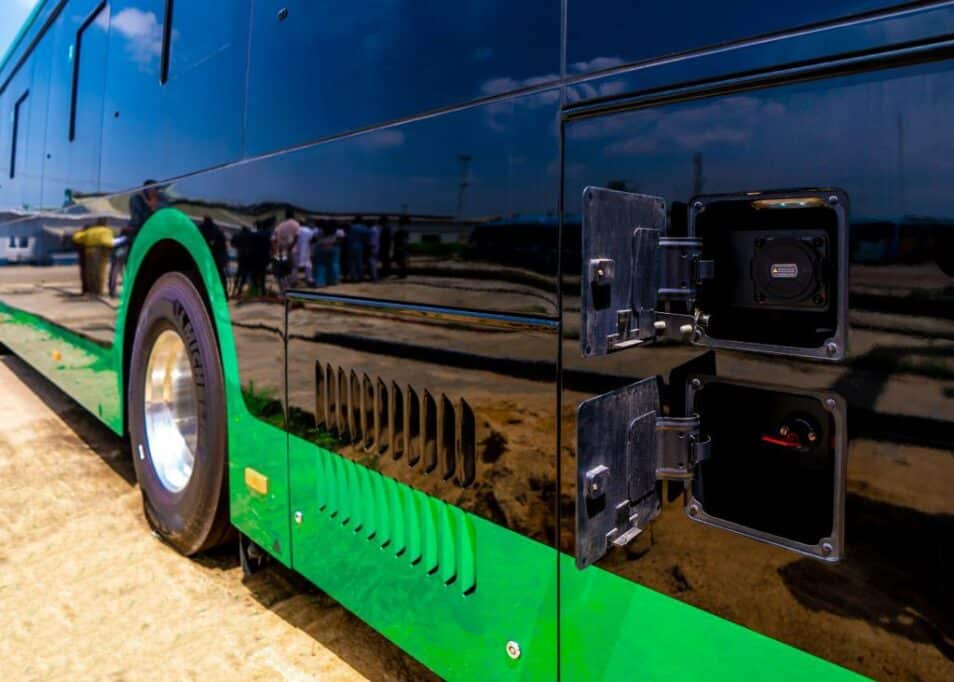 There are three levels of EV charging stations. Level one is the indoor charger used by EV owners who charge their vehicles at home. The downside to this level-one charging station is that it is very slow.
The second level of EV charging stations is faster and is found mostly in public places. The third is known as the DC fast chargers, which supply up to 480 volts of direct current.
Since Oando will be building universal EV chargers in public spaces, it is safe to assume that it'll be going for level two or three chargers.
Per WattLogic, creating a single unit of level two chargers could cost as much as $6,000 (₦2.7 million), while level three chargers could be as expensive as $30,000 (₦13.8 million).
Although the nature of LASG and Oando's partnership is unknown, building one charging unit for $30,000 or $6,000 has to yield good returns. There is also the need for alternatives to running these charging stations as the country's power supply isn't stable.
How long will it take to charge an EV bus? 
The time it takes to charge an EV bus is determined by the kind of charger being used.
While the exact model of the Yutong buses isn't confirmed, the Chinese manufacturer produces electric buses — E12 electric bus— that are fitted with 422kWh batteries which it claims can provide a range of up to 370 km. Yutong, however, did not give a specific amount of how long it will take to charge the battery, it only said it can reach a full charge overnight.
However, using the formula, Auto battery capacity (kW⋅h) x 1,000 / EVSE power (kW) x 1,000, we can estimate how long it will take to charge a Yutong E12 electric bus using a level two or three chargers.
For a level two charger, the figures will be (422 kWh) x 1,000 / 22 kW x 1,000. This means it will take 19.2 hours to charge the E12 electric bus fully using a level two charger.
Using the level 3 chargers reduces the charge time significantly. It will only take a little over an hour to charge the 422 kWh bus fully.
Can hot weather affect an EV bus?  
Generally, batteries degrade quickly when they're hot or used in high-temperature environments. Africa lies within the equatorial zone where the sun's heat is strongest, so EV batteries are susceptible to heat.
However, most modern EVs have a battery management system that monitors temperature, charge, and the use of high-voltage batteries. They even have cooling systems that make the weather less worrisome.
What happens if an EV bus enters a flood? 
If you live in Lagos, you know how often it gets flooded in the rainy season.
And just like regular vehicles, EVs can suffer damage when they're used on flooded streets.
Interestingly, water damage protection in EVS is the same as in regular vehicles. They generally have electric components that need to be protected from water. In EVS, the battery is typically used as a structural component that runs through the floor of the vehicle.
The battery packs are usually well isolated and shielded from water damage.
How many electric buses are expected to be rolled out? 
According to Oando, 12,000 buses will be rolled out over the next seven years.
Oando has also partnered with Yutong to facilitate training programmes for drivers, operators, and regulators and develop a local EV assembly plant to boost local production.
Are there EV service centres in Nigeria? 
While we have EV manufacturers such as Siltech and Jet Motors in the country, there aren't dedicated EV service centres in Nigeria. EVs also do not require frequent servicing as there are fewer moving parts, unlike combustion engines.
However, the LASG plans to launch an EV assembly plant in the state.
There's going to be a pilot phase
From all indications, an EV industry seems unsustainable in Nigeria; perhaps this is why the Lagos State Government will run a pilot scheme to gather the data required to analyse the operational efficiencies relative to the current BRT buses.