Shield is an a16z-backed startup that wants to improve security in the Web3 and blockchain space. The startup analyses the security status of a Web3 project and determines its security level.
According to the startup's Co-founder, Emmanuel Udotong, "What we do is certify the security standards of Web3 projects to help build more trust across the space, and help the end users understand what projects they can trust."
Shield ranks these projects by their level of security so that customers who intend to use these projects or Web3 services know the project's safety level.
On a call with Techpoint Africa, Emmanuel who founded the startup with his brother, Isaiah Udotong, and Luis Carchi, gave an instance where a person needs a Web3 wallet, but does not know the most secure wallets on the market. With Sheild's ranking, this information is available to the customer.
Founded in 2022, the startup which recently got into a16z's Crypto Startup School accelerator wants to increase security transparency in the Web3 space.
The founding team is using their background in privacy and cybersecurity to ensure users of Web3 platforms are not open to security breaches. The CTO, Carchi
was in a former product development specialist at Facebook. Emmanuel worked on cybersecurity and risk engagements at McKinsey and many large banks and telecom companies.
Isaiah spent some time at crypto companies researching security protocols. While all three co-founders have a background in security, they also possess unique growth skills, which Emmanuel said most security companies don't focus on.
The founders claim they generated $500,000 in sales from their NFT project called Ancient Warriors. Interestingly, the project was their first foray into the Web3 space.
Emmanuel said they could do this by learning how to market to people and build trust in the Web3 space.
"We've been able to combine those two things in a really interesting way to create a unique product that we haven't seen on the market yet," he said.
Securing the Web3 space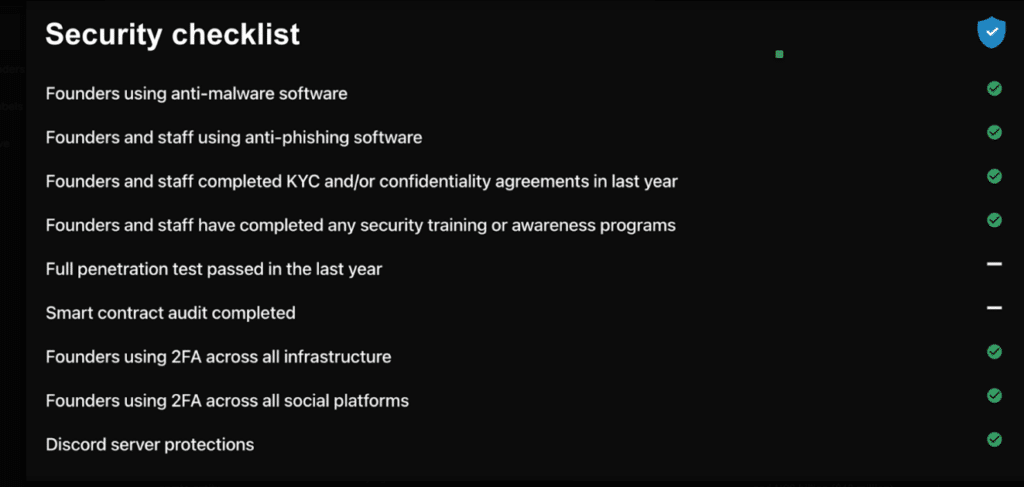 The Web3 space has suffered its fair share of security breaches in recent times. According to a report by CertiK, a blockchain auditing and security company, Web3 projects lost $2 billion to hacks in the first half of 2022.
The cryptocurrency and Web3 space is still very susceptible to phishing scams and hacks, leading to many projects and users losing a lot of funds annually.
Emmanuel also gave the example of DeFi protocol, Euler Finance, which lost $197 million to a hack called a flash loan attack in March 2023.
He said, when these attacks happen, people tend to focus only on why they happened and not on ways to prevent them from happening in the first place.
Shield wants to be that entity that is proactive about identifying the Web3 project security risks.
The startup does this by finding information about how an individual project is securing itself. It does this to all kinds of projects in the Web3 space, essentially creating what Emmanuel describes as a security Yelp, but instead of security reviews being crowd-sourced, they are done by a team of professionals.
Currently, the Shield team uses a manual approach for their security assessment, which involves speaking to the owners of the project directly and asking questions.
However, the startup plans to use its $2 million funding from investors including, Kraken Ventures, Eterna Capital, Alchemy, and Moonpay to create a system that automates the assessment.
Business model
Web3 projects pay Shield for assessing their platform's security. While the startup cannot reveal which platforms are currently paying for this service, it says most of them are pre-seed-level startups.
However, it also has non-paying Web3 protocols, for which it conducts security checks. Emmanuel revealed that it has over 150 non-paying platforms, some of which include popular projects like NFT Marketplace, Rarible, and Fox Sports.
He said these platforms trust Shield to reveal any lapses in their security, as breaches hurt the identity and reputation of well-known brands.
Although Shield intends to maintain transparency in the space by making information about the security of Web3 platforms publicly available for potential users, getting paid by the projects it is assessing raises a concern — how do potential customers trust that Shield is completely transparent about its security assessment of the platforms?
Emmanuel admits that credibility is an important concern for Shield, which is why it is going from manual to automated audits. He said there are many ways to automate the assessments, and one of them is called zero-knowledge proof.
He added that the system essentially proves to the users that every company has gone through the same form of assessment, making the security results trustworthy.
Beyond developing Shield's technology, the $2 million funding will also be geared towards growing the Shield team.