The US Citizenship and Immigration Service (USCIS) recently announced that individuals travelling to the US on business or tourist visas (B-1 and B-2) can now apply for jobs and attend job interviews.
This news is particularly relevant to the thousands of highly skilled foreigners who have been impacted by recent layoffs at major tech companies, including Facebook, Amazon, Google, and Microsoft. In 2023 alone, these companies have collectively cut over 70,000 jobs.
In most cases, immigrants enter the US with an H-1B visa because they are coming to work for a US employer. However, if their employment is terminated, they only have a 60-day grace period to stay in the US. During this time, they must find another employer to sponsor their visa, change their immigration status, or prepare to leave the country.
People who wish to remain in the US often apply for B-1 or B-2 visas for business or tourism, or F-1 visas for studying.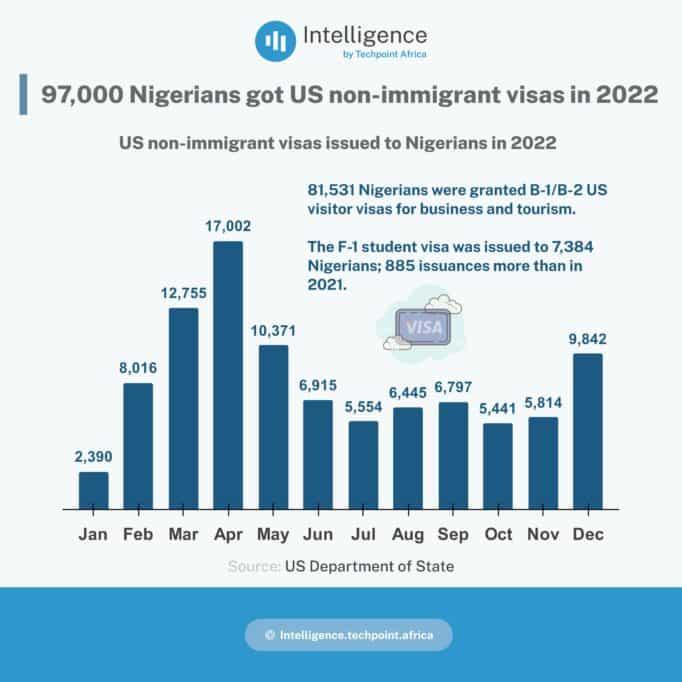 Previously, visitors on these visas were not allowed to look for jobs, but the new policy has changed that. Meanwhile, Indian lawmakers have petitioned the USCIS to extend the 60-day grace period to six months or a year.
What's the catch for African immigrants?
The US has become a significant destination for people from developing nations, particularly those from Africa and Asia. While poverty, violence, and underdevelopment in their home countries are often considered the only factors that contribute to their decision to migrate, many argue that it is the immigrants' skills and contributions to the receiving country that drive their aspirations to move.
Data from Intelpoint reveals that a total of 345,610 visitor visas (including B-1, B-2, and B-1/B-2) were issued to Africans in 2022. Meanwhile, 81,531 Nigerians received B-1/B-2 visas, and 7,384 Nigerians got F-1 visas in the same year.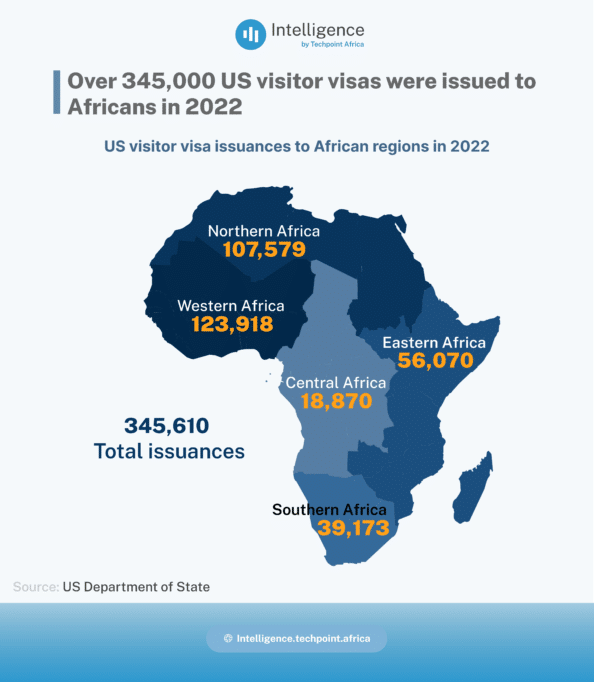 According to the rules, B-1 and B-2 visa holders are allowed to stay in the US for up to six months, with the possibility of an extension of up to a year if they apply at least 45 days before their authorised stay expires.
While the new policy allowing job searches may be beneficial, it could also make it more difficult for Africans to obtain B-1 and B-2 visas as it may be seen as another way to pursue work in the US.
Despite recent improvements in migration opportunities, the US immigration system still faces significant challenges. Recall that the Trump administration introduced certain restrictions targeting immigrants based on the premise that immigrants are taking jobs away from American citizens.
These policies, which were largely criticised were based on economic, national security, and cultural concerns. Thankfully, President Joe Biden reversed some of these policies, including the Travel Ban that affected several African countries, such as Nigeria, Sudan, Tanzania, and Somalia, on his first day in office.
It is important to note that this new policy that allows visitors on B-1 or B-2 visas to apply for jobs does not grant work authorisation. This means that they must change their visa status to an employment-authorised status, such as H-1B or L-1, before starting the job.
Fun fact: Africans got issued 2,830 H-1B visas in 2022 with 63% coming from West Africa.
This additional step of obtaining the appropriate work visa may prove challenging for some applicants due to the limited availability of visas -- possibly caused by backlogs from Trump's administration and COVID-19 -- as well as strict eligibility requirements.
Notwithstanding, the full extent of the impact of the new policy on African immigrants will likely become clearer over time. In the meantime, let's answer some questions you might have about how to benefit from the new policy.
What are B-1, B-2, and B-1/B-2 visas, and how do they differ?
These are non-immigrant temporary visas which do not permit the holder to work in the US. B-1 visas are issued for business visitors who are travelling to the US on a short-term basis, like attending conferences or conducting business meetings. B-2 visas, on the other hand, are for tourism, like visits or medical tourism. Meanwhile, a B-1/B-2 visa combines both categories, granting entry for either business or tourism purposes.
How do I apply for B-1 and B-2 visas?
Eligibility depends on the ability to prove that the trip is temporary and you can self-fund all the costs of the trip. To apply for a B-1 or B-2 visa, follow these steps:
Complete and file the Online Non-immigrant Visa Application, also called Form DS-160. This provides the necessary information -- personal and travel -- to determine whether you're eligible for a non-immigrant visa. After filling, print the confirmation page which you'll take to your visa interview.
Pay the visa application fee, which is typically $160 for B-1 and B-2 visas.
Schedule an appointment for a visa interview at the U.S. embassy or consulate in your country of residence.
Attend the interview, bringing all the required documents.
What documents are required for the visa application?
You will need to provide the following documents for your visa application:
A valid passport with at least six months of validity beyond your intended stay in the U.S.
A confirmation page of your completed DS-160 form.
A receipt of your visa application fee payment.
A passport-sized photo that meets the U.S. visa photo requirements.
Supporting documents, such as evidence of financial support, ties to your home country, and the purpose of your trip.
How long does it typically take to process a B-1 or B-2 visa application?
Processing times for B-1 and B-2 visas can vary depending on factors such as the applicant's country, the US embassy or consulate in the home country, and the time of year. In general, it can take anywhere from a few days to several weeks to process a visa application. African applicants may even experience longer processing times due to administrative processing or security checks.
What to do if your B-1 or B-2 visa application is denied
It's important to understand that visa application approval is at the discretion of consular officers and may vary depending on individual circumstances. If your B-1 or B-2 visa application is denied, you can reapply for the visa. You will, however, need to address the reasons for the initial denial, such as providing additional documentation or clarifying the purpose of your trip.
How to change your status from B-1 or B-2 visa to an employment-status visa
To change your status from a B-1 or B-2 visa to an employment-based visa, you must first get a job offer from a US employer. The employer would then file a petition with USCIS on your behalf for the appropriate employment-based visa category. This largely determines whether you'd get an H-1B to L-1 visa or not.
By implication, if your B-1 or B-2 is about to expire, it's better to apply for an extension while awaiting the outcome of the petition. One faster and simpler option is to leave the US and apply for an employment-based visa from your home country.
Once your petition is approved, you can file Form I-539 (Application to Extend/Change Nonimmigrant Status) to request a change of status from your current B-1 or B-2 visa to the new employment-based visa.
This process can be complex and lengthy, depending on the availability of visa categories, country quotas, and embassy processing times. It's essential to seek the help of an immigration expert to navigate this process effectively.