Key Takeaways
On March 30, 2023, Kenya's President, William Ruto, announced that the country would collaborate with Univercells Technologies, a Belgian biotech company, to build the first biotechnology centre in Kenya to produce drugs and vaccines.
Per Ruto, the biotechnology centre is part of the government's plan for Universal Healthcare.
Aside from making healthcare more affordable for the general public and opening up new markets for healthtech startups, the availability of locally produced vaccines and medications could also contribute to lowering healthcare costs.
When COVID-19 struck, some first-world countries developed and produced vaccines for the pandemic, administered them to their populations and even ordered booster shots for those who had already received vaccinations.
However, many developing nations, including Africa, couldn't access the full range of COVID-19 therapeutics due to exorbitant prices and scarce supplies.
Yet, Africa continues to struggle with limited access to drugs and vaccines. The continent highly depends on imports because it produces only 1% of the vaccines it uses.
Increasing Africa's ability to produce vaccines will enable nations to distribute available vaccines more efficiently and assist the continent in coping with current and upcoming crises.
According to Anadolu Agency, an estimated 19.8 million children worldwide, most of whom are from Africa, did not receive routine measles vaccinations in 2019.
Further, these initiatives will put Africa in a much better position to meet future public health solution demands.
In 2021, the Kenyan government announced that it would begin producing COVID-19 vaccines domestically in 2022 to resolve supply issues that have slowed down mass immunisation.
Moreover, Moderna, a pharmaceutical and biotechnology company based in the United States, announced in March 2022 that it would establish a manufacturing facility in Kenya — its first in Africa — to create messenger RNA (mRNA) vaccines, including shots for COVID-19.
But Kenya reportedly hasn't begun producing these vaccines as of publication time.
However, on March 30, 2023, Kenya's President, William Ruto, announced that the country would collaborate with Univercells Technologies, a Belgian biotech company, to build the first biotechnology centre in the country to produce drugs and vaccines.
What is a biotechnology centre?
A biotechnology centre is a facility devoted to biotechnology research and development.
It is where scientists, researchers, and engineers collaborate to develop new products, technologies, and processes that use living organisms or their by-products to address issues in healthcare, agriculture, the environment, and other fields.
Globally, patients have access to over 250 biotechnology-based medications and vaccines for many diseases that previously didn't have a cure. Examples of these include etanercept (Enbrel), adalimumab (Humira), and infliximab (Remicade).
Biotechnology drugs are different from pharmaceutical drugs in that they are produced using biotechnology, which involves modifying bacteria or other biological substances, such as enzymes, to carry out a particular process.
Establishing a biotechnology centre through public-private partnerships (PPPs) or alliances between the public or private sector and academic institutions necessitates a sizeable investment in infrastructure, equipment, and labour.
Public-private partnerships (PPPs) can help low- and middle-income countries (LMICs) address healthcare challenges by leveraging resources, sharing risk, and removing obstacles to innovation and investment.
PPPs, including Kenyan-Univercells proposed partnership, combine public and private sector resources and expertise to create and implement solutions to address the issue of limited access to affordable healthcare in the region, particularly in rural and remote areas.
Biotech centres can be found in academic buildings, research facilities, or specialised science parks, depending on the goals and scope of the centre.
BioPark Mauritius, the Institute for Microbial Biotechnology and Metagenomics at the University of Western Cape, and South African Biovac are a few examples of biotech hubs in Africa.
Why is the proposed partnership important?
According to President Ruto, the biotechnology centre is part of the government's plan for Universal Healthcare.
A universal healthcare system ensures that all citizens in a nation or region have access to healthcare. With universal health coverage, everyone has free access to the full range of quality healthcare services they require whenever and wherever they need them.
Kenya faces several healthcare issues, such as a high prevalence of infectious and non-communicable diseases and restricted access to affordable and quality healthcare.
According to studies, 83% of Kenyans do not have insurance to cover medical expenses, and each year, 1.5 million Kenyans are forced into poverty as a result of paying for healthcare.
Besides, statistics show that the National Health Insurance Fund (NHIF), the primary insurer in the country, covers 18% of Kenyans, or approximately 8.5 million people. Also, 1% of Kenyans are covered by the 32 private health insurers combined.
This indicates that many Kenyans rely on personal funds to cover medical expenses.
By creating new vaccines, medications, and diagnostics catering to the particular healthcare requirements of the populace, a biotechnology centre can assist in overcoming these difficulties.
Consequently, local drug and vaccine production through a biotechnology centre could enhance Kenyans' access to quality and affordable healthcare.
Also, local production of these products reduces the cost of healthcare and enables people to obtain their necessary medications without relying on expensive imports.
What opportunities will the biotech centre provide for the Kenyan health sector?
Kenya is one of the most developed countries in East Africa. Yet, the health sector makes up less than 5% of the economy, compared to agriculture, which makes up about 22%.
According to Statista, Kenya's health sector grew by 5% in the first quarter of 2022. Comparing this quarter to the same one in 2021, the growth rate has slightly slowed.
Consequently, the proposed biotechnology hub can boost the economy by protecting current jobs while creating new ones, attracting investors, and fostering innovation.
For instance, in Europe, the biotechnology industry directly creates 223,000 jobs in the healthcare, industrial, and agricultural biotechnology sectors, stabilising the labour market. Additionally, it had indirect effects that helped the economy add 710,500 jobs.
By establishing a homegrown biotech centre, Kenya can also lessen its reliance on imported medical equipment and technology, resulting in cost savings and economic growth.
Local drug and vaccine production may lead to quicker distribution and delivery of medical supplies because transporting them involves less red tape than importing the products.
Meanwhile, President Ruto said the partnership would include skills transfer to boost the country's human capital in the pharmaceutical industry once finalised.
Skills and technology transfer are essential for the growth of biotech industries, particularly in countries like Kenya, where the biotech industry is still in its infancy.
Transferring knowledge and skills to the local biotech industry involves many activities, including training local staff on using new technologies, disseminating technical expertise, and exchanging best practices.
Kenya can benefit from the knowledge and experience of international partners while enhancing local capacity and pharmaceutical industry expertise by incorporating skills transfer in a biotech partnership.
Long-term, this could improve population health outcomes and support economic growth.
What about healthtech startups?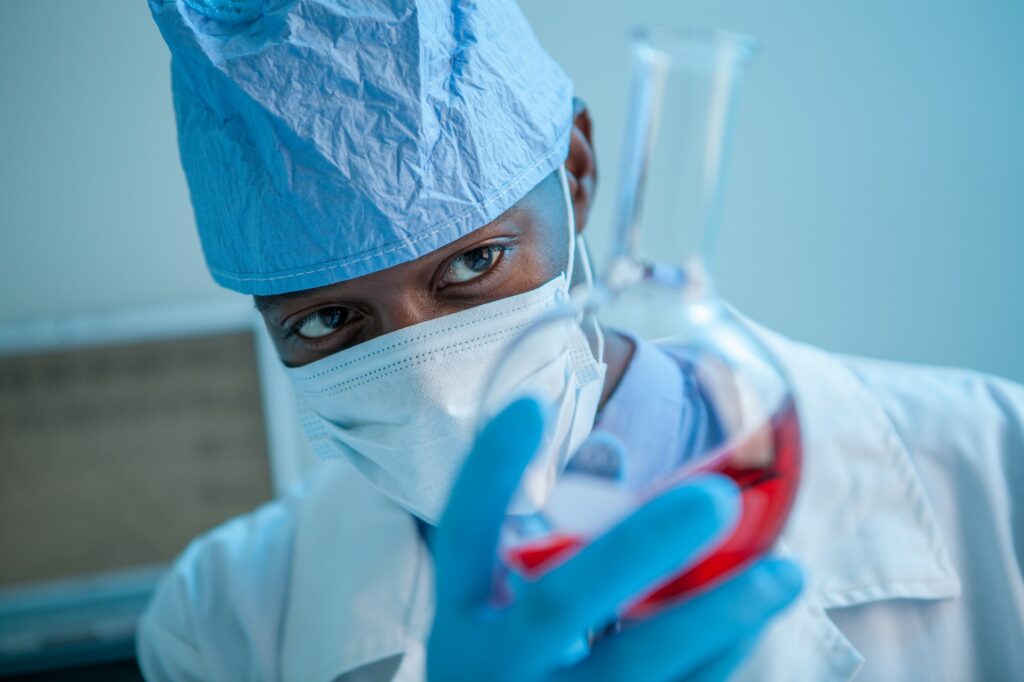 African healthtech startups face challenges, including obtaining funding, working around constraints, and access to lab space.
The biotech hub, however, could give Kenyan healthtech startups access to state-of-the-art lab facilities and equipment they otherwise wouldn't have been able to afford. It can make developing and testing new products more efficient.
Local vaccine and drug production may present opportunities for healthtech startups developing complementary products or services, opening up new markets for these companies.
Further, healthtech startups could network and work with other companies, academics, and scientists from different fields and specialities, forming new partnerships and alliances.
Since obtaining funding is one of the difficulties African healthtech startups face, the partnership might help Kenya's healthtech sector attract such investment, giving startups the means to develop and advance their businesses.
Will Kenya's biotechnology hub see the light of day?
Kenya has had successful partnerships with international companies. For instance, in 2017, the Kenyan government launched the Afya Ugavi Program after a partnership with the U.S. Agency for International Development (USAID) and other stakeholders to improve the nation's healthcare supply chain.
The programme assisted Kenya in creating the Supply Chain Maturity Assessment Tool, used by county supply chain managers to evaluate supply chain management and gradually identify and address gaps.
It also launched the essential medicines and medical supplies system of 647 tools to all 47 counties, among other things, to improve data visibility beyond programme commodities.
But several factors, including infrastructure and human resources, will determine whether its proposed partnership with Univercells will be successful.
Moreso, political obstacles could hinder the construction of the biotech centre. Instability has the knock-on effects of investment losses and a lack of faith in the country's ability to fulfil its commitments.
Further, financial support is essential because establishing a biotechnology centre requires a sizable investment.
For instance, in 2008, the government collaborated with Chinese investors to build Konza Technopolis, a smart city outside Nairobi.
Konza Technopolis, formerly Konza Technology City, was intended to be a "Silicon Savannah" project. But aside from erecting a structure that would serve as the Konza Technopolis Development Authority's (KoTDA) headquarters, little has been done since the project's groundbreaking in January 2013.
Because the government couldn't secure funding, the project is now on indefinite hold, and its future is uncertain.
In 2022, the government was reportedly looking for Chinese investors to advance technological advancement in the nation via Konza City. This demonstrates the necessity of securing adequate funding and the potential risks of heavily relying on foreign investment.
A biotechnology hub needs specialised infrastructure, like labs and manufacturing facilities, necessitating experienced knowledge to build and maintain this infrastructure.
As stated earlier, the Kenyan government, in 2021, said it'd start manufacturing COVID-19 vaccines in 2022 and establish a manufacturing facility in Kenya to create messenger RNA (mRNA) vaccines, including shots for COVID-19.
Even though none of these has occurred, only time will tell whether the proposed biotechnology centre will see the light of day.