Techpoint Africa's week-daily newsletter, Techpoint Digest, has an Opportunities segment curated by Victoria, the associate reporter in charge. The segment includes job openings, grant opportunities, hackathon announcements, and other valuable resources for subscribers. Feedback shows that this segment is another reason many readers stay loyal to the newsletter, besides keeping up-to-date with the latest tech happenings in Africa.
In the same way, people visit job boards and trusted websites in search of information on opportunities that could help them land their dream job. Techpoint Digest has received positive responses from people who secured roles they discovered through its postings, similar to the success reviews on job platforms. Unfortunately, some people have fallen prey to employment fraudsters who exploit their vulnerable situations.
A recent BBB (Better Business Bureau) Scam Tracker Risk Report showed that employment scams rose from the third riskiest scam type in 2021 to the second riskiest in 2022, only falling behind shopping scams.
Meanwhile, employment scams ranked top for people between 18 to 35 years, mainly those searching for their first jobs or still in the early years of their careers. Incidentally, this age group represents about 60% of Africa's population.
BBB helps people find organisations they can trust, write reviews about businesses, submit complaints, and also report cases of attempted and successful scams.
Although BBB Scam Tracker's coverage is for the UK, Canada, and Mexico — where the stats emanated from — employment scams are commonplace in Africa and have at different times gotten the attention of government and non-governmental organisations.
In Nigeria, for instance, the National Electronic Labour Exchange (NELEX) project was instituted under the Ministry of Labour in 2014 to function primarily like BBB. Although the NELEX website wasn't operational as of the time of writing this article, it's supposed to be a verified database for job seekers and companies seeking to recruit.
With growing Internet penetration, more job search engines and online communities have become proven channels for opportunities as traditional means like the back pages of dailies once were.
Professional social media platform, LinkedIn, has gained a reputation for helping people find the right jobs or internships and build their professional network for career growth. You'd often find different users with the "I got this job through LinkedIn" tag in their employment history.
And there are other popular ones like Glassdoor, Indeed, Monster, and ZipRecruiter. This goes to show the number of resources job-seekers can currently access.
Sadly, even popular and seemingly trusted websites are often used to target employment scam victims. Expectedly, these scams target tech jobs because they are often well-paying. Hence, one has to be vigilant while using online tools to job-hunt.
Opportunities for employment scams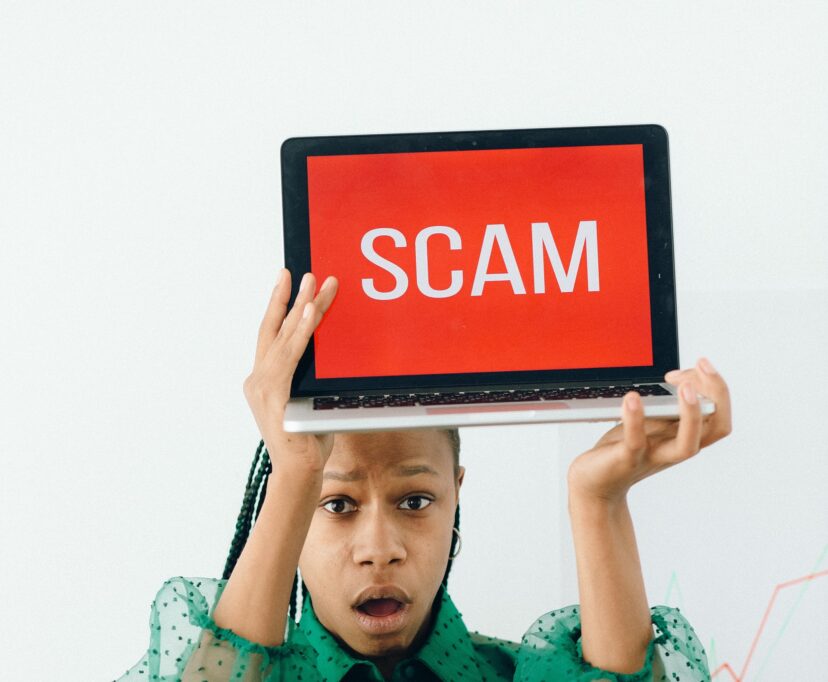 Between Q3 2022 and now, several popular and highly-value African startups, including Wave, 54gene, Alerzo, Chippercash, SWVL, Quidax, Nestcoin, and Kuda, have laid off thousands of employees. Likewise, global tech company layoffs are impacting Africans, especially those with remote jobs.
Twitter closed its Africa office in Ghana, dismissing the entire team during its first round of layoffs after Elon Musk stepped in. If these rising layoff figures point to anything, it is a decline in Africa's active workforce and increasing unemployment statistics.
Nigeria's unemployment rate stood at 33.3% between 2020 and 2022 but is predicted to reach 37% by the end of 2023.
Moreso, having more job losses during uncertain economic conditions could mean a large pool of job seekers willing to do anything to get back their earning stream.
What employment scams look like
Employment scammers are like bloodhounds; they prey on fear, greed, and desperation.
In 2022, one Uduak Akpan was convicted and sentenced to life imprisonment and death by hanging on the counts of rape and murder after confessing to taking advantage of several ladies under the guise of giving them a job.
Akpan lured his victims to a secluded location with interview offers after sensing their desperation through social media posts where they pleaded for "any kind of job."
While this case is associated with low-skill jobs, employment scammers' intentions are identical — deceiving their victims into believing they have a potential job and leveraging that to get valuable information and resources from them — but they keep evolving and devising smarter means of defrauding unsuspecting job seekers.
Meanwhile, employment fraud might continue to rise if perpetrators are not brought to book, and victims are not appropriately compensated.
According to a stat by Intelligence by Techpoint, in 2022, the Economic and Financial Crimes Commission (EFCC) recorded six cases involving employment scams and obtaining by trickery (OBT). The convicted persons got an average of nine years imprisonment with an option of a fine between ₦100,000 ($217) and ₦850,000 ($1847). Note that this excludes cases handled by other law enforcement agencies.
While more job seekers might already be wary of visiting unknown locations for job interviews after reading about similar cases, virtual interviews that offer remote jobs are fast becoming the go-to bait.
Say you got an interview invite via phone call/email/text after applying through a reputable job-search site. You submitted your contact details, so it doesn't strike you as unusual.
You were instructed to take the interview by downloading an app and answering a few questions. You might get a video conferencing link to join a virtual interview where no one's video is on.
The interview went almost as well as a face-to-face interview, and in less than 24 hours, you're sent an employment offer where you're told about your pay and benefits (which are usually unbelievable).
You're compelled to accept the offer as quickly as possible and complete a form with your personal and banking information to receive money to set up a home office. Or you get a call where the recruiter tells you in confidence that they want to help you secure the job because better-qualified people are in contention. And then you are told to pay a certain amount of money to be selected.
After providing the money or the details that will eventually be used for phishing or identity theft, it becomes difficult to reach the contact, and you're unlikely to get your money back.
While all employment scams will not appear in this format, there are common signs that scream fraud.
Red flags to watch out for
When you get an interview invite from a job for which you did not apply. Fraudsters find their victims through job sites and social media, and how convincing they sound is often determined by how desperate they believe you are.
A job advertisement asking you to pay to increase your chances of getting shortlisted. This is similar to requesting payment to validate the offer. Job offers should ordinarily come after you've convinced recruiters that you're the best for the role through your credentials and the entire recruitment process.
Funny-looking company websites and suspicious domain names. There are several online contents that can help you identify platforms you shouldn't trust.
When the job opening is not listed on the company's website. Ideally, legitimate company websites should have a career page where you find available roles and descriptions. Since job advertisements are likely found on third-party platforms, if care is not taken, you might have false hope for a job that no longer exists or at a fictitious company.
Getting a job offer without a proper interview. Fraudsters stage interviews to convince job seekers, but the interviews are mostly badly planned. Look for generic questions at such interviews, as they often reveal the interviewers' lack of preparedness.
Requests for card details or other personal and sensitive information before you sign a proper employment contract.
If you're pressured to take a decision while also trying to convince you that the job offer won't be available in a few hours.
When you can't find enough information about the company/employer online.
How to be safe
Be careful where you drop your details while searching for opportunities. Social media platforms like LinkedIn have created opportunities for recruiters to notice you, but your requests should be carefully worded to hide any desperation you might feel.
Try the contact's number on a secure call-identification app, and if someone has flagged it as fraudulent, you'll know immediately.
Check the company's website for contact information to confirm its authenticity.
Search for interview locations and company names on online communities to find out if there are ongoing conversations about them and possible fraud complaints.
Go directly to the company website to find details about job openings in their career sections. Sometimes, fake recruiters post already closed vacancies from reputable organisations to phish.
If it's too good to be true, it's not true, especially the pay. Trust your gut. If you have even the tiniest of concerns, investigate.
Scammers are becoming smarter and more specialised, which means some successful scams may still be carried out despite one's vigilance. If this happens, report to relevant authorities and flag the recruiter on job platforms, social media, and online communities to protect others from falling prey.