Samuel Okwuada, CEO of Remedial Health — a healthtech startup — was 17 years old when he built Macbundler, his first product.
When he started Macbundler, building and selling Mac apps online, he was in his first year in pharmacy school at the University of East Anglia in Norwich, United Kingdom.
He created Macbundler because there was no single location where people could find Mac apps, and some developers found it difficult to spread the word about their products.
After four years of operation, he sold the product to a US company because Apple had already released the Mac App Store, and it was time to move on.
During his second year, he founded Oyoyo, a fashion B2C company, while also experimenting with developing a web scraper tool.
After much testing, the tool scraped some fashion sites in the UK while loading products, changing the currency, and adding shipping costs. He then got a deal with DHL to ship products from the UK to Nigeria at a low price.
"At its peak, it was a successful but stressful business. My university was also unhappy with the fact that I was receiving 20 or more deliveries per day," he says.
He sold Oyoyo to a private investor after running it for one and a half years because it took up too much of his time in school.
Colleague turned co-founder
Okwuada returned to Nigeria to put his degree to use. His parents were dissatisfied that he had no plans to practise after spending heavily on pharmacy school.
He planned to start a business in the pharmaceutical sector but had no idea how it could work. So, he applied for internships at a few pharmaceutical companies to learn about the Nigerian pharmaceutical market.
He was willing to work for free, which stunned some prospective employers.
"You know, after being away for some time, it was important to get that knowledge rather than just jumping in," Okwuada explains.
Eventually, Adpharm, a pharmaceutical company, accepted his offer to work for free. In 2015, they took him up on the challenge to learn about the Nigerian market and paired him with Victor Benjamin, a sales representative.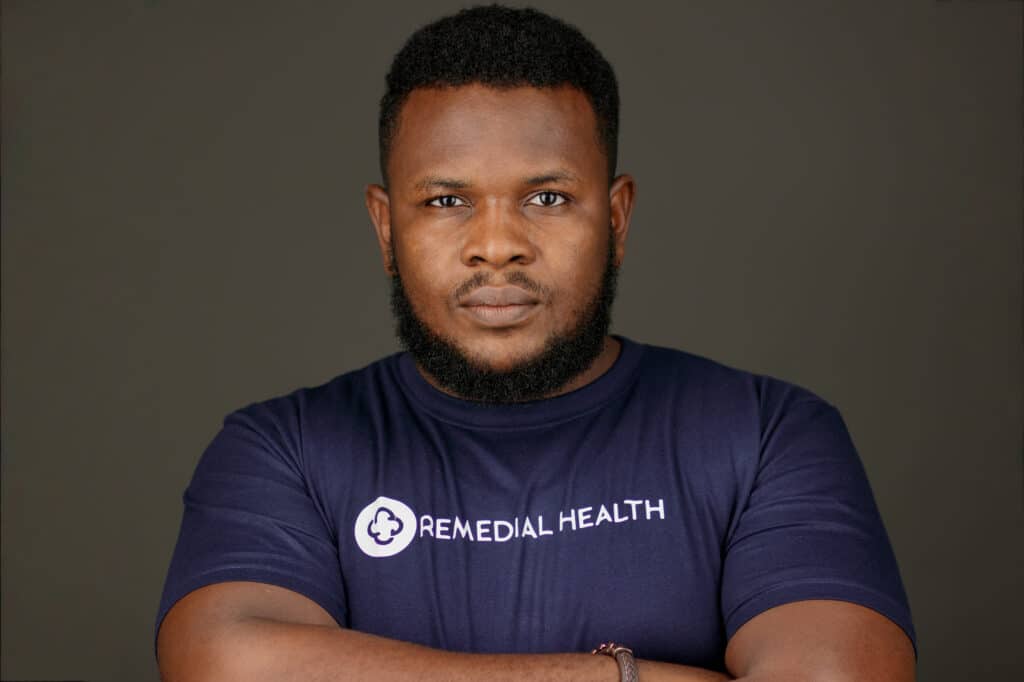 "Victor was their best sales representative at that time. Because I wanted to learn what it was like to sell in the Nigerian market, the owner thought he was the best person to pair me with," Okwuada explains.
Okwuada and Benjamin were on the road, selling medicines from the latter's car to pharmacies and hospitals in Lagos and Ogun States.
Okwuada's knowledge of the Nigerian market began to grow. In 2016, he started a pharmaceutical import business, and it was only logical for Victor to show his support.
"I started a pharmaceutical import business where we imported medicines from India to sell in Nigeria. Victor also supported me by selling some of the products I was bringing in. So yes, that is where our business relationship began," Okwuada recounts.
Okwuada is a pharmacist by training and a self-taught software developer, while Benjamin has been in the pharmaceutical space for nearly a decade selling medicines.
According to Okwuada, "If you are looking for the encyclopaedia of Nigerian medicines, their performance, and how to sell them, Victor is your person. To support that point, in 2021, while still at Adpharm, he sold over $3 million in products by himself."
However, the focus of their import business began to change due to a shift in market demand and supply chain disruptions exacerbated by the COVID-19 pandemic.
Customers were ordering products that were in their private label offering. Consequently, Okwuada and Benjamin (COO) founded Remedial Health in 2021 but did not launch until 2022.
How does Remedial Health work?
Remedial Health is a tech startup digitising the pharmaceutical supply chain. The B2B company provides software for pharmacies and hospitals to manage their inventory and sales.
The company helps pharmacies source pharmaceutical products for their shelves from major manufacturers and distributors, including GSK, Pfizer, AstraZeneca, Emzor, and Fidson Healthcare.
If you run a pharmacy, for instance, Remedial's system software makes it easier for you to manage the products on your shelf. Also available to hospitals, the software places orders when needed.
"If the system detects that the customer is running low on a specific product, the software will automatically reorder from Remedial," Okwuada discloses.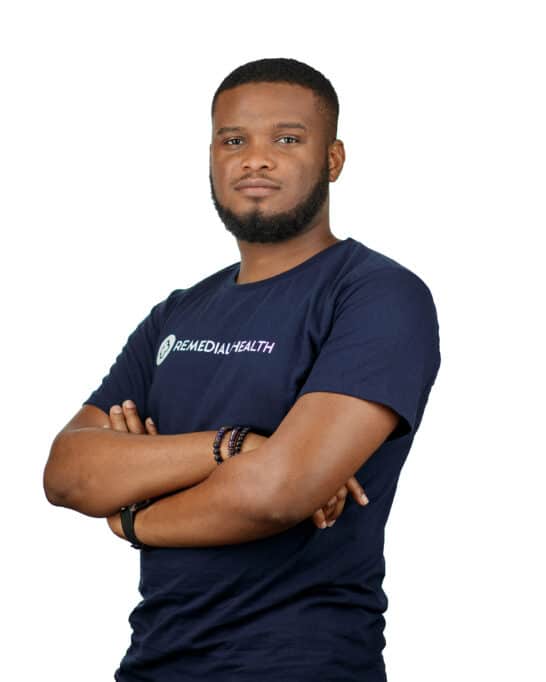 Remedial also has an online shop that allows pharmacy owners who do not use its software to place orders via its mobile app.
Moreover, the company offers inventory financing. If a pharmacy or hospital needs to purchase medications but lacks the necessary funds, they can obtain financing and pay later.
Interestingly, Remedial doesn't have a fixed percentage customers must deposit before they get financing.
"Every customer is treated differently. We have customers who don't have to drop a deposit before they get financing and those who request up to 50% deposit and then finance the rest," Okwuada clarifies.
According to Remedial Health, the inventory financing service is only available to customers with a proven track record who have consistently purchased products for more than six months.
Hospitals can pay back in 30 days with interest, whereas pharmacies can do so in 14 days without interest. It's important to note that the interest rate for hospitals varies.
Further, its digital offering includes a digital procurement platform that helps pharmacies manage their operations by making order tracking easier.
It also assists with financial reporting and accounting while providing real-time market intelligence that improves manufacturers' forecasting, production, and distribution decisions.
The company claims its inventory finance option and formulary — the list of the products it offers — make it stand out among other African healthtech startups.
A technology company thriving in the face of challenges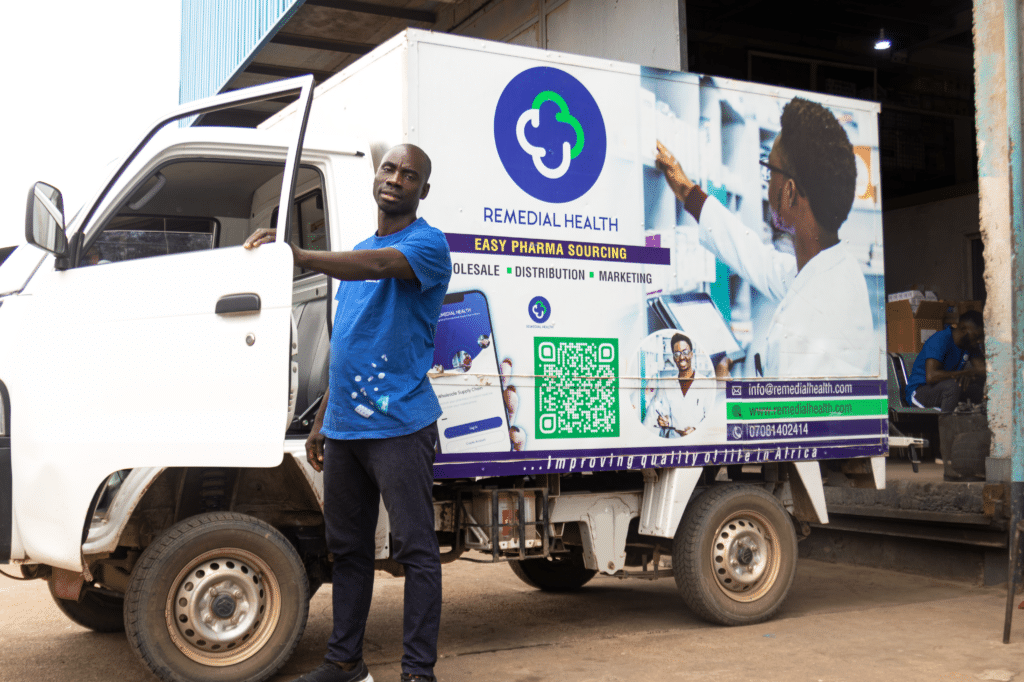 The company makes money from its software. It also makes a margin on the products it sells to pharmacies and hospitals.
Per the company, more than 3,000 pharmacies and platforms were using its platform as of December 2022.
Remedial takes pride in being a technology company before a health company. According to the company, it's a technology company solving the healthcare challenge.
Speaking on the challenges it faces, Okwuada says, "There is the logistics issue, which is the norm in the country. There's always going to be that issue with any business when you are moving items.
"However, again, we are a technology company. So, we use a combination of third parties and our delivery vehicles. We combine the two to provide products to our customers in an efficient manner."
Tremendous growth in a year  
In February 2022, Remedial Health secured $1 million in pre-seed funding to stem the supply of fake and substandard pharmaceutical products.
Global Ventures and Ventures Platform co-led the round, with participation from Ingressive Capital, Voltron Capital, Opeyemi Awoyemi's (Jobberman Co-founder) Angel Syndicate Fund, and other angel investors, including Flutterwave's Olugbenga "GB" Agboola and Victor Asemota.
In September of the same year, the startup raised $4.4 million in seed funding from a group of investors that included Global Ventures, Alumni Ventures, True Capital Management, and Cathexis Ventures.
Remedial currently has over 100 team members across the country. Besides, the company claims it became profitable in December 2022. Per Remedial Health, it delivers its products across 20 Nigerian states.
However, by the end of 2023, it hopes to cover all 36 states, particularly the war-torn northeast, where Okwuada sees an opportunity for Remedial Health.
The startup plans to explore other African countries as it's interested in helping small businesses thrive.