Key takeaways:
Smile Identity's report shows there were more biometric fraud attempts on BNPL platforms than on crypto.
While crypto-related scams were on the rise in 2022, fiat scams are still in the lead.
Banking and lending saw the most fraud attempts for textual KYC.
Cryptocurrencies have generated a buzz for a while, but despite their growing popularity, most people don't trust them. This distrust stems from security concerns and past incidents of fraud and scams.
In 2022 alone, illicit crypto transactions were valued at over $20 billion.
While this distrust is justified, it is important to note that fiat currency is used for scams even more than crypto. Crypto payments platform, Tap said fiat is used for money laundering 800 times more than crypto.
After 50 million KYC checks across Africa, Smile Identity's Know Your Customer (KYC) report reveals more biometric fraud attempts on buy now pay later (BNPL) platforms than crypto platforms in 2022.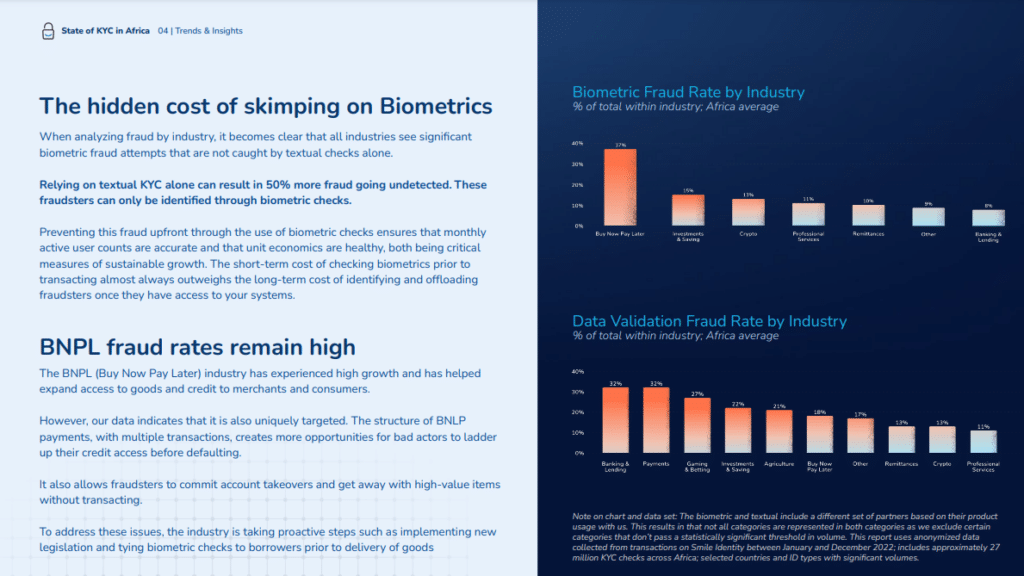 Of the seven types of platforms listed for the most biometric fraud attempts, investment and savings platforms came in second after BNPL. Crypto platforms were third, followed by professional service platforms.
Interestingly, banking and lending platforms saw the lowest biometric fraud attempts.
Biometric KYC is important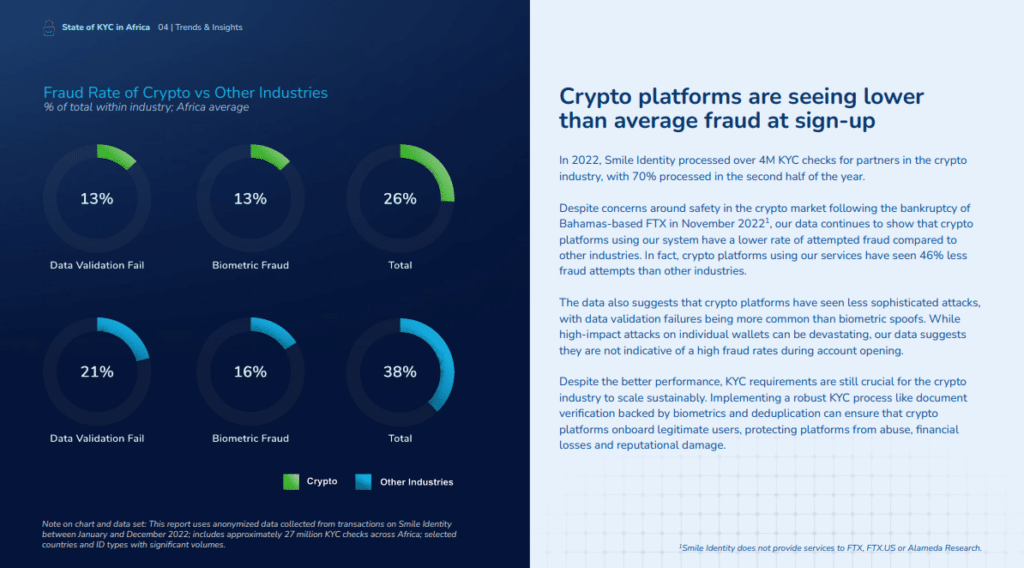 While banking and lending platforms had the least biometric fraud attempts, they led the way with textual KYC fraud attempts.
According to the report, this underscores the importance of biometric KYC.
"Relying on textual KYC alone can result in 50% more fraud going undetected. These fraudsters can only be identified through biometric checks."
On the textual KYC front, payments, gaming and betting, investment and savings, agriculture, and BNPL had the highest fraud attempts in that order.
The report could also provide insight for regulators on what crypto platforms' KYC procedures should look like and which credentials are acceptable. Bank Verification Numbers (BVNs), for example, were ranked lower than National Identification Numbers (NINs) when it came to fraud protection.
Can biometric KYC curb crypto scams?
The crypto ecosystem is divided into two: centralised and decentralised. The latter is built on an ethos that allows the use of blockchain infrastructures without any KYC.
The former, however, is run like fintech companies, onboarding users by taking some personal details.
With only one side of the cryptoverse supporting KYC, it might not be the key to curbing crypto scams.
This is because a higher percentage of crypto fraud is committed on decentralised platforms.
In 2021, for example, $14 billion worth of crypto was stolen, and 75% of the theft happened on decentralised platforms.
Decentralisation in the crypto industry has always been a double-edged sword. While it reduces the barriers to accessing financial services, it leaves users vulnerable to bad actors.
Though centralised platforms appear secure because they have KYC protocols, their biggest vulnerability isn't fake users.
In October 2022, Binance, the largest crypto exchange in the world, lost $570 million to hackers. Another well-known centralised exchange, Bitmart, suffered a $196 million hack in 2021.
Could KYC come to decentralised platforms?
In the decentralised crypto space, the only identification needed is a crypto wallet address. It is the key to connecting to decentralised finance platforms such as Compound where you can borrow funds.
However, research is being carried out by Financial Action Task Force (FATF) — an intergovernmental organisation founded to combat money laundering — to bring KYC protocols to decentralised platforms.
According to crypto forensics specialist, Adedeji Owonibii, the FATF is working on a standard called IVMS 101 that could integrate KYC protocols into the blockchain.
If the FATF's protocol doesn't come to fruition, decentralised platforms will continue to be the wild wild west of crypto.