The maiden edition of the GETaccelerated startup accelerator programme came to a fruitful end on Tuesday, December 13, 2022, at an award ceremony where the winners of the accelerator's grants were announced.
The programme started officially on October 5, 2022, and was designed in partnership with Kickoff Africa, the programme's facilitators, to provide ₦55 million in equity-free funding to select early and idea stage startups. Ten startups were picked after an intensive screening process, and they were given a pre-fund of ₦1 million and put through two months of intensive training and mentorship from industry experts to help their businesses gain traction and grow. The participants have also been exposed to market opportunities in a growing ecosystem.
The accelerator program participants were Olumide Shode, Founder and CTO of Alarrt; Chimenem Nnwoka, Co-founder and CEO of Breeze; Egba Emmanuel, Co-founder and CEO of Contentionary; Daniel Balmun, Founder of Interna; and Lucy Chioma Aniagolu, Founder of Agrodemy.
Others include Praise Olaoluwa, Co-founder of Sharesell; Uche Ukonu, Founder of smallChops.ng; Stephen Oyebode, Co-founder of Meuve; Unique Oliver, founder of Spring Sound Music; and Amanda Madumere, Chief Product Officer (CPO) of Wadi.
Wadi, Contentionary, Mueve, Agrodemy and Smallchops.ng emerged as the lucky winners of the grant.
Adaobi Okafor, the chairperson of GET, delivered the opening address. She appreciated everyone in attendance and congratulated the participants.
Okafor said, 'GET was incorporated in 2020 at the peak of the COVID-19 pandemic, and our aim is to support, contribute and promote sustainable social initiatives,' adding that GET came up to bring ideas to life and sustain those ideas.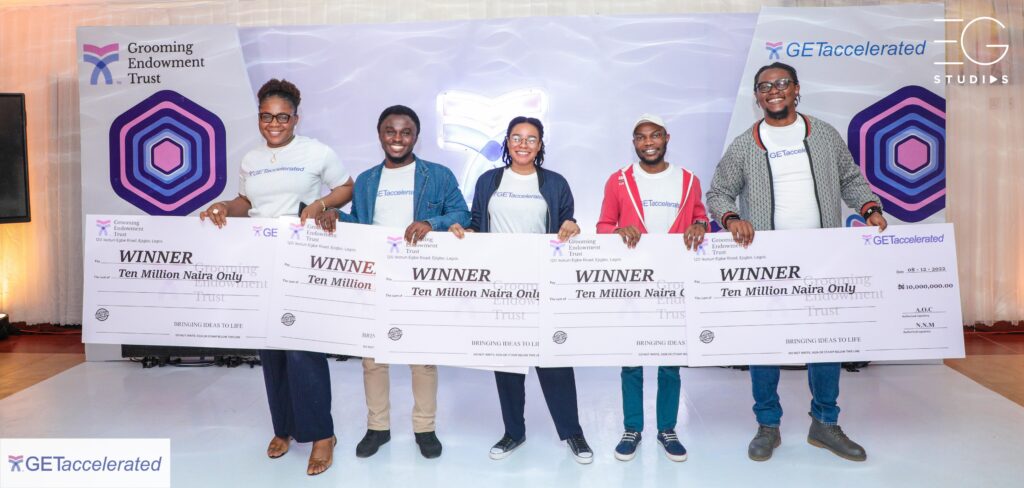 Michael Adoghe, Operations Manager, GET, gave a brief breakdown of how the programme ran right from the idea's conception to their partnership with Kickoff Africa. He reserved special praise for Lamide Johnson, Director of Programmes, Kickoff Africa, for his push and contribution to the programme's success.
Fola Olatunji David, Founding Partner at Kickoff Africa, was present at the ceremony, and he shared a few words, saying, 'the things GET said they would do, is what they have done, and they have done it excellently with the right intent. They were really concerned about designing an impactful program and a program that truly helps.'
Abraham Akpan, the programme's head of learning and community, spoke about the uniqueness of all the founders present while awarding them their certificates of completion.
Alex Enyinnah, Executive Director, Programmes, Grooming Centre, ably represented Godwin Nwabunka, CEO of Grooming Centre. He gave words of encouragement to the founders and the general audience. 'It is our belief that at the end of the day, people will say they travelled to Ejigbo, Lagos, and they learned something.' He told the founders that they are already in their database, so they can come around yearly to encourage others with their progress.
He also charged them as ambassadors of the programme to go out and tell others what has happened and what will continue to happen.
One of the grant winners, Amanda Madumere, CPO, Wadi, shared her excitement with Techpoint Africa, saying, 'I am happy, excited, and hopeful because my team and I have put in a lot of work during this accelerator programme to make sure that we move from zero to one. We are launching our flagship product in three weeks and to see that all of these came together during the accelerator program is a joyful thing.'
She added that the public will now see them all over, in campuses, research labs, and areas where their target users are.
Regarding the future of the GET accelerator programme, Madumere said, 'I was thinking about Ycombinator, but for Africa, you know the way Ycombinator gives credence to many startups, I see GET doing that for African startups who are building homegrown solutions to African problems. I see them making a lot of impact in the lives of founders and startups.'
Another winner, Egba Emmanuel, Co-founder and CEO of Contentionary, said, 'I was able to do a lot of numbers with the first one million, and I was able to project to the judges that I already know how to duplicate this money to do more, so it's more about making the model the same model I used better.' He said he sees GET becoming a big deal in the future.
Daniel Balmun, the founder of Interna, said 'even though we didn't win, we got to network with many valuable individuals and organisations. I also got to have a gig with Grooming HMO. The Grooming ecosystem has various services, such as hospitality, training, a microfinance bank, and there's the HMO, which provides medical services and insurance. We will be the chief recruiters for the HMO, according to the conversation we have had with them. What we do is help organisations to help, find, hire and retain talents, so retention is a key part of what we do, and interestingly, half of the founders here already want Interna to recruit for them.'
Speaking to Techpoint Africa, Adaobi Okafor said, 'for the founders, it doesn't end here. They have undergone intensive training, and there's a massive difference between when they started and where they are now. At times it's that confidence that they need. They needed technical guidance and mentoring, and they have received that here.
As we said, we will be tracking their progress, so it doesn't end here. They are part of the ecosystem. Each of them have amazing ideas, and they know we are available for them and can call on us at any time, and for some of them, we even go in further for investments.'
She added that they are looking forward to making the GETaccelerated program an annual program, saying, 'we are going to have more events, and we have more plans for them. Next year we are looking at a networking event for the participants where we bring other founders, partners and people they can network and speak with; people that can be interested in their ideas and invest in them.'