The news:
Nigerian Web3 company, Nestcoin to begin layoffs as most of its investments were kept in the custody of now-bankrupt crypto exchange FTX.
FTX filed for bankruptcy on November 11, 2022, after it could not honour user withdrawals of over $8 billion.
Nestcoin's CEO, Yele Bademosi, said in a statement to investors that the current situation is a wake-up call to focus on building a more decentralised crypto future.
In a statement to investors, CEO and Co-founder of African Web3 company Yele Bademosi revealed a significant portion of its stablecoin investment was held in the now-bankrupt crypto exchange, FTX.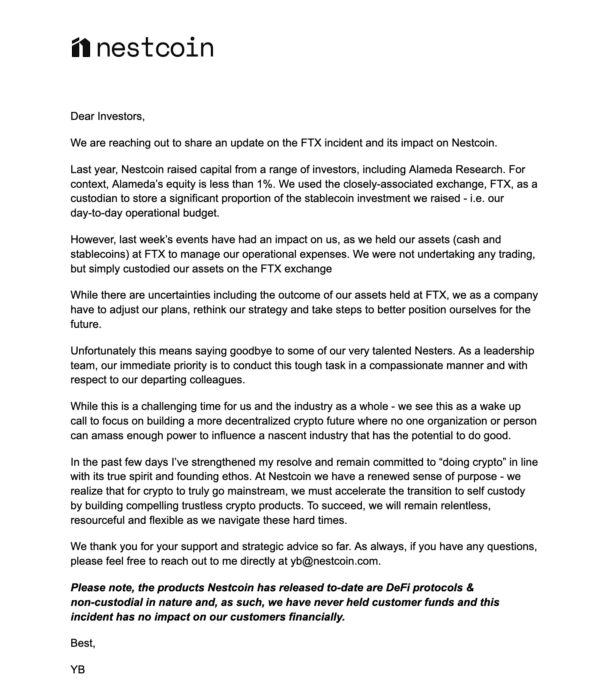 FTX's sister company, Alameda Research, was an investor in Nestcoin's $6.45 million pre-seed raise in February 2022.
Although Bademosi mentioned that Alameda Research's stake in the company was less than 1%, it used FTX as a custodian for investments, clarifying that it was not trading but only stored cash and stablecoins with FTX.
Consequently, the company will have to lay off some of its workforces. "This means saying goodbye to some of our very talented Nesters."
"As a leadership team, our immediate priority is to conduct this tough task in a compassionate manner and with respect to our departing colleagues."
What happened to FTX?
Before it filed for bankruptcy in the US, FTX was one of the fastest-growing crypto exchanges in the world, valued at over $30 billion earlier this year.
However, things started falling apart for the company after a CoinDesk article on November 2, 2022, revealed that the company's sister company, Alameda Research, had $14 billion on its balance sheet, which was made up of a significant amount of FTX native tokens — FTT. 
This led to speculations that the exchange did not have enough crypto to honour user withdrawals.
The exchange was faced with more withdrawals than it could handle when Binance CEO, CZ, revealed that his company would be selling off $2.1 billion worth of FTT tokens which it got after SBF bought back Bianace's stake in FTX. 
Although Binance offered to bail FTX out in what it described as a non-binding LOI, (letter of intent) intending to acquire FTX.com fully, it made a U-turn on the decision in less than 24 hours. 
 It said, "as a result of corporate due diligence, as well as the latest news reports regarding mishandled customer funds and alleged US agency investigations, we have decided that we will not pursue the potential acquisition of FTX.com."
As the company files for bankruptcy and CEO Sam Bankman-Fried (SBF) resigns, it is revealed that FTX has $10bn to $50bn in assets, $10bn to $50bn in liabilities, and more than 100,000 creditors.
Bademosi believes that these challenging times in the crypto space are a wake-up call to focus on building a more decentralised crypto future.