Gbolahan Olayemi will be speaking at The Fintech Summit 2022. He will be joining other speakers on a panel discussion titled, 'finding the best fit in fintech.'
Gbolahan Olayemi is the Chief Legal Counsel and Company Secretary at OPay, a leading African financial technology company. Prior to this, he set up 234Legal, a technology-driven legal services platform with innovative legal offerings. He ran this in the capacity of the Team Lead and Chief Technology Officer at 234Legal.
In 2016, he caught what he describes as "the Legal Tech Innovation Bug," and has not remained the same since then. He established and runs one of the largest virtual legal hubs in the country – the Online Bar, an interconnected community of 350+ lawyers dispersed all across the country yet connected to a central hub.
Gbolahan is an innovative, skilled and experienced attorney in legal tech, fintech and corporate law. He possesses exceptional skills in communication (writing, speaking, legal writing and drafting), negotiation and advocacy.
He has worked across a myriad of companies and industries; notable among them is The Coca-Cola Company. He has researched and prepared papers and articles bordering on the interrelation of Law and Technology, Corporate Law, and the future of work, among many others.
Gbolahan believes that the workplace has forever changed, and technology is at the heart of that change.
He will be bringing his experience to the panel session that includes thought leaders exploring the different careers available in the fintech industry.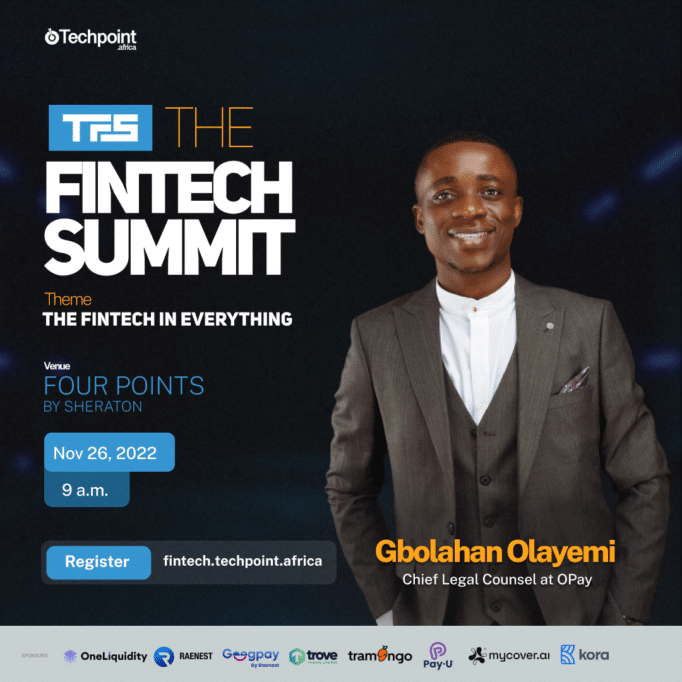 Join him and the other panellist at The Fintech Summit 2022 on Saturday, Nov 26. Register now at fintech.techpoint.africa.
You stand to get a discount if you register for the general badge ticket using the promo code "FINTECH"