On Sunday, May 1, 2022, Maureen Anyanwu and Kadijah Amusat were preparing to register for the Techpoint Africa Blockchain Summit (TABS)  Web3 Hackathon so they could be part of the winners of the $2,500 cash prize sponsored by Bitcoin exchange platform, Nairaex.
Registrations were closing on May 2, 2022, so they had limited time to pitch a solution. Thirty minutes till the form closed, and they still had no idea what Web3-powered solution they would pitch.
Just as the form was about to close, Anyanwu got an idea — a blockchain-powered virtual library.
With a few minutes on the clock, Amusat started writing the idea directly into the form as it came out of Anyanwu's mouth. The idea was to build a library where authors could mint their books — just like art NFTs — for sale.
Like art and musical NFTs, the authors would remain owners of the book. The metadata would serve as a digital copyright system, opening independent authors to amazing opportunities, Amusat said. Anyone from anywhere in the world would be able to buy books from the platform with cryptocurrencies.
However, Anyanwu and Amusat weren't so grounded when it came to blockchain engineering, and they needed someone with a bit more experience to help with building out the idea. So they called on Blessing Emah, who already had experience writing smart contracts.
The trio registered as team Blockchain Baddies, and on May 21, 2022, their last-minute idea, which they named Open Books, won them second place at the TABS Web3 Hackathon sponsored by Nairaex.  
Five months later, the Blockchain Baddies are turning that idea into a startup and entering a Web3 accelerator — Women Build Web3 — that could grant them funding to get their blockchain-powered idea up and running.
The beauty of tech events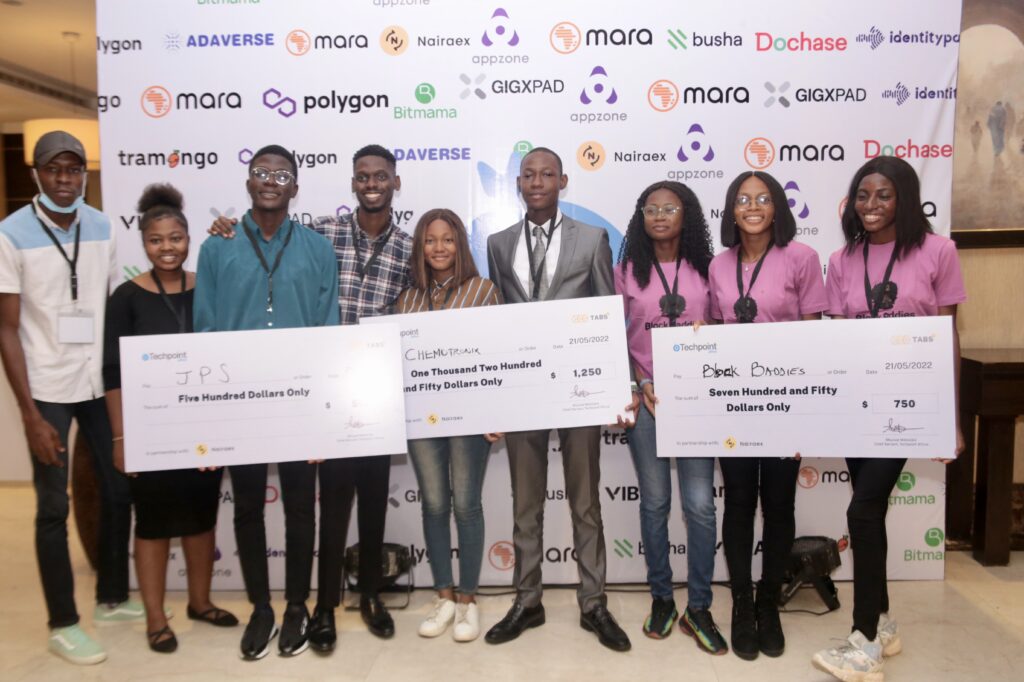 Anyawu, Amusat, and Emah were on different sides of the country, focusing on several things until mutual tech interests brought them together.
Amusat used to believe that the only impressive career anyone could have was becoming an engineer, doctor or even a lawyer, but the COVID-19 pandemic changed her perspective.
"I didn't even know what Web3 was; I just knew there were websites. Even when I was thinking about choosing a career before university, all that was on my mind was civil engineering, mechanical engineering, or medicine."
Even after graduating from the University of Ilorin, Kwara State, Nigeria, in 2019, a tech career wasn't on Amusat's radar. But in 2020, when COVID-19 struck, she found web development and other fields in tech, started learning and became very interested.
Her interest in tech found her going to every tech event she could find and vying for any opportunity that could land her any form of scholarship or training.
While hopping from one tech event to the other, she met fellow techies Anyanwu and Emah.
Five months is a long time
Since winning the hackathon in May, Blockchain Baddies have been up to different things. From relocating to another country and trying to find a sustainable 9-5, they weren't doing much about Open Books, the idea that helped them come second at the TABS Web3 Hackathon.
However, Amusat knew it was a great idea, and it would be great if they were the ones who built it rather than someone else.
According to her, she applied to the accelerator programme because she knew she would need something to help her keep going. Something to make Open Books continue to matter to her.
"After we won the hackathon in May, a lot of people have been reaching out to me personally, telling us to build on the project because it's a good project. They said even if it wasn't something we wanted to make money from, we could just make it open source and have a baby project on the side.
"But we just came for the hackathon; we didn't know it would be this serious. And in the midst of trying to figure out our personal lives, I knew we'd need something to help us continue caring about the project. So I applied for the accelerator programme."
Women Build Web3 is an accelerator programme for women and non-binary developers learning and building in Web3, and this current cohort is its first.
"They're going to train us not only on how to get funding but how to be a real startup."
For what the future holds for Open Books and Blockchain Baddies, Amusat believes the most important thing is to focus on building the startup. While she admits that there can be different iterations of the platform, all that matters now is to build.