Grooming Endowment Trust (GET) accelerator, tagged GETaccelerated, kicked off with an event on Wednesday, October 5, 2022, at the Centre for Research Enterprise and Action in Management (CREM), Ejigbo, Lagos state.
The startup accelerator, which aims to provide equity-free funding for early-stage startups, began after an intensive screening and selection stage in September to pick the finalists. The programme will provide the selected start-ups with ₦55 million (cumulative) in equity-free funding, expert mentors and various market opportunities.
The beneficiaries of the accelerator program are Olumide Shode, Founder and CTO of Alarrt; Chimenem Nnwoka, Co-founder and CEO of Breeze; Egba Emmanuel, Co-founder and CEO of Contentionary; Daniel Balmun, Founder of Interna; and Lucy Chioma Aniagolu, Founder of Agrodemy.
Others include Praise Olaoluwa, Co-founder of Sharesell, Uche Ukonu, Founder of smallChops.ng; Stephen Oyebode, Co-founder of Meuve; Unique Oliver, founder of Spring Sound Music; and Amanda Madumere, Chief Product Officer of Wadi.
GET has partnered with Kickoff Africa, a venture capital and private equity firm, to facilitate the program. Kickoff Africa works with early-stage startups and boasts an impressive startup investment portfolio.
Michael Adoghe, operations manager for GET, anchored the program, introducing Grooming Microfinance Bank (GMFB) representatives and the Kickoff Africa team, which had Lamide Johnson, Program Manager, and Dolapo Olayoriju, Chief of Staff, present.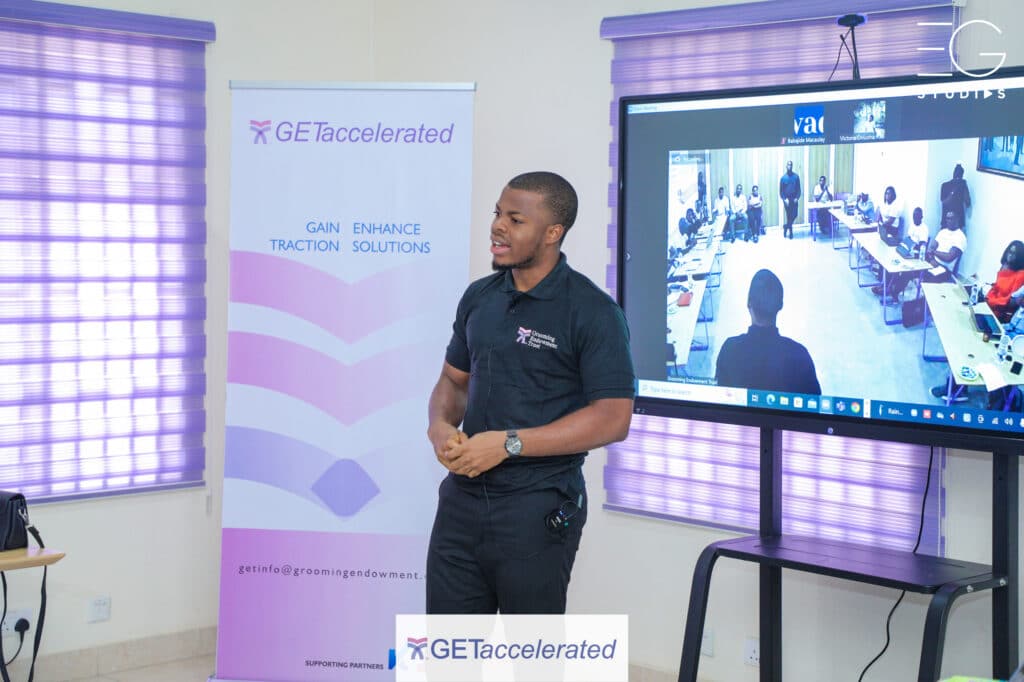 Adaobi Okafor, the chairperson of GET, who joined virtually and delivered the welcome address, said, "GET was incorporated in 2020 at the peak of the COVID-19 pandemic, and our aim is to support, contribute and promote sustainable social initiatives. Our primary motivation for the programme is to help the participants bring their ideas to life."
She thanked Kickoff Africa for their guidance and support in planning and organising the programme. Okafor believes that all the trainees will have gained enough skills to make them investment-ready at the end.
Speaking at the event, Nnamdi Eyinnah, Head of Financial Control and Information Technology, GMFB, informed participants that they would be opening an account with the bank to access the funds.
He also emphasised the bank's willingness to support the startups.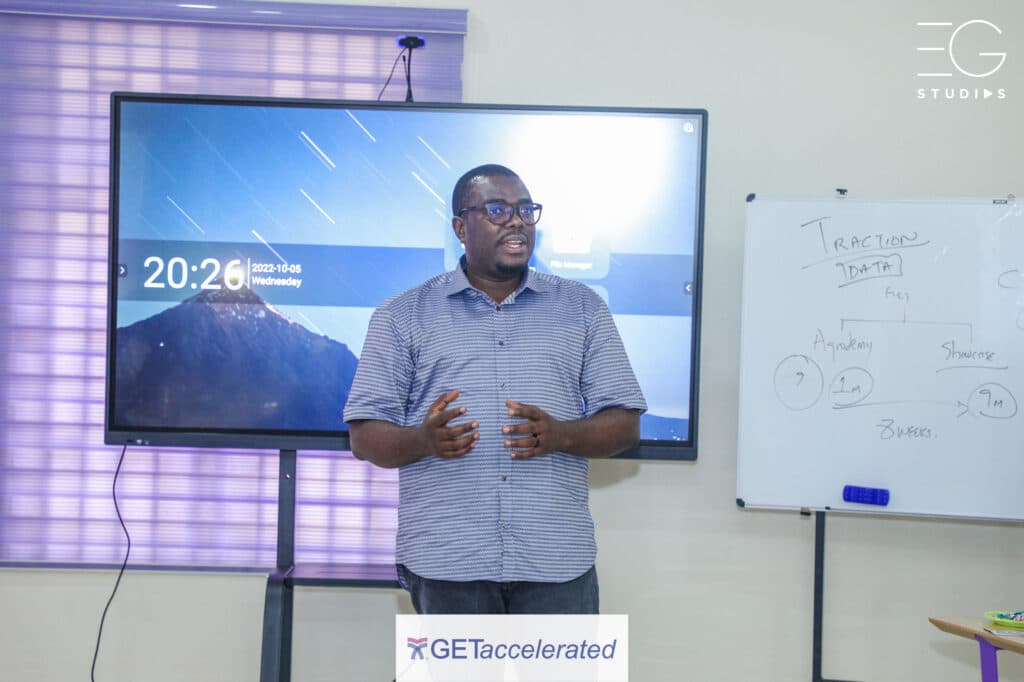 In line with GET's mission to impact lives, Johnson reminded participants that no one got anywhere without a platform and advised them to connect with people, their facilitators and coaches.
"It's [the] coaches that show you how to show up. The people that got into high-tech programmes were introduced."
According to Johnson, trainees would have one hour of accountability, a masterclass session, and a session with their business coach. The programme will last eight weeks, with virtual and physical training.
"Traction and data is the most important thing to GET," Johnson continued, imploring participants to tell them their goals.
Adoghe also spoke about other programmes that their main financers, Grooming Centre, supports, one of which is the yearly Grooming Talent Hunt.
Abraham Akpan, the programme's Head of Learning and Community, explained the bootcamp training schedule.
The participants also engaged facilitators during a Q&A session.
The participants will be given a pre-funding of ₦1 million each, which they will inject into their business throughout the programme and show the results. At the end of the programme, the top five startups will get ₦9 million each, equity-free.
Grooming Endowment Trust
Grooming Endowment Trust was set up as a nonprofit in August 2020 to promote sustainable social initiatives in education, health, enterprise and community development. Endowed with initial seed funding from Grooming Centre, the Trust provides grants and investments to social enterprises creating impact in their communities.
Grooming Centre is a partner of GET, a non-governmental organisation (NGO) with a primary aim to address the near absence of financial services to the large population of people engaged in small trading and micro-productive activities in many parts of Nigeria.