Key takeaways
Your choice of an HR software for your team should be based on the tasks you want to automate, your HR team's expertise level, user-friendliness, data security, customer support, and cost, among others.
A good HR management solution should include an employee self-service product and be customisable to fit any company.
SeamlessHR, Cadana, Bento, and SystemSpecs are only a few of the human resource management solutions available in Nigeria that can save you additional forex-related charges or restrictions associated with using foreign platforms. This list will be regularly updated.
The reasons automation and digitisation are largely embraced in organisations today have been outlined in earlier editions of this mini-series. An HR manager should consider a few things before a company chooses a human resource management solution.
How to choose the ideal HR software/tool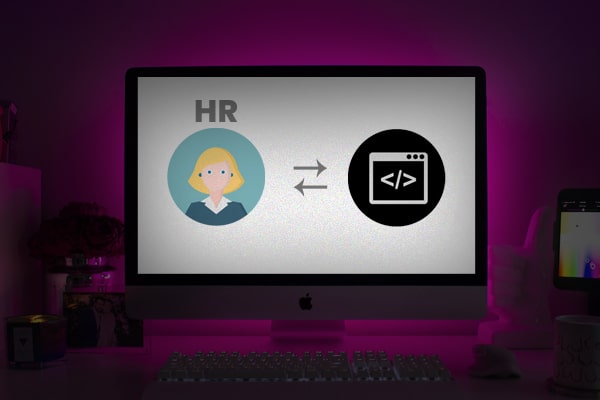 Reliable customer support: An undertrained and unreliable customer support team makes customer retention difficult and is one reason digital products fail. Before settling for an HR solution, a company should research the reliability of its customer support network; one way to go about this is to search for the product or manufacturer on popular social media platforms, maybe Twitter, isolate complaints from the results, and confirm response speed and customer feedback. Alternatively, you could opt for a free trial of the product.
Ease of customisation: Owning a defined framework that works across the board is one indicator of a company's readiness for automation. Software customisation essentially digitises a company's processes without altering its existing workflow. A well-designed HR software should be flexible enough to accommodate different companies' unique processes; this can be confirmed by requesting a product demo.
Team size: HR automation will work irrespective of team size. However, this factor helps to determine which tool and level of automation to choose; it could be software, web application, mobile application, or chatbot that is needed. It is important to note that some HR solutions only discount subscription fees for organisations with a large staff strength.
Optimised for data collection and data security: An automated solution ought to be able to measure, record, generate, and analyse data. Human resource information systems and HR tools should give a manager access to valuable data to examine trends, especially for larger workforces. A robust recruitment/hiring tool, for instance, could help a company head to quickly analyse a company's churn rate and the cost implication of hiring. Also, the ideal HR solution should be designed to give information access permission to only authorised people.
Employee self-service HR management: A good HR management software allows employees to manage their records, clock-in/out, request for leave, or run anonymous performance reviews. Most providers have mobile applications through which employees can access their services and further improve their overall work experience.
Cost: The ultimate goal of automating business processes is to minimise costs while accomplishing tasks more efficiently. And in selecting the most appropriate HR software, a company has to ensure that subscription costs do not exceed the allocated budget. When the initial set-up cost is high, it is important for a company to ensure that the return on investment is greater than the cost. Companies should also opt for solutions that allow payment in their local currency to avoid forex-related charges or restrictions, the current situation with some Nigerian banks' naira debit cards.
Four HR solutions you can use in Africa
In no particular order, here are four HR automation solutions that can help you optimise your HR management processes.
SeamlessHR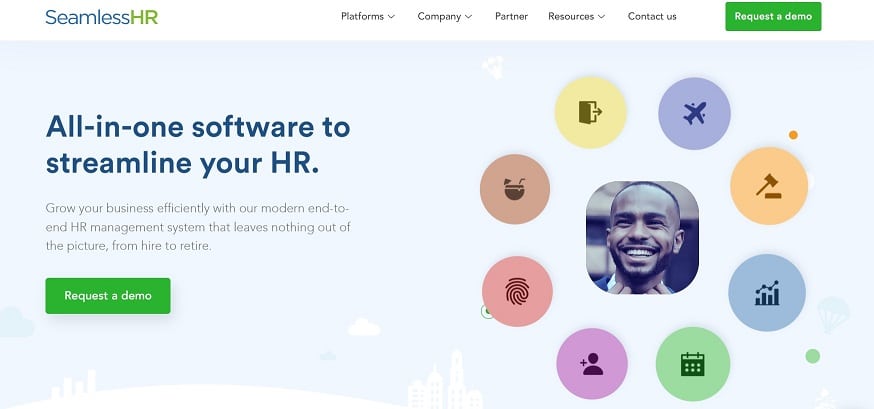 SeamlessHR is an enterprise cloud-based solution meeting human resource needs for small businesses and large companies with up to 5,000 employees. Its range of products makes it an option for businesses without an elaborate HR department; however, such businesses must have an administrator to use the software.
Features
SeamlessHR has an expansive functionality as there are virtually no HR tasks it can't handle.
It has tools that meet HR needs like payroll management, employee information management, time and attendance tracker, onboarding and off-boarding, and recruitment management.
Other features include performance management, statutory compliance, requisition and travel, leave management, disciplinary management, and employee self-service.
Pros and cons
All these tools (modules) can be managed in the backend with admin access. However, access to some tools is limited based on subscription plans.
The software also allows native integration of other software.
SeamlessHR has employee self-service features that can be accessed through a web browser or mobile application on Android and iOS, for employees to update their profile, carry out assessments, clock in and out, monitor productivity, or even request a leave.
While SeamlessHR has great features, it only accommodates companies with a minimum of 20 employees.
Pricing
SeamlessHR's pricing starts with a one-time onboarding and implementation fee, which varies with team size and modules selected.
In addition to that, a client's monthly fees depend on the plan. For the Pro subscription plan, a company pays ₦2,000($4.36) per month per employee, while it's ₦3,000($6.95) per month per employee on the Premium subscription plan.  
A client can also contact the company for a custom quote.
Additional features like payroll management, recruitment management, and performance management usually attract extra fees irrespective of the subscription plan.
The platform computes a company's monthly fee based on employee strength, plan, and any additional services. It provides monthly or annual payment plans. 
Cadana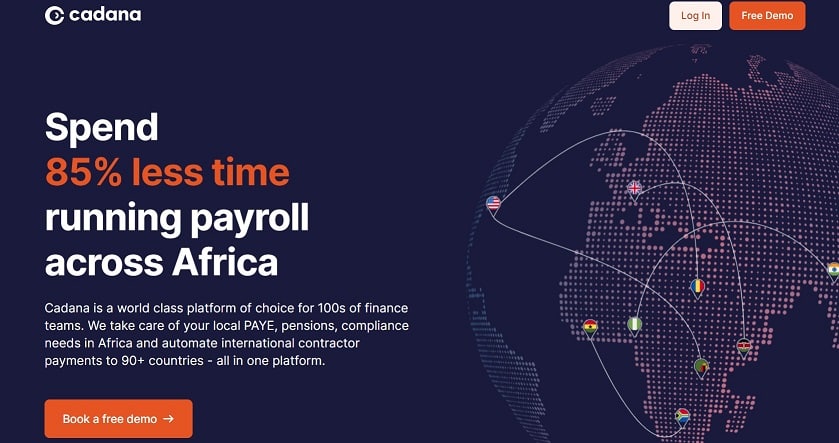 Cadana is an Africa-focused payroll and benefits management solution offering cross-border payroll to over 90 countries.
Features
Cadana is a platform that companies in Nigeria, Kenya, Ghana, and South Africa with employees working remotely from other countries might find useful for calculating earnings, paying salaries and benefits through local and international payment channels, ensuring statutory compliance and deductions, and providing earned wage access (this is getting paid for the number of days you've worked for. This is different from salary advance).
Pros and cons
Cadana does not centralise all day-to-day HR tasks; however, it's simple to use and also meets the need of small teams with workforce strengths as low as three.
Cadana's proprietary cross-border payments app is integrated into the platform.
It boasts of having integrations with other payment service providers and telcos.
Pricing
Cadana's pricing is negotiable depending on staff size and the required features, and it does not charge initial set-up fees.
It, however, maintains a certain range determined by the company's operations — a local payroll (within a country) or cross-border payroll (within and outside Africa).
It costs a minimum of $2 (~₦1000 or other local currency equivalent depending on the African country) per user per month to maintain a local payroll.
Cross-border payroll (within Africa), on the other hand, costs $15 (~₦7,000), while it's $30 (~₦14,000) for countries outside Africa.
Companies could either fund their payroll wallets in their local currencies (₦, KSh, GH₵, ZAR) or service a USD or pound wallet.
Bento
Bento is a Nigerian payroll software that handles salaries, benefits, and statutory obligations for business; it also has an inclusive offer for individuals. Bento is available in Kenya, Ghana, and Rwanda.
Features
Outside payroll management, Bento offers other human resource management tasks like hiring, onboarding, performance management, leave management and time off, and time-tracking/attendance tracking.
Pay by Bento, People by Bento, and MyTime by Bento are three products within Bento's enterprise solution. Pay is the payroll service, People offers other HRM features, while MyTime is a time-tracking management software.
MyTime comes with a time clocking device, the software is integrated into the HRM solution to access its full potential.
Pros and cons
Bento boasts of serving varying clients, including multinationals, small businesses, household workers, artisans, and freelancers.
Apart from MyTime that requires set up and installation, clients can easily sign up without external intervention on the other solutions..
Bento allows native integration with third-party applications and can be customised to meet clients' specifications.
Employees can access loans and salary advances with interest, generate payslips, schedule expenses, and save.
Pricing
For Pay by Bento, Bento's payroll feature, a client pays a flat fee of ₦2000($4.63) monthly plus ₦150($0.35) per employee. This is excluding statutory deductions like taxes and pension, which fees varies depending on the service provider.
On People by Bento, companies pay ₦100($0.23) per employee per month to have access to all the features on the platform.
Native integration on these solutions attract extra costs.
MyTime installation costs ₦20,000($46.32) and ₦5,000($11.58) monthly fee.
HumanManager
HumanManager is the human capital and payroll management subsidiary of SystemSpecs Group, a B2B software company. It is available to companies in Ghana, Nigeria, and Rwanda.
Features
HumanManager is in two variants, an enterprise software and a payroll solution called HumanManager Flex.
HumanManager Flex manages only payroll for small businesses, while the enterprise software offers a more robust range of services, including employee record management, performance management, leave operations, expense and claims calculation, statutory deductions (pension and taxes), multiple payroll computations, and employee self-service needs, among others for any company size.
It boasts of covering corporations, multinationals, and the public sector.
Pros and cons
Upon signing up for HumanManager Flex, it assigns clients designated corporate wallets from which staff payments will be processed and into which bank deposits can come. 
This solution also allows native integration of third-party solutions through APIs. 
While it probably has some limits when it comes to handling overall HR tasks, it is consolidated enough for employees and admins to master. 
Its self-service system also helps employees manage their biodata, track and monitor their KPIs, generate payslips, and request loans. However, it doesn't have a mobile application.
Pricing
HumanManager enterprise is offered on a modular basis to suit any client's needs, and subscription fees are either deducted during every billing cycle (monthly), for instance, at the point salary is disbursed, or yearly. 
For the enterprise solution, the client pays an implementation fee which is determined by the staff strength and modules implemented. Meanwhile, for HumanManger Flex, a client can just sign up and begin to use it.
On average, a company is charged ₦1,200($2.78) per employee per month to have access to employee information systems (EIS), payroll, leave, performance, and expense management. 
This fee varies depending on the number of modules selected. If broken down, only payroll service, for instance, will cost ₦250($0.58) per employee per month, while expense management costs ₦150($0.35). Leave management, performance management, and EIS cost ₦150($0.35), ₦200($0.46), and ₦450($1.04), respectively. But it should be noted that any of these modules cannot work without also implementing EIS.