Key takeaways
At its fan event — D23 — on Friday, September 9, 2022, Disney+ revealed a first look at Iwájú, a series set in a futuristic Lagos, Nigeria, in collaboration with Kugali Studios. Although initially set to premiere in 2022, it will now go live next year, 2023.
Currently, the streaming platform is only available in South Africa, Morocco, Libya, Tunisia, Algeria, and Egypt in Africa. It is still unavailable in Nigeria and Kenya, with no plans revealed regarding the launch.
Despite its larger economy and teeming population, Nigeria is still not the most viable market on the continent when it comes to streaming services. On a global scale, only South Africa makes Netflix's top 50 countries, with 350,000 subscribers in the country. Countries like Nigeria and Kenya do not make the list, with Malta rounding up the list at 30,200 subscribers.
A walk down memory lane
The animators behind Iwájú — Nigerian-born Ziki Nelson, Tolu Olowofoyeku, and Ugandan-born Hamid Ibrahim — had previously granted an interview to the British Broadcasting Channel (BBC) in January 2019, revealing that they would love to take on Disney.
The article was seen by Disney's Chief Creative Officer, Jennifer Lee, setting up a chain reaction of events leading to this moment.
In December 2020, Disney hinted at this collaboration but gave very few details on the plot and characters.
Fun fact: This is Disney's first-ever collaboration with an outside studio.
The series, set in a futuristic Lagos, is the brainchild of Disney and Kugali, a concept worked on by both companies after a series of Zoom meetings in 2019. At the D23 event, Olowofoyeku described it as a love letter to the sprawling city in all its glory.
Iwájú is a Yoruba term which roughly translates to 'The Future', and the series tells the story of the adventures of 10-year old heiress Tola and tech-savvy but poor Kole. Tola owns a robotic lizard called Otin, created by her father, Tunde, who runs a tech empire. Their friendship is tested by Bode, a tech pioneer whose futuristic advances hide a criminal underworld he runs with an iron fist.
Fun fact: Disney also announced a documentary, Madu, that would follow the life of 13-year old Nigerian ballet dancer, Anthony Madu. A video of him dancing in the rain went viral in 2020, hitting 15 million views globally. The doc would tell his story from his beginnings in Lagos to his experiences at the Elmhurst Ballet School, Birmingham, UK.
While Nigerians were excited about the announcement, many complained about the unavailability of the streaming service in Nigeria.
This year, Disney+ announced an expansion into 42 countries across Europe, the Middle East and Africa, with South Africa, Algeria, Tunisia, Libya, Morocco, and Egypt making the list.
Currently, the streaming platform has made no official announcement regarding a launch in Nigeria. Interestingly, this Twitter user seems to believe that Disney+ is coming to the country in the fourth quarter of 2022.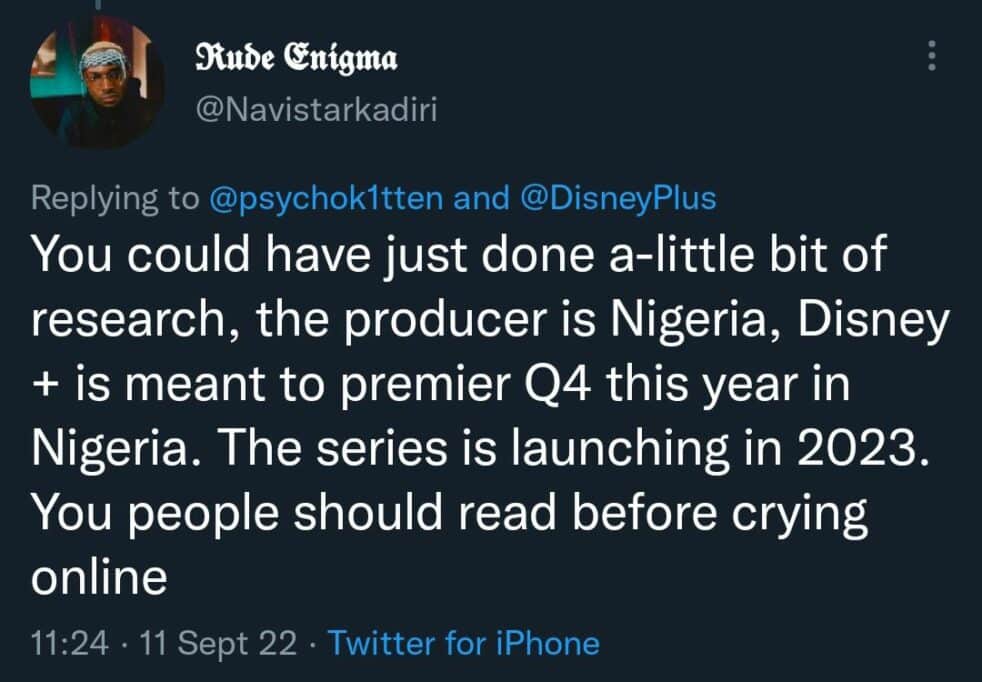 However, Disney+ is still quiet on this, with its last expansion move revealed in January 2022.
This is not the first time content set in Nigeria is not available for viewing in the country. In 2021, HBO released a documentary — The Legend of the Underground — on LGBTQ+ experiences in Nigeria, but Nigerians cannot view the show because the streaming platform is currently unavailable in the country.
So why the hold-up?
Last month, Amazon Prime Video launched in the Nigerian market, joining streaming platforms like Netflix and Showmax that already play in the space.
Currently, three global streaming platforms — Netflix, Amazon Prime Video, and Disney+ — have launched in the African market. Local players include MultiChoice's Showmax, Arise TV's Arise Play, Access Bank's newly launched Accelerate TV, VideoPlay, and Safaricom's BAZE.
Fun fact: All three global platforms are available in South Africa. While platforms like HBO, HBO Max, and Hulu are currently unavailable, Showmax subscribers can access some shows.
Africa is projected to hit 26 million video-on-demand subscribers by 2026, and could be why we are seeing an increase in streaming platforms coming to the continent.
Showmax dominates the market, with almost 2 million subscribers by the end of 2021, and MultiChoice says this number is expected to more than double to 5 million in five years.
Netflix came second with 1.5 million subscribers and could grow to 4.7 million.
On paper, one would assume that obvious markets like Nigeria and Kenya would be first in line for this kind of development, but it's not as clear-cut as that.
Although it could be argued that Nigeria has a larger economy, it has lower spending power, with an unstable economy and redundant infrastructure. While Kenya's economy is not as large, it does have better spending power, welcoming policies, and better than average infrastructure.
What do the numbers show?
But the numbers tell a different story. According to Intelligence By Techpoint, as of March 2022, 41% of all MultiChoice subscribers are from South Africa, with the rest of Africa responsible for the remaining 59%.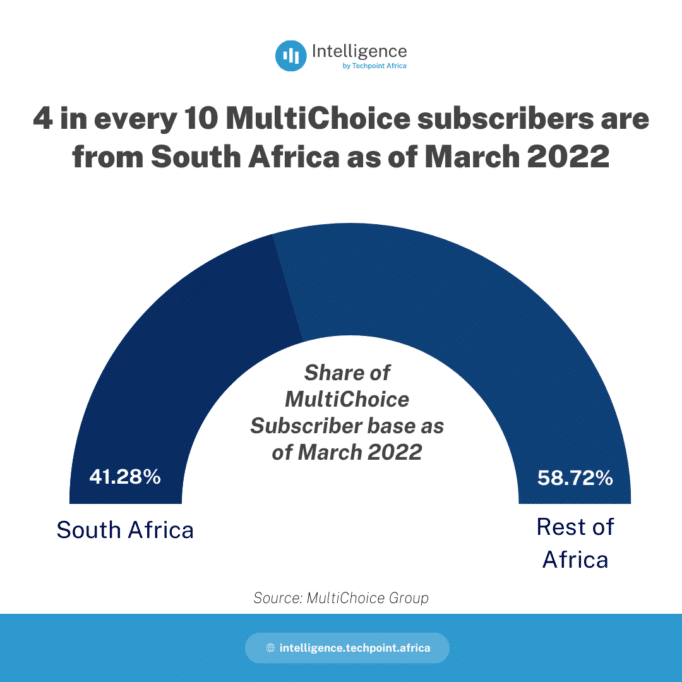 On a global scale, only South Africa makes Netflix's top 50 countries, with 350,000 subscribers in the country. Countries like Nigeria and Kenya do not make the list, with Malta rounding up the list at 30,200 subscribers.
According to First National Bank (FNB), South African consumer spend on audio and video streaming services like Netflix, Amazon Prime, Spotify, and YouTube has increased by approximately 70% from before the COVID-19 pandemic to June 2022.
Although South Africa doesn't have the largest economy on the continent, it does have a stable economy. It also has a better download speed, at 28.62 Mbps, which means a faster Internet connection.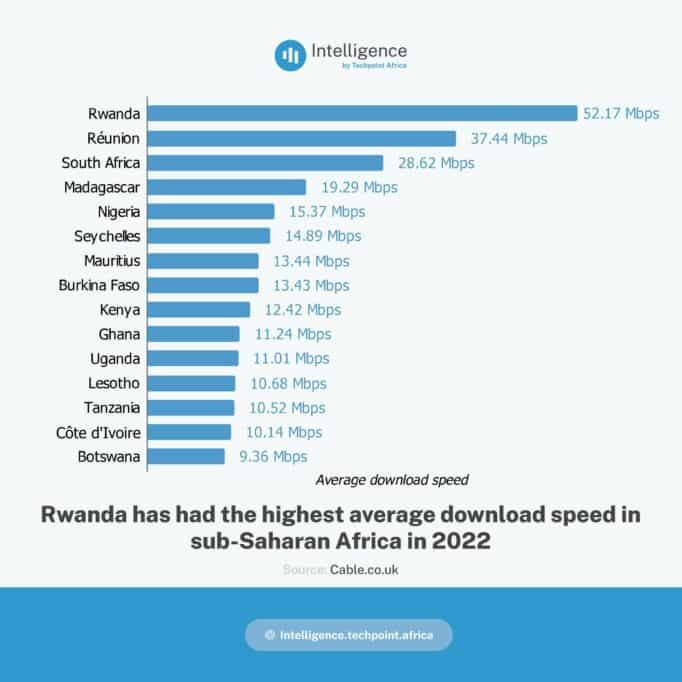 There's also the fact that the country has the most advanced TV rating system in Africa, allowing companies to track consumer behaviour better.
Fun fact: Amazon Prime Video subscribers in South Africa have been able to pay in rand since 2021 and also get access to free games and in-game loot every month from Twitch Prime.
In 2021, Quartz Africa reported that Disney+ would launch in 12 African countries in 2022. So far, the platform is available in 6 countries, and Nigeria and Kenya may yet be on its radar. But it still has to contend with a piracy-prone population and spending power challenges.