Points to note
The creator or passion economy is a subsection of the gig economy, but they differ in their content ownership, creative freedom, and consistency in demand.
The global creator economy is estimated to be worth over $20 billion, of which Africa should ordinarily be a major contributor and beneficiary considering its large youth population, the need for multiple income streams due to job insecurity, unemployment, and the option of having a foreign earning channel. However, African content creators are limited by fraud, payments, and funding challenges.
The creator economy will almost always have room for new entrants no matter how saturated the market is, giving everyone equal opportunities to thrive. The problem of oversupply is also nonexistent as content consumption is not capped in a diversified market.
Understanding the creator economy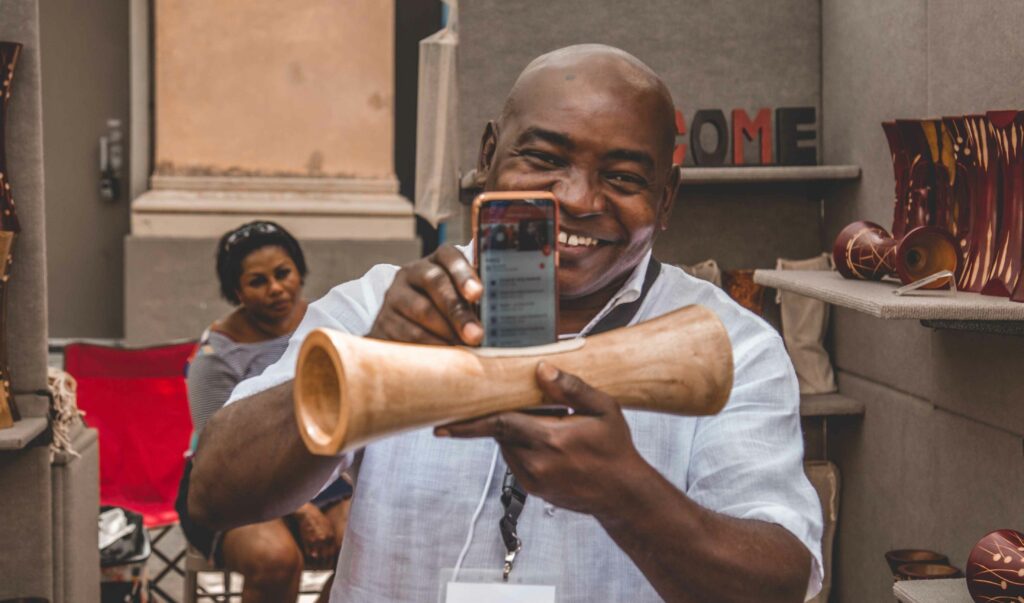 Recently, two popular YouTubers met for a chat, which created quite a buzz on Twitter. Fisayo Fosudo and Arun Maini, aka Mrwhosetheboss, are pretty famous on their different turfs as exceptional tech content creators; Fisayo in Nigeria and Arun in the UK.
Fisayo described himself in a recent chat as an independent visual storyteller and YouTuber who has been churning out content about tech products, innovation, and fintech — for the Nigerian and global audience — for over five years.
Arun, on the other hand, is touted as the UK's most popular YouTuber, reportedly worth an estimated $3 million to $9 million, depending on the source you choose to believe. Now 25 years old, he started publishing content on YouTube at 14. Interestingly, this article suggests that the vast opportunities on the Internet make it easier for teenagers to achieve early stardom. I digress.
Fisayo and Arun play in the creator economy, and, as their stories revealed, are making a decent living from it. For the uninitiated, the creator economy is one where creatives leverage the Internet to earn directly from their audiences. Of course, this feeds off the attention market.
The creator economy could be mistaken for the gig economy. While they differ in some ways, they overlap at some point, as they involve using one's creative abilities to earn an income or gain influence. However, the latter resonates more with earning an income based on short-term contract jobs — often referred to as freelancing.
Further explaining this difference during a chat, Douglas Kendyson, Selar CEO, believes the passion economy is a plus to the gig economy.
"Still in the pursuit of people getting financial freedom and owning their time, the passion economy has come up. Unlike the gig economy system where you don't really own anything, a lot of the work that you do is based on people making requests, and the commission is not really up to you. In the creator/passion economy, you get to create your own value, you get to have your own audience and you also get to monetise that audience in your own way, on your own terms."
Creator economy: A large pie
It is becoming increasingly difficult to keep up with the swift changes in the media space facilitated by social media platforms — the major drivers for the creator economy. On YouTube, for instance, over a billion hours of branded content and User Generated Content (UGC) are viewed daily, according to a 2021 statistic.
It is typical in the creator economy to notice the rapid rise of influencers and creatives churning out short and long-form content in their millions daily across several social media and content aggregator platforms.
The creator economy is apparently a huge one, with over 50 million professional creators and influencers attracting and engaging audiences by the second. And it is even more interesting how easily they can influence and inform the lifestyles of their audiences and communities, something that was once strictly in the purview of specific professionals who employed certain channels. For instance, several skills you could only learn in a classroom can now be mastered on YouTube.
The creator economy is not a new concept, but it only started gaining popularity in the last decade. This industry has been estimated to be worth over $20 billion. However, the African market is barely enjoying the boom.
It's not all good news
Asides from the opportunity presented by the Internet, tech platforms are also enhancing the possibilities. Globally, there are online marketplaces for digital products, social commerce platforms, freelancing platforms, and streaming platforms, among others, opening up channels to market these products/crafts and creating ways to monetise them.
While this is a plus, Douglas pointed out a challenge that could slow the growth.
"For this to work, a huge part of it falls on making payments to work across the continent. It's quite unfortunate that payment has been quite an issue. Payments need to work for everything to work smoothly."
He referenced how challenging it is to currently process payments in Kenyan shillings. Douglas clamoured for more systems that support payments, especially for international markets.
Femi Taiwo, TERAWORK CEO, also stated how payments should be optimised for local, intercontinental, and international currencies. Conversely, he added how getting investors interested in platforms supporting the creator economy cannot be understated. So far, Selar, for instance, hasn't raised external funds save for an entrepreneurship grant of not more than $10,000 that gave it a proper start in 2018.
Apart from the recognition that African creators get, Femi pointed out the creator economy's impact on the continent. To him, these creators present a platform for larger engagement with people who want to advertise to their audience. A marketing professional also agrees with this and described it as a way the continent benefits from the creator economy.
"Prior to now, if you wanted to advertise niche products, there were not many available channels to do that. You either advertise on billboards, TV, print media, or social media; but they are not specific as your target audience.
"But the creator economy changes that. Tech companies can advertise with tech creators, make-up companies advertise with make-up and beauty content creators, and the likes. So, the creators, businesses, and customers are all happy in the ecosystem."
Despite the prospects that the creator economy holds for Africa, it still has challenges which stakeholders must address. Douglas suspects that fraud could hold back this industry just as it did with some innovations. Case in point, cryptocurrency adoption has been hindered by recurring cases of reported crypto scams.
On the side of the creators, people might not pay for their creativity, with intellectual property theft occurring often. Sometimes, they go the extra length to game the algorithm of the platforms they use.
Because of oversupply of content, creators want to be easily seen, and there are several ways to go about this. On non-social media platforms like TERAWORK, freelancers might have to opt for a higher subscription plan for proper discovery. Also, there are several explainers on how to be favoured by the YouTube algorithm, for instance.
Femi recommended more African platforms powering the creator economy to increase Africans' chances of using a product well suited to the market's peculiarities.
Familiar platforms powering the creator economy include YouTube, Patreon, buildd, Udemy, and Selar.