Branding. Storytelling. Words. Art. Throw these words together, and you might understand what Insecta Studios (Raknida's parent company) is about.
Insecta began in the four walls of the University of Nigeria, Nsukka, as a creative outlet for architecture student, Anthony "Anth" Ezeokoye. It was also a way to bond with fellow students like his friend, Frank Kenneth and soon became a home for them to help people get a foot into digital art.
A popular saying amongst university students is, "All relationships end at campus gate." Although this most often refers to romantic relationships, we could stretch this to platonic relationships, don't you think? Well, in Anth's case, Insecta almost fell victim to the university curse.
After registering the business name, Insecta in 2010, Anth graduated in 2011, and it was time to join the job market. An endeavour that would eventually lead him back to Insecta, a company incorporated in 2016, telling the stories of other companies with words and art. Afoma Chiegboka, Communications and Operations Director at Insecta, explains part of this.
"Stories make people real, make brands real in this context. And that's part of what we do. Part of our focus is visual storytelling, and it is very key because beyond what you tell people, what you show people should also tell them who you are."
So far, Insecta has worked with companies like TeamApt, GreenLotto, Jobberman, Rok Studios, and Interswitch.
Now, the company has launched a marketplace for wall art called Raknida (Arachnids), an offshoot of Ezeokoye's fascination with the Arthropoda family in the animal kingdom.
The journey into Insecta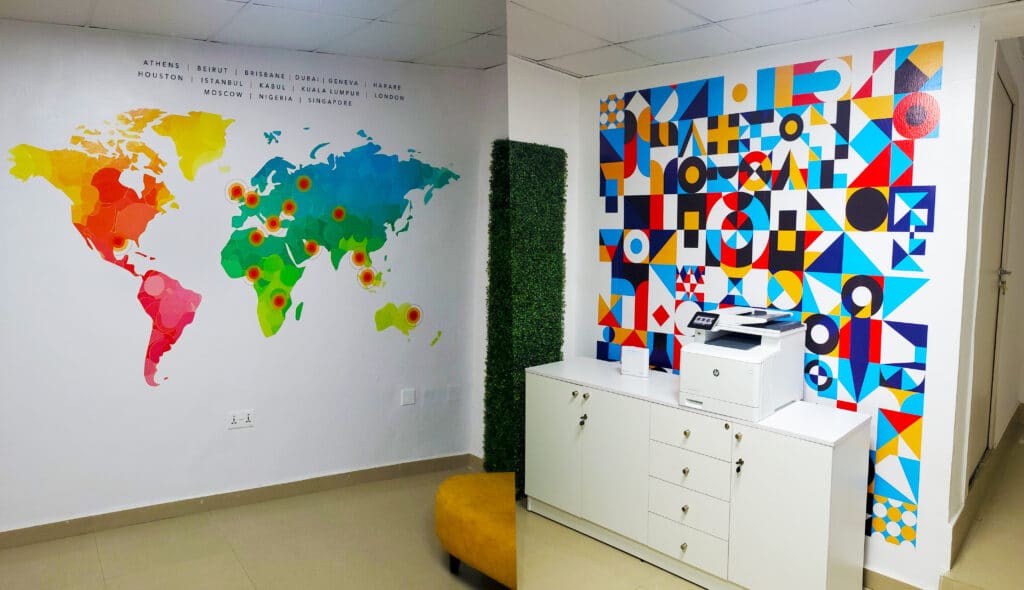 In 2007, when Ezeokoye did his first wall art at university, he didn't know he would make a career out of it. Of course, he thought it was a lot of fun, but he primarily focused on graduating as an architect.
Fast forward to 2016, when Insecta became a full-fledged business, it has become one of the company's primary services, alongside other products.
When COVID-19 hit in 2020, Ezeokoye and his team realised that people needed wall art in their homes. So they decided to conduct a survey.
"From that survey, we realised that there's this hybrid system that is very prevalent nowadays, and it's not going to stop anytime soon. Because a lot of people are going to be working from home and other people are going to be working from the office, while some people are going to do some days at work, some days at home.
"So in line with that, we decided that rather than offer our wall art services at the premium that we used to offer it to just businesses at Insecta, why not create Raknida to be that platform where we have inspiring wall arts, designs from various artists where people can actually just go to enjoy the space, gravitate towards any particular artwork and actually purchase it for themselves.
"So we decided on Raknida, which is pretty much an eCommerce platform where our businesses and also individuals can go to and buy inspiring artworks that are infused with augmented reality at very affordable prices."
And Raknida was born. After so many meetings, discarded, then probably refined ideas, Ezeokoye and his "insect-themed avatar" team pushed the platform in April 2022. Chiegboka believes that Raknida, as it is now, is perhaps the 10th version since they first thought up the idea.
Building Raknida for creative collaboration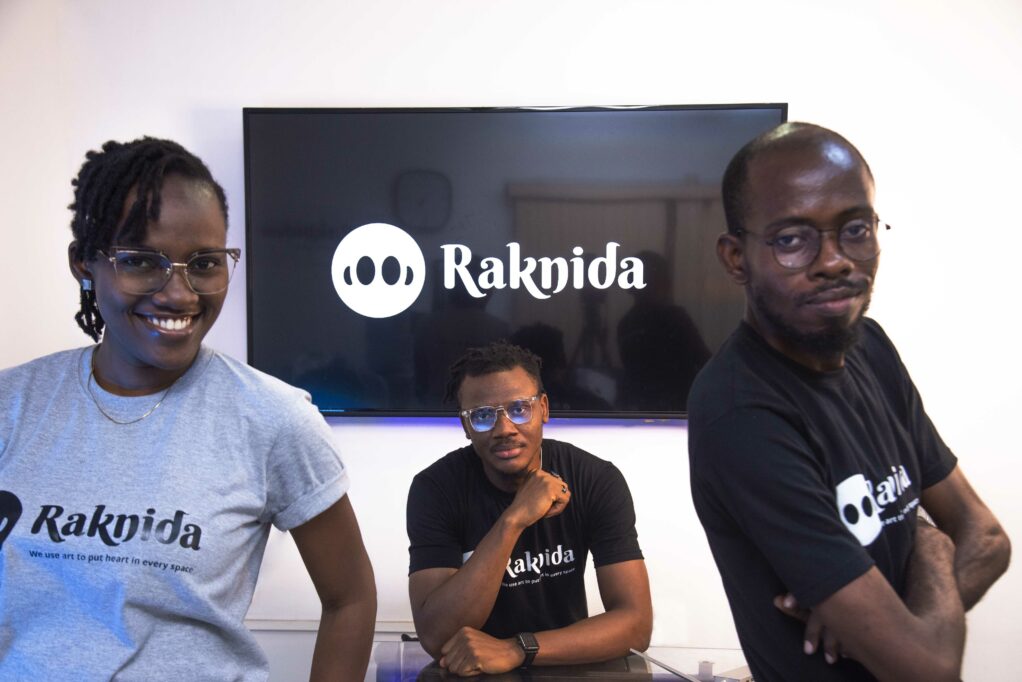 Drawing inspiration from Nigeria's buzzing music industry, which has seen mind-blowing success, Raknida is meant to be a platform that showcases how tech makes anything — in this case, art — scalable.
In describing the problem, Chiegboka, who is also Co-founder and Product Manager at Raknida, paints a picture of silos.
"For a very long time, most artists and digital creatives have been dependent on themselves to do everything. Create the art artwork, promotes it, literally everything that has to do with the art.
And then it's just like, you have one-man silos."
The vision, however, is to export African art to the world in a scalable way, using the eCommerce platform, augmented reality, and possibly non-fungible tokens (NFTs)
As we talk at their Anthony-based studio in Lagos, Ezeokoye and Chiegboka's excitement is catching.
In Ezeokoye's words, Raknida is meant to be the iTunes and Spotify for digital creators — photographers, illustrators, 3D designers, and cartoonists.
They also want to create a space where these professionals can collaborate. For example, with their augmented reality feature, they want to bring artists with their art and illustrators who can turn that art into interactive art for living spaces.
"We envisaged that very soon people won't be satisfied with just still art anymore. You would see people who would want that extra. And in that case, if the artist doesn't have the capacity to create animation, it then becomes a problem.
"That's part of the things that we intend to offer. So, if you're bringing your art, then we can create the AR animation and then integrate it with your artwork.
There's also what Afiegboka calls the "potential to earn."
"The second thing too, which is really one of the major reasons why we started Raknida, is the potential to earn.
"Part of the things that we've experienced as creators is that phrase, 'is it not just?' Art is so very much undervalued, especially digital arts in the African space."
So is there a market?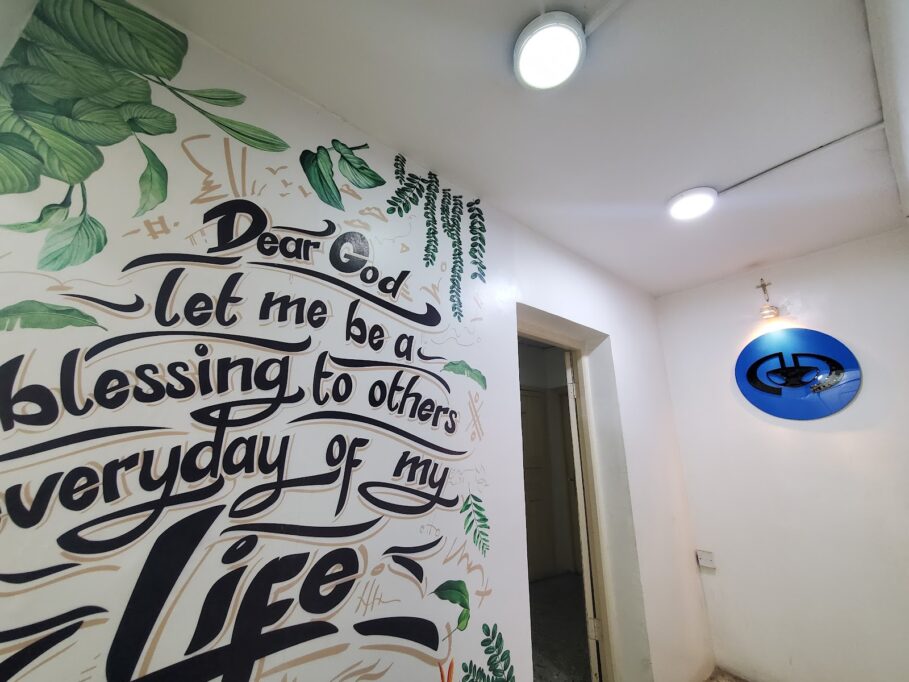 I've always enjoyed art, but I think I reached my peak in university when I actively followed the Instagram accounts of art galleries like Rele. I also followed magazines like Art News Africa and TSA Art Magazine and artists like Kelvin Okafor, Arinze Stanley, and Ikenna Obinka, filling my phone gallery with screenshots — which I can't find anymore.
While I love art, I've never actually bought any art, so I was curious about what the global art market scene looks like.
As of 2021, Statista reports that the global art market value is $65.1 billion, with the US being the biggest contributor. In Africa, as of 2018, that number rose to $13 billion and is predicted to reach $18 billion by 2023.
Regarding wall art, Raknida's mainstay, the market was valued at $46.3 billion globally in 2020 and is expected to grow to $72.61 billion by 2028.
Those are big numbers, but in Africa, Raknida still has to deal with the societal stigma that comes from being an artist, parental disapproval, and sometimes, people who don't just see the point in art.
A decision that has helped shape some of the choices they've made concerning profit-sharing.
Currently, profit is shared between the creator and Raknida, but there is also the third leg, which will see the platform donate 10% off each purchase to a charity to help children improve their art skills.
"One of our missions is actually to raise the standard of creativity and also to empower youth, especially underprivileged ones in Africa.
"I know my struggles growing up as a young artist in secondary school. From university to primary school, I was very interested in local and international art competitions. And as much as the opportunities were not readily available, I kept doing art.
"And not everybody has that resilience to continue."
To facilitate this, the company created a foundation called Hearts of Color.
Mixing art with emerging tech
As this Smithsonian article shows, tech and art have always been eerily intertwined, from stained glass windows made from paper cut by a laser to wall-climbing robots that paint art that changes daily and so much more.
Currently, several Raknida artworks are imbued with augmented reality (AR), bringing art to life.
AR is a technology that superimposes a computer-generated image on a user's view of the real world, thus providing a composite view. According to Investopedia, it is an enhanced version of the real physical world that is achieved through the use of digital visual elements, sound, or other sensory stimuli and delivered via technology.
When a buyer gets an AR-enabled artwork, they get a unique code which enables them to see their buy take moving shapes and colours to tell a story. They can view it using the Eyejack app.
If, like me, you are curious about the entire process of creating AR-enabled artworks, here's a great explainer.
There are also plans to create NFTs and a Bored Ape Yacht Club lookalike. Artworks typically cost between ₦30,000 ($72) and ₦150,000 ($360).
The end goal: " A place for affordable wall art created by world-class African creators."