AFEX, Nigeria's leading commodities market player, held the third edition of the Code Cash Crop event on Saturday, July 30, 2022, at the Lagos Oriental Hotel, Victoria Island, Lagos. The event, themed "The Role of Technology in Disrupting Agriculture Trade Infrastructure," had C-suite executives, media members, and guests from various sectors in attendance.
Olatomiwa Williams, Country Manager for Microsoft (Nigeria & Ghana), opened the event with her keynote address about managing Nigeria's agriculture ecosystem using technology. She said agricultural technology had democratised information in the sector. However, some of the sector's challenges are value addition and supply chain issues.
She believes that partnerships are the main solutions to these problems as they are needed to help farmers. She said Microsoft partnered with National Information Technology Development Agency (NITDA) and Sterling Bank to hold the Microsoft Agro-Tech hackathon in March 2022. According to her, "there is a huge opportunity to leverage technology in agriculture, and Microsoft can amplify that adoption."
Williams said because of Nigeria's human capital, Microsoft wants to create structure and be part of the development of the agriculture sector.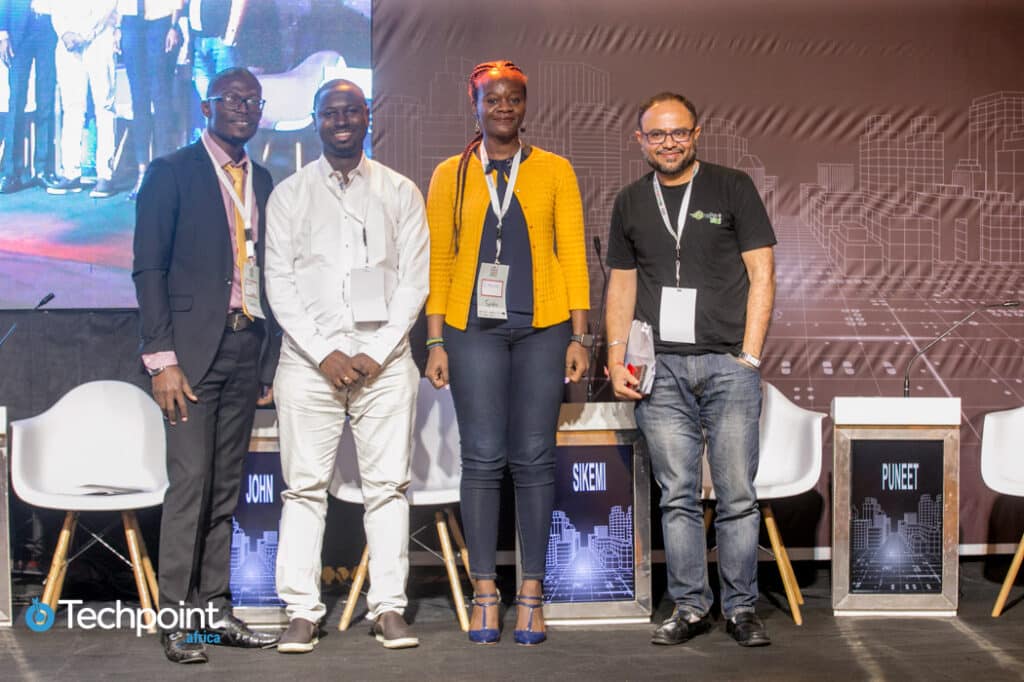 The first panel session of the event followed the keynote address and had Teslim Shitta-Bey, Managing Editor, Proshare, as the moderator. Ayo Arikawe, Co-founder and CTO, ThriveAgric; Nancy Ochonwe, Head, Clearing and Settlement, AFEX; Ikenna Nzewi, CEO, Releaf; and Zeal Akaraiwe, CEO, Blaque Group as panellists. They discussed the present and future of agriculture commodity trade in Africa.
Ochonwe said that lack of access to storage infrastructure and finance are significant issues that need to be addressed.
According to Arikawe, one of the reasons farmers, or generally, people in agriculture, find it hard to secure loans from banks is the issue of collateral.
"Financial institutions need to recognise commodities as collateral, and there is also the need to increase identification of farmers."
Akaraiwe said there is a structural issue in the banking and agriculture sectors and that although banks have risk departments, bankers don't like risks.
"Bankers should structure the sector so it can meet the needs of their risks."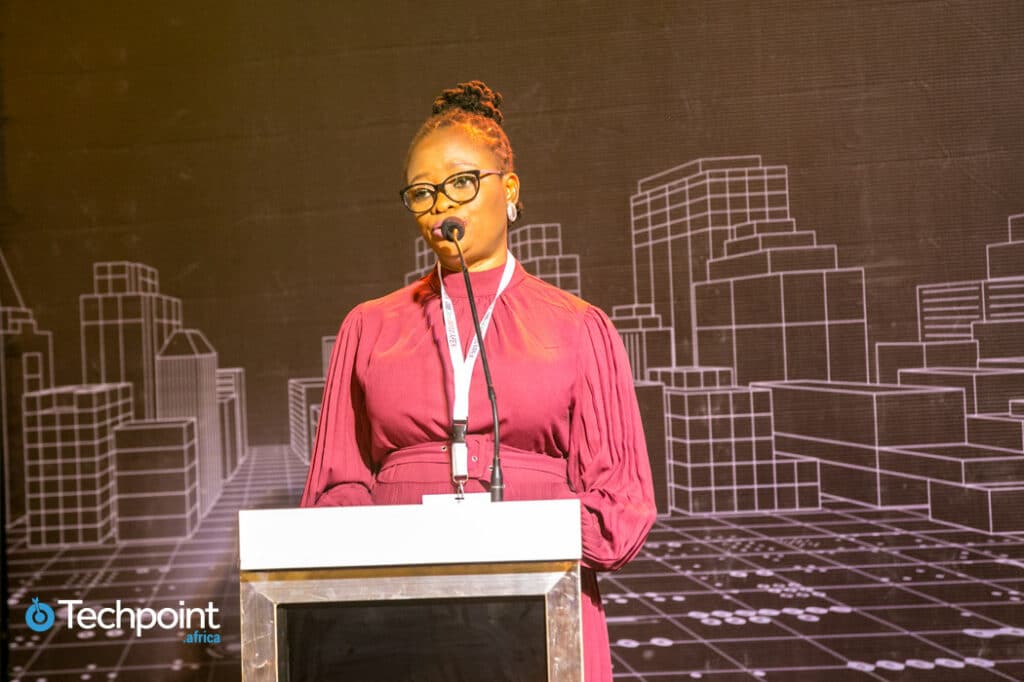 The six finalists of the AFEX Ag-Hackathon — which required applicants to develop solutions to boost agriculture and increase access to finance in the sector using technology — made their final presentations.
Abubakar Sadiq Amao went first and pitched Tarkin, his solution to help farmers gain better access to affordable storage.
Folasewa Abdulsalam presented her solution called PalmFarms, which seeks to increase farmers' financial independence and facilitate doorstep food delivery for end users.
The third pitch was made by Chibueze Opata, whose solution, GreenerAgro Ltd, aims to increase access to finance for rural farmers by leveraging artificial intelligence, big data, and fintech.
Prince Achoja pitched next and presented his solution called Ma'aji-Noma aimed at helping farmers in remote communities access financial services such as payments, savings, loans, etc., through a mobile app. The solution also gives them access to information on best farming practices from experts.
Samuel Akame came forward with Credence, which aims to create a secure neutral interlink between agricultural supply chains and financing networks by introducing a smart escrow system to increase cost-effectiveness and fast product delivery.
Oluwasanmi Michael Giwa came last and presented Agricede to the audience. Agricede is a platform that grants Africans access to the agribusiness investment market and also gives the agribusiness owners funds to scale their operations.
Olaolu Ajose, Head of Engineering, Chakra, moderated the second panel session. The session had Puneet Arora, Country Manager, Oneport 365; John Bosco, DCEO, PAPSS; Dr Hakeem Oyewale, CEO, Marble Capital Limited; and Sikemi Tayo, Founder, KIT for Professionals as panellists. Together, they discussed "derisking cross-border transactions to simplify trade."
The moderator asked the panellists what they thought could be done to improve poor intra-Africa trade, which is one of the lowest in the world.
Arora said that logistics in West Africa is still evolving, and there are many connectivity issues, which make it difficult for farmers to reach their production time — the time required to grow a product from start to finish. He said government policies that support the farmers and access to finance and good governance are essential. He closed by saying it is important to digitise and develop infrastructure to solve the connectivity issue between African countries.
According to John Bosco, we should also pay attention to how payments flow for country-to-country transactions.
"When you talk about currencies, a currency is strong because it is traded frequently. That means that we have to use a currency that is being traded. So, if we trade more between ourselves, our currencies will align."
Tayo, who said KYC is important and we must start thinking about ways to use technology to solve the standardisation problem, believes blockchain is a perfect place to start.
Oyewale said it is important to contact appropriate advisers such as the Securities and Exchange Commission (SEC). He said getting the right advice will help people access available funding.
He closed by saying there is a great need for awareness and collaboration between the agricultural, tech, and financial sectors.
"So much can be achieved with that, and we also need to collaborate more with the regulators. So that all the improvements we see will be accepted as against them being pushed away."
Tayo closed by stating the need to drive food security beyond some sectors, saying, "We cannot leave food security to a select group of disciplines or industries."
The final panel session discussed "financing the emergence of efficient agriculture marketplaces for Africa." It was moderated by Martin Mbonu, Investment Associate, Vested World, and had EduAbasi Chukwuneike, Start-up Lead, Microsoft W&E Africa; Kolawole Osinowo, CEO, Baobab+, and Oluwatoyin Olubake, ID, Novastar Ventures, West Africa as panellists.
Answering a question about financial risks between banks and farmers, Olubake said, "there are some risks that banks are not willing to take and really shouldn't take. The question is who will take those risks."
Contributing to the discussion, Osinowo said that today, a lot of farmers are financially excluded, and that is because they do not have financial identities; that is, most of their transactions are not recorded or visible. According to him, the solution is to track their financial records. Also, providing insurance products to mitigate issues such as flooding will go a long way.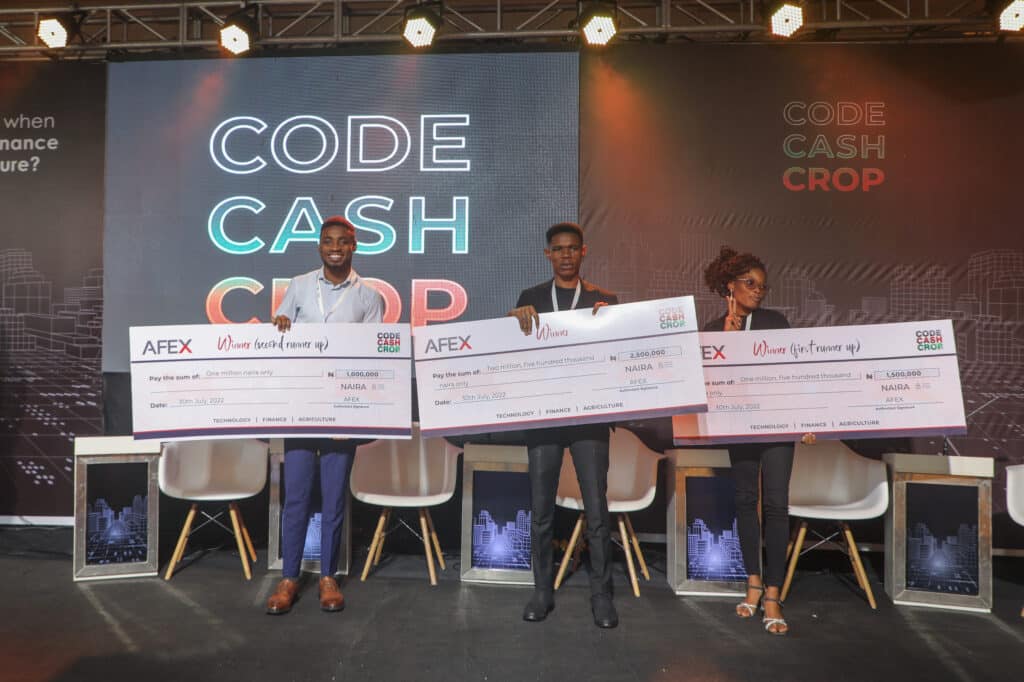 The winners of the Ag-Hackathon were announced after the last panel session, with Prince Achoja taking home ₦2.5 million in prize money. Folasewa Abdulsalam and Samuel Akame received ₦1.5 million and ₦1 million for coming second and third, respectively.
Speaking to Techpoint Africa, Akinyinka David Akintunde, COO, AFEX, said the idea of AFEX was to unlock finance for agriculture. He said raising money is the easy part, but sustaining the project for which it is raised is where the real work lies.
He also spoke about the relationship between finance and agriculture.
"Over the years, we have discovered that you can't do agriculture without finance, and you can't do finance to agriculture without technology. It's what birthed the programme called Code Cash Crop, and it also attracts sound minds into the ecosystem."
He said they would work with the winners to help them understand the product life cycle and that by the time Code Cash Crop 4.0. holds, the solutions presented should be in a viable position.