"I remember walking on the streets of Lagos, telling God, 'Is this how my life will be? Is this it?' I was thinking, 'How do people get over poverty?'"
Who would have thought that Oluchi Enebeli, one of Nigeria's first female blockchain engineers, once asked herself, "How do people get over poverty." One look at the Dubai-based blockchain engineer, and you'd find it hard to believe that there was a time she worried about where to lay her head for the night. 
But as she fought through tears to tell the story of how she became one of the most sought-after blockchain engineers in the country, I could tell that this wasn't your typical tech bro/sis story.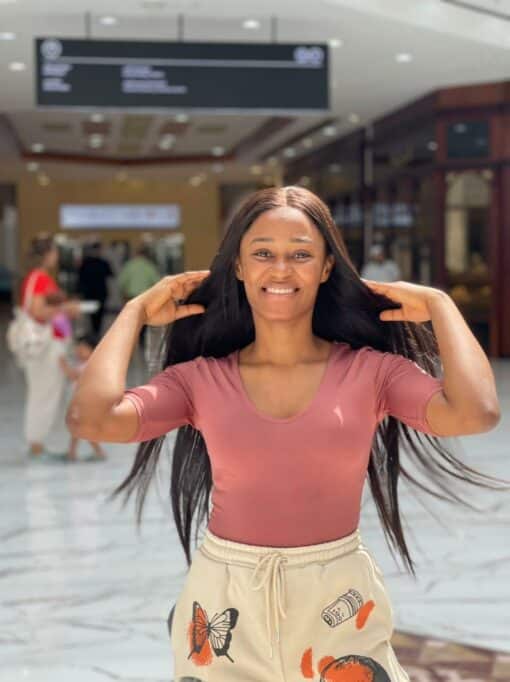 From people's perceptions of the phrase 'tech bro', it can be inferred that the tech industry is a desirable place to forge a career, with many seeing it as the new oil and where the money flows. From people bragging about million-dollar salaries on Twitter to fundraising announcements every other day, there is no denying there's money in tech.
However, beyond the glitz and glamour of social media, there is a special breed of techies who have fought tooth and nail to become exceptional in their fields, and one of them is Oluchi Enebeli.
Oluchi Enebeli, the second of seven children, was born in Lagos, Nigeria, but her family moved around a lot because her father was in the military. Some of her fondest childhood memories are of Warri, the commercial capital city of Delta State, Nigeria.
"My dad was in the military and was always being transferred from one place to another, which affected our studies. I was homeschooled, and my dad was teaching me.
"He mostly taught maths because he had this idea that if you know maths, you know, everything else was in the world. Like, you can pass biology without studying. It's crazy, but that's the mindset my dad had. He taught us with a math textbook he had written, and my job was to solve the examples in the textbook and then come up with answers."
Unsurprisingly, Enebeli got her love for mathematics from her father and went on to study applied mathematics at the University of Benin, or Unibend as it is jocularly called when referencing how strenuous it is to graduate from university.
"We used to call it uni-bend then because when you come in, you're straight and then it keeps bending you till it finally bends you completely when you get to your final year. So that's why we used to call it uni bending school."
Discovering tech
Enebeli discovered tech and knew she'd like to be in the space someday. However, she decided to study applied mathematics instead of something tech-related because she concluded she could learn tech without going to school.
"The reason I studied applied mathematics is quite funny. Growing up, my dad had a cybercafe that my elder brother managed, and when it was time for him to go to school, I was next in line to run the cafe.
"I had no idea how to run a cybercafe and knew nothing about computers. I was in SS2 at the time, and all we were taught about computers in school was theoretical. We rarely used the computer, and even when we did, we would form a queue and take turns to use it briefly because the school had just one.
"With time, I learnt about the whole computer thing, but I noticed many people wanted to know about computers, and they were mainly learning desktop publishing and graphic design. People were going to computer schools to study these things.
"Even my elder brother went on to study computer science in the university. I felt, 'If this is all there is to it, why do I need to go to the university to study it?' So the plan was to learn something more worthwhile in school and learn computer science on the street 'cause I saw a lot of people learning it everywhere."
Learning something more worthwhile in school meant studying applied mathematics. Enebeli's dad, a Mathematician, was particularly delighted that he had a child following his footsteps, but they had no inkling that while it seemed like she was on the path to becoming a mathematician, what the future held was completely different.
Enebeli was excited about school in her first year at Unibend, and while she wasn't a social butterfly, she was popular with the nerds who constantly talked about assignments and tests.
And she was on fire, too, getting first-class grades from the get-go. From the picture she painted as she excitedly told me about her time in school, she hopped from one nerd gathering to the next, impacting people and soaking up as much information as possible.
"So when I got into 100 level, I became very social, but a social nerd; I was social academically, but was not the kind who went to parties. I would always help my classmates figure out solutions to assignments. I was everywhere; you would see me in this night class and that library. So that was like the social part of me."
She kept smashing academic records until she got to the third year, when she battled illnesses, and her results took a hit.
A first-class mission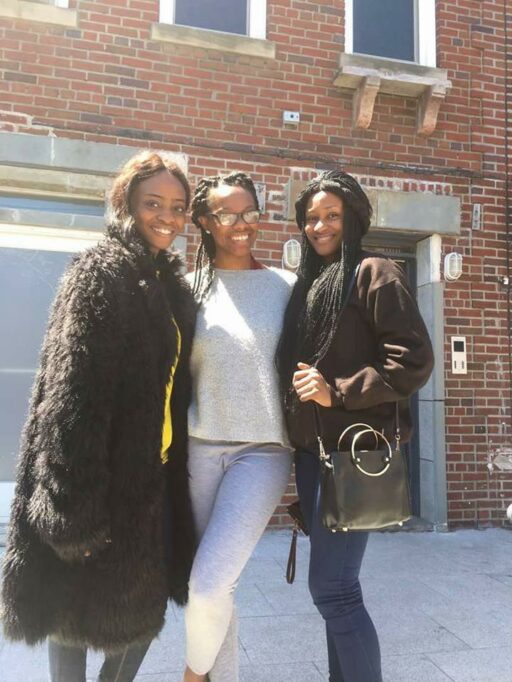 Graduating with a first class was necessary for two reasons: she had to measure up to the standard her brother set, and her family needed it.
"We needed to make a first-class because of our family. I am from a family of seven, my dad was in the military, and the pay wasn't so great. The financial struggles were real, so that was like one pressure on me when I went into school."
While Enebeli worked as hard as she could in her fourth year to make a first-class, it just didn't work out. She was devastated; according to her, she was too ashamed to go back home.
She had let her father down; she had let her siblings down.
"The goal was to come out with the first class, but I did not, and I almost killed myself."
Oluchi admitted that suicidal thoughts crossed her mind during this time. Her brother, who graduated with a first-class, also won a ₦5 million ($8,130) scholarship, which was great for the family. That was supposed to be her story too, but it wasn't.
The shame from going home would have been too much to bear, so she decided to stay in school. It turned out to be the best decision she'd ever made, as she could see things from a different perspective.
Enebeli realised there was more to tech than desktop publishing and graphic design. Surprised she did not notice before, she learnt that the unserious students who barely came to class because they were doing tech jobs on the side were onto something big. That was all she needed, it was her proverbial light at the end of the tunnel, and she said,
"I didn't get the first class in school [but that] doesn't mean I can't get the first class in life."
When she discovered that the unserious students who frequently juggled software engineering with their studentship were building valuable experience and connections, she decided to tap into the lifestyle.
While having a tech job and still being in school is commonplace now, it wasn't when Enebeli went to school.
"So, a coursemate of mine back then was into networking. He was taking networking classes, working and schooling simultaneously, but I didn't know that was even possible. At the time, it wasn't common; now, you have a lot of people working and schooling simultaneously."
She transitioned mentally and started networking classes to get the Cisco Certified Network Associate (CCNA) certification.
At this point, she knew where her life was headed and could go home. With a silver lining in her second-class upper cloud, she could finally drop the bomb on her family.
But Enebeli's dad had plans that didn't involve getting IT certifications. She had already broken his heart by not getting a first class and was about to do it again by not doing what he wanted.
He'd planned for her to run his electronics store during her National Youth Service Corps (NYSC), so he could leverage his connections to get her a job in an oil company.
Enebeli was sure that tech was the right path for her, and not even her father could change her mind. She was prepared to pursue tech with every fibre of her being, even if nobody was willing to help.
Tech is hard
On Tuesday, March 1, 2016, Enebeli left Warri for Lagos — Nigeria's Silicon Valley — to pursue her tech dreams alone.
Though she was born in Lagos, she barely knew anyone in the city because she'd only lived there briefly. So living and networking arrangements were difficult, but she didn't care. The plan was to get an internship as soon as she arrived, save enough money to take her CCNA exams, and be on her way to tech stardom.
Unfortunately, internships weren't easy to come by and requesting financial support from home was not an option, mainly because she left without her father's blessing and the family needed financial support.
The longer she stayed without an internship, the harder it was.
"Why would no one take a chance on me?" She wondered.
Recollecting these times was difficult for her, and even with my poor Internet connection, I could hear the pain in her voice.
"I was moving from place to place trying to get people to stay with; it was a funny story."
But it wasn't funny. From failing to graduate with a first-class degree to getting turned down everywhere she turned, nothing was funny about her situation; she almost lost the will to go on at some point.
"I remember walking on the streets of Lagos, telling God, 'Is this how my life will be? Is this it?' I was thinking, 'How do people get over poverty?' It was a struggle at that point. You know that situation where there's absolutely no one, no connections.
"It gets you thinking about people born in slums without a fighting chance, looking around you, and you can't find something remotely resembling hope.
"Hope; hope is important."
And hope helped her stay strong. When no one would take a chance on her, she decided to learn about WordPress at a fellowship she'd been attending in hope that it would get her the internship she desperately needed.
And she finally got one.
Crenet Tech Labs decided to take a chance on her, and she remains grateful to its Founder, Adegbenga Agoro, for that first opportunity. Besides getting money that made survival easier, getting that internship reassured her that she was doing the right thing. It was an incredible learning experience that led to her discovery of blockchain technology.
Discovering blockchain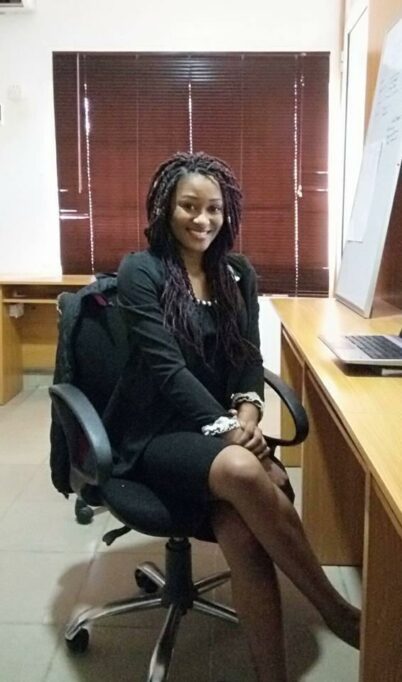 During her internship, she participated in a hackathon introducing her to another tech side called the blockchain. While she liked it, she found it overwhelming because she was still trying to figure the whole tech thing out.
However, her curiosity was piqued. Its decentralised nature and the concept of cryptography appealed to her. And just like that, her applied mathematics degree was useful.
I was like, how does this thing work? How is there a decentralised network where information is shared across multiple nodes?
Blockchain was still new, and very few people knew about it. She figured that getting into the space early before it got saturated would increase her chances of success.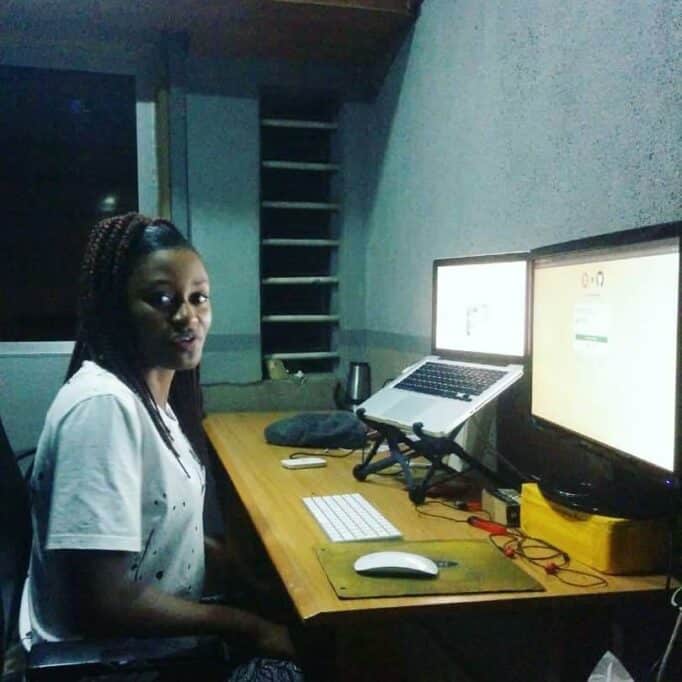 She started learning a lot about blockchain and went for more hackathons, one for which she travelled to Manhattan, USA, where she met Eromosele Omomhenle, then Principal Technology Strategist at Microsoft.
Through this connection, she landed a blockchain engineer role at Sterling Bank, and she only went up from there.
She has worked with some of the biggest blockchain companies in the world, including Binance, Crypto.com, Bundle, and recently launched Nestcoin.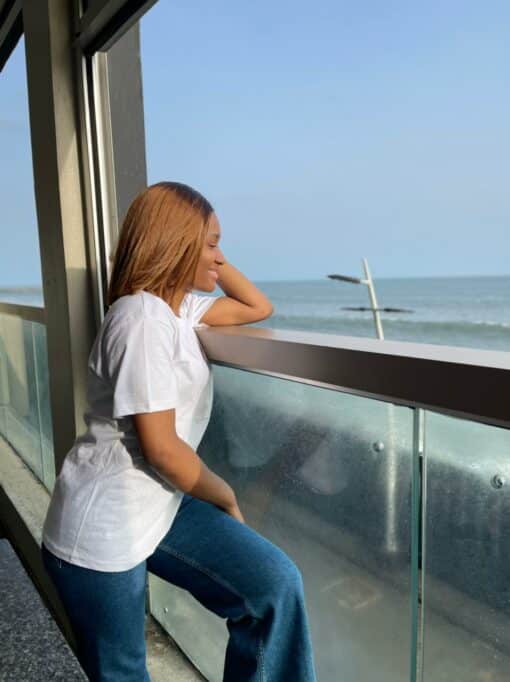 Enebeli has gone from an intern earning ₦35,000 ($56) monthly to commanding a seven-figure salary. She's also now the Co-founder of Crevatal, a Web3 design agency, and Web3 Ladies, a community she created to bring more women into the space.
Enebeli owes her success to her parents, siblings, Clement Hugbo — her co-founder at Crevatal — and everyone that took a chance on her.
She, however, maintains that everyone is the architect of their future, and every decision we make based on advice, our will, or under pressure does not matter because, in the end, you decide what happens to you.