"HR is something you learn by doing. It is experience, not book. Yes, there are certifications, but those certifications are handy after you've worked a while and you know where you want to focus."

– Weyinmi Barber, SVP, People and Culture, Softcom.
A well-known irony in the job market is that some jobs or industries that were sought after some 10 to 15 years ago no longer occupy that position and others have had to simply evolve to stay relevant. While it looks grim for those ones, some jobs that are now highly rated might also start struggling with relevance in a few years.
Some roles like human resources (HR) have survived every evolution the job market has experienced, yet it remains one of the most underrated in companies. It would be great to dive into why this is so straight away, but we will get there soon.
I was at the Softcom head office in Ikeja on a warm July afternoon to speak with Weyinmi Barber, the SVP, People and Culture, a.k.a, head of HR. While we prepped for our conversation, I was determined to get her take on why startups do not pay attention to HR despite its implied importance. And her response was not far from my theory.
"People don't really understand how important it is. What usually happens with startups is they get to a certain level and they start having HR crisis and at that point, they are running around looking for HR professionals."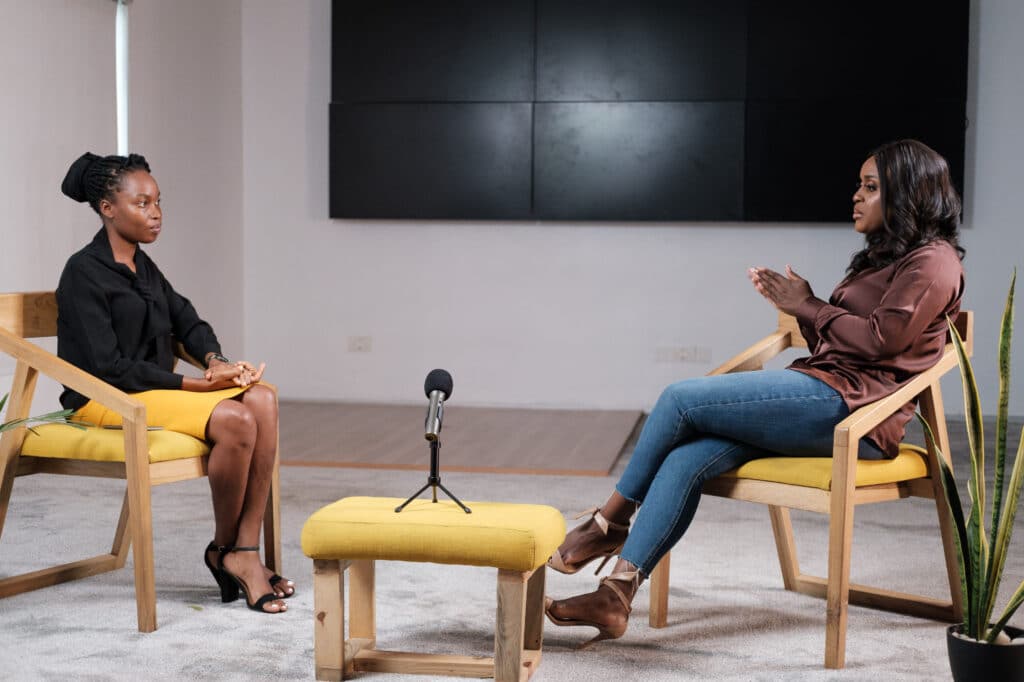 From the hour-long chat, I deduced how important it is to have an HR team, from easily hiring the right people to having a defined recruitment process and everything in between.
It is safe to say that Weyinmi Barber is passionate about HR and is on a mission to make it desirable despite people's misconceptions. Like me, when you get to know about her quirkiness from childhood, you'd understand that she has been giving away the 'people' vibe for a long time.
Finding a path that fits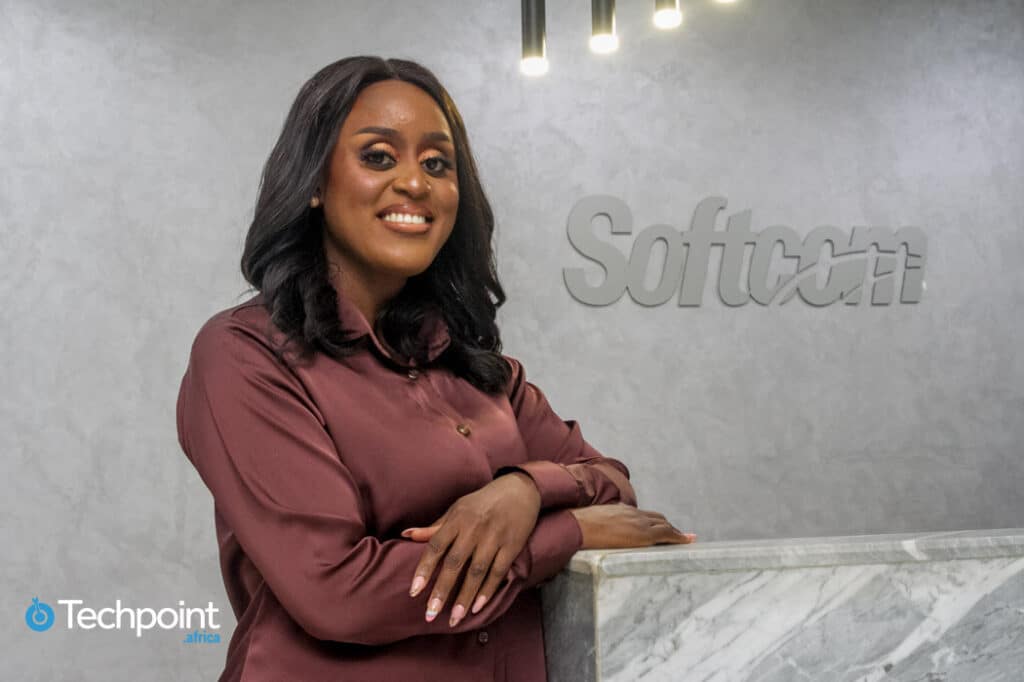 Warri-born Weyinmi still reminisces about her childhood in Delta State, Nigeria, when she spent a lot of time outdoors with other children. Recalling her adrenalin rushes as parents called out to their children at the end of day, she recounted how her favourite time was the twilight, just before sunset.
There's more to the Weyinmi we see today, and her parents' influence contributed largely to it.
Weyinmi's quest for knowledge to satisfy her curiosity drove her towards books and she tried to associate what she read with real life. Consequently, she built her vocabulary and was comfortable with long texts in school. Expectedly, she developed a vibrant and artistic personality, asking many questions and trying her hands at different crafts.
Weyinmi is careful not to attribute her success to only her work.
"I grew up with parents who valued education," she said.
Paying attention to everything she loved doing, they were ready to support her in whatever field she chose. We smiled about how she went through various phases trying to choose a career based on self-discovery at different points of her life. It was writing at one point and fashion management at another, with management consulting coming up later in university.
At a time when the information technology (IT) industry was unpopular, Weyinmi chose to study information resources management at Babcock University, graduating with a First Class as her set's overall best student.
But after graduation, she did not have the best experience practising as an information management analyst. In hindsight, it would have been different if she was exposed to the suitable side of the tech industry.
"For the first two years of my career, I was an IT person but I didn't really like it. I've now been told that I didn't get the right exposure to tech, to the software side of things."
Working in IT more than a decade ago did not necessarily mean you were into software engineering or app development, as is often the case today. The roles were mostly administrative and tech support-related, none of which appealed to Weyinmi. After a while, she decided to get a master's degree and got a scholarship — thanks to her excellent record during her first degree — to study management and business excellence at the University of Warwick, UK.
"I was very fortunate to go to a school with a career centre. You could go there and have conversations with people, get counsel about what kind of career path you should consider based on your personality, temperament, and strengths. One of the career options that came up for me was HR."
This was a revelation for Weyinmi as her discipline was quite different from her dispositions. She made a mental note to seek a job in HR job once she resumed job hunting and her first job back in Nigeria was at Oando Plc, a multinational in the oil and gas sector.
Because Weyinmi is driven by the need to have an impact, she has learnt to let time take its course, constantly reminded by a Warren Buffet quote that "You can't produce a baby in one month by getting nine women pregnant."
"I like to be associated with things that are working, successful, and good. That really drives me and my work ethic."
But, changing industries wasn't as easy as opening a new page or skimming over a paragraph.
Two years might seem like enough time to build expertise in a field, but Weyinmi's decision to give up information analysis to pursue HR was a challenge, and she felt she was already behind her peers.
"I really threw myself into it because I had that sense of 'I need to catch up. I really need to learn as much as I can and as quick as possible so that I can start to see the kind of growth that I want for my career.' Because of that, I was very intentional about developing myself."
Consequently, she took risks to ensure consistent development, one of which was turning down a senior role in another department to spend more time where she was to develop expertise.
In eight years, she had filled HR support, analyst, business partnership, and compensation and benefits specialist roles. But then, she was ready for another adventure, this time in a contrasting industry.
"I'm currently building my career in HR leadership in the tech startup space,and I really enjoy what I do. I was very fortunate to have intentionally chosen a career path that I believed was a good fit. And the last two years have been HR in the tech startup space."
A whole new world of HR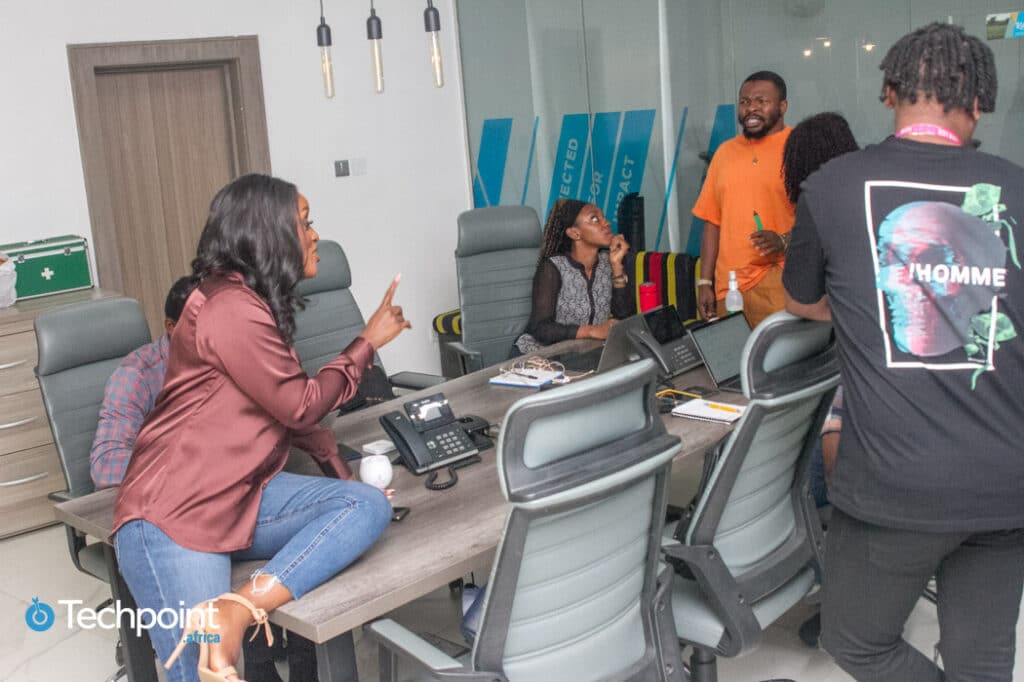 In 2020, Weyinmi joined Softcom and developed an organisational framework for the tech company, an achievement she considers one of her highest points to date. She believes the tech space is a great fit for her, and she sees herself spending many years in the industry.
"I've enjoyed the challenge, I enjoy being around tech people, I enjoy the conversations, the energy, and most of all, I really enjoy that sense of connection to purpose. I haven't seen it in any other industry."
Weyinmi is quick to add the striking difference between the corporate and startup space. After eight years in the oil and gas sector, you would have thought she'd seen it all, but that wasn't the case.
"I did HR for many years, but the tech space is different. Many of the things that are considered best practices in HR work in other industries, but they don't work in the startup space. So you have to do things differently."
She mentioned particularly how the "people issues" are unique and created a scenario to pass the message.
"In a lot of traditional industries, maybe banking and consulting, there's generally a correlation between your competence and years of experience. That doesn't work in the tech space, especially for engineers, because someone who has really developed themselves in two years might be writing better code than someone who has been doing it for six years," she explained.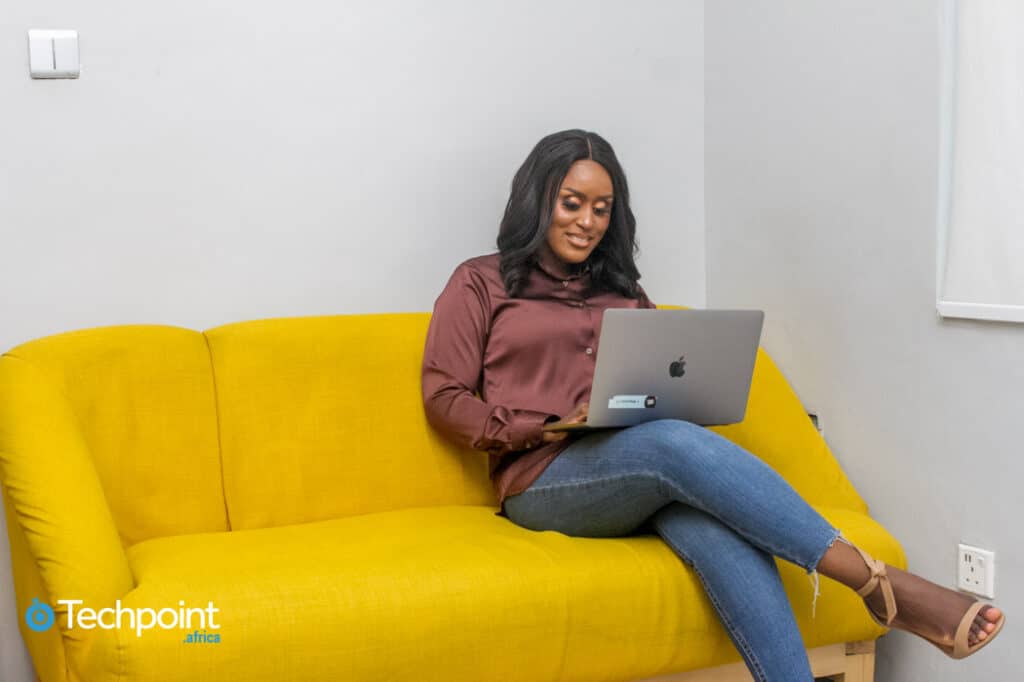 To keep up with industry requirements, Weyinmi has kept herself relevant by doing professional courses. But that's not all.
"One thing I really had to learn was stakeholder management. What I learnt is how to listen to all the sides of the story."
She went on to mention how this has helped her understand human behaviour and make better judgement, especially in arbitration cases.
Satisfaction, for her, comes in various forms, but she thoroughly enjoys seeing her solutions solve real-life problems.
"I like creating initiatives to solve problems. Then you roll out the initiative and you see it work, and then you're getting feedback from people. It's very satisfying."
Getting a grip on HR
The past decade has seen Weyinmi in learning and development, talent acquisition/recruitment, compensation and benefits, and HR business partnership, among others,all of which have improved her expertise.
"I was very lucky to be in different roles, it wasn't like I was doing the same thing. What that helped me do was have time to figure out where in HR do I want to focus?"
And having to spend an average of two years in some of these departments, Weyinmi is sure where she fits.
"At the end of the day, I realised that the aspect of HR I really liked was organisational design. That's where you develop HR strategies and come up with initiatives to try and solve people issues, whether it's building a career framework, developing a talent management framework and applying it to your organisation."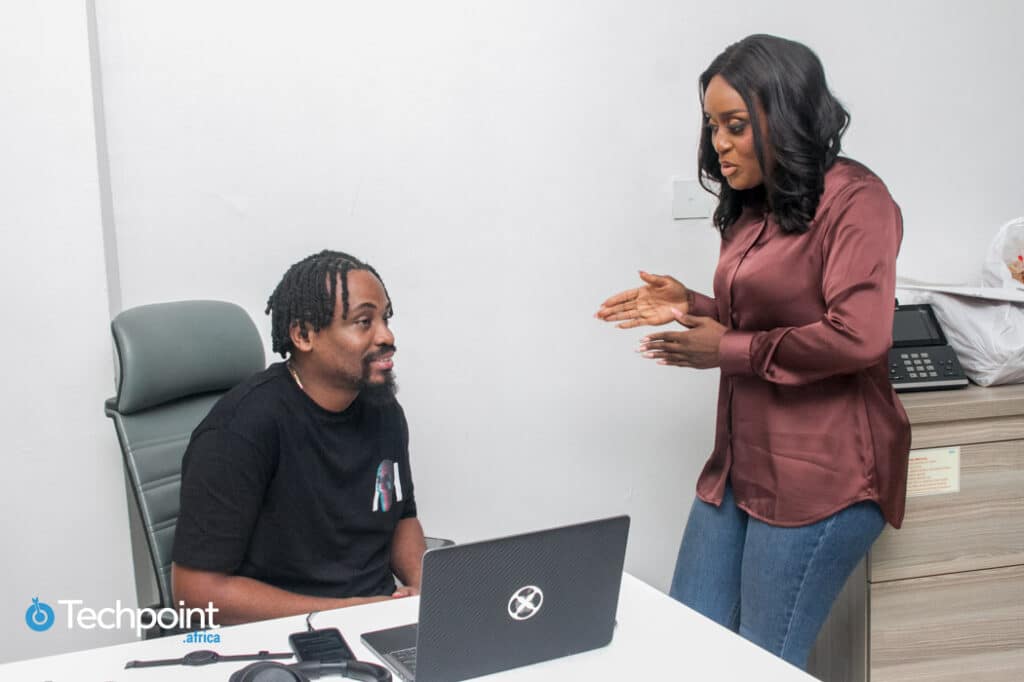 For context, when there's a particular people problem in an organisation, the HR professional's job is to develop a framework to address it and that is applicable for future occurrences. Since no two organisations are the same, the professional has to come up with bespoke solutions for the company, to achieve optimal results.
Weyinmi is proud to have made the employees of 15-year-old Softcom happy. The tech company is the parent company of a number of startups including Eyowo, Kwiksell, Useform, and Usepass.
"I was privileged to build Softcom's first career framework. Now, every Softcomer knows their band level, they know what the next level is, they know what they have to do to go to another level, and they know the time of the year promotion happens. We built a policy around that," she noted.
With people changing career paths easily, she's doing her best to match the uniqueness of the startup space.
"They come in as one thing, six months later they are doing something else, and you have to figure out a way that they can grow."
During our chat, Weyinmi categorised the things people looking to get into HR should know based on where they are in their careers.
"If you're still in school or a fresh graduate, look for opportunities to do internships in HR departments of companies in different industries. This will help you understand the kind of HR you prefer.
"If you already have a job, you can have a conversation with your line manager and the people in your HR department and let them know you are interested. If there's an opportunity for you to move into the HR team, [take it]. If you go and look for a job in another company, you might not get it because, on paper, you do not have the experience."
She also revealed what a professional should expect while joining a team.
"Usually, if you're the first HR professional to join a startup, you're literally walking into a storm unless you are lucky to have a founder or co-founder who has had exposure to certain environments and they understand that HR is an important need from get-go. It sometimes takes that storm for the leaders to then realise that they need an HR team."
Weyinmi listed communication, stakeholder management, behavioural science knowledge, and good presentation skills as important soft skills to acquire while considering a role in HR. And depending on the area of specialisation, it is important to develop proficiency in using spreadsheets and be comfortable with numbers, project management, and administration.
Opening up about how it feels to be an HR professional, she said,
"It can be very lonely and isolatory being an HR professional. People almost see you like the police of the company, forgetting that you're an employee too with a career to build and goals and aspirations. Having your peers behave differently around you is not fun."
Weyinmi's activities on a typical workday depend on what is going on at the company. Responsibilities during recruitment differ from those during employee appraisal.  
She's a big supporter of the hybrid work style and how it's great for work-life balance.
For productivity, "I set alarms/reminders for the most random things. It helps me to be productive. Another thing that helps with productivity is knowing what time of the day you function best so that you can schedule important tasks for that time of the day."
Weyinmi has bungee jumping and sky diving on her bucket list and sometimes refers to herself as an adrenaline junkie.
Set a reminder for the next episode.