Today's guest on Everyday People is someone whose magic you've probably experienced at any Burna Boy, Wizkid, or Fireboy DML's concerts. Without further ado, let's meet Precious Tawo, freelance sound engineer and production manager. He has worked with firms like Google, IBM, and MultiChoice, and is a die-hard perfectionist, perhaps in recovery. He also runs Decibelz Production Limited, a one-stop-shop for all your audio rental needs.
There's this saying my sister made all of us get used to, which is still on my email address now:
Good, better, best.
I will never rest,
Until my good is better
And my better best
We grew up singing that. We always lived by that mantra.
So I kept on putting my best into what I was doing. Everybody was interested in sitting on the console, but I was interested in knowing the whole craft.
On the 20th day [of the Calabar festival], we were doing a sound check in the stadium for the band, and my boss was not on the stage.
So he said, "Precious, please go to the console in front and mute the whole Front of House."
Front of House is basically the mix the engineer mixes for the audience. So I ran there and quickly muted it. And he was shocked. Because he knew that at this point, he had not shown me anything that concerned the board.
"How did you know how to mute the board?"
"I've been reading."
"You this boy! You are a Puma!"
I don't know how they say it in Yoruba, but he called me Puma because he says I jump. At the end of the festival, I became the first trainee to join the main crew in less than three weeks. I was paid ₦230,000 ($1,403)*, which was the highest [amount of] money I had ever received.
Precious Tawo's journey into sound engineering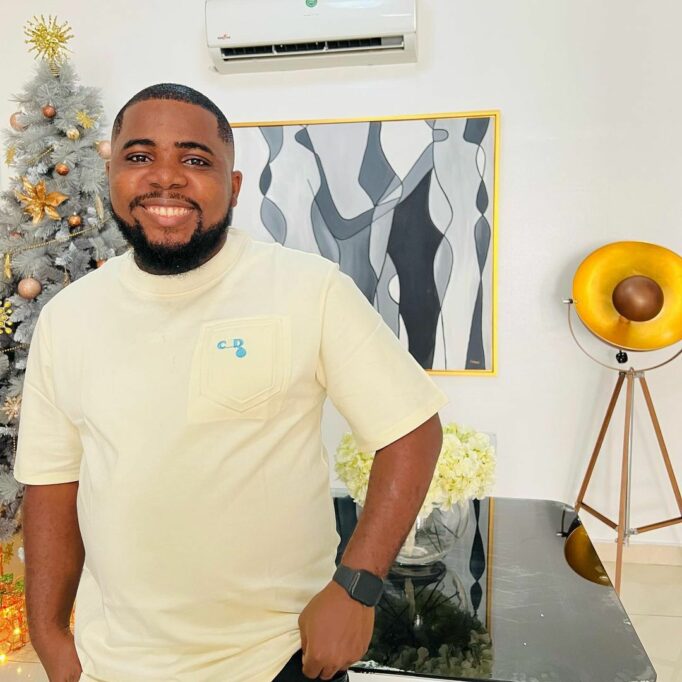 I didn't choose the path; the path chose me. So sometime after I finished secondary school, I wanted to study marine engineering real bad because I had friends in the marine space.
I even had to wait one year at home for the entrance exam period. And I even went as far as Ibadan [Oyo State, Nigeria] to write for Polaris Marine Academy entrance exam. Then I went to the Maritime Academy in Oron to write the exam. 
Fortunately, I got admission into the Maritime Academy, Oron, but before it came out, I was already working as a facility manager in a hotel in Calabar [Cross River State, Nigeria] because I just wanted to while away time.
I'm not an idle person. And then I've always been someone that's been independent, and I wanted my little stipend. I got to work in a hotel thanks to my dad's South African friend — the manager — who gave me a job as one of the facility guys. 
Because of how fast I was and everything, I was transferred from the hotel to the event centre, where I worked for over six months. And this was when I wrote the Polaris entrance exam. As at November, I knew full well that my time there was done because I know when it's time for me to leave somewhere.
I don't need to pray about it; I feel it in my tummy that it's time to go, and I leave without a plan, but I always have something all worked out later on. So I felt it was time to leave. 
And in 2013, the Calabar Festival was very popular. This was something that we normally went to the stadium to watch every December and wish that we were on stage or part of the crew.
At this point, I had no audio background. The only knowledge I had about audio came in November [2013] when we had the Beer Festival in 520 [Hotel, Calabar], and they wanted to rent equipment worth about ₦5,000,000 ($31,645)**.
I made the company give me ₦700,000 ($4,430)** to buy some equipment, and I was like, "I am gonna make this work."
And I did DJ for the Beer Festival with Virtual DJ on my laptop and saved them over ₦3,000,000 ($18,987)**. That's the only thing I knew about audio, which was basically from YouTube; plug this here, plug this there, turn this here, turn this there.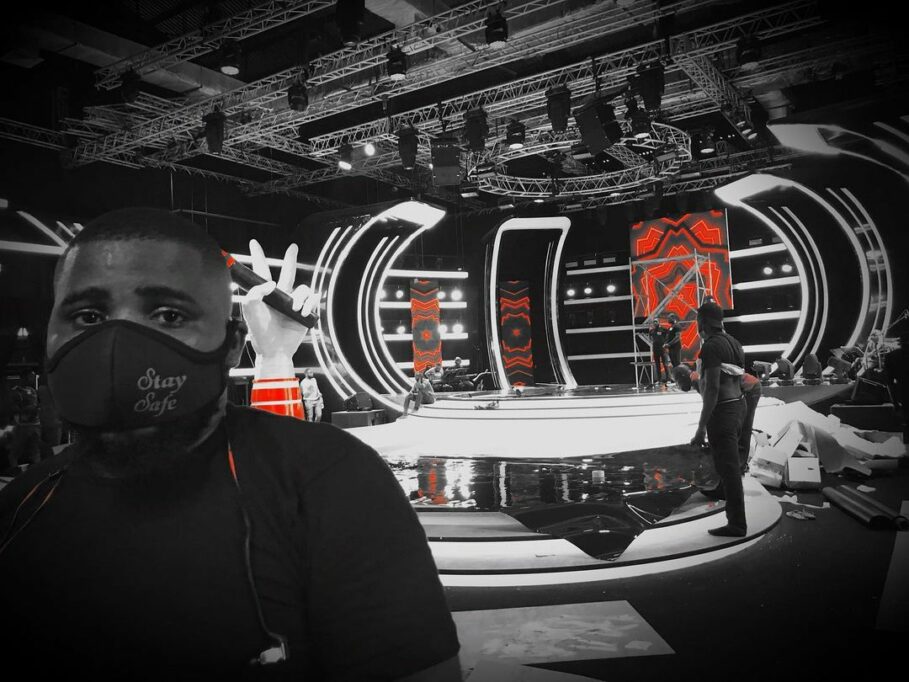 So on November 25, 2013, I resigned and told my dad that I would like to work with the crew for the Calabar Festival because he had his friend there.
My dad was an immigration officer in the Tourism Bureau, so he sorted out the passports for most foreigners working in Calabar. So he had relationships with these guys. 
The production manager then was one of his friends, and he told him his son was interested in working with the guys for the December festival.
I heard they were paying them ₦200,000 ($1,255)***. And how much was I earning at my place of work? It was just ₦18,000 ($113)*** initially, then it went up to ₦25,000 ($156)***. If I could make ₦200,000 a month, it'd actually be better than what I was making in a year or close to what I made in a year if I stayed at the event centre.
I planned to join them only for that month and then use the ₦200,000 to start school when results come out in January or February. 
On the first day, I was told to go to the Governor's office for the interview. I dressed in my nicely starched shirt and trousers, and a nice pair of shoes. 
Only for me to walk into the office and they were like, "Oh, you are the Precious. Okay, no problem. Hop into the Hilux; let's go to the warehouse and show you around."
"Am I going to change?"
"No, no. Just come."
When I arrived, they were loading trucks to move the equipment to the studio. This was the 28th of November. And when I got there, I had this whole "big boy" thingy going on, so seeing boys loading trucks, I was like, "Nah, that's not what I came for; I came for the cool stuff." 
So they asked me what I wanted to do, and I said, "The sound department," because I really loved the whole sound thing. When you went to the Festival, you could hear the speakers pumping from miles away, and I really wanted to be a part of that. 
Plus, I had just finished the Beer Festival and wanted something higher than I'd experienced. They introduced me to Aigbovosa Giwa-Osagie, my boss. They took me around and showed me speakers I'd never seen before up close. 
Then they introduced me to another person who would be my head.
I was like, "Okay, cool. I'll resume tomorrow. Nice meeting you guys."
Next thing, "No o!. You are resuming now and joining them to load that truck."
"Okay, no problem. Easy thing," I told him.
Luckily, I had a singlet and a pair of jeans in my bag because I was supposed to go somewhere from there. Nice pair of jeans o!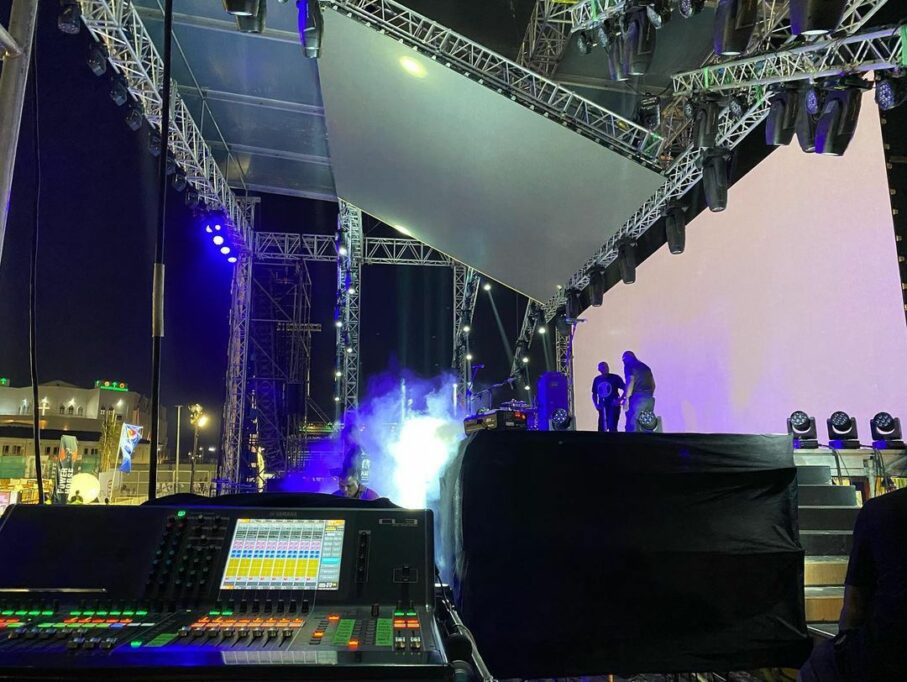 So, I started loading with the guys. The equipment was very heavy, and there I was, not used to carrying heavy things, seeing young people like me doing it, and told myself I could too.
We finished loading four trucks after almost four hours and headed to the venue for the Festival's first event. And I was told to jump into the back of the truck because the Hilux was full.
Here's how it works: senior crew sits in the Hilux, junior crew at the back, and trainees like me sit on the equipment inside the 40-foot truck like the one used to convey cows.
At first, I was like no way, especially since Calabar is such a small place, but I eventually jumped in. Part of the price you have to pay, you know. At this point, my jeans were gone, and my singlet was like rags. 
We got there, and my boss walked up to me and asked me what audio background I had. And I told him I had none, but the only thing I knew was the entry stuff, but I was willing to learn.
So when we started setting up, he asked me to go and get the 10 mm ep5 cable. In my head, I was supposed to go and see a cable labelled 10mm ep5.
He pointed in a direction of over 65 open cases, so I went there straight, and for like 40 minutes, I was searching for the ep5 cable, and I didn't even know what I was looking for. And then I couldn't even ask because the way he said it, it was like I was supposed to know the cable.
So I did not ask, and I didn't want to look small. After 40 minutes, I went back to him. 
"I can't find the cable."
"If I see it, what should I do to you?"
"I don't know what you want to do, but I can't find the cable in the box."
And then he asked another guy that had been there for like four years to get the cable for him and take me and show me the cable.
This guy just opened the case, stretched his hand, and picked up the cable.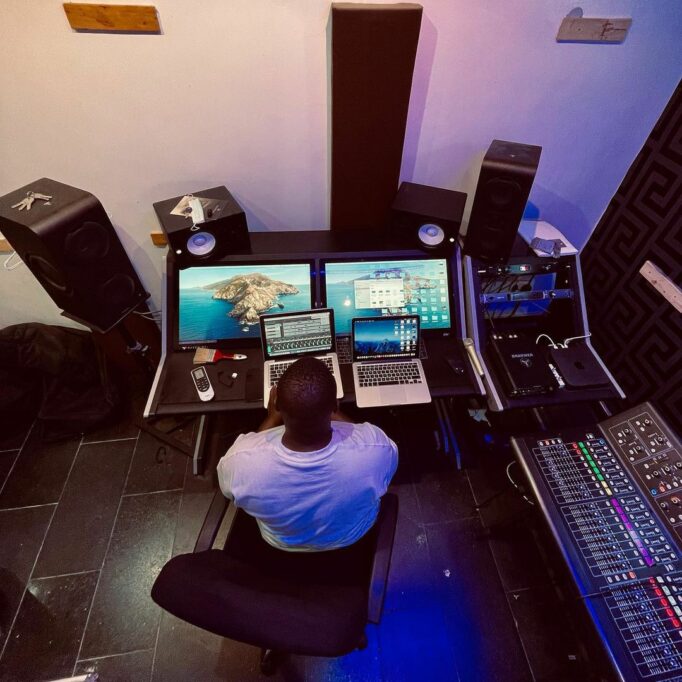 Yo! It was super embarrassing. And I didn't like the way everyone was laughing and everything. So I told myself that I was going to know everything in the company, how it works, and I was going to know all their needs.
So that night, I started downloading the PDF files for the equipment manuals and spent another hour downloading more when I got home at 3:00 a.m. before I slept.
The next night, since I was just a trainee, I sat in one corner with all the loud music and was just reading stuff, checking stuff, and going behind the Front of House to peep and see what they were doing even though it looked like they were running a spaceship.
After the Festival, my boss gave me the opportunity to go to an event in Lagos for IBM computers. Then I also did Love Like a Movie by Darey Art Alade in February 2014, the outdoor version with Kelly Rowland.
Long story short, I kept on growing, going from event to event. I'm a sucker for information, always trying to keep myself updated. People were recommending me because no matter how good you are, you need people to recommend you.
On February 20 [2014], my mom called me to tell me that the result for the Academy was out, and I passed. My name was announced on NTA [a state-owned broadcasting station]. But, I had no plans to go to school anymore. 
That February, I was also offered a position with the company, but my boss advised me not to take it.
He said, "Every week and every day, experts fly in from South Africa and the United States or wherever to come and work in Nigeria. And if you are good at what you do, they'll fly you from whatever hole you are in to come and do an event."
I've worked with different companies and been exposed to various equipment and clients. 
And I will not put this achievement on one company. If I was working with one company, I'd be stuck with their clients and the kind of events they do. I learn from everybody, and I also like the way I'm being treated like the golden egg. 
I love my job. I've done stuff for Google, Amazon, IBM, Airtel, MTN, MultiChoice, and The Voice. Presently I'm Burna Boy's monitor engineer and Fireboy's Front of House engineer. I've mixed for Wizkid's December concerts, Cardi B, and Davido; any big artiste really.
Learning from mistakes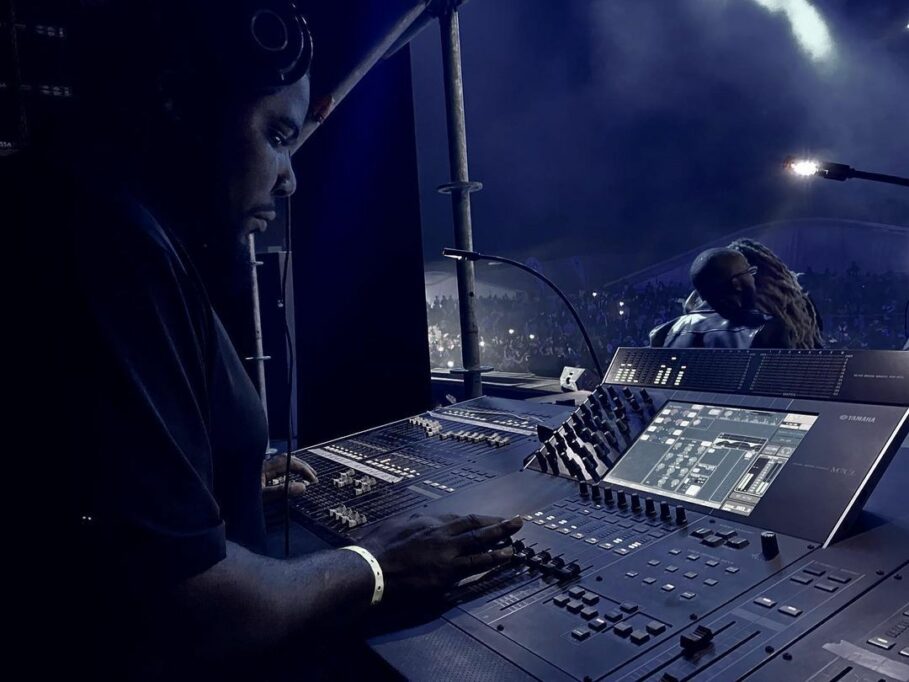 Sometime in 2015, we had an event in Eko Atlantic; it was supposed to be the launch for Majestic Voyage and ten minutes before the show, we did the sound check. Everything was sounding all right and I was mixing monitors.
Five minutes to the show, I tapped my screen and it was frozen. I tried restarting the console, but nothing. That meant every artiste who climbed that stage was not going to hear jack!
I felt like the ground should open for me to enter. We tried everything and eventually had to plug my monitors into my boss' equipment. By this time, the first artiste, Yemi Sax, was already on stage. I had already explained to him and everything but the first three minutes of the show were hell.
I somehow survived the performance and my boss stabilised everything and that's how we ran the show. Another moment was when I was doing a show at Calabar Cultural Centre, and then we had power issues in the middle of the show and the console went off.
The show was cancelled and they had to fix another date. I spent four years trying to correct that mistake. I was hard on myself for four years. I'm a perfectionist so I like to give 110%. Eventually, I had to accept that every engineer has bad days.
Giving back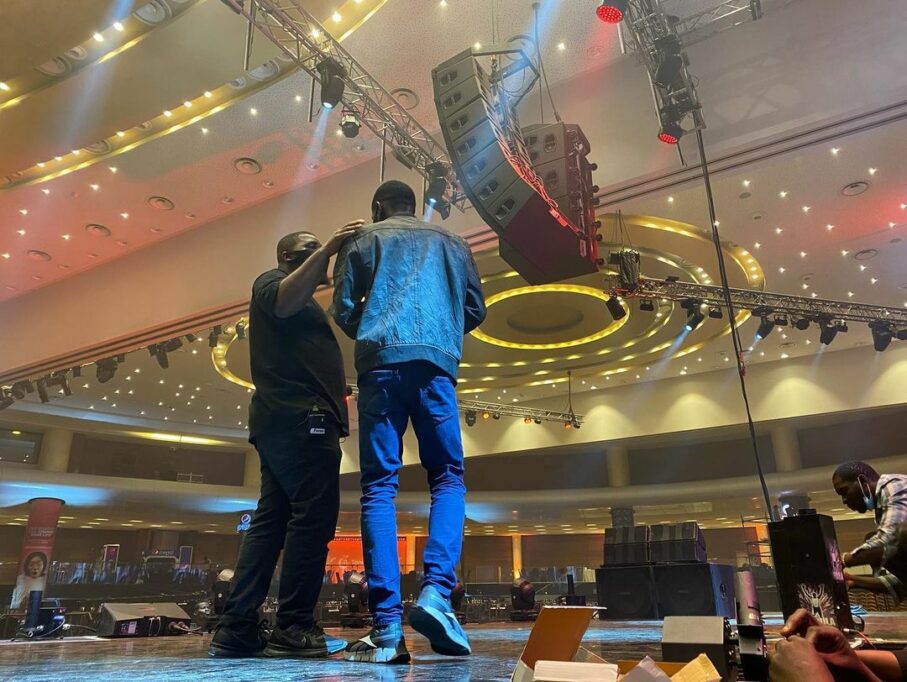 In line with what I've learnt over the years, I decided to try and pass on this knowledge because I found out that, at the end of the day, we have to leave a legacy.
It's not just about money to me, my job is like my life right now. And I've seen that many engineers have come and gone but there's nothing anybody can point to that they made. And so I started sharing knowledge at every opportunity I got. If I went to an event, I'd teach the in-house engineer things I knew they would need if they asked politely, of course.
I run a clinic for engineers, although I haven't done it since 2019. I also have some people I mentor, all so I can give back.
*Average dollar to naira to rates in February 2014.
**Dollar to naira rate in November 2013.
***Average dollar to naira rates in 2013.