For Rinu Oduala, popularly known by her Twitter handle 'SavvyRinu,' the journey into human rights advocacy was born out of necessity.
Having observed several cases of injustice against young Nigeria, she decided to take action. Today, she is actively documenting and advocating against police brutality and state violence.
On this edition of How I Work, she shares how she balances her various roles and gets things done.
Current role: Project Director, HubNGR
Location: Africa
Current computer: Hp Laptop
Current mobile device: An iphone
Describe how you work in one sentence: In my own Rinu way
---
Tell us briefly how you started out and how you got where you are today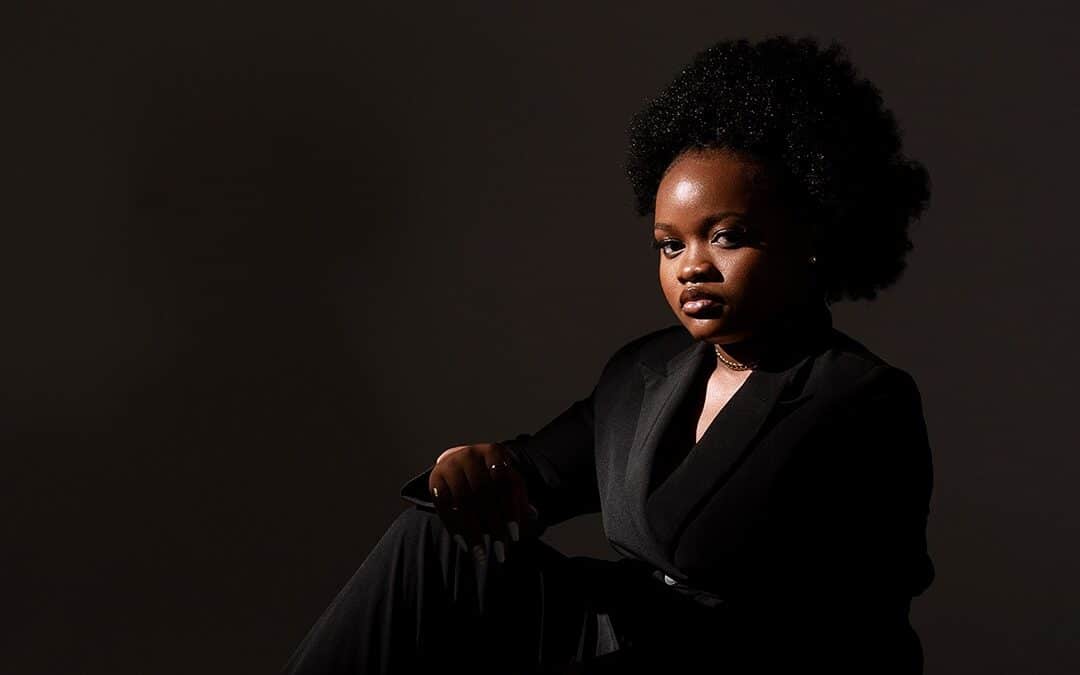 I work in the civil society sector in Nigeria. I'm the project director of Connect Hub NG, and a community of young people who are documenting, defending, and advocating against police brutality and state violence.
We also offer help to victims that are in immediate danger of police brutality and state violence in Nigeria. On the other hand, I run a social media strategy platform where we do a lot of digital media campaigns, and I also run a clothing business on the side.
I'm also a student, I'm currently studying public health.
What was the motivation for getting into the civil society sector, and how has the journey been?
For me, it was about survival, growing up in a marginalised community and seeing people who didn't have hope of the next day's meal also being afraid for their lives. You're hustling for your life on one hand, and still afraid that your hustle is going to get you killed. 
So, all I wanted was an end to senseless killings of young people in Nigeria, because I knew that whether I wished for it or not, it was going to happen to me. We always say, it's not a matter of if, it's a matter of when Nigeria is going to happen to you.
I can recall the story of Tina Ezekwe, a 16 year old school leaver who was supposed to write her school leaving exam a few days after she was killed by a police officer. I think that was a defining moment for me as well, because it opened my eyes to see what the reality of my country is like. Tina Ezekwe was shot on the sixth on the 26th of May and died two days later.
I think it was also around that time that Uwa Omozuwa was raped and killed in Benin. At this point, I felt a strong obligation to rise up and do something because I could have been Tina, and coming from a marginalised community, I knew my parents would've been in Tina's parents' shoes with no access to justice or help. 
So it was about survival for me. And then the issues it embodied, like I said, was simply the rights to existence, the vulnerability of young people at the hands of criminal police officers, how young people always end up becoming victims of a failed system, where there's no access to justice.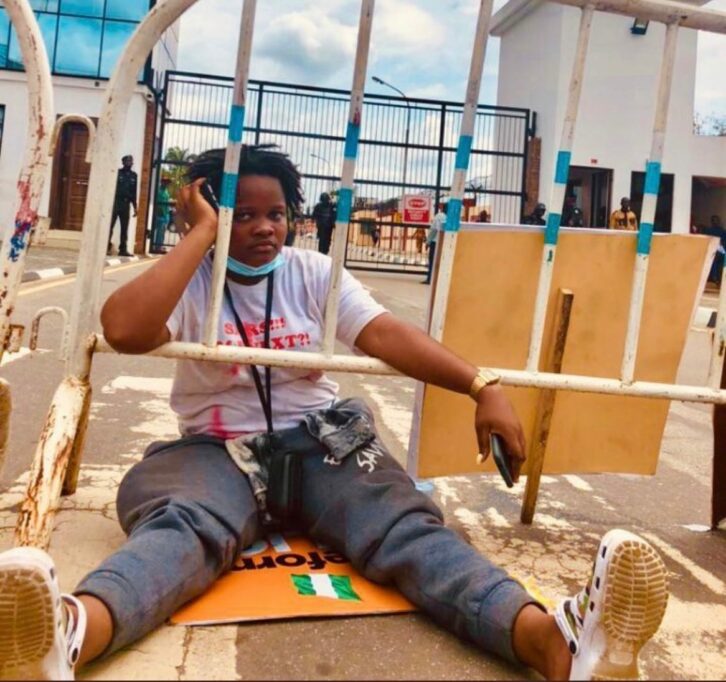 What does your work entail? Walk us through a typical workday
The typical work day for me usually starts on my laptop. I run a virtual company of mostly people that I have not even met who are my employees. I check my mails and what I have to do for the day. There's a calendar of what needs to be done throughout the year. So I constantly keep it updated.
As for the clothing business, there are people running it and I have to check up on them to see the situation of orders for the day, what we have, how we are going to deliver, and what the issues are.
Then I move to digital strategy, which is mainly online as well. I talk to people via Zoom or Google Meet to discuss what they want; what sort of social campaign strategies they want to execute for their projects.
And then at the same time, I am also attending to complaints via social media of police brutality, extrajudicial killings and harassment and extortions at the hands of the police, and trying to get help to them by connecting them to resources that can actually aid them in that situation.
When we, as young Nigerians, experience these things, we often get jaded and disconnected from the whole thing. It sort of alienates us from the system of governance, which is not good because we all have to get involved, we have to get engaged or other people will make the decisions for us.
So it's all connected. Trying to make sure that in that process they're not jaded, that they know that there are resources they can reach out to if they ever experience these sorts of issues. There are usually a lot of requests per day. And at the same time, I'm trying to run to classes.
What apps, gadgets, or tools can't you do without?
I can't do without my phone and my laptop. On my phone, I can't do without WhatsApp and Twitter. I definitely can't do without Twitter. I also can't do without Zoom and my Gmail app.
What's your favorite shortcut or hack for getting things done?
At times I have a one track mind. I tend to focus on one thing so much that I forget the other things. I could forget about eating. I could forget about going out. I could forget about any other thing once I'm engrossed in one particular thing that I need to work on. So a hack that I've learned to use is the calendar app, I think that's one of the apps I can't do with as well.
I enter the things that I need to do. I try as much as possible to include everything that I need to do. And because I can't do it without my phone, if I don't get a reminder, I'm definitely going to forget. That's one hack that I've used to cope with things.
Also I tend to be a hands-on person, but I have discovered that I need to learn to delegate some things to other people. So what I do mostly these days is to outsource a lot of things.
What tasks do you dislike but still do?
Replying emails, because emails means that I have work to do or I have to commit to something, so I don't like replying emails
I don't like making calls, I prefer to text. I also don't like making videos. A one minute video can take me like four hours to make because I'll keep taking them over and over again.
How do you recharge or take a break?
It used to be hard, because before you wake up, something else is waiting for me. But I take long walks listening to music, it helps me clear my head and to decompress, especially if I'm overwhelmed. Going to the gym as well.
I also read a lot of interesting books. I go out and try nice food. But most of the time, if you ask me to be honest, I sleep.
What are you currently listening to, watching or reading?
I'm reading a book called Wahala by Nikki May and also Silence Is My Mother Tongue, a Novel by Sulaiman Addonia. These days, I try to read a lot of Nigerian writers because I think that they're exceedingly good.
I'm listening to Asa, Wizkid, Fireboy, and Fela. They make up half of my playlist.
What's the best advice you've ever received?
I think it's that you should be the influence in your own life. You don't need other influences like drugs or things that could ruin your head. You are the deciding factor, it's whatever you decide that goes.
And also that at times, whatever you plan doesn't always work out accordingly. It doesn't mean that you're a failure, it doesn't mean that other people can get it better than you, people's times are just different. I think the Bible said something about how times and seasons are different for everybody. So the fact that you got it later than other people doesn't mean that you're a failure or you don't know what you are doing. It just simply means that's your own time.
My grandma also used to say that different things require different levels of patience. The time it'll take for you to get a degree will be different from the time it takes for you to go get a six month program or something. So the time will be different. It now depends on what you are aiming for.
I think that the shortest form is "the patient dog eats the fattest bone," but then that's not how she says it, she just tells you, "different levels of your life require different perseverance."
What's a problem you're still trying to solve?
Problem of money. *laughs*
Trying to be successful at what I do. It's not easy to be a success. It's actually easier to fail than to succeed. So being successful, staying at the top of what I do, being consistent, staying true to what I believe in and not being swayed by other factors.
Who would you like to see answer these questions?
That's a tough one. I'd like to see Asa and DJ Switch.