From an interest in medicine to studying biology at the university, today's guest on Everyday People, Clement Akwe, definitely took the long road. But that did not deter him. After quitting his day job as a banker in 2017, he is now the CEO of PCLabng Enterprises, where he sells laptops and other accessories and makes as much as ₦1 million ($2,391) a month.
If there is something like a 1000%, then I am not regretting it at all. When business is so good and I sell several laptops in a week or two, I could make more or exactly what you're earning in a month in the banking sector. And you're working for a month before you get your pay.
The transition has been like, men! Wow. I would rather be a businessman than work in the banking sector, you know?
In short, it's the best decision I've taken so far.
When I started [in the bank], I started as an ET [Executive Trainee]. Then I was earning ₦140k ($337). Then it was increased when I got promoted to ET II. I think my last pay before I left them was ₦165k ($397).
In a month, if I want to calculate my profits, I'm making almost a million naira, depending on how business is.
Sometimes ₦500k ($1,205), ₦800k ($1,928), and I'd be like, "Why I enter banking sector sef?"
Starting out in Computer Village
But it hasn't always been easy, though. Leaving banking and then coming into Computer Village [Ikeja, Lagos] as an apprentice is like, wow!! It's like, you're going from the top to the bottom. I came into Computer Village with zero balance in early 2017 when I left the bank. 
Though I knew a guy, then I just said to myself, "No, I don't want to stay with him."
Just let me look for a place. Then, I'd go to peoples' shops, pick from them, give them the assurance that once the customer pays, I'd pay them. I took my profit from the sales and grew, buying more laptops, getting a shop, and all that. I also made sure I was on every online platform. I was on Twitter, Instagram, Google My Business, LinkedIn, and even Facebook.
In that same process, I was doing Facebook ads; brand awareness on Facebook and even on Instagram for people to know the brand.
I just needed to freshen up my tech skills and everything, because when I left the banking sector, I knew part of it, say 60 to 70%.
But before going into banking, I studied biology; it's actually a funny story.
I started hustling in my secondary school days. I was doing a part-time job working in a chemist [local drug store]. And then, I had this interest because we used to do these menial treatments for people with cuts and stuff like that. I was like, "Okay, I think I should go into medicine and the like," but you know how it is in Nigeria now.
I didn't get the actual course I needed, so I just switched to biology and that was it.
Back then, not now that it is not anything anymore, banking was the in thing. Growing up, you'd see your so-called uncles looking smart and everything and feel like, "Okay, I think I need to work in the bank."
It was a stepping stone for me actually, it really helped me. Most of my ex-colleagues patronise me and they have this assurance that they have someone in Computer Village that they trust.
How to not get scammed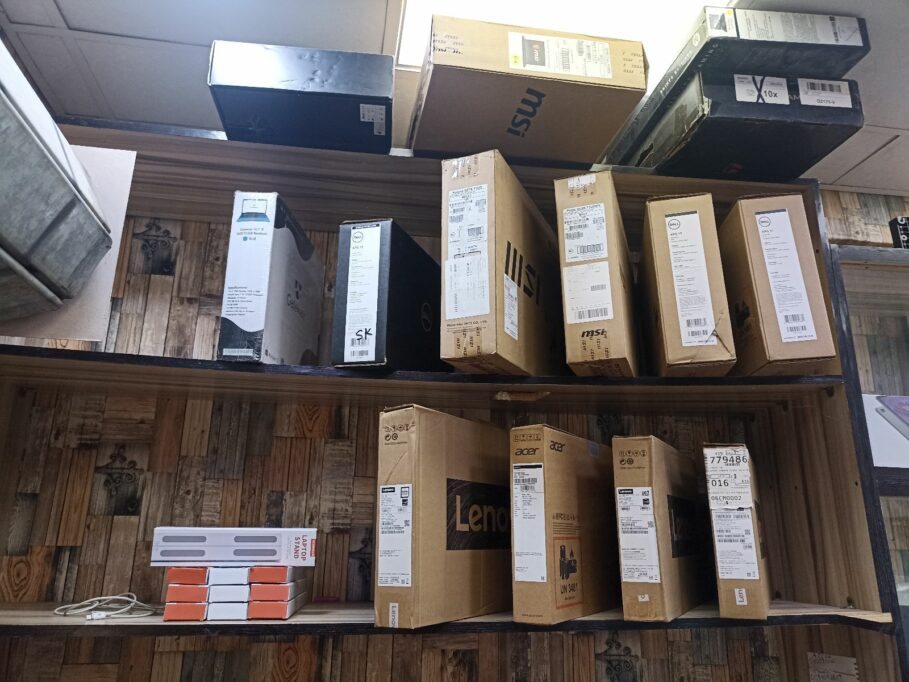 When it comes to delivery, I would rather send a dispatch rider I know here [in Computer Village] than go through an app, although going through an app is still safe. Almost 99%, or let me say 95%, of my customers are online and most of them are outside of Lagos. Lots of scams happen on Instagram and Jiji; it has happened to so many of us here.
There was this one time I sent a dispatch rider to deliver a phone. Actually, I didn't know it was a scam.
So I just gave the dispatch rider the phone,
"Oga, go and deliver this phone on the Island."
When he got there, I was expecting payment, but the mistake the dispatch rider made was not showing the customer my account number. So he paid to the wrong account, the scammer's account.
The dispatch rider called me but I said, "Oga, I've not seen payment."
I had to go down there, meet them, explain everything, and then with the influence of some MOPOL [mobile policemen] around, I got the phone back.
So what happened was a third-party kind of thing and he sent payment to the wrong person. The customer was chatting with the scammer, and the scammer was chatting with me.
I thought the scammer was the buyer because he gave me the real customer's number and address. I had no idea that the scammer had already given the customer his account number. I think he sent ₦170k; this was in 2019, before the [COVID-19] lockdown.
That's why it's always better to send a dispatch rider you know and that is experienced. Once it's a third-party arrangement, they know. If they get there and the customer isn't sending the money, they just leave the place.
A customer turned advisor and family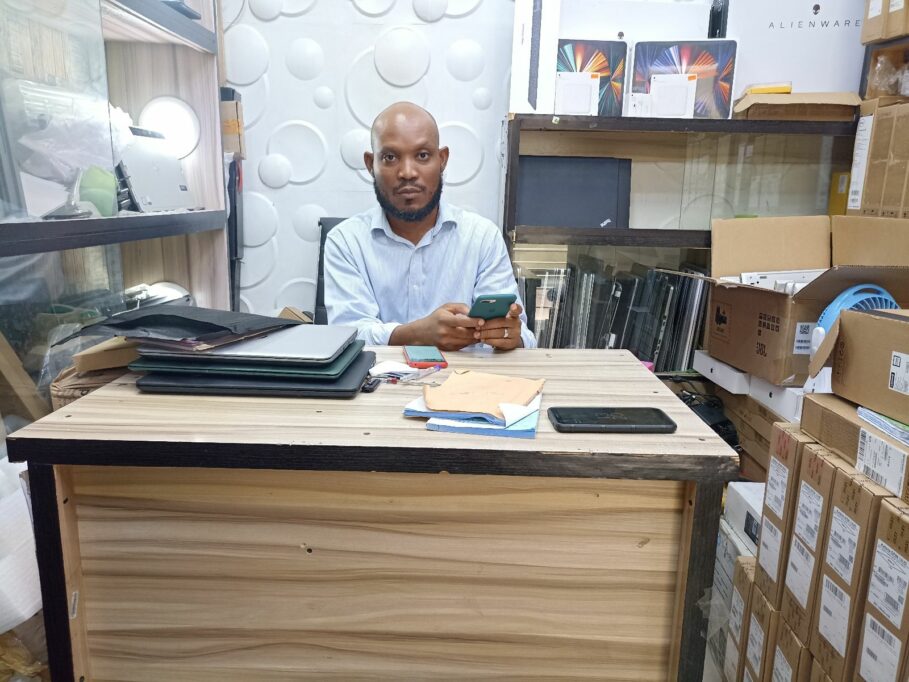 There's this customer I'm always making reference to because he's now like a customer turned brother. I can remember when he came to buy the first laptop he got from me. It was a Grade A used laptop, an HP Pavilion Power.
He was still in his Corper uniform and I sold to him cost to cost [at cost price] because the guy was begging that he needed a laptop. And ever since we've been friends. When he got into a company, he introduced me to them.
Now he has left the company and they are still buying from me. He's currently outside the country, but he still buys things from me which I send to him where he is. In short, he has referred all his friends to me; that's the joy.
It was even another customer that made me go into BNPL [buy now, pay later]. One fateful morning, he called and said he wanted to buy a laptop, but he had only 80% of the funds.
And then he asked, "Do you use Klump?"
And I said, "No."
So because I wanted to sell to a customer, I registered and told the guy, and then he bought the laptop. The thing is, not everybody has the full funds to buy what they want. So it is like helping the customer.
I just tell them, "Okay, why not do buy now and pay later?"
And with that, I've made a lot of sales even though I just started in May [2022].
I'm open to every platform as long as it helps me boost my sales.
And yes, my favourite part is when money comes in, But when I started though, I made sure I wasn't after the money; I was after satisfying every customer. That was what really helped me. There were times I sell cost to cost, as in, I buy for ₦50, I sell for ₦50.
Anything that would cause wahala [problem] I just say, "Okay, please bring it back."
There was this one time, when I just started, that I sold a laptop to a customer and it had issues. We tried fixing it but he was like, "I want my money back."
I said, "Okay, if you want your money back, hold on, let me sell the laptop."
After I explained everything, he still brought some soldiers down and told them This guy sold a bad laptop to me." I refunded him sha.
It was later on, after making payment to the guy I settled down. Like after a week, I just said, "Okay, let me check this laptop and see what is wrong with it."
It was just the RAM so I replaced it and sold the laptop. And ever since, the person that bought it keeps calling; I've even gotten referrals from him.
Sailing through rough Nigerian waters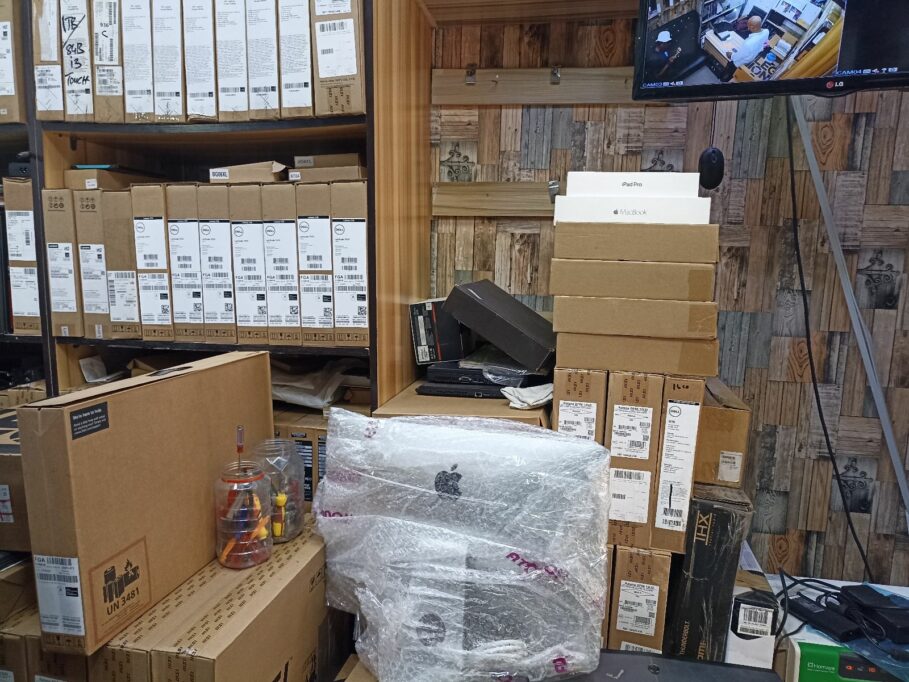 Let's be honest with ourselves, warranty doesn't work in this country. At times you sell to a customer, most times brand new, something happens to it, and then they bring it down. Although most customers won't tell you the truth.
Even if you take it to a service centre, like the HP or ASUS service centres, they will still collect money from you to fix it. They'll tell you they need to get the parts outside Nigeria and ship it down. And they will bill you for that.
And if you tell the customer, they'd be like, this is brand new now, there is warranty. So you have to carry the cross yourself.
There are some that they [repair centres] do free when they see that they have it [parts] on ground.
But most times we don't buy directly from HP, we buy from suppliers and once supplier don collect im money, im dom collect im money [Once the supplier gets his money, he doesn't have any business with you again].
Now, the [Nigerian] federal government has said we can't spend more than $20 per debit card in a month; it's really frustrating because I have to run ads on Instagram and Google. But thank God for Barter. Their rates are high, but what can I do? I need to run ads.