Communication engineers the exchange of information between two or more parties, which is essential for human interaction. Moreso, businesses need to communicate with their customers.
Effective communication between businesses and customers is paramount, and its presence or absence can go a long way to make or mar a business.

At the Termii Elevate 1.0 Conference, discussions will be held around how businesses can approach communications and how effective communication can lead to customer conversion.

Registration to attend the conference is still ongoing, and you can reserve your space for free by registering here.

The conference will be held on July 23, 2022, at BWC Hotels, Victoria Island, Lagos, and here is the confirmed speaker lineup for the conference.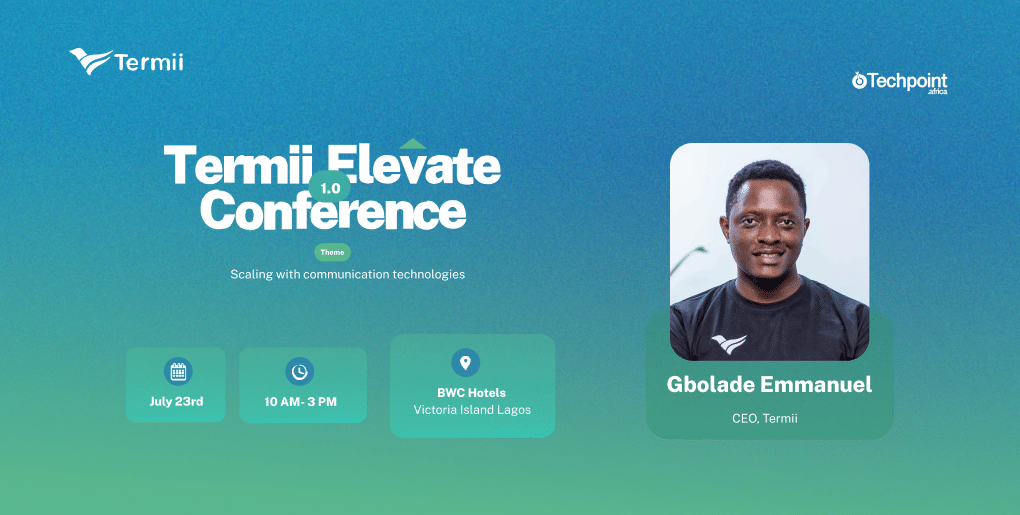 Gbolade Emmanuel is an angel investor and digital marketing expert with experience in software development, business management, business analytics, financial technology, and entrepreneurship.

Currently the CEO at Termii, his previous roles include COO at Accounteer and CTO at Heels. He supports startups and technology entrepreneurs through Aidi Ventures (Aidi.Africa).

He is passionate about small technology-focused businesses because he believes they are the necessary tool needed to ensure economic & financial growth across the African continent.
He aims to explore the vast opportunities technology holds at transforming Africa and helping fellow entrepreneurs do the same.

Gbolade will be opening the event with the keynote address revolving around scaling with stellar communications technologies.
Toni Dada is the founder of Enterscale, a leading innovation and growth consultancy that helps startups de-risk and demystify growth.
She is a commercial leader and data enthusiast with experience in strategy and performance management, digital transformation, branding and marketing, customer and market research, and business intelligence.

Toni is a PRINCE2 Practitioner and a Mixpanel implementation consultant. She has helped shape GTM and commercial strategy for brands across retail, technology, media and telecoms, including MTN, Migo (formerly Kwikmoney), 9mobile (formerly Etisalat), Accenture, Nielsen, AIICO Insurance, Chapel Hill Denham, Kuda MFB, Kibo School, Wicrypt, Zuvy, and Kodobe.

Toni is passionate about supporting NGOs, with a strong focus on educating and empowering the African girl-child and will be speaking in the panel discussing communication models that lead to customer conversion.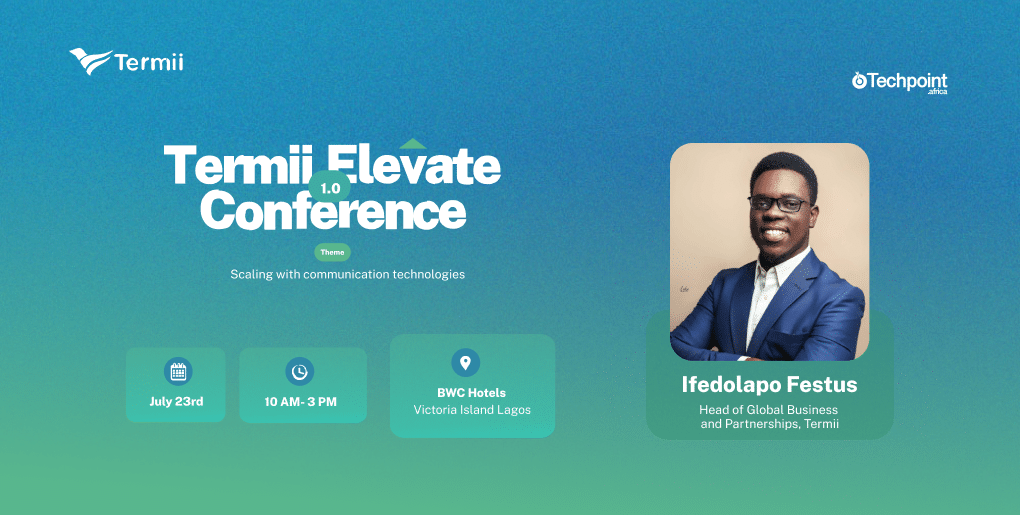 Ifedolapo is the Head of Global Business and Partnerships at Termii. He has over six years of experience in strategic partnerships, business and Go-To-Market (GTM) strategy, and marketing.

Ifedolapo has a successful history of developing intelligence to improve business operational planning and implementation in the highly competitive tech industry.

He has a proven track record of contributing to and managing high-value projects in B2B and B2C companies. He will be leading the conversation on how businesses should approach communication today.
Babajide Duroshola joined M-KOPA Nigeria as General Manager in July 2021. Before M-KOPA, he was the Country Director at SafeBoda Nigeria, and was responsible for the overall growth of the business. He is a business management executive with extensive expertise in startups, technology, banking and consulting.

With over ten years of extensive transnational experience, he has developed comprehensive competence in business operations and management, strategy, marketing, community and ecosystem management and engagement.

Babajide is also a limited partner at Rallycap Global, an emerging market investment fund that invests in exciting startups in Africa, Latin America and South-East Asia.
Via Rallycap, he has led investment processes into exciting companies like Risevest while also participating in investments into other companies in Africa and Latin America.

Before SafeBoda, he was the Community Manager, Technical Talent at Andela, where he was responsible for leading the community and owning the brand of Andela to attract new community members and fellows to the organisation.
He has also served as a Human Resources team member at Access Bank and a human capital consultant at a leading local consulting firm.

He will be joining other panellists to discuss the communication models that lead to customer conversion.
Fredrick Adams is the Co-founder and Chief Product Officer at Bankly.ng. He also leads product development for sister digital banking product, Bloommnow.com
Fredrick has experience in fintech, legaltech, and healthtech product development.
His mantra "better products, brighter people, beautiful life" drives his efforts as he believes it is the responsibility of any creator to make products better and people's life beautiful.

He will be joining other panellists to discuss communication models that lead to customer conversion.
To attend the Termii Elevate 1.0 Conference, register here: bit.ly/termii-elevate