For most students in a Nigerian public university, the experiences are almost always the same. They range from overcrowded lecture halls, protests, and incessant strike actions to a lack of basic amenities.
As bad as these experiences sound, some manage to edge past and claim victory. Others aren't as lucky.
Njoku Emmanuel, CEO and Co-founder of crypto startup, Lazerpay, falls in the latter category, not only because of the unfavourable learning environment but also because he didn't feel it was a good use of his time.
"On my first day in class, everywhere was stuffy, with over 200 people in one class. I found out that at 100 level, all engineering departments were in one class. They don't separate electrical from mechanical and computer, and that's 500 students in one classroom."
Emmanuel's disillusionment with the university didn't start on the first day he stepped into that overcrowded 100 level class; it began when his parents constantly badgered him about how important going to a university was.
He had other plans; he wanted to be the next Zuckerberg, with a passion for building and solving problems. But his parents had opposing views on what a successful and accomplished life would look like.
To them, success was becoming a doctor. However, Emmanuel soon knocked that idea out of the hat.
"I didn't like the idea of having to study medicine before you become successful in life or studying an engineering course and then get a job in an oil company.
"So one of the reasons I didn't like school was that my parents always glorified the education system in Nigeria. They talk about how medical doctors are the best and any person not doing medicine is useless."
His rebellion against what his parents perceived as the greatest path in life caused problems in the family. From parents to church members to his extended family and even family friends, he got pushback for his decision.
They could not understand why Emmanuel would not study medicine, a prestigious course cloaked with so much respect. Emmanuel's Zuckerberg idea was alien to them.
Emmanuel's rebellion paid off, and his parents agreed he could study something else besides medicine, but his options were still limited. It was either medicine or engineering, He would have preferred computer science or software engineering, but he was prepared to study anything, provided it wasn't medicine.
Emmanuel wanted to make engineering work; he looked forward to it. So even though it wasn't the course he would have preferred, he was psyched at the challenge of studying electrical engineering at Enugu State University, Enugu State, Nigeria.
"I was like, okay, since it's engineering, I will just do it. So I went into school having this mindset that everything I know now will be more advanced. So I was preparing for something hot and interesting."
Unfortunately, the only thing "hot" about the university was the overcrowded class where he received lectures. Electrical engineering wasn't as advanced and challenging as he thought it'd be.
Because of the secondary school he attended, his university classes felt like child's play to him.
"I went to one of the best secondary schools in Port Harcourt, Niger Delta Science School. My teachers were actually lecturers from the University of Port Harcourt. They took us like their children and taught us with love, and they were really good. I had like, lots of Saturday classes with my electronics and physics lecturer, and we did more practicals."
Having learnt so much in secondary school, Emmanuel expected the same and more in the university.
"Where I came from, I was already doing calculus, differentiation and integration in my SS2, and I was already building and assembling electronic components, IC transistors, and all that.
"And now I'm coming to [study] electrical engineering at the university where I think it's going to be more advanced and they're teaching me maths from JSS3. It was more like the lecturers were drawing me back."
But apart from that, relating with his peers was like speaking French to a Chinese man; the future he painted seemed alien to them.
Where most were concerned with graduating with a first-class degree, Emmanuel just wanted to build. Grades, tests, homework, and fighting for the attendance sheet didn't matter.
It wasn't long before he started skipping classes, especially after meeting Kelvin, an electrical engineering student who had the same passion for building with technology.
"I was sitting in front of my class, and I heard him talking about web development with someone, and I was very excited. I was like, 'Oh, my God, I've seen someone into programming, someone I can finally relate with.'"
Those Zuckerberg dreams Emmanuel had, Kelvin had them too, and they wasted no time in creating an action plan.
Money needs to be made first
The kinds of dreams Emmanuel and Kelvin chased were very capital intensive, and they needed a lot of money to fund their plans.
The first plan was dropshipping, a profitable online business that involves selling products online without the need for a physical store. The roadmap was straightforward: make millions from dropshipping, start a tech company and become a billionaire.
The only problem was, that nothing is ever that simple. The two tech lovers who spent all their time writing code didn't know the first thing about selling, and dropshipping was eventually dropped.
Interestingly, they were unfazed. All they needed was a new plan, and the roadmap to billionaire tech bros would still be on track. The new plan was to send emails to Instagram vendors and explain why they needed a website.
If they could convince many businesses to build a website for ₦50,000 ($83.33), they'll be on their way to tech stardom. Emmanuel drew up a very extensive pitch detailing how a website would help increase conversion.
They sent out their emails but got zero responses. It was a good pitch, after all, so they wondered, "why was no one getting back to them?" Well, time to go back to the drawing board.
"The pitch was extensive, and almost nobody got back to us, So we felt doing it online was not working. We had to go into the streets. If you ask our friends, they'll tell you that we are absolutely crazy.
"We thought we could get 20 shops that agreed to build a website, and we'd charge ₦50,000 each. We were already calculating how much we would make, how we'll share it and how we would start a company."
Emmanuel and Kelvin roamed the streets searching for businesses willing to go digital. It was a better plan than waiting for people to respond to their emails; they could create more trust and address the concerns the business owners could have.
But even hawking promises of digitisation for businesses on the street didn't get Emmanuel and Kelvin any closer to achieving their billionaire tech bro dream.
Despite not getting anyone to bite, Emmanuel wasn't giving up without another plan. This time, he thought of a real problem the Enugu people face.
"Enugu has a water problem, and we thought, how about we create Uber for water? We called it QAqua."
QAqua also did not see the light of day. The project required money; lots of it. But the biggest reason for its untimely death was the reception Emmanuel and his friend got from most people they pitched the idea to.
Getting his ideas shut down and laughed at has always gotten to Emmanuel, an experience he was all too familiar with.
Believing when no one did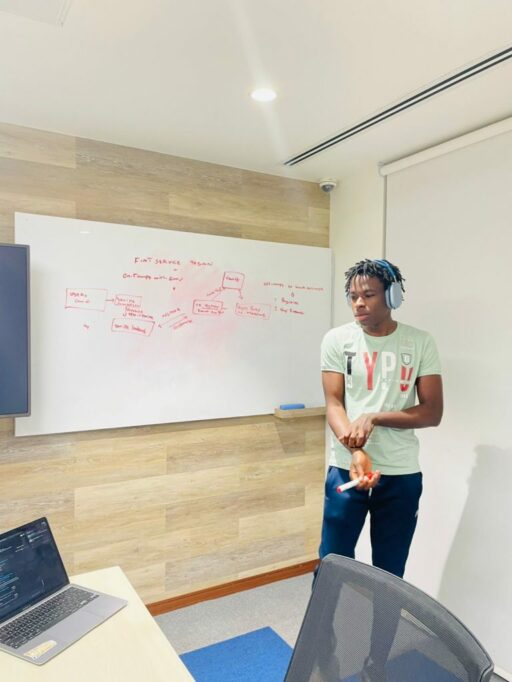 "'I could be the next Zuckerberg.' When I say this, they always laugh at me. When I told my mom I would be Africa's Zuckerberg, [she] they laughed at me, and I'll go back inside and cry. But then, what that did was make me stronger."
Emmanuel's dreams meant a lot to him, so when his father found out he wasn't attending classes and seized his laptop, it was one of the most devastating moments of his life.
"There's no way I can go out without going with my laptop; it was a very vital part of me. When my dad seized my computer, it was hell for me. I remember going to bed crying because I didn't have my laptop. It felt like one part of my heart was taken."
Eventually, he got his laptop back, but he's had just one thing on his mind since then — proving everyone wrong. School was not an option, and having dedicated so much time to tech, failure wasn't an option either.
He went full throttle, spending every second learning and coding. He even switched to computer science and gave school another chance, but he was moving faster than school.
Always one to make plans, this time, he broadened his horizons beyond just coding. He started networking and making friends that opened his eyes to everything he needed to know in the tech world. He attended every tech event he could find, meeting new people and learning new things.
Meeting some big names in the tech world motivated him even more. "If these guys can do it, then I can do it," he told himself.
At one of these tech events, Emmanuel decided to pitch himself to a potential employer. He had been going hard at tech and felt this would be an easy gig to get. But being a tech whiz at Enugu State University didn't mean he was ready to take on Nigeria's tech ecosystem.
He realised he still had a lot to learn and went back to the drawing board.
Finding blockchain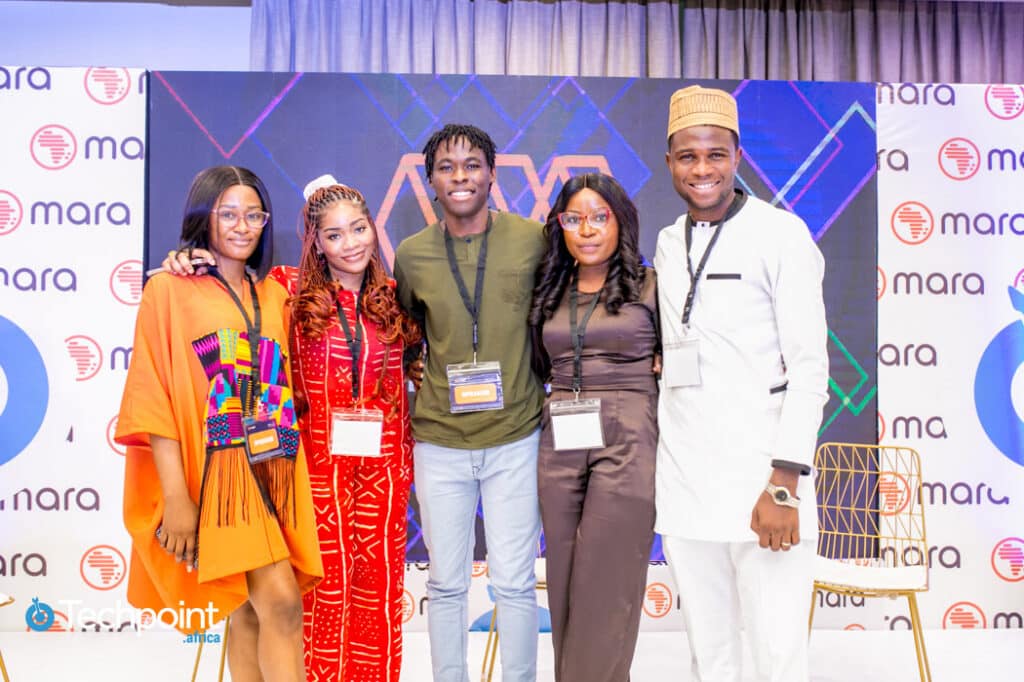 Emmanuel and Kelvin knew they had to step up, and they did.
"We started seeing how saturated Nigeria's web development ecosystem is, so we decided to do things differently. He chose artificial intelligence, and I chose blockchain engineering."
Emmanuel was fascinated by blockchain; he dived right into learning all he could and started with the book Mastering Bitcoin: Programming the Open Blockchain by Andreas M. Antonopoulos.
He read as much as possible before writing his first Ethereum code in 2019 at age 17. As young as he was, Emmanuel was confident he was on the right track. Even when everyone around him told him otherwise, he was prepared to give blockchain everything.
It wasn't long before he got his first blockchain job with Hydro Blockchain. From there, the only way was up, and he soon became a highly sought after blockchain engineer.
His dreams were coming together nicely, and he could start proving his doubters wrong. Those who laughed at him now wanted to be his friends. Before he decided to start Lazerpay, he earned up to $20,000 monthly as a blockchain engineer.
Now he had two options: continue making money while working for companies as a blockchain engineer, or become the next Zuckerberg and build a global company. It was a no-brainer; he was always going with the second.
"It's not about the money. This is what I'm building, and I'm actually very passionate about this because it affects Africa, which is my home. Even if we travel everywhere, like you are still African, Nigeria is still your country.
"The issues I experienced travelling outside the country and being a Nigerian in Dubai, trying to open a bank account is hell. This was even more motivation to build a solution."
Even with job offers of up to $500k yearly, he was not going back on his decision to build Lazerpay.
"This is a problem I want to solve, and I want to see this come true. I want to be at the forefront of crypto adoption in Africa. I want to create more utility and create more use cases for crypto; that's why I'm building Lazerpay."
With a $1.1 million investment just after launching Lazerpay, Njoku Emmanuel could be on his way to becoming an African tech billionaire.