Adaverse and EMURGO held an exclusive hangout with founders and stakeholders in the blockchain space on Thursday, May 5, 2022, in Lagos, Nigeria.
EMURGO is the official commercial arm governing investment operations of the Cardano blockchain, which is regarded as one of the top platforms for building tech solutions in the blockchain space.
The event created an atmosphere for networking and sharing ideas between the organisers and the attendees.
Shogo Ishida and Yosuke Yoshida (co-CEOs of EMURGO Africa and the Middle East) were the representatives of EMURGO present at the hangout.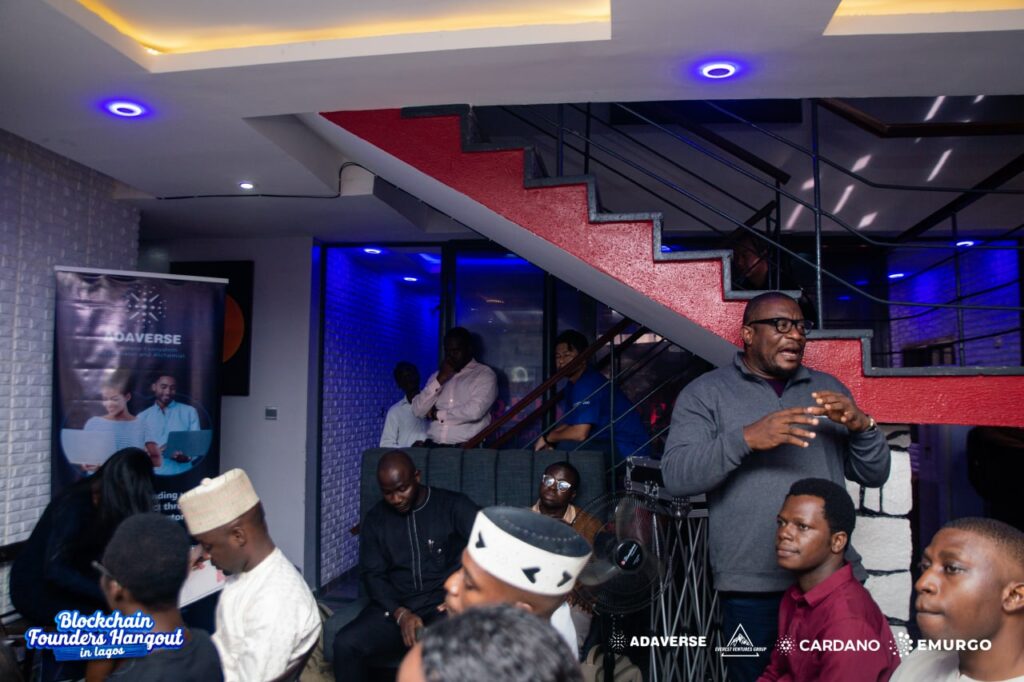 In his opening remarks, Chimezie Chuta, Founder and coordinator of Blockchain Nigeria Users group and Partner at Adaverse, discussed some of the advantages of building on the blockchain.
"Blockchain technology is one of the most lucrative opportunities available for entrepreneurs and people in tech to build solutions and be rewarded for doing so both from the market and the industry itself."
He also highlighted how lack of regulation could be both good and bad in the blockchain space. Discussing the good, he said that the absence of regulation in the blockchain space gives people the opportunities to experiment. Also, you don't need to be in a specific place to build and launch your product.
Chimezie added that there are tons of African-specific problems requiring blockchain-specific solutions. Also, the lack of legacy systems is an advantage for blockchain startups, giving them opportunities to build new solutions.
Chimezie then reiterated the importance of branding to new founders in the blockchain space. He advised founders to look at brand strategy and messaging as a relationship. He added that businesses should look at their brand strategy as a relationship between them and their customers.
Chimezie discussed how Adaverse plans to help blockchain-focused startups. He said Adaverse could help in terms of tokenisation design, articulate how the token economy of the project should look like, technical consultation, skills and talents acquisition, marketing, financial support, and mentorship.
In the past three months, Adaverse has made some investments, and they are looking forward to kickstarting their accelerator program soon.
Startups can get up to $500,000 if Adaverse finds what they are building to be interesting enough. Also, if the project valuation ranges from 2 to 30 million dollars, it increases the chances of being accepted into the program. Adaverse has already invested in about seven startups, which include Canza, Cassava, and Afriguild, among others. ,
Adaverse investment interests cut across solutions building on the emerging Web3. Some of the portfolio companies already funded are focused on cross border payments, Web3, DeFi, talent protocol, NFTs, gaming and p2p systems.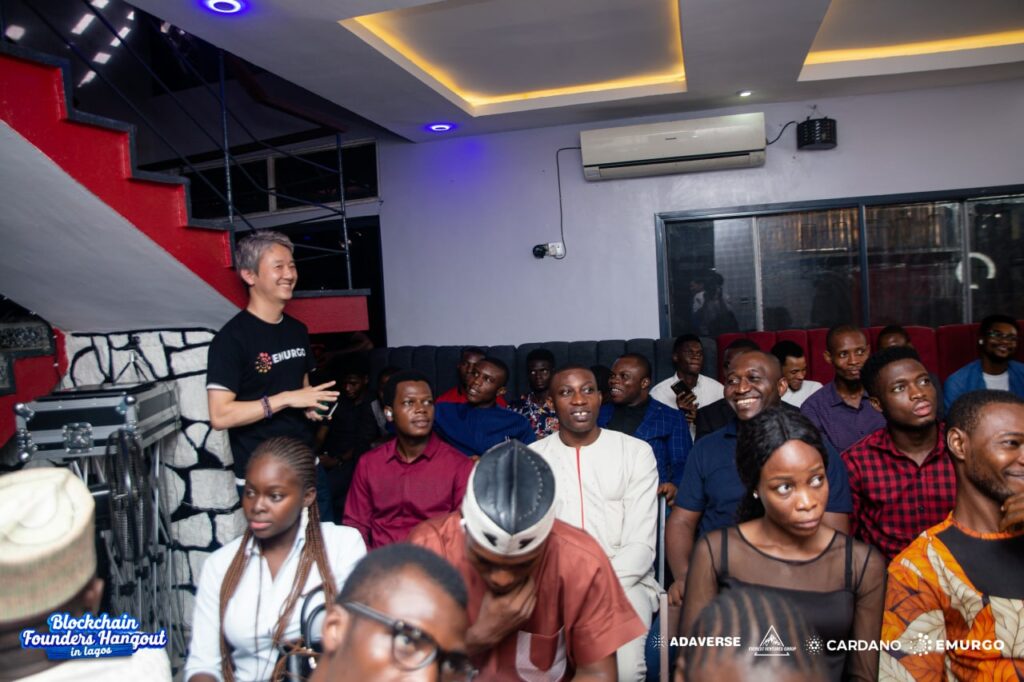 The next speaker, Yosuke Yoshida, Ex-CEO of EMURGO Japan and co-CEO for the Middle East, highlighted that Cardano is a third-generation blockchain built to improve previous generations, which are Bitcoin and Ethereum, respectively.
Cardano is unique because they look to solve the scalability problem present in the blockchain space. The settlement layer and the combination layer are the layers present in the Cardano blockchain.
Secondly, interoperability is another important solution that Cardano aims to provide in the blockchain space. They look at connecting with legacy companies such as banks.
Finally, sustainability. The Cardano blockchain is in the third stage of development out of five, and they plan to open the development and contribution to the community after the fifth stage is complete.
Yosuke said that more improvement is being made on the blockchain, and they constantly go through peer review, which means that they spend a lot of time in research. They collaborate with people in academia and implement after considerable research has been done.
He then mentioned that they have been collaborating with different projects in the blockchain, and Adaverse, who organised and hosted the hangout, was one of them.
The goal of the collaborations is to increase the Cardano blockchain usage and encourage founders to build solutions that will be hosted on the blockchain.
EMURGO has many arms, which are not limited to EMURGO ventures, EMURGO Africa, including standard technology tools available on the platform, such as the Yoroi wallet, which is the main wallet of the Cardano blockchain. EMURGO, in partnership with Adaverse, has a venture capital wheel where they plan to invest in blockchain centred startups.
EMURGO has invested in a host of startups that offer web3-based solutions, one of which is API3, and they plan to do more.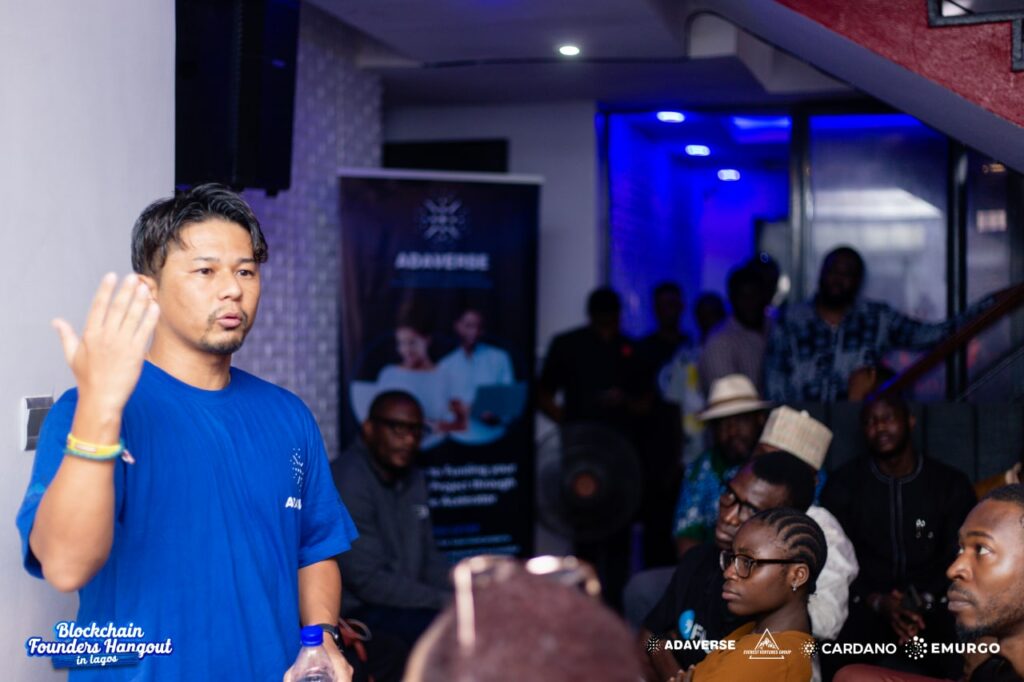 Shogo Ishida, Executive Director, EMURGO for the Middle East and Africa, talked about investments, requirements and what they expect founders to have when applying for funding.
He highlighted some points, which include having a team. Founders should try not to build alone.
'A team is very important. However, If you have a team, are they good enough?"
Shogo further said that they are responsible for all the EMURGO syndicates, and they have built a 100 million dollar investment wheel.
Therefore, they want to know what the founders have been building, and they want to know how they can help.
Speaking on why there is a focus on Africa, Shogo said there is an identification (ID) issue, especially in developing countries. The lack of ID cuts people off many benefits, which is why they partnered with the Ethiopian government and built schools. They look at creating and providing digital IDs and increasing access to financial services.
In their bid to enter the African space, they have invested and partnered with Adaverse and Adanian labs.
In his closing remarks, Shogo said founders have to be passionate about their projects. Giving a hint on what they expect from founders, Shogo said that giving a general overview of the project or demography is not enough. Founders should do in-depth research and make them understand what and who the target market is.
In summary, they at EMURGO will look at the team, research, product and the traction or engagement it gets. Founders and developers are encouraged to build their solutions on the Cardano blockchain.
Founders in need of funding are encouraged to send their pitch deck to apply at https://www.adaverse.co/ and may send a follow-up mail to [email protected].