Companies hire smart people to help improve how their customers perceive and interact with their products, and Justin Irabor is one of such people. One interesting thing about him is that he has provided value through various channels over the years. If Justin Irabor doesn't ring a bell, his aliases, Mogwai and TheVunderkind, should.
"I have been many things. It depends on the timeframe I'm looking at," he begins.
Justin has consistently demonstrated his belief that being exceptional at one thing is not good enough.
In one of his Substack blog posts, he quoted science fiction author, Robert A Heinlein's infamous words, "Specialization is for insects," not really in praise of self-sufficiency, but rather in the context of mastering one's craft. Ironically, you would have to move on to the next when that is done.
Justin is driven by the philosophy of not being ruled by a scarcity mindset, and it appears that once he has "slain his dragons," as he puts it, in a particular field, he's ready for a new exploit.
"Let things go if they are inconvenient for you, more things will come!"
Flipping the pages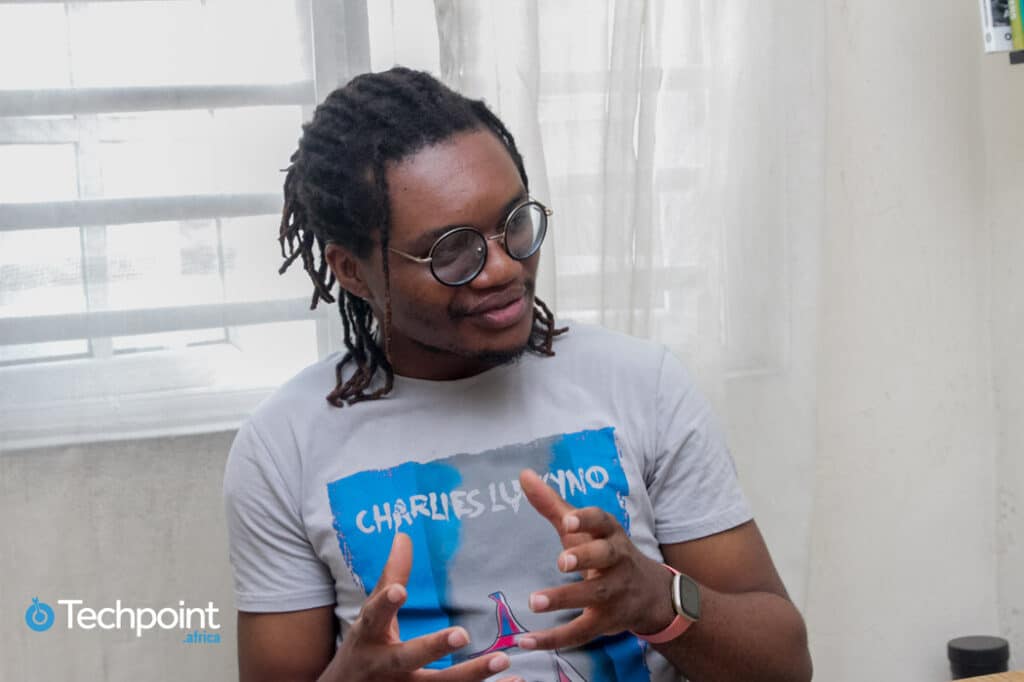 Justin describes his career start as "a classical spreadsheet monkey," working on an eCommerce product as a content executive. Between 2015 and 2021, he was editor-in-chief at a PR company, regional marketing manager for Jumia Food, and head of content and marketing at Hotels.ng.
He also tried his hands out as the product manager and editor-in-chief for Big Cabal and Zikoko. Later, he took up the opportunity to set up the digital marketing department for Eden Life.
Mogwai's past roles constantly saw him draw upon his superb ability to write convincingly and analyse outcomes and predictions — skills needed by a marketer and growth specialist. While in these positions, he built confidence and slowly transitioned from the shy person he once was.
In the past seven years, in contrast to the number of times Justin has granted interviews, he prefers instead to publicise his thoughts through texts and illustrations on different platforms, some of which I was able to track: two Substack blogs — do while thinking and Craft overflow — a very active Twitter account, a GitHub repository, a website, and a LinkedIn account.
Fun fact: Justin sends between 50 and 80 tweets on a good day. From one-liner quoted retweets to full-blown tweet threads to images with ALT text. If he isn't talking comics, it's a show (recently animated series, Archer), NFT, Metaverse, Web3, or songs.
Justin is also an artist and illustrator who makes comics to pass the time. Despite all that he does, Mogwai does not let his works alone speak for themselves; he consistently shares his journey. That I got interested in his story is proof that this strategy works.
Marketing, for him, means convincing people and not spending a lot of money while at it.
Justin's somewhat ironic background saw him having to speak to people despite how shy he was. As a young boy, he gained some sales experience and has grown to work as a digital marketer, content creator, and growth expert.
Speaking about his experience transitioning across companies and industries, he says, "It's very stressful; it's very distressful even. Half the time, you're gonna be thinking, 'Ah! I made a mistake. I should just stay with the thing I'm comfortable in.'"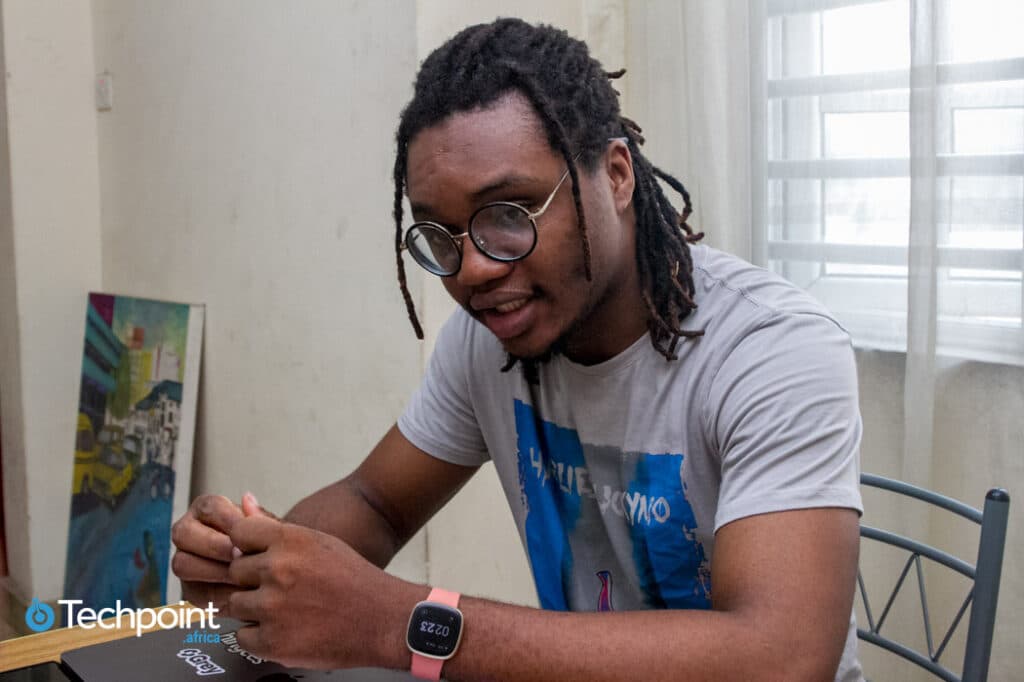 However, despite the challenges and doubts about new ventures, he finds that he is fulfilled at the end of the day.
Transitioning to software engineering
Let's begin with an excerpt from Justin's LinkedIn bio — "I come from a background in digital marketing and growth, and that instinct makes me a software engineer who builds products with considerations for the end-user by default."
I should probably reveal that his transition from digital marketing to software engineering was why I decided to meet Justin.
We meet at his place. He sits across from me, a table between us, in a sitting room with several strategically placed framed works of art belonging to his flatmate. Donning a pair of grey joggers with a matching T-shirt, he greets me with a warm smile.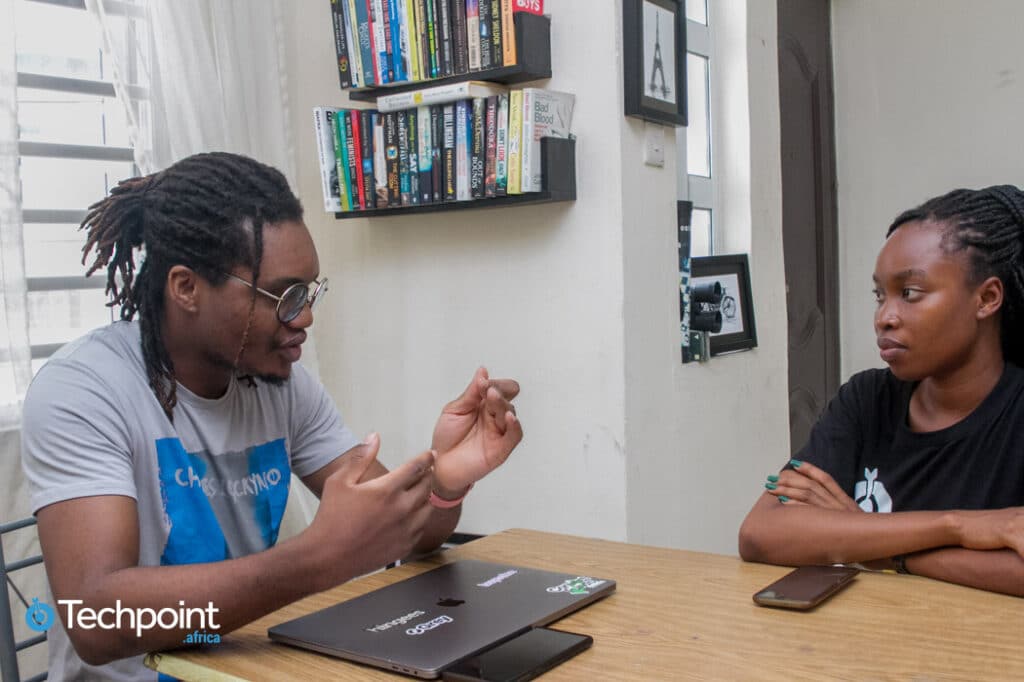 Software engineering called out to him when he was editor-in-chief at a startup, and every downtime had to be escalated to the technical team.
However, he didn't act on this pull until 2019, when it was clear he needed to change direction. Two years earlier, he thought it was impractical for him to do it along with his job, but he did it nonetheless while still at Eden Life.
A little back story here. By the time Justin had spent four years in marketing and growth, he knew it was time for a change. He was not entirely excited by where his career trajectory might take him — probably peaking at a C-level executive role and being responsible for a global company's continental growth.
"Money is good, but it doesn't excite me; I am driven by a purely intellectual pursuit. This means that beyond a point, I began to feel like, 'Oh! déjà vu! I've done all of these before.' Everything is the same thing but in a different context. It's like, when you've seen one, you've seen them all. The only thing I could do was start to switch industries.
"I wanted to do something that felt like when you get on a treadmill; you can't get off. Once you're a software engineer, and specifically, computer scientist — that's what I wanna be — your learning is infinite," he lets out an excited laugh with a lit-up face, "you're gonna know some things, but you ain't gonna know everything till you die."
I recognise this demeanour anywhere; it could only mean that Mogwai had hit gold and found the perfect escape in software engineering.
In 2019, Lambda School, a California-based online coding school, opened its doors to students from Africa, and Justin was part of the cohort in that pilot phase. The full-stack developer education programme did not strain his finances since it was a school-now-pay-later arrangement. However, the challenging part was the commitment it required.
Justin describes his daily regimen.
"For 11 months at a go, every single day, I was writing code. Every single day, I was building a project. This was how I worked it. I attended classes from 8 to 10 a.m. before going to work at Eden till evening."
One of the most significant sacrifices he made was putting in extra hours at work to make up for time lost in the mornings. He'd get home in the evenings and take a nap before waking up at 10 p.m. to work on meeting his learning expectation — to build products after every class.
The sacrifices paid off, and he's worked for two foreign companies in under two years.
"I graduated, and I got a job working for a designing agency in the UK called Series Eight. Did a few months there, and then I got a job at a fintech company in Belgrade, Serbia. I'm a full-stack engineer there. So, I work on the backend APIs and customer-facing administrative data board."
A year as a software engineer
Although Justin was sure about transitioning into software engineering, he didn't escape the frustration that came with the move.
"As soon as I finished Lambda School, it was difficult to get a job as a software engineer."
He speaks about a period when he did not have a job. It lasted much longer than he thought and gradually depleted his savings. It took a lot of self-restraint not to pick up a marketing role or accept an offer from a Nigerian company — which he had initially decided against for some reasons.
But, in the face of challenges, he spurred himself on by repeatedly asking, "How badly do I want it?"
His current job is at TradeCore, a fintech API company, where he's the only full-stack engineer on the team. He considers his craft as something very intellectually satisfying.
"When I'm building, I'm nourished by the things I learn."
He adds that the appeal he gets from computer science is how difficult it can get sometimes.
He takes his time simplifying what programming is to me, but I can't deny it will take more convincing to agree that it is not more complex than he's making it. He can probably guess that from my look but still encourages me to try it.
"It's difficult, but it's not as difficult as people tend to think because you only have to understand the context. Programming is the purest expression of creativity which means if you're a creative, you should want to be a programmer."
Meanwhile, Justin's new obsession is all over his public-facing platforms.
"And lately, I have interest in Web3. So, I do a bunch of Web3 projects; I work on a bunch of DAOs, and I do some dev relations for Web3 products."
Justin carries himself with the air of a seasoned software engineer, and you'd be forgiven for thinking he has been in the space for longer. He attributes this to many things he picked up while working in marketing. It is safe to say that he's proud of his growth.
"I manage myself. I come into meetings and ask questions like I'm a senior engineer. I take responsibility. I learnt that working in the hospitality space."
Making Justin proud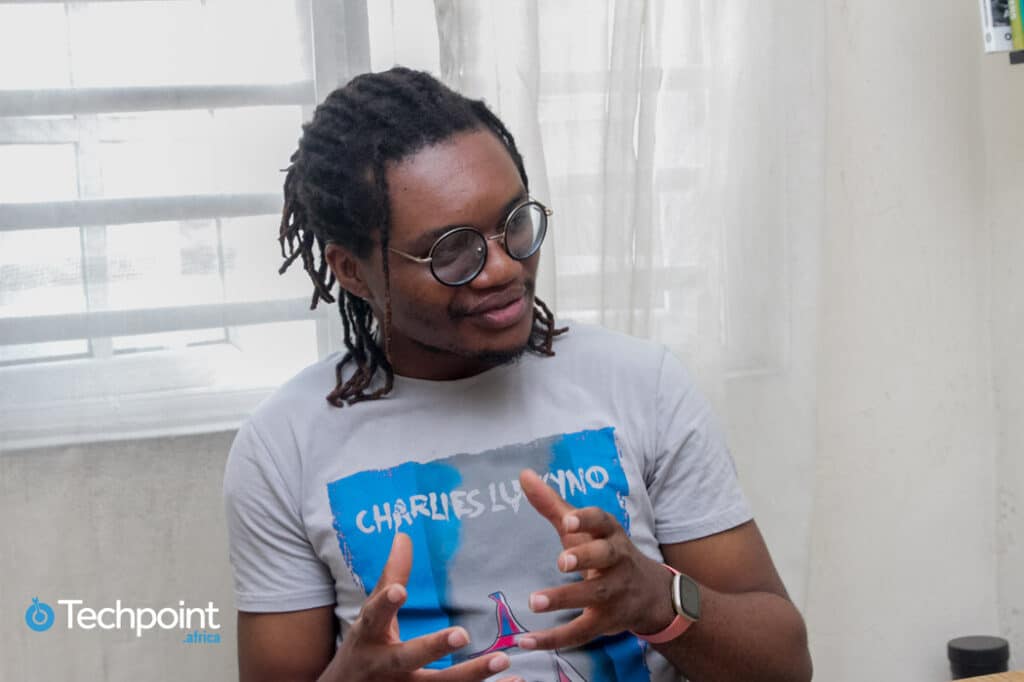 Justin takes pride in being a voracious learner choosing to expose himself "to the trauma of ignorance every day." Once he discovers a problem, he finds a fix by getting books and tutorials.
Another smart move is documenting his journey to get a graph of his progress.
"I have something called 'Thinkboy', a note archive which is only for software engineering stuff. I create a folder for the month. I've archived the one for 2021."
He's committed to building apps even if they don't get deployed.
Here's a glimpse of how an average day looks for him. He wakes up at 9:05 a.m., has a stand-up meeting at 10 a.m. to share progress on the previous day's tasks, and plans for the day. He typically spends the rest of the day on peer programming, debugging, responding to emails, writing code, and making deployments.
Having recorded a few high and low points, Justin considers Angels Among Us — a project he worked on during the lockdown in 2020 — as his proudest achievement. Angels Among Us was deployed a month before he graduated from Lambda School. He describes it as an app for people with relatively secure financial statuses to help a randomly-generated list of people who have been economically affected by the COVID-19 outbreak.
In a short time, it attracted several donations and volunteers to put smiles on the faces of several families after raising around ₦4 million (~$10,000). And, of course, it was only a matter of time before it got the attention of international press platforms like Quartz and Reuters.
Despite the stress that came with it, Justin accomplished his goal of making something purely altruistic. And he plans to do more of such.
Although he can't put a number to the projects he's built, his most recent is Catalogue, a free NFT minting tool for people with no basic NFT knowledge. He also built Astrofy, an app that generates a horoscope-based Spotify playlist. There are also close to ten other software projects, one of which was runner-up at the BuyCoin fintech Hackathon.
If things go according to Justin's plans, he will build a startup in the next three to five years. But if that does not happen, he has the vision to improve on Angels Among Us and create a verifiable database of people who need help across Africa.
If it does take off, it will create a consistent help channel for people who need it. Say, an amount dedicated to a child's schooling annually. For him, this would have a long-term impact and cause a dent in the continent's institutional poverty.
If Justin is not working, he's illustrating. In a different life, he would be a filmmaker. If Justin could speak to the whole world at once, he'd say, "You should be more willing to interrogate established wisdom."
Fun fact: There's a story for one of Justin's aliases, Mogwai. A quick Google search tells you it means "evil spirit" or "devil" in Cantonese. Weird, yes? But Justin says his choice of Mogwai is to remind him to always take responsibility if he wants the best results. Side note: Mogwai used to be a cute pet. Read about the making of Mogwai.