If you are a 9-5er with great colleagues who own cars, you are probably already familiar with the concept of hitching a ride. Let's say your office is in Ikeja, you live in Surulere, and your colleague who also lives in Surulere has a car. So, you tend to get a ride with them, sometimes paying for fuel, saving you quite a bit of money that you'd have spent on transport.
But what if you could hitch a ride with a stranger going in the same direction? Doesn't sound too safe, right? Especially if you've been following the recent news on social media about insecurity on some ride-hailing and even government-owned transport systems.
Well, Laolu Onifade thinks he might have found a sweet spot with his newly launched ride-sharing startup, Hytch.
But what does Hytch do?
According to Onifade, Hytch connects car owners and passengers going in the same direction. Using our earlier example, say you're trying to get to Berger from Surulere, all you have to do is launch the app, find drivers within a 2-3km radius going in that direction and, voila, you've "hytched" a ride.
Similar to the defunct GoMyWay, the ride is shared with three other riders going in the same direction, making the fare cheaper
Modelled after popular ride-hailing companies like Bolt and Uber, Hytch doesn't own any of the cars on the platform and only onboards drivers, with certain safety restrictions — which we'll get into later — built in to prevent mishaps.
Hytch takes a 15% commission off every ride and operates a cashless payment method. All users — drivers and passengers — have a wallet, so passengers are automatically debited the amount for the trip when it ends.
The idea for Hytch was birthed between 2019 and 2020, following Onifade's frustrations with ride-hailing platforms.
"I have encountered this problem myself moving around and with Uber being so expensive; I've had this problem with Uber since 2019/2020. I noticed that Uber and Bolt were getting so expensive and I used to wonder, how about I just hitch a ride?
"Why can't I just be in someone's car? Sometimes when I'm in an Uber that's costing me say ₦5,000, I don't mind sharing the ride with three other people in the back seat going in the same direction."
Roping in his friends, Femi Omoniyi (CTO), Olawale Adeyeye (Chief Imagineer), and Kemdirim Akujobi (Product and Design Lead), they began building Hytch in 2021.
After several months of beta testing, which saw them onboard 200 people, Hytch comes out of stealth mode today, with the app available on the Google Play Store and the Apple App Store.
Ensuring user safety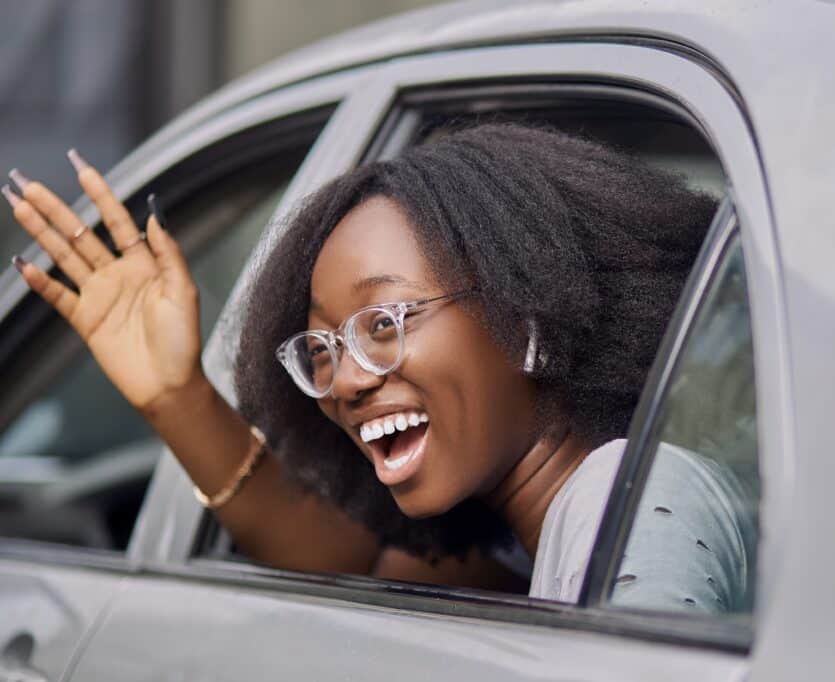 Last week Friday, March 18, 2022, this tweet by twitterer, @_kimaura set Nigeria's Twitter streets ablaze.
@_kimaura described being robbed by the Bolt driver who took her phone, debit cards, and IDs, among other things. Barely a month after the tragic death of Oluwabamise Ayanwole on a BRT in Lagos, it was enough to cause an uproar, with many people narrating various incidents.
Another Twitter user, @ade_IDD, narrated how she was almost kidnapped by a Bolt driver whose appearance was different from the picture on the platform. He told her that he was using his brother's account because his had been blocked.
Thankfully, she got to safety, before anything untoward happened.
In a since-deleted tweet, another user, @shugadupri reported encountering the same driver.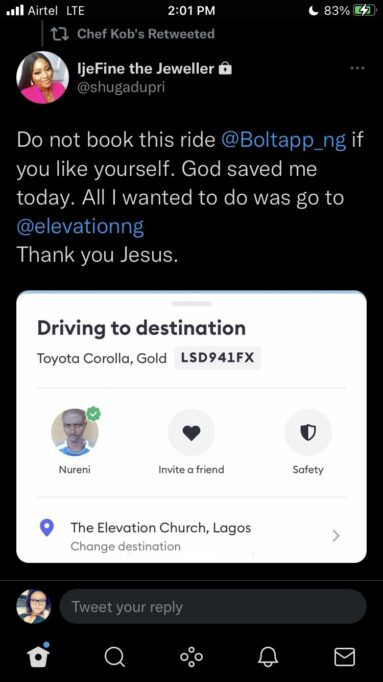 Interestingly, while Bolt's support team acknowledged some complaints on Twitter, it is yet to release an official statement on the matter.
Techpoint Africa asked Onifade how Hytch hopes to ensure user safety.
Onifade explained that user safety is provided for both drivers and riders.
"For drivers, we verify driver's licence. For riders, you have to take a picture at the moment. So that means, the same picture you take at the time that you are signing up is what the driver is going to use to recognise you. So you have to make sure you're taking an actual picture or else the driver is not going to pick you up.
"You also have to put in your legal first and last name while signing up."
To ensure that it is an actual picture, Hytch has partnered with Nigerian digital compliance and security company, IdentityPass, plugging in an API that determines whether it is a human face.
For added security, the driver and rider are sent a pin which both users must confirm on the app before a trip commences. This could also prevent issues of drivers starting trips before arriving.
Like other ride-hailing/ride-sharing companies, Hytch provides a panic button that enables users to alert family and friends when they are in danger.
Where a rider receives a streak of three bad ratings, they are automatically blocked from using the app, although they can be reinstated. The driver would have to reach out to get the account unblocked after an investigation is carried out.
Onifade said there are currently plans to include National Identification Number (NIN) verification as a security measure; however, he agrees this could be limiting for users with no NIN.
There's still much for the startup to do with plans to eventually include interstate travel and as Onifade laughingly told Techpoint Africa, the ability to book a seat on a private jet.