In 2018, two Nigerian siblings, Olugbenga Abejirin and Mayowa Abejirin, who have technical capabilities in programming and software development, with the former armed with over a decade of experience in entrepreneurship, leveraged an opportunity to build and deploy smart classrooms to some Nigerian schools.
The early stage of the project was successful until the pandemic struck in 2020, and deployment was slowed down as access to spare parts abroad was impeded. However, the company had already covered eight Nigerian cities.
Primarily, the plan was to incorporate robotics into these smart classrooms riding on a previous project carried out in partnership with a Chinese university to build self-driving smart cars for educational purposes. However, this couldn't be deployed due to licensing challenges.
The seemingly discouraging outcomes of these two endeavours opened their eyes to something bigger.
Olugbenga recounts how they made the best of a daunting situation.
"That was quite disappointing. But we had a video of the project they were doing. The partners showed us what it could do as well as the assembling process. So, we thought to ourselves, 'We can do this! Why don't we have a company that would create these robotic kits for the smart classrooms?'"
Encouraged by their rich backgrounds in building tech products and entrepreneurship, they decided to go beyond smart classrooms. The result was the birth of robotics startup, Kalibotics, coined from two words: Kali, a Swahili term for 'energetic', and Robotics. Kalibotics launched officially in December 2019.
Robots for real-life challenges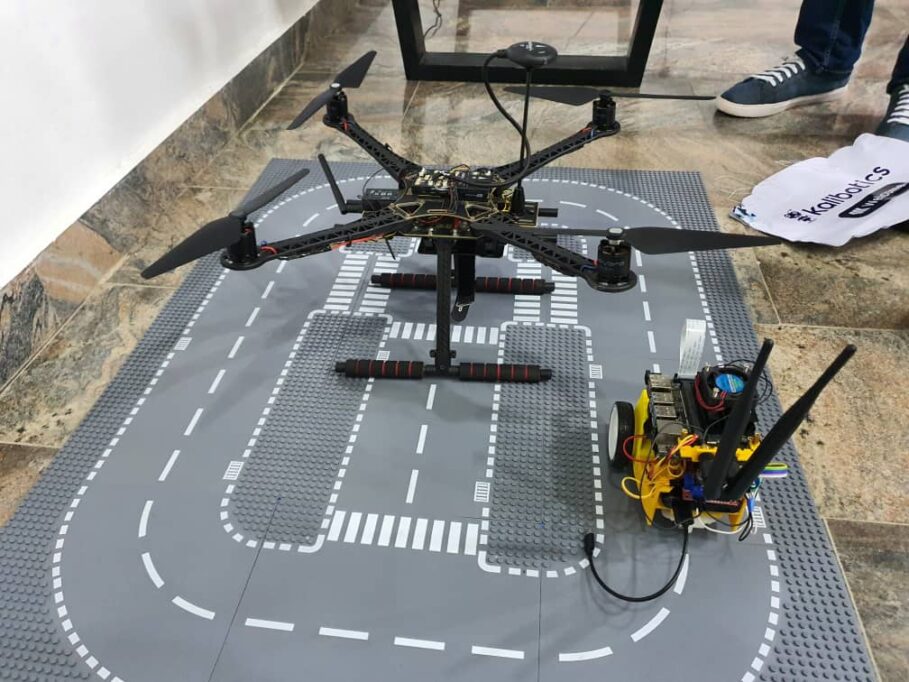 Although education is Kalibotics' strong point, the startup is motivated to build products to address tough real-life challenges, something Olugbenga refers to as "going all out."
"Some of the areas we're interested in and building robotic systems for are agritech, security, e-waste management, and other fields."
Elucidating, Mayowa lists products that the startup has been able to commercialise, including those it intends to deploy.
"Our first project was an obstacle avoidance car that uses ultrasonic sensors. After that, we went on to build an autonomous drone that can be easily repurposed for any artificial intelligence task like precision farming, and threat avoidance, among others."
The startup has also done other functional mini-projects like a robotic arm that can make a cup of tea and an AI Chessbot — a Chess-playing robot. In a few months, the prototype for an AI-based robot manipulator that can sort e-waste will be completed.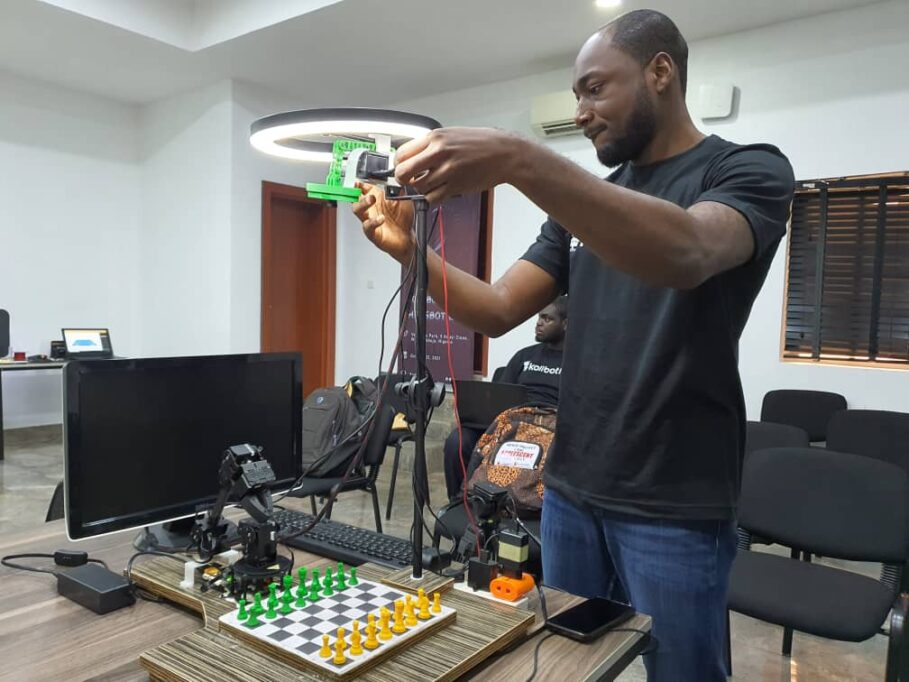 Solar-powered drones, autonomous rovers, and underwater drones for security and surveillance are at the ideation stage and will be developed in the coming months. This also includes other specific purpose drones for trash-picking.
Olugbenga notes that most of the completed products are already commercialised while others are being trialled.
Besides the hardware, the startup also has a proprietary Artificial Intelligence Robotics Coding (ARC), a curriculum it plans to get into schools soon.
Reacting to my scepticism about not focusing on only industry-specific products while in its early years, Olugbenga opines that the startup is maximising its capabilities with the three industries it currently specialises in and will build on this in the long-term. He believes this will take the startup to a growth phase, and once they have all been fully commercialised, the scope will increase.
To keep up with subsequent changes in the technology landscape, other projects will come up under the research and development department.
Leading up to Kalibotics
Before Kalibotics, the duo has come a long way in building tech products and running businesses.
In fact, one of the businesses, Deepblue Technologies, has been running for over 13 years.
Looking back to his beginning, Olugbenga recalls how he founded Longhall Consulting, a consulting startup that has morphed into Learning Fortress, an e-learning platform.
Following this, he threw his weight behind Deepblue Technologies, a company focused on application development/deployment and technical support services. Interestingly, the company has been around for 13 years.
Olugbenga asserts that Kalibotics' products are targeted majorly at large businesses and the government for obvious reasons. Mass waste management, for instance, is the government's responsibility; likewise, smallholder farmers are rarely as concerned about precision farming as large farmers are.
However, the entrepreneur clarifies that there are exemption plans for edtech and agritech products.
"We're beginning to have variants. We have what is called Kalibotics Project Alpha, which is B2C. This will deliver proprietary kits and an e-learning platform so that individuals can have robotic kits in their homes and then go through our e-learning and can learn to install and do lots of interesting projects. This will be launched in 2022."
For him, introducing a B2C model is inevitable, not only for inclusiveness but also to widen its approachable market and broaden revenue opportunities.
Getting the right attention for funding
In its early days, the startup had access to a $25,000 fund in angel investment. To celebrate his birthday in 2020, Nigeria's Vice President, Prof Yemi Osinbajo, funded the March 8TH Initiative, where innovative companies were offered a ₦1 million (~$2,400) grant. With its new and functional solutions, Kalibotics applied and ended up as one of the recipients.
Thanks to Kaibotics' e-waste management project, the startup was one of four finalists that won a ₦20 million (~$48,000) grant in an innovation competition organised by the Nigerian Communications Commission (NCC) in 2021. But this wasn't the first time Kaibotics was recognised in this manner.
Although still at the pre-profit stage, Olugbenga claims that the startup's goal is to make a social impact while making a profit. Compared to other robotics startups, the founder believes their strength lies in infusing many high-end technologies into their products, trusted business sense, dependable team, and access to funding.
It hasn't been smooth sailing all the way, and sometimes, the founders have to train people to ensure they can successfully operate their products.
Nigeria is not big on manufacturing, so building prototypes can be pretty tough without support from outside the country. Despite this, the startup has gotten in the face of potential buyers.