In recent years, Africa has lagged behind the rest of the world in medical technologies and research. The continent's infrastructure gap and its talent drain inducing economic terrain, has made Africa in constant need of medical aid from the western world.
The onset of the global pandemic put things into further perspective as the lack of African genomes became glaring when doing research on the virus. Just 3% of African genomic data is represented in global medical research.
How do you come up with a vaccine that works for humanity for example, when a significant portion of its population are unaccounted for.
Once more, entrepreneurs and innovators did not wait for clear regulatory skies before diving into the deep end of Africa's health sector.
Today's personality on Techpoint Build Spotlight, Delali Attipoe, COO of 54Gene, takes a little peek at what's to come in health research.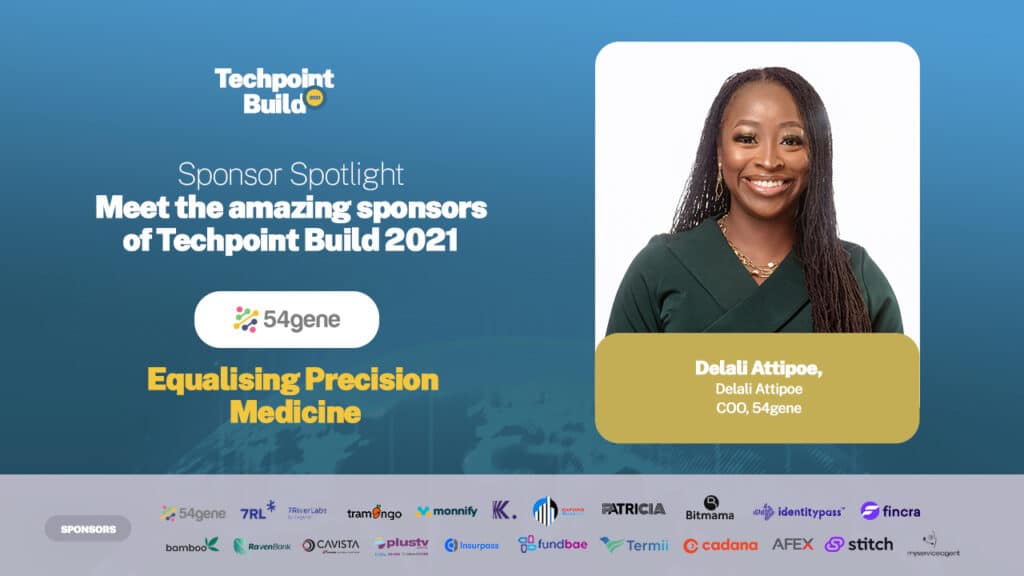 Can you tell us more about 54Gene?
54gene is a health technology company working to ensure that Africa, a genetically diverse population, is adequately represented in global drug discovery and other clinical research endeavours so as to improve diagnostics and treatment outcomes for Africans and the global community.
How would you explain your startup's value offering to a five-year-old?
54gene's role in African healthcare is to ensure that disease treatments and therapies for Africans are more suited to their genetic composition because personalized medicine is the future of healthcare. Our work is to make sure that Africa is not left out of that future.
What makes you excited about Techpoint Build 2021
Participating in Techpoint Build not only gives us an opportunity to tell the amazing 54gene story and our impact in healthcare so far but also reinforces our position as a leading technology-based genomics research startup.
What pain points do you think need to be addressed in Africa's health sector?
Lack of enough advanced healthcare infrastructure to properly treat Africans
Need for more in-continent clinical research in healthcare
Capacity building for medical scholars and healthcare professionals
What impact do you envisage following Techpoint Build conversations on the next frontier in the health sector?
That more people will be enlightened on how important the work we do at 54gene is
Others will be inspired to come up with creative solutions for problems directly affecting the African healthcare sector.
54Gene will be discussing the innovations in the future of healthcare, and will also be supporting Pitchstorm, our flagship startup competition, as one of its judges.
If you're not convinced to register now, then I'm not sure what will. Waste no more time, register to attend online or physically.