In 2008, Ismail Adejonwo's mother experienced a troubling stomach ache. The family had no money and was hesitant to take her to the hospital.
But as the clock kept ticking, the pain became unbearable. At this point, he had no choice but to take his mother to the hospital.
When they arrived at the hospital, the doctor informed them that they had brought her late. She was diagnosed with appendicitis, which was treated successfully with a simple surgery.
Entirely unrelated, Dr Fatima Ajayi, Adejonwo's pregnant family friend, fainted during a ward round in 2019 after working a 12-hour shift. Sadly, her boss dismissed her for the day without further concern about her well-being. Adejonwo decided not to overlook these events.
"In 2019, these issues sparked a lot of thought in me. For my mother, we might have known what the problem was sooner if we had consulted a doctor, which could have saved her the weeks of agony she endured. Another reason we were hesitant to take her to the hospital was a lack of funds. This, too, could have been taken care of if there had been surgery funding available instead of the embarrassment of begging," Adejonwo explains.
The incident involving his family friend, Ajayi, bothered him too. Because he wanted to address incidents like these two, he began brainstorming solutions to the problems.
Later in 2019, he had an idea that he pitched to a doctor friend, Bolu Balogun, on Twitter.
In 2020, Adejonwo (CEO), Ajayi (Head, Family Medicine), and Balogun (Head, General Medicine) collaborated on an idea. The idea became iWello, a telemedicine startup, and was launched in July 2021 as a Minimum Viable Product (MVP) where users can easily consult with doctors.
Built by an experienced team
Before founding iWello, despite his zero medical background, Adejonwo had over six years of startup experience.
For three years, he was the Head of Content and Digital Marketing at a student marketplace, Vasiti.com. He also had a stint as Head of Business Development at Guided Beginning, an educational and parenting startup, for four years
Balogun, on the other hand, is a skilled urologist with a Masters in Clinical Urology, and she has worked in the telemedicine field for reputable companies such as Tremendoc.
Ajayi is a family medicine specialist with over five years of experience.
Healthcare for those who live below $1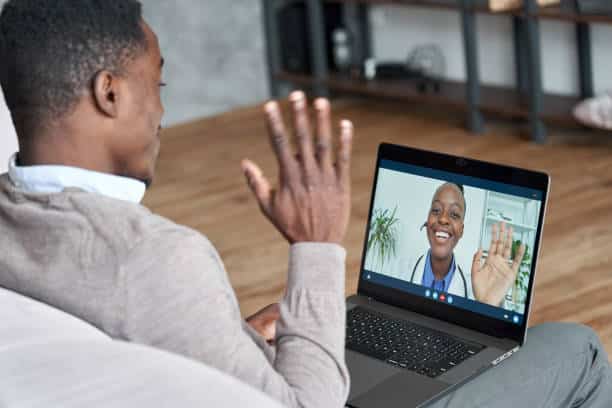 When it comes to healthcare, iWello claims it provides a sense of belonging to low-income people — those who live paycheck to paycheck, have difficulty living above $1 per day and live in slums and rural areas.
And one of iWello's priorities is for them to know that there is an available healthcare solution where their health needs can be met.
iWello is a telemedicine platform that allows anyone, regardless of income level, to gain access to healthcare for as little as $1 and surgery funding while also ensuring the well-being of doctors and healthcare workers.
There are two types of surgery funding: paid and free. For the former, the company pays for it before the surgery, and the client repays later. Essentially, iWello pays for the surgery in full, and patients pay in instalments after the surgery is complete.
The team hopes to cover all types of surgeries, but for the time being, they are focusing on minor surgeries — like appendix removal, caesarean section for pregnant women, and kidney failure issues — and major surgeries that are less than ₦10 million ($24,306.62).
iWello exercises measures to ensure that its users have at most three guarantors who agree to be debited automatically if a user defaults. Depending on the schedule chosen, payment could be monthly, weekly, or daily.
The free option functions similarly to a social trust fund with profits and donations from the general public who pay for people who cannot afford the paid opportunity.
"All the user has to do is register, and their surgery will be funded. But it will be on a first-come, first-served basis, which means there will be a waiting list, and we will work from that list until the social trust fund is depleted," Adejonwo says.
Also, they provide consultations, medication, and treatment for three of the world's most lethal diseases: malaria, diabetes, and hypertension.
"As a company, we want to make a difference in the high mortality rates for common diseases like malaria, hypertension, and diabetes.
"We currently serve through our website and are in the process of developing a mobile app."
For users and doctors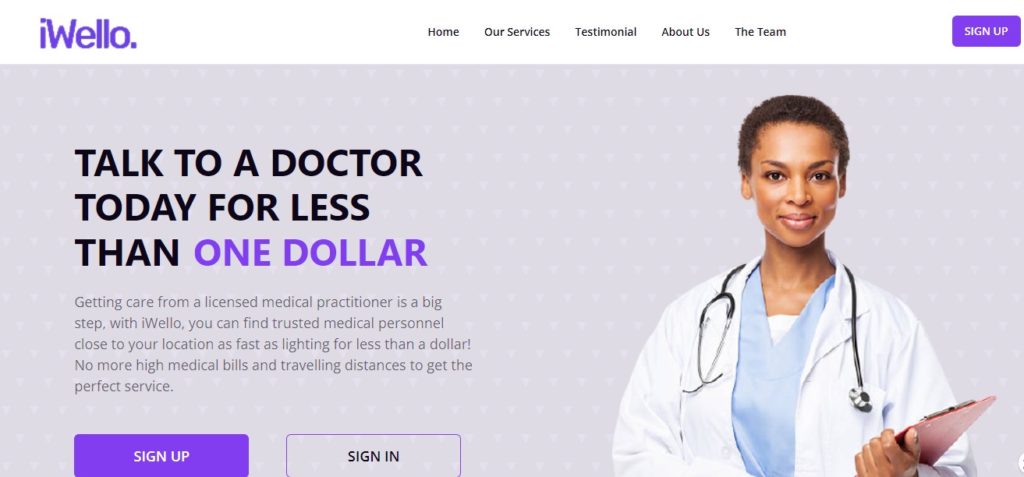 Although iWello is just three months old and competes against startups like Tremendoc and WellaHealth, and indirect competitors like Helium Health, Adejonwo says, "our services outperform most of them in terms of affordability, sharing formulas with doctors, and a pay-as-you-go integrated healthcare system that cares for people from the point of consultation to treatment."
Another advantage is that it covers the patient's entire customer journey, from consultation to treatment, which only a few telemedicine startups do.
Similarly, iWello considers its doctors' well-being by paying them a higher percentage — 70% — of every consultation and treatment they provide. And offers surgery funding, a service Reliance Health Maintenance Organisation (HMO), a telemedicine insurance company, also provides.
A viable model
iWello is currently self-funded. It also recently placed second in the Ivery Arie pitch competition and expects to complete an Angel round led by a group of lawyers in October — this month.
"We are currently at the pre-revenue stage. We are not yet making profit and are currently offering a freemium service to users," Adejonwo says.
However, the company makes money primarily through commissions and subscriptions. While a doctor receives 70% of the revenue from each consultation and treatment performed on the platform, iWello gets 30%.
"We charge no interest for surgeries but a fixed service charge depending on the surgery type. However, we charge ₦300 ($0.73) per consultation," he says.
iWello is currently testing its pharmaceutical marketplace with a phoney drug checker where you can buy drugs instantly, speak with a pharmacist, and verify the drugs' authenticity.
"Pharmacists will receive a 5-10% commission on every drug sold on our pharmaceutical marketplace," Adejonwo says.
The pharmaceutical marketplace is still in beta mode and has not yet been launched. The company anticipates that it will be available before the end of this year.
Although the company has a user base of 140 clients and 14 doctors, it hopes to reach at least 36,000 people in each local government in Lagos State.
iWello plans to cover all 20 local governments in Lagos State before expanding into other Southwestern states, then the East and North, by the end of 2022. It also plans to expand into another African country, Ghana, by 2023.
Enduring challenges through teamwork
One of the most difficult challenges iWello has faced is raising awareness and staying afloat in the absence of funding.
"Offline, we used tracking cards so that people could scan them and easily contact us, and we also reached out personally based on health issues they shared on platforms like Twitter," he says.
In terms of funding, the team has tried applying for grants, entered pitch competitions, and pitched to some angel investors. Now, they seem to be making some headway.
"Most importantly, the team is solely committed to this project and is working on it full time. Most of us have been working pro-bono, and even recent members on the team joined based on the impact they believe iWello can have on the healthcare system."
According to Adejonwo, the government is not doing enough to improve the country's healthcare situation, which is why people continue to die from common diseases like malaria and tuberculosis, and doctors are leaving the country in droves.
"Therefore, I believe that with iWello, we can make a difference in the healthcare industry," he concludes.