Growing up, I never had much contact with deaf people. Of course, that is to be expected as I didn't know any deaf people.
In later years, I would come to — unconsciously — associate being deaf with being poor. Why? I only saw deaf people while travelling through Nigerian roads to or from school or during village visits to see my grandparents.
They had on old clothes and would constantly thrust or — if the paper was too big — display a note asking you to give some money to the deaf people or an orphanage or a motherless baby's home. Interestingly, they were always smiling, and I always wondered why.
During the heat of the COVID-19 pandemic last year, I had to reconfigure my perceptions when I met a young girl who we will call Mary. Big brown eyes, small — at least for a five-year-old her — funny, smart, beautiful, silent — at first — deaf.
As I interacted with her, a lot of my misconceptions began to fall away. Poor? Nope. Beggar? Nope. Because she's hard of hearing, you have to speak really loud or use signs so she can understand.
But, I got really incensed after learning that her parents refused to acknowledge her deafness. They put her in a regular school with no access to sign language classes to help her communicate.
For people who aren't entirely deaf, like Mary, basic technology like a hearing aid or an implant would make it easier to communicate and understand people.
Nigeria's deaf community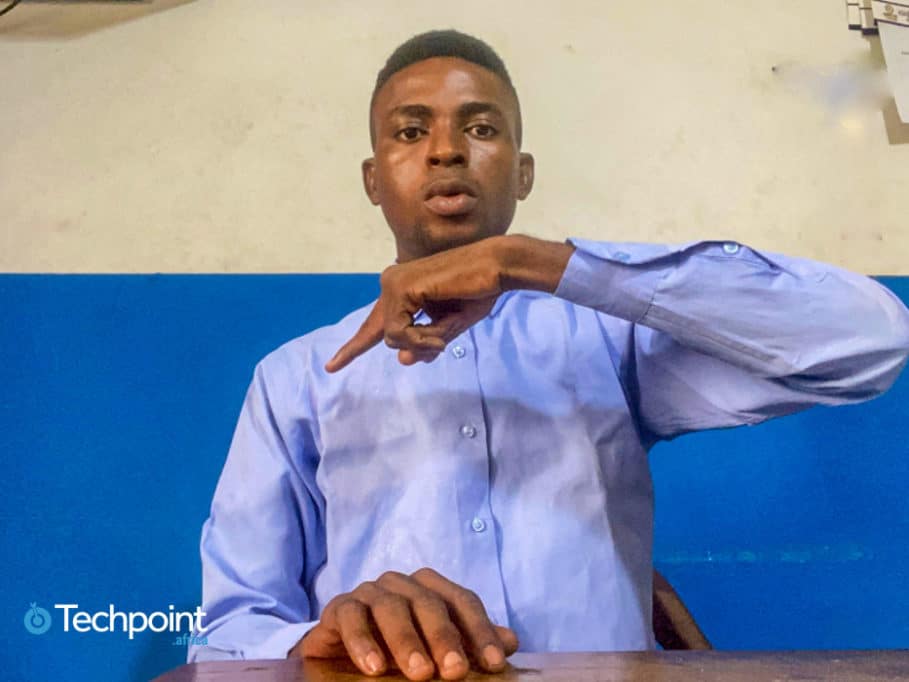 According to Oluwaseun Sosanya, a sign language interpreter, tutor, and deaf advocate, the deaf community "is a collection of people that share the same idea, belief, and culture, and use sign language to communicate.
"The community includes the two categories of deaf — pre-lingual and post-lingual deaf — parents of the deaf, sign language interpreters, and all users of sign language.
"Pre-lingual deaf are people born naturally deaf, who've spoken no language. And the post-lingual deaf are people who were once talking and hearing but later became deaf as a result of illness or accident."
Using Sosanya's explanation, Mary is a pre-lingual deaf person.
But beyond this is the rich history and culture of the deaf people and those who have accepted and are proud of this identity.
Olaoluwa Bayonle, another sign language interpreter, says, "It is a community of people, I mean the deaf people and hard of hearing people, who have accepted their deafness, their inability to hear, and are proud of this identity. The community is established with a different culture from the hearing community.
"The members of this community are the deaf people, the hard of hearing, the sign language users, and the friends of the deaf. The official language of this community is sign language."
Sign language is a huge part of the deaf community culture. It is the unique way in which the deaf and friends of the deaf communicate.
For the African deaf community, the prevalent sign language is the American Sign Language (ASL) which Andrew Foster — regarded as the Father of Deaf Education in Africa — brought into the continent.
He would go on to found West Africa's first School for the Deaf in Ghana and Nigeria's first, the Ibadan Mission School for the Deaf, in Ibadan, Oyo State.
However, many African countries like Ghana, Ivory Coast, and Mali have created their own sign languages. Nigeria does have a sign language, but it is not officially recognised and as widely used as the ASL.
Interestingly, there are currently over 300 recognised variations of sign language.
One thing I noticed is how accommodating and welcoming members of the community are. A fact which Seun Dosunmu, a disability inclusion advocate, echoes when he says, "The deaf community, the deaf persons majorly, are very accommodating and always willing to engage and participate in activities, especially when they are invited."
Unfortunately, they face a lot of stigmatisation and rarely is provision made for their inclusion.
"Many people do not consider inclusion, so they don't make interpreters available. And this is the major reason why there is a gap, and there is marginalisation as we have it."
A tale of signs and inclusion
Mary's parents believe her hearing issues stem from a spiritual problem and take her for deliverance sessions, hoping to drive away the demon of deafness.
This is very common in the African setting, where many people view deaf people as sick, retarded, or demon-possessed.
As Treasures Uchegbu, Convener and CEO SpeakingFingers, says while talking about the challenges deaf people face,  "Communication/Information, attitudinal (words and behaviours) barriers which I refer to as the cancer of all challenges — referring to the deaf as dumb. Then that one about putting a leaf in the mouth which could be perceived as calling them goats.
"Or an average primary four child whom I asked 'Who are the users of sign language?' In response, he said, 'mumu people!!!' I'm sure he got that from his immediate environment. So I ask if this young boy grows into a policymaker, will he make policies to cover 'mumu people?' Of course not."
In 2019, the Nigerian Federal Government passed the Discrimination against Persons with Disabilities (Prohibition) Act into law. The Act established the National Commission of Persons with Disabilities and includes several provisions such as accessibility aids in public places and better inclusion of the disabled in workplaces, among others.
However, the curve is pretty steep. According to a 2018 study by Emmanuel Ihenchi Asonye and two others, about 23% of Nigeria's population are deaf people. Most of that number live below the poverty line, with little to no access to healthcare, education, and employment.
And as Douglas Izuchukwu, President of the National Association of Deaf Students, says, "the biggest challenge, communication barrier."
Dosunmu recalls having to intervene in the case of a deaf person who had been living with tuberculosis for a while. After taking him to a specialist hospital, they faced another challenge, none of the doctors or nurses understood sign language, and there was no interpreter.
This inability to communicate is a common occurrence, leading to either an untreated patient or a wrong diagnosis. Thankfully, they were able to get an interpreter in time.
In so many ways, the capacity to communicate is hindered, and a lot of the time, privacy is compromised on the hill of interpretation.
For the hearing community, technology enhances communication. Social media networks like WhatsApp, Facebook, Twitter, and Discord serve to bring people together.
A lot of this tech is mainly geared towards what the hearing community needs, with little to no thought, if any, for the needs of deaf people. Some, like the live-audio craze which began with Clubhouse, do not even have any provisions for them.
But, in some ways, technology is trying to bridge the communication gap.
Communicating in a tech-enabled world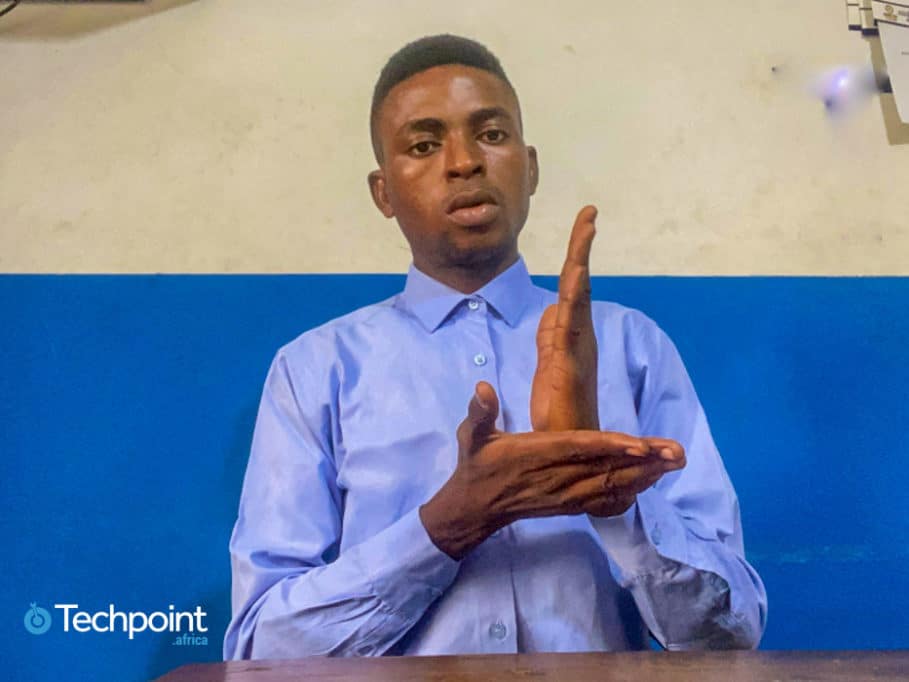 According to Izuchukwu, "Technology is now doing well, trying. On YouTube, we have automatic captions, time to control the captions, and time to control how the speakers speak. That is what technology is doing. And again, Google Meet too has automatic captioning."
But he wants technology to do more.
"For example, on WhatsApp, when someone sends voice notes, there should be a place on WhatsApp where one can click to turn on automatic captions, for deaf people to read and benefit. Same way it is on YouTube, I wish WhatsApp too has the feature. And the feature applies to other applications like Zoom and others."
Izuchuwku, speaking from the perspective of a deaf person, really just wants inclusion.
And technology has already done so much.
1. The use of social media to spread awareness and advocate for more inclusion.
2. Assistive technology like Speech-to-Text, which helps translation from spoken words into text.
3. Hearing aids and cochlear implants, which enable deaf or hard of hearing people retain some part of all parts of their hearing ability.
4. Mobile apps that provide sign language tutoring for beginners, such as the ASL American Sign Language and the Ghanian Sign Language app.
5. Automatic captions on YouTube and Google Meet, which use artificial intelligence to automatically transmit what is being said during webinars or in online videos.
There have also been technology mishaps, such as the sign language hand glove that translates sign language into words. The deaf community believed it to be more accommodating of the hearing community without regard to the deaf people — who it was purporting to help.
Also, assistive technology like Speech-to-Text and automatic captioning have limits as they do not always provide an accurate translation, which is doubly worse in the African scenario.
During the COVID-19 lockdown, Funmi Ogunro, Head of School, Friends of the Deaf Academy, says they had to move the school online, using WhatsApp and Facebook groups. Eventually, they received support from Gradely, a personalised e-learning platform for 300 students.
Dosunmu suggests that more people learn sign language or at the very least make more interpreters available in public places such as banks, hospitals, courts, etc. Some apps help people learn sign language on both Android and iOS stores. Although, there seems to be a dearth of Nigerian made or focused apps.
However, despite technological advancements, deaf people still face discrimination and exclusion, especially regarding information. Dosunmu says that most deaf persons have little to no access to computers and do not even have smartphones. How then do they access the technology?
International Day of Sign Language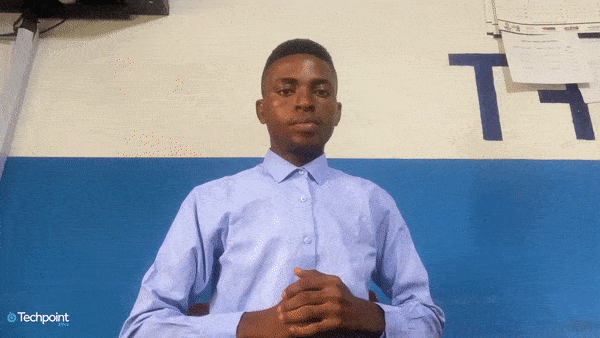 The International Day of Sign Languages is observed annually on September 23 as part of the International Week of Deaf People.
This year, the World Federation of the Deaf has given daily themes for the Week — Monday, September 20 to Sunday, September 26.
Monday: Cherishing Deaf History
Tuesday: Sustainable Deaf Leadership
Wednesday: Sign Languages for All Deaf Learners
Thursday: We Sign For Human Rights
Friday: Intersectional Deaf Communities
Saturday: Deaf Culture and Arts
Sunday: Human Rights in Times of Crisis
Each theme represents an important topic in the deaf community, with inclusion as the central theme.
Beyond their disabilities, deaf people are human beings who have rights — the right to fair treatment, employment, and the right to inclusion.
What's common to Ludwig van Beethoven, Helen Keller, Thomas Edison, and Andrew Foster.
Deafness and partial or complete hearing loss. But there's more. Despite their disability, considered a hindrance by many, they accomplished remarkable things.
And Opeoluwa Sotonwa — a deaf Nigerian American attorney, disability rights advocate, and literary writer — has borrowed a leaf from these greats.
Being deaf is not a curse. The deaf should not be segregated. They shouldn't be made to feel stupid or unworthy.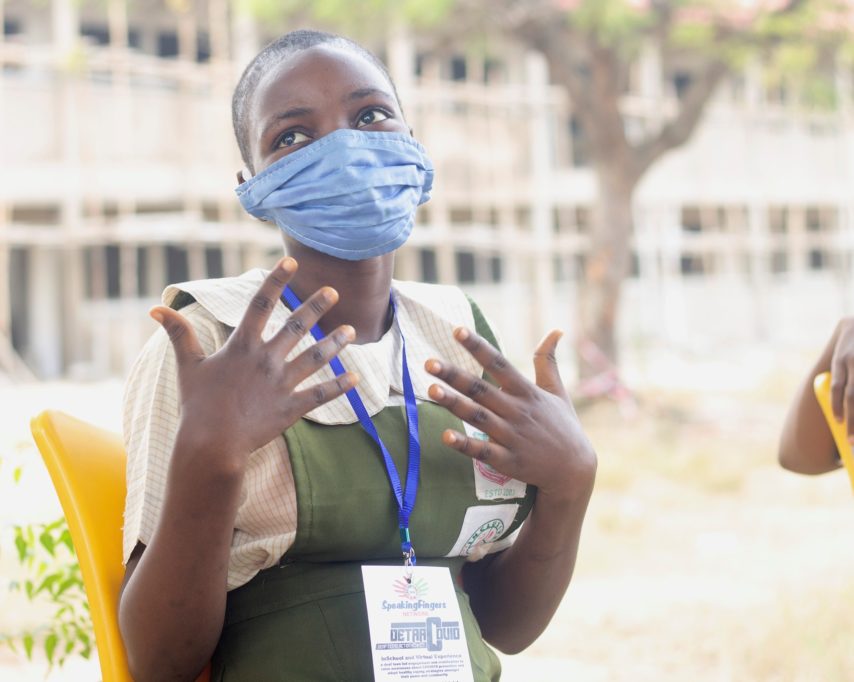 NGOs like Friends of the Deaf Foundation, Collaboration of Deaf and Hearing Adults (CODAH) Enterprise, and Speaking Fingers Network provide helpful resources like free hearing aids, including persons with disabilities in their programmes, build inclusive private schools, and provide life skills to support learning and development.
However, in the search for inclusion, we all have a part to play. Among other things, we can design sign language learning apps, inclusive audio/video with subtitling and automatic captioning. It can, and should, be done.