Update [ September 23, 2021, at 5:10 p.m. WAT]: This article now contains ZOLA Electric's $90m capital raise on Thursday, September 23, 2021.
Access to reliable, affordable, and constant power supply has continuously been a problem in sub-Saharan Africa for a long time, impairing economic growth. As the population in the region increases, the enormity of the problem becomes more evident. 
In Energy in Africa Challenges and Opportunities by Manfred Hafner and Simone Tagliapietra Lucia de Strasser, in 2018, about 600 million people out of 1.07 billion in sub-Saharan Africa did not have access to electricity.
While there are efforts to increase access to electricity, population growth outpaces these efforts.
Interestingly, some parts of Africa have high connection rates. According to Afrobarometer, Egypt has a 100% connection rate, South Africa, 95%; and Nigeria, 90%.
However, Nigeria's high percentage access differs greatly from its 17% supply rate. This means that electrical connections to people's houses and businesses do not translate to regular power supply.
Sadly, in most parts of sub-Saharan Africa, the case is either a high connection rate with little supply or a low connection rate with adequate supply and sometimes neither. An example is Burundi, with less than 25% connection rate and a supply rate below 19%.
As Africa's population and need for economic growth increase, the need for a reliable and sustainable energy source also rises.
In its Energy Outlook 2019, the International Energy Agency (IEA) Africa predicts that the continent's population will surpass China's by 2025, making it critical to meet its energy demands.
Connecting 600 million people
Africa's electricity problems are not new, and companies are continuously developing tech solutions to solve them.
ZOLA Electric is one such company. It started when American Co-founder, Xavier Helgesen, an American, went hitchhiking in Malawi.
While in Malawi, Helgesen spent time with a family in a fishing village on the shores of Lake Malawi. After discovering that the family lit their home with kerosene lanterns, he had an epiphany and immediately decided to work on a solution to the continent's electricity problem.
During his master's programme at the University of Oxford, England, Helgesen researched solar power. It was there he met two other Americans — Erica Mackey, who had worked in Tanzania, and Joshua Pierce, a renewable energy expert — with whom he co-founded ZOLA Electric.
Together they devised a plan to provide affordable solar solutions for Africans, and in 2012, they launched ZOLA Electric first as Off-Grid Electric in Tanzania.
ZOLA Electric's CEO, Bill Lenihan, tells Techpoint Africa that the drive to create the company came from the Co-founders passion "to solve a big problem [since] 2.2 billion people across the planet do not have access to reliable energy and those people tend to be the ones that need it the most."
According to Lenihan, ZOLA Electric is not a solar company but one that enables solar. He describes it as a company that creates digital energy where users and suppliers get real-time information about their energy consumption.
"There's a need to bring affordable energy and clean energy, and solar does its job there. However, the bigger issue is unreliability in these markets, and by definition renewables are unreliable, so the other key need to solve this is storage."
Harshit Chatur, a Senior Director at integrated power company, NRG Energy, corroborates Lenihan's claims, saying renewables are uncontrollable supply resources.
"When the sun isn't shining, solar panels do not produce energy. When the wind isn't blowing, turbines do not produce either."
Lenihan believes ZOLA stands out as not being just a backup solution to Africa's energy crisis but a primary solution.
He says the solutions mostly available across Africa and South-East Asia are backup solutions. He cites the example of a Lagos home that is connected to the grid but needs a backup generator and an inverter — a costly solution that cannot ensure constant power.
In contrast, ZOLA Electric creates smart batteries that manage all power sources. Everything essentially goes through the battery while it intelligently switches power sources.
ZOLA Electric has a product called Infinity that takes power from solar panels, power grids, and other power sources. It then uses an installed software to switch to the most readily available energy source while simultaneously storing energy.
ZOLA Electric's video demonstration shows that Infinity can detect changes in the environment if the power source is solar or power surges if the source is an electrical grid.
Lenihan describes it simply as an energy management system that works like a storage system but actually does more.
"It takes data and manages it to whatever is the priority of that homeowner," he says.
ZOLA Electric sells its products through its partners, who, while serving as distributors, interact directly with customers.
They install the ZOLA Electric solutions and help with maintenance. Essentially, it's a business-to-business (B2B) model.
Journey through the years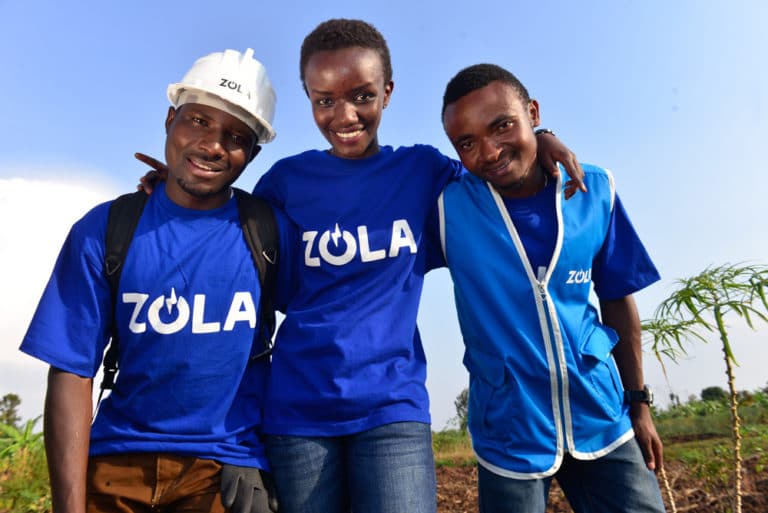 For Lenihan, it has been a journey of building and pioneering new technology. Through the years, the company has learnt what is effective for the continent and what isn't.
The learning process began in Africa's rural areas, understanding what they truly needed and the most sustainable way to provide it.
"We started with lights and phone chargers and then went on to power televisions. We moved to more urban on-grid settings where people wanted really productive use and big systems, so the energy apparatus became even more complex."
Describing it as a product journey, he admits that though there have been many mistakes, they've also made significant progress.
Africa's energy market is quite complicated. Each country, city, and user has specific needs, and over the years, ZOLA Electric has worked on products so flexible that they address all those specific needs.
In addition to the journey of creating a flexible product, the company was simultaneously building a digital energy industry.
According to Lenihan, the industry was new, and although they built alongside other companies such as M-Kopa, it is still a challenge forging an entire industry.
However, the co-founders' passion, which is also evident in employees and partners, has consistently kept the company going. And Lenihan believes it will help the industry grow.
"We need people who want to get it done."
What the future holds
Tesla is currently the company's second-largest investor. This happened because California-based solar company, SolarCity, invested in ZOLA Electric "about five years ago," Lenihan clarifies.
SolarCity was acquired by Tesla a few years later, making Tesla ZOLA Electric's second-largest shareholder.
Lenihan reveals what he proposes will become the distributed digital energy industry.
"I see a renewed focus by the world on energy equality and energy access, and I hope that the momentum that exists today for the world to support the emerging markets in building out an energy apparatus continues.
"And I believe that distributed digital energy is going to be the solution for emerging markets."
The company currently provides power for over 1.5 million people in Ivory Coast, Ghana, Rwanda, Tanzania, and Nigeria. It has also has announced a $90 million dollar capital raise on September 23, 2021, to develop its technology and enter new markets.
While Lenihan claims ZOLA Electric creates primary energy solutions, they still depend on other energy sources.
He admits that the company's product set doesn't completely solve the problem, but in a few years, the company will develop one that addresses all concerns.
Though he sees a bright future for the industry, he maintains it will not be easy.
"There won't be 2.2 billion people without access to reliable energy if it were easy."