Milk's nutritional value compares favourably to its economic value. According to Agrilinks, milk is a commodity in high demand in Nigeria, with over a billion tons needed annually. Unfortunately, several factors impede Nigeria's capacity to meet the demand for dairy products.
The Food and Agricultural Organization (FAO) of the United Nations says, "A healthy productive population is increasingly recognized not only as resulting from but also as an important prerequisite for poverty reduction and economic and social development."
In 2001, the FAO declared June 1 World Milk Day to highlight the importance of milk and draw attention to the global dairy sector.
Sadly, two decades later, Nigeria's milk production pales in comparison to its potential.
The Commonwealth Scientific Industrial Research Organisation (CSIRO) reports that pastoral systems, which yield meagre output, produce 90% of Nigeria's milk.
Consequently, the country relies heavily on imported milk. According to a Vanguard article, the Federal Ministry of Agriculture and Rural Development (FMARD) estimates that $1.5 billion is spent on milk importation annually.
Developed countries have employed scientific and technological innovations in the dairy sector. The US, for instance, is the second-largest producer of milk globally per the FAO. And according to Statista, it made $40.4 billion from milk in 2020.
The dairy industry's success in developed countries is mainly due to adopting technologies that make larger herds profitable. These technologies, as the FAO puts it, "require large capital investments." From milking to preserving to distribution, the role of technology in the dairy sector cannot be overemphasised.
The quest for indigenous milk
The demand for milk in Nigeria is an opportunity to generate revenue internally. Besides the imperfect production process, Data by AsokoInsights reveals that the country has 20 million cows -- the fourth-largest herd in Africa -- but only 11.5% are used for milk. In contrast, 88.5% go towards producing beef.
Research by SpringerLink highlights reasons for Nigeria, and by extension, sub-Saharan Africa's failing dairy sector. Subsistence-oriented modes of production and the genetic make-up of indigenous cows are some of many.
According to AsokoInsights, Nigerian cows can only produce between one and a half to two litres of milk daily. A cow in Kenya, one of Africa's largest producers of dairy products, produces 30 litres of milk daily.
Corroborating AsokoInsights submission, research by the UK College of Agriculture, Food and Environment, shows that only two African countries — Ethiopia and Kenya — are self-sufficient in milk production. For context, Africa has five times the number of dairy cows in the US.
We can infer from Dairy Australia's account of the milk-making process that, unlike most parts of Africa, dairy production is more technology-driven in developed countries like the US and New Zealand.
For example, cows are milked using vacuum cups attached to their teats. The milk is then sent to large steel vats and stored at five degrees for two days. It is then pasteurised, increasing shelf-life.
While the genetic nature of Nigerian cows cannot be overlooked, the predominantly manual production process poses a major obstacle to a sustainable dairy sector.
Milking Nigeria's potential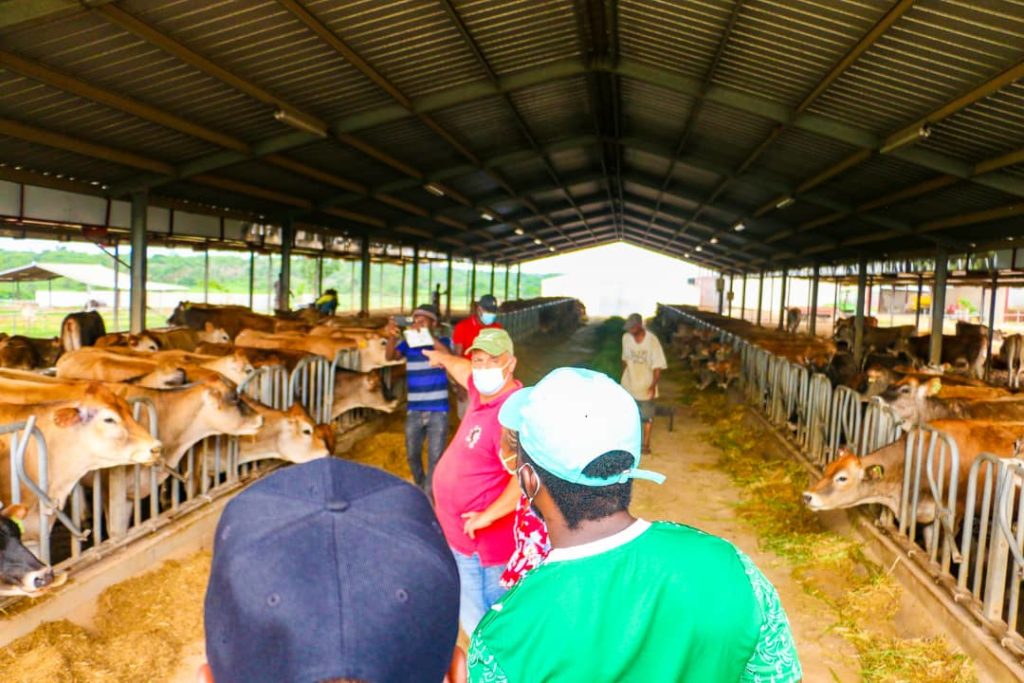 The Nigerian Dairy Development Program, NDDP, started in 2019 in partnership with Sahel Consulting Agriculture and Nutrition Limited, was designed to help address the local dairy sector's problems.
According to Agrilinks, some local producers who benefited from the programme recorded a 198% increase in milk sales. While this proves the viability of the dairy sector, more still needs to be done.
Also, the Central Bank of Nigeria, per Nairametrics, released a circular in March 2020 restricting the importation of milk. However, the restriction didn't affect six companies: FrieslandCampina WAMCO Nigeria, Chi Limited, TG Arla Dairy Products Limited, Promasidor Nigeria Limited, Nestle Nigeria Plc., and Integrated Dairies Limited.
The CBN's restriction is a way of enabling backward integration in the dairy sector. Ekiti State's Commissioner for Finance and Economic Development, Akin Oyebode, explains why the CBN's directive might not work and what Ekiti State is doing differently.
In a tweet on April 22, 2021, Oyebode announced the arrival of 250 Jersey cows in Nigeria to be delivered to Ikun Dairy Farm, Ekiti State. This was a sequel to a joint venture between Promasidor Group, a food and beverage company, and the state government.
Oyebode tells Techpoint Africa that Promasidor was a strategic choice by the state government. Unlike some of the other companies restricted by the CBN, Promasidor is not from a milk-producing country. According to him, companies in milk-producing countries would be hesitant to develop Nigeria's dairy industry.
The strategic joint venture is leading to the gradual revitalisation of the Ikun Dairy Farm (IDF).
Oyebode identifies low-yield cows as one of the sector's challenges, hence the importation of Jersey cows. According to him, 40 indigenous cows in the IDF produce 60 litres of milk a day, while six Jersey cows produce 150 litres a day.
"The cow variant in Nigeria has been really focused on beef, and we generally do a lot of open grazing over long distances. Over the years, the genes of our cows won't give us the kind of milk that we require," Oyebode says.
He adds that it will take a long period for Nigeria to regain the milk-generating capabilities of its cows through cross-breeding.
Oyebode admits that while factors like science and technology go into building a sustainable dairy farm, they will be futile if the cow yield isn't proportional to the infrastructural inputs.
However, Alhaji Muhammadu Damakka Abubakar, Executive Director and owner of L & Z Integrated Farms Nigeria Limited, a dairy company established over 15 years ago, believes low-yield cows are not a major problem for the country's dairy industry.
He cites India, the largest producer of milk globally, as an example.
"Average milk per cow in India is not up to ten litres, but they have plenty, so if you have low-yielding cows but in large numbers, it makes up for their low yield."
Abubakar believes the problem isn't the low-yield cows but the technology used in the milk collection process. Also, rather than open grazing, he suggests ranching as an alternative.
"The era of allowing cows to roam is gone," Abubakar says.
With 20 million cows milked optimally — using a technologically-based milking system — in the right conditions with the right tools, he maintains that Nigeria will produce enough milk to meet the demand.
While increasing cow yield can be looked into in the long run, Abubakar says using the indigenous cows optimally should be prioritised.
Speaking on the dairy sector's viability, he says, "From milk, you can derive over 100 components; and from oil, you have only 20 or 25. A barrel of milk is worth almost 100 times what a barrel of crude oil is worth."
According to Bloomberg, a barrel of crude oil is currently worth $67 while its equivalent in milk is worth $57. In terms of daily demand, more crude oil is consumed. Knoema, a data technology company, puts Nigeria's daily crude oil consumption at 522,000 barrels — 82.9 million litres — in March 2021.
These numbers exceed the demand for milk greatly. Per LEADERSHIP, the yearly demand for milk is 1.6 billion litres, putting the daily demand at 4.4 million litres.
While these numbers nullify Abubakar's claims, they do not reduce the viability of the dairy sector as a major source of revenue.