In 2006, some entrepreneurs and an investor came together in Colorado, USA, to launch an accelerator. This accelerator was to invest between $6,000 and $18,000 in early-stage companies across the country.
In addition to the four-to-six figure investments, founders of selected startups had access to mentors and a network of like-minded individuals during the three-month-long programme.
The accelerator held its first programme in 2007, and only ten startups participated.
Thirteen years on, Techstars is one of the world's well-known accelerators. It now calls for applications six times a year and accepted companies receive $120k seed funding in exchange for 6% equity.
As at 2019 over 1,600 companies had participated in its programmes, and the market capitalisation of these companies stands at $18.2 billion.
But a year before Techstars opened in the US, there was Y Combinator (YC), a California-based seed accelerator.
Unlike Techstars, YC calls for applications twice a year with each cohort culminating in a Demo Day -- an event where founders pitch their startups to a select audience.
YC's first ticket size was $20k for 6% equity. But over time, both investment and equity have changed. While it currently stands at $150k for 7% equity, next year will see investment drop to $125k for the same equity.
Since launching fifteen years ago, over 2,000 companies have passed through the accelerator. Notable names include Stripe, Instacart, Dropbox, and Airbnb, and as at October last year, the combined valuation of these companies exceeded $155 billion.
Global accelerators and African startups
Although Techstars and YC only invested in US startups initially, international startups have benefitted from their funding activities in the last ten years.
Techstars and YC are the crème de la crème when it comes to African startups choosing a global accelerator to participate in.
For instance, YC has accepted more than 40 African startups since 2009. Techstars, on the other hand, has accepted a handful.
According to our research in June 2019, the total funding raised by African startups in Techstars and YC stood at $22.2m and $65.5m respectively.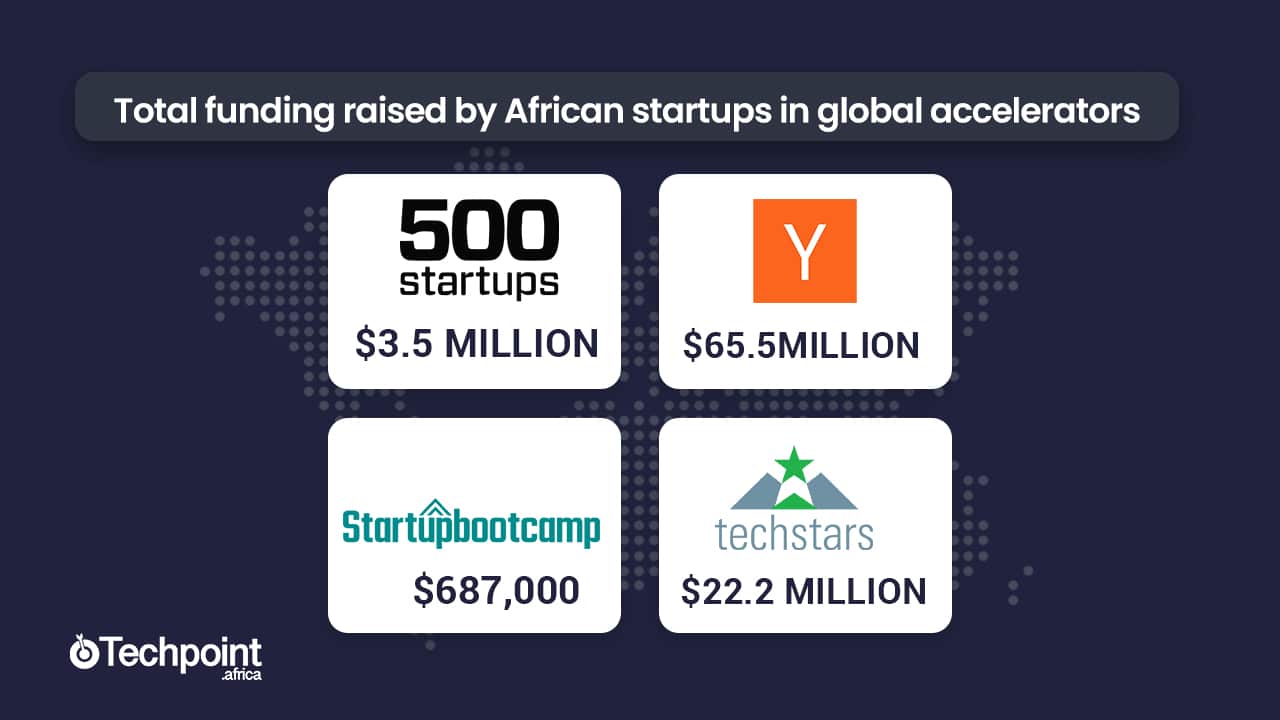 Further research in our West African Startup Decade Report shows a similar trend. The Report takes a close look at startups in West Africa that have raised $1m or more cumulatively between 2010 and 2019; they are called Millionaire West African Startups (MWAS).
We gathered that 21 (41.2%) of the 51 startups that raised $1m or more cumulatively passed through an accelerator. Also, Techstars and Y Combinator's alumni have raised more $1m+ investments than startups from other accelerators.
Why founders take their startups to accelerators
In June 2020, Nigerian and YC-backed fintech startup, Wallets Africa raised an undisclosed seven-figure round. And if our report covered fundraising activities this year, the startup would've featured among the MWAS.
During its fundraising announcement, John Oke, Wallets Africa CEO, said that before joining YC, the startup had 17,000 users and processed about ₦900 million ($2M) monthly. However, it is currently doing more than ₦3 billion ($6.7M) monthly post-YC.
[auto-iframe link=https://techpoint.africa/2019/06/26/a-growing-infatuation-with-vc-funding-is-driving-nigerian-startups-towards-one-accelerator/embed tag=first]
Such metrics show the importance of African startups joining a global accelerator if they're looking to scale fast. But asides scaling, founders also apply if they need access to foreign capital.
This was the case for BuyPower, another YC-backed startup. According to Benjamin Ufaruna, CEO of the Nigerian electricity payments startup, BuyPower had bootstrapped to a certain level and needed external funds to grow.
"We applied to YC because we were out of options for raising capital which was a matter of survival for us at the time because we were growing very aggressively organically," he says to Techpoint Africa.
BuyPower was in the accelerator's winter batch of 2017.
Similarly, other startups go through accelerators when trying to figure out product-market fit: OnePipe is a case in point.
In July 2020, Techstars NYC accepted the Nigerian API fintech startup and nine other companies into its accelerator. The startup's founder, Ope Adeoye, tells us that he applied because OnePipe needed help in figuring out its market positioning and issues surrounding product choices.
And upon entering the accelerator, Adeoye says the startup met its objectives.
"We had lots of direct feedback from a lot of mentors who have done exactly what we are doing; founders of companies just like ours who have gone further along. We were forced to move and move hard," he adds.
These accelerators don't end their support when these startups graduate. Techstars and YC sometimes take part in some follow-up rounds of startups that pass through their programmes.
For Adeoye, Techstars was instrumental in helping  OnePipeclose its pre-seed investment.
"Our fundraise got a big shot in the arm after coming out of the programme. We were able to close out our pre-seed faster, especially now that we have clarity on market direction and traction during the programme."
This hands-on nature of global accelerators is one of the reasons Ufaruna thinks YC's support networks for founders are among the best. In his opinion, companies grow in phases, and founders must "get support through each phase to keep pushing the envelope."
Download the West African Startup Decade Report here.
---
Featured image source: Y Combinator Instagram.