The second edition of the Nigeria Digital Economy Summit (NDES) on Thursday, November 12, 2020, hosted local and international tech players, industry experts and policymakers to discuss the "Future of Work in Industry 4.0".
The virtual event, which was curated by The Foresight Group, focused on the future of work, the impact of education, government roles, funding and inclusion for women in business, as well need to develop talents locally to grow a digital economy.
Last year, the maiden edition hosted Jack Ma, the founder of China's eCommerce giant Alibaba, alongside other partners who were in attendance.
This year's edition hosted thought leaders like Kristen Nillson, Swedish State Secretary to Anna Hallberg Minister for Foreign Trade and Nordic Affairs; Abubakar Sulieman, managing director and CEO Sterling Bank; Idris Olorunnimbe, founder and GCE The Temple Management Company and Ajibola Akindele, country general manager, Schneider Electric contribute to industry-centred discussions.
In a session moderated by Lanre Osibona (Founder and CEO, The Foresight Group), they discussed the future of work and how the digital transformation will create more opportunities and jobs for people. Another key part of the conversation highlighted how preparation can be made for young talents to acquire relevant skills and the roles both government and individuals need to play in bringing equal opportunities for people in the Fourth Industrial Revolution.
Kristen Nillson, Swedish State Secretary to Anna Hallberg Minister for Foreign Trade and Nordic Affairs said: "It has been a long time especially for us to embrace the digital economy in Sweden. It's about deepening cooperation between other countries especially Sweden and Nigeria. Countries must work together to regulate the digital market to ensure economic prosperity.
"The very fast-growing internet use in Africa is instrumental in providing us with an alternative room for micro, small and medium enterprises. Then the digitisation focus becomes very important for us to work with trades and investment in general, also in partnership with Nigeria."
The virtual event also had an Industry Leading Voices panel session, moderated by Mr. Chinenye Mba-Uzoukwu (Managing Director/CEO of InfoGraphics Nigeria).
Speakers included Toni Fola-Alade, co-founder and CEO of Nomad Integrated; Nike Ligon-Kembi, executive advocate, West and Central Africa, IBM; Michael Pittelkow, Development Cooperation Executive, SAP; Onyeka Akumah, founder and CEO, Farmcrowdy and Deremi Atanda, executive director SystemSpecs.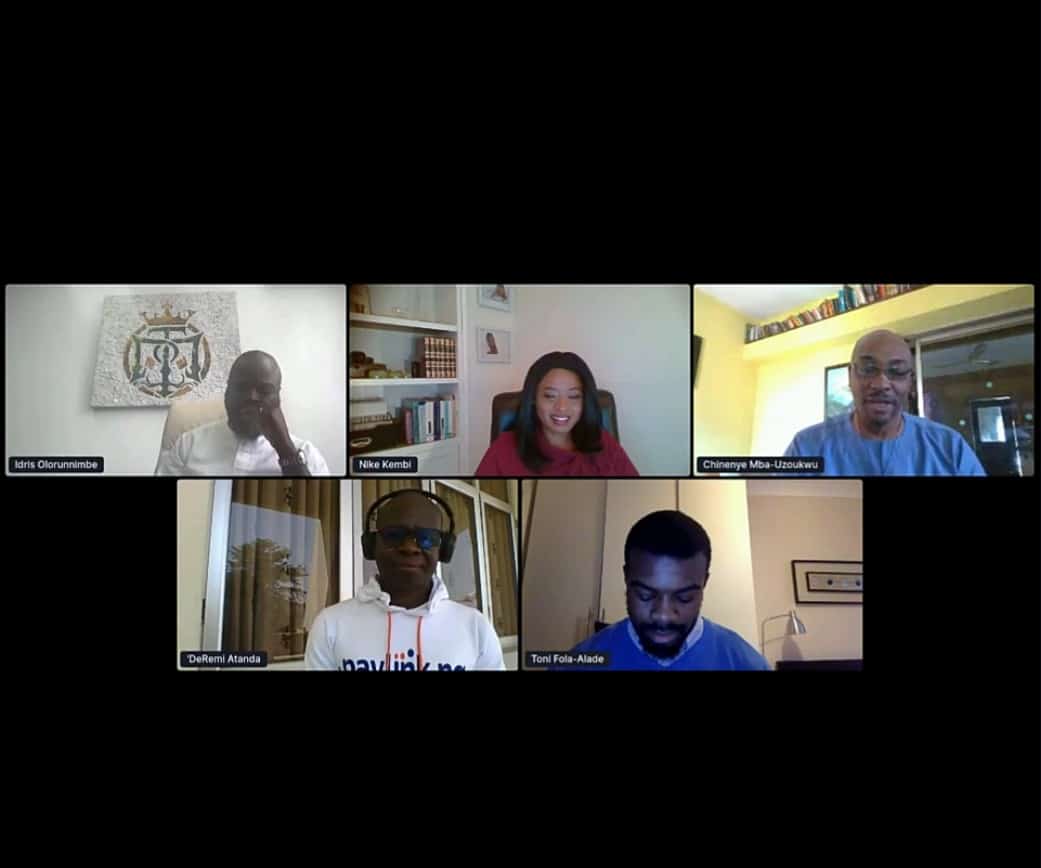 Their session focused on what the government can do to help the startup industry and also the educational system. It also featured discussions on how entrepreneurs can market themselves -- the idea and how to tell their stories.
"Government should play a vital role in the educational sector in these three dimensions: As an enabler, a regulator and a facilitator," Michael Pittelkow said, while Onyeka Akumah advised entrepreneurs to keep practising and stay consistent.
Another session which appeared to be the major highlight featured leading female startup founders with successful startups in Nigeria. This session urged conversations around women taking roles in the tech industry and having a place at the table.
It focused on the importance of educating women to take on roles in the tech industry, encouraging more women to delve into the venture capital sector, the challenges faced by women in the tech industry as well as inspiring women to build their personal brand and focus on personal development.
The speakers included Temie Giwa-Tubosun; founder and CEO, Lifebank, Fadé Ogunro; founder and CEO, Bookings Africa, Chinenye Uwanaka; founder of The Firma Advisory, Banke Alawaye, digital transformation specialist and Maryam Lawan, founder and CEO, Blue Sapphire Hub.
"Build your personal brand and focus on your personal development. We need to start thinking outside the box and going global, there's a need to break those myths. Also, a lot of businesses are not investment-ready. They lack structure and corporate governance, no investor would like to fund such businesses," Chinenye Uwanaka submitted.
While speaking on the challenges of raising funds for businesses as a woman in the industry, Temie Giwa-Tubosun noted that there's no fun in fundraising and as such it's important "to get more women to write the cheques. There's a need for more women to either be the investors, part of the investor committee OR people making the decisions."
With over 600 participants in attendance, the memorable event closed off with the launch of the NDES accelerator programme, in collaboration with Foresight Seeds Fund.
The accelerator programme, which is targeted at purpose-driven female startup founders, seeks to discover the next 5x Women with the most thought provoking and tech-driven innovations. The programme is being supported by NDES partners - Bank of Industry, Schneider Electric and TAJ Bank. The 5 finalists will be selected by an independent panel of judges, and will receive coaching, funding support and mentoring to help execute and scaleup their startups.