In the Nigerian tech ecosystem, the name Dele Odufuye is synonymous with Tsaboin and Flobyt.
He is the founder and CEO of the former, an application development firm that develops internal and public-facing applications for clients. At Flobyt, he is a co-founder alongside music juggernaut, Don Jazzy, and others.
For entrepreneurs who stay in the spotlight and don't make any announcements, one might be led to think that their companies are not faring well. However, this doesn't seem to be the case with Odufuye.
In this interview, he tells Techpoint Africa about plans for the two companies he oversees, their public-facing projects, and a silent acquisition.
You launched Flobyt in 2017. Now, most people think that the company only offers free WiFi. Is that a misconception?
The company was birthed to bring some change to mobile advertising and the way users interact with it. Our first product has been in the development stage since 2017 but it'll be launched soon.
We are a full mobile advertising company but the free WiFi service is the public-facing project that we render.
The free WiFi received rave reviews when it went public. Is it still operational?
Yes, it is. However, since March we've been badly hit by COVID-19 because the free WiFi service's business model is built around human traffic and people visiting public places. Nevertheless, in July we regained about 30% of our traffic because some of our venues reopened.
The management has had a couple of sessions regarding how to innovate and we're building some solutions that people will see at the end of the year.
Where is the service being used and what challenges have you faced aside COVID-19?
The Internet capacity now is better than it was three years ago when we launched. Back then, there wasn't as much fibre covering the major parts of Lagos as is the case today.
Our capacity to reach some places was limited so the cost of fixing free WiFi at certain locations was very high.
However, our partnerships with organisations like banks and FMCGs make it possible to reach the country's most difficult locations, thus fulfilling our mission to provide Internet connectivity where you'd least expect it.
We are present in higher institutions outside Lagos -- Osun, Ondo, Kano, Kaduna, Kogi, Delta, and Rivers, among others.
Also, we're present in all Domino's Pizza outlets across the country. Before COVID-19, we had over 150 active hotspots nationwide.
Do you still run Flobyt as a company with Don Jazzy?
He's a director and shareholder, so yes.
As I said, there are a couple of things we're building as a company so aside management sessions with each other, we bounce ideas off ourselves as friends and business partners.
You've been running Tsaboin since 2005. Tell us about the company?
Tsaboin is an application development company focused on developing world-class solutions for small businesses or big enterprises.
We're focused on integrating custom-made solutions for organisations and I remember our first client was a higher institution.
Our second client, however, was one of the biggest financial institutions in Nigeria. So far, we have built more applications for the latter than any of our other clients.
While running the company, you launched Traffic Talk which also garnered a lot of interest. Why was it launched in the first place?
When we started Traffic Talk in 2011, there was a need for traffic information. Then, there was no traffic radio, no traffic-focused Twitter handles, and Google Maps didn't have its traffic feature.
The idea came when I wished I knew what was ahead of me when going to work because most times, I'd have to find out by asking someone who passed that way.
Also, I heard a lot of "I wish someone had told me of this traffic" and "I wish there was an app for this" whenever we encountered serious traffic going from the Mainland to the Island to see our clients.
https://techpoint.africa/2015/07/28/how-dele-odufuyes-tsaboin-is-using-technology-to-save-lives-everyday-in-lagos-traffic/
As an application development company, I thought we should do something about it instead of complaining. It was initially difficult for us to pump all the revenue from other businesses into an idea that wasn't making money.
So we started pitching to investors and fortunately, we got a US-based Nigerian investor who invested in Traffic Talk. That was how we got more developers and deployed marketing strategies. At the time, we had over 20,000 daily subscribers by SMS. To this day, I feel I was a pioneer in this space.
How has Tsaboin fared since other players came into the space?
It still works today; you can go to our website to get traffic updates.
Also, we've been faced with questions like how Google Maps would affect our business. I remember a British friend, a CEO, who thought that people didn't need Traffic Talk because there was Google Maps. I told him, "Well Google Maps tells us where there's traffic, but it can't tell you why there's traffic."
Our traffic information tries to overlay on Google Maps and we're able to determine the cause of traffic. This knowledge helps our users decide if they want to continue on that route or ply another.
We've found our niche and we're still playing in it even though we're not commercially successful. For me, it's about our commitment to people, the environment, and our community.
You seem to have a knack for churning out public-facing/social impact projects. Why is that?
I'm not one to complain about things in my environment when I can do something about them.
I like putting my money where my mouth is. Even when I am not sure if an idea will work out, I go ahead as long it makes business sense and solves a problem. I think that's one thing Don Jazzy and I have in common.
Our aligned thoughts birthed the free WiFi project in Nigeria as well as other projects in the pipeline pioneered by Flobyt's founders in Sweden.
You're the country director of Cavista, the US firm that acquired Tsaboin in February; tell us about this deal?
After an investor bought into what Tsaboin was doing in 2011, we started learning how to build world-class solutions from them. So it was more than taking money from them to build our local solutions; we had to bring in knowledge and grow our team to understand how to build these solutions.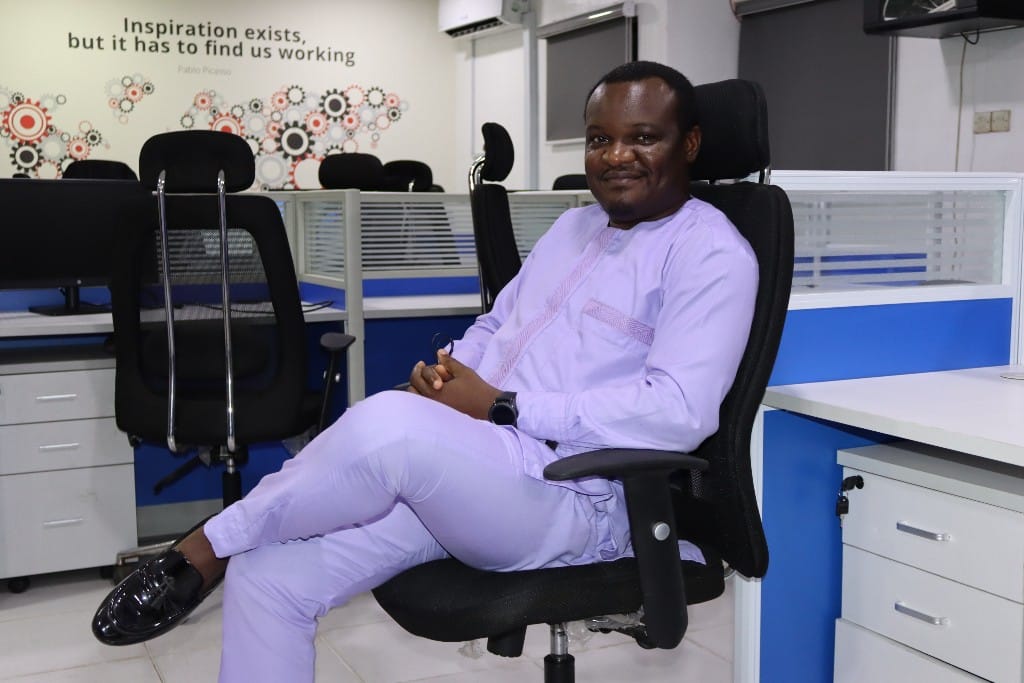 Tsaboin's goal was to develop applications for our local clients but with clients now outside Nigeria's shores, an acquisition was the best move.
We chose a name that reflected our mission and vision globally: being the frontrunner when it comes to technology solutions in Cavista. So that's how we transformed from Tsaboin to Cavista.
Being a serial entrepreneur, how do you cope with the responsibilities of running two companies?
If you're running two companies simultaneously in Nigeria, there's a high chance that you'll burn out. So, I don't run multiple companies, I just oversee their operations.
I might be CEO of the company but that doesn't mean I'm involved with its day-to-day activities. Flobyt has a general manager who manages the company. And when Tsaboin became Cavista, I assumed the role of country director.
What should we expect from Flobyt and Tsaboin, or should I say Cavista?
Flobyt is doing something massive which we hope changes the distribution of mobile and social media advertising revenue.
At Cavista, we're hiring the best talents. In the last 3 months, we have hired 25 engineers and poached people from different startups and companies.
Before the end of the year, we plan to have 60 engineers. Our hiring spree will also be extended to product managers, designers, and quality assurance specialists. People can visit cavistatech.com and apply to roles that fit them.